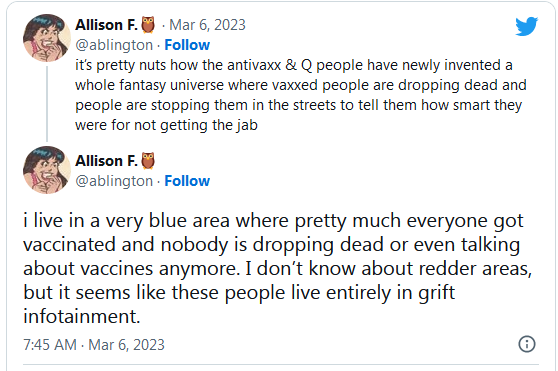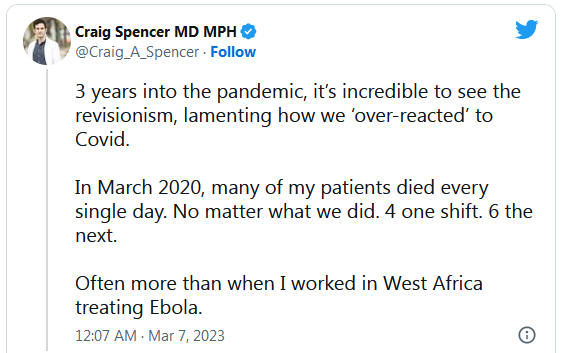 This isn't an apologists take on medicine or public health over the past 3 years.

Every field and every person whose had something important to say about Covid has made mistakes along the way.

But don't confuse initial transmission dynamics for political dynamics.

Maybe 'blue' cities weren't more concerned about Covid early on because they—and public health more broadly—are generally "left-leaning".

What if it was just because more of their people were dying at rates not seen from an infectious disease in nearly a century?

Reflecting on how we should have responded, and how we must improve pandemic response in the future, are critical exercises. This includes recognizing and repairing our mistakes.

But reinterpreting the past only works against us. It makes important change less likely.

What won't help is the pendulum swing from 'we're in this together' to 'we'll manage this by ourselves'.

Public health is a collective exercise, by definition.

We fix it together.

Or we don't.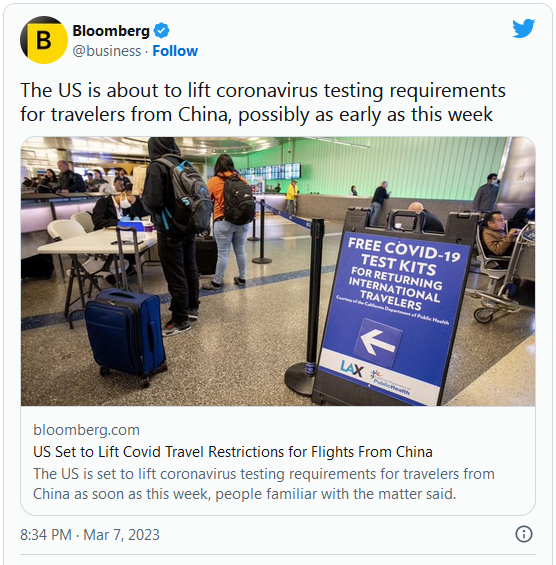 All indications from genomic surveillance of the virus, wastewater. and the clinical outcomes that are still being tracked (albeit more limited and less periodicity as time goes on), that we've (finally) entered an endemic phase. There are no new SARS-CoV-2 variants that have yet cropped up with a growth advantage over XBB.1.5 (the recombinant with 2 significant mutations added on) which is dominant throughout much of the world, or its cousin, XBB.1.9.1. For all the talk about the convergent "variant soup" that preceded the most recent wave, the XBBs took hold and are not giving way to a long list of Omicron family sub-variants (Table below). Moreover, the XBB.1.5 variant ascent to dominance was not associated with a surge of Covid hospitalizations or deaths in the United States or elsewhere in the world, which might have been predicted based on its properties of enhanced transmissibility and immune evasiveness compared with earlier versions of Omicron.

We've been dealing with Omicron since November 2021, starting with BA.1 and marching through a number of its lineages (such as BA.2, BA.2.12.1, BA.5, BQ.1.1) over these 16+ months. It's getting harder to think how further mutations added on to Omicron will pose a major threat, given how the population immunity wall that has been progressively built over 3 years—from infections, vaccination, boosters and their combinations— seems capable of fending off major waves vs this family of the SARS-CoV-2 virus. But there are 2 points of concern…

First, we sit at a very high baseline of daily Covid hospitalizations and deaths in the United States, over 25,000 and about 400, respectively. This is far beyond (double) where we were in June 2021, pre-Delta, when we got down to close to 10,000 hospitalizations and ~200 deaths per day. There's still no shortage of circulating virus (currently XBB.1.5) getting people infected and some of the folks of advanced age and immunocompromised are the ones chiefly winding up with severe Covid. The virus is finding the vulnerable people more easily since their guard is let down, abandoning high-quality masks and other mitigations, and the low rate of keeping up with boosters in the last 6 months (the age 65+ rate is 40%). There are about 15% of Americans (more than what many people think or have been led to believe), based on all the serologic data available, who never had Covid and are relying on their vaccines/boosters to avoid their first infection. Reinfections among the 85% with prior Covid are not uncommon and not necessarily benign. No less, the pervasive attitude is the pandemic is over, life goes on. That's helping the virus find new or repeat hosts…

That brings me to the second concern, which is considerably more important. That we will or might see on "Omicron event." This likely occurred from the hyper-accelerated evolution of the virus within an immunocompromised host that was then transmitted…

When 10 scientists who are following the pandemic and the virus evolution closely (including me) were recently asked what are the odds of another Omicron event in the next 2 years, the range was 5-30%, with no one thinking it is zero, and good convergence at the 10-20% level (unpublished data). And that's in the 2-year window. SARS-CoV-2 will be with us for many years, so over time that likelihood forecast for a Pi new family of variants (and beyond Pi) increases. There are too many routes for us to see evolution of a Pi family of variants as shown in the graphic below. That is why we must prioritize development and validation of next generation vaccines that can achieve variant-proof protection (e.g. against all betacoronaviruses) and have improved defense against infection that can be accomplished via mucosal immunity with oral or nasal vaccines…
======
It remains critical to understand how #COVID19 pandemic began to prevent future ones.

To do so, Dr @mvankerkhove explains:
-which studies need to be done
-the impeding factors to conduct such studies
-the importance sharing relevant information with WHO and scientific community pic.twitter.com/wnhcNLgyZn

— World Health Organization (WHO) (@WHO) March 7, 2023
Much more than a single health issue, COVID-19 has set back human development like nothing else in many decades. This 2020/21 decline in life expectancy continues through 2022/23. It is unlikely to end itself any time soon. What happens next is up to us. pic.twitter.com/C5ygJOhaOB

— Prof Brendan Crabb AC (@CrabbBrendan) March 6, 2023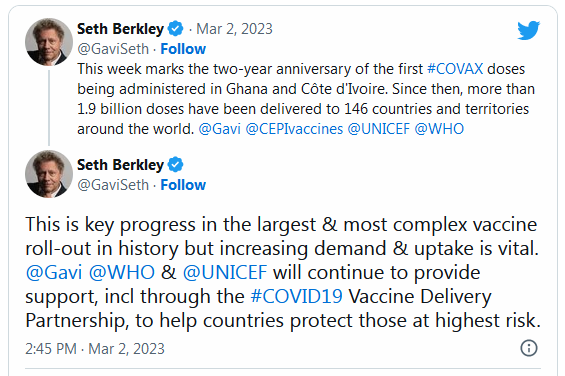 (link)
Oh look it's that mysterious bug that goes around that no one can seem to shake🙄

Same script, flawless translation. https://t.co/hciLrjk962

— Naomi Wu 机械妖姬 (@RealSexyCyborg) March 3, 2023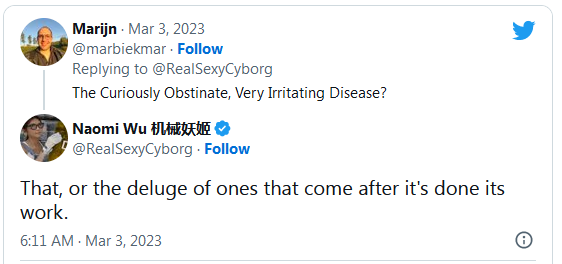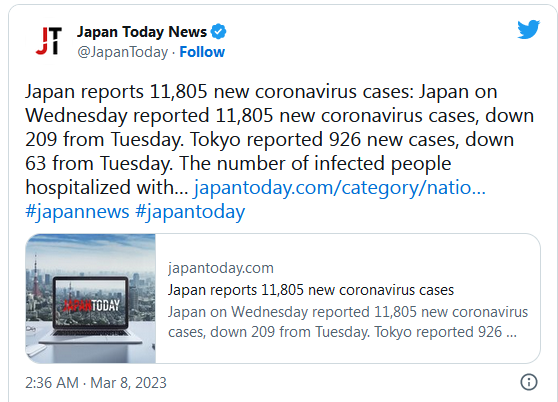 (link)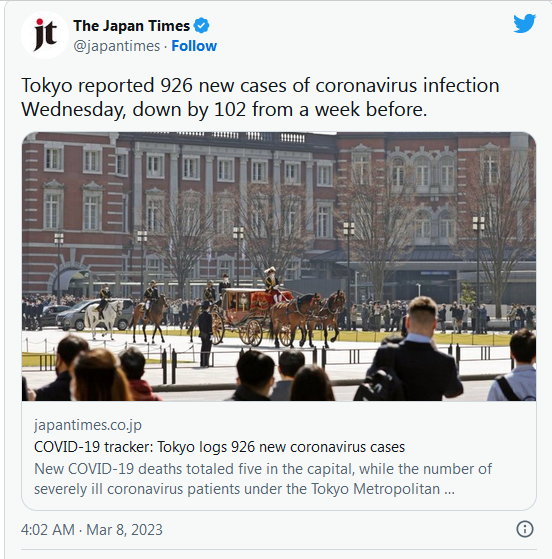 (link)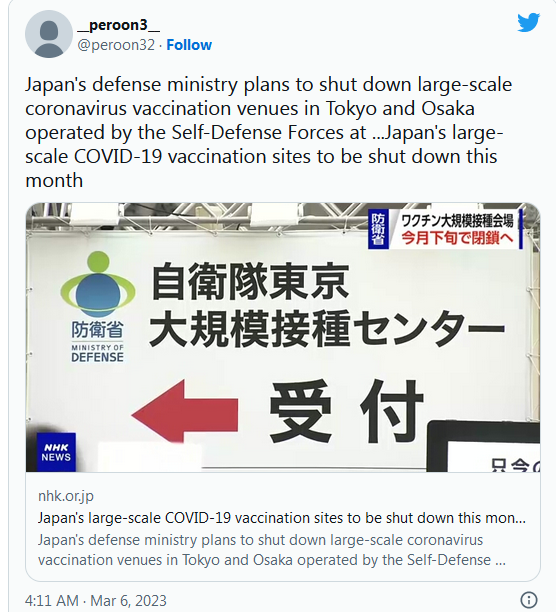 (link)
The number of recorded Covid cases in India is now above 3000 — basically doubled over the past two weeks or so. And I'm sure it's a huge undercount, since people generally aren't testing any more.

Coronavirus (Covid-19) Tracker https://t.co/5zfSb4o9lm via @ndtv

— Neeran Karnik (@neeran) March 8, 2023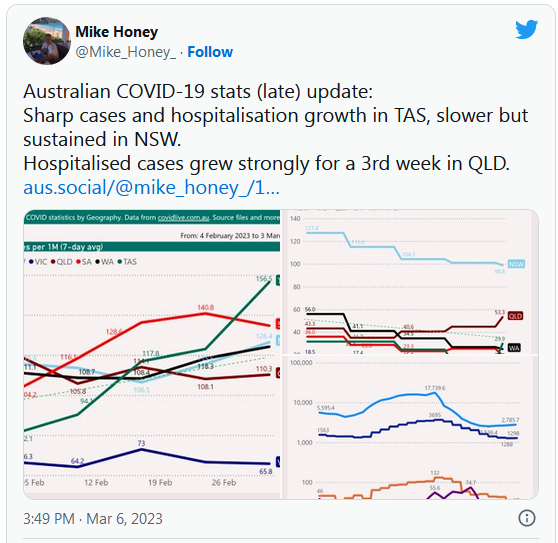 (link)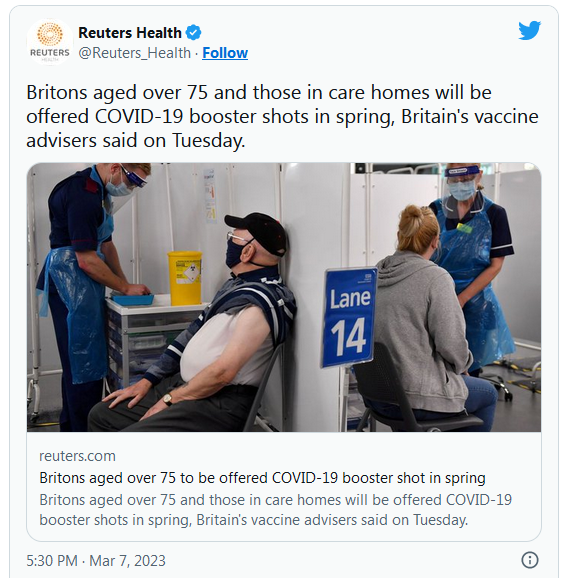 ======
Best short summary I've seen:
It is still the best advice to avoid getting infected or as few times as possible. This is not entirely possible by individual measures but needs structural changes & implementation of health protection measures (indoor air quality, sick leave, access to testing, sometimes masks)

— Isabella Eckerle (@EckerleIsabella) March 7, 2023
How soon after exposure should my patient take a rapid test?

We answer this & other common #COVID19 diagnostics questions on our Testing FAQs page ➡️ https://t.co/mUdKexUOxu pic.twitter.com/7gFZpCrH1J

— COVID-19 Real-Time Learning Network (RTLN) (@RealTimeCOVID19) March 6, 2023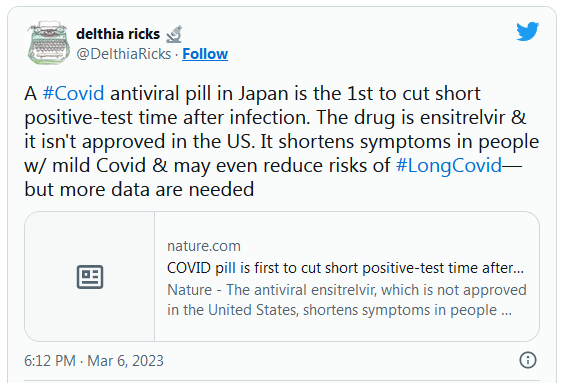 (link)
Can Covid leave you chronically infected?

The virus can remain in different parts of the body for months after infection, according to research published in @nature. @nih's Dr. Daniel Chertow explains https://t.co/wBkxHpBfLV pic.twitter.com/HlIYg4KCQh

— Bloomberg Quicktake (@Quicktake) March 2, 2023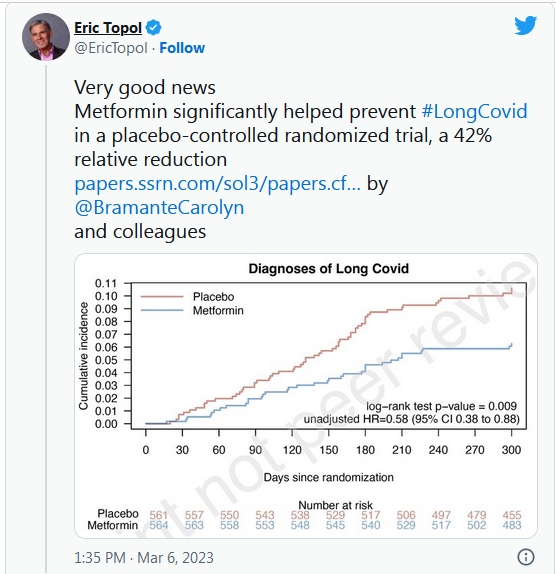 (link)
Study of #LongCovid cases finds about "half of the participants reported symptoms of varying severity 1 year after #COVID19…included fatigue, dyspnea, alopecia, concentration problems, memory problems, sleeplessness, and joint pain…" ETC.https://t.co/mlpi6Yvggt

— Laurie Garrett (@Laurie_Garrett) March 7, 2023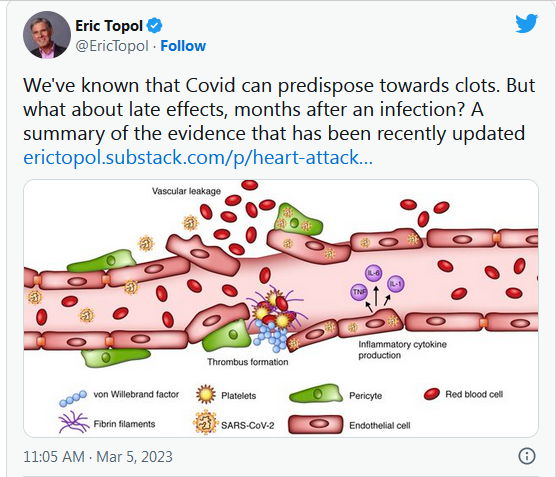 (link)
In a study of 946 patients, people 50 & up had cognitive trajectories went 1 of 3 ways after severe #Covid:
1) 69%—no cognitive impairment 1 month after discharge
2) 20.3% —short-term impairment
3) 10.7%—long-term impairment at 1 yr https://t.co/IF2owYHLZA

— delthia ricks 🔬 (@DelthiaRicks) March 7, 2023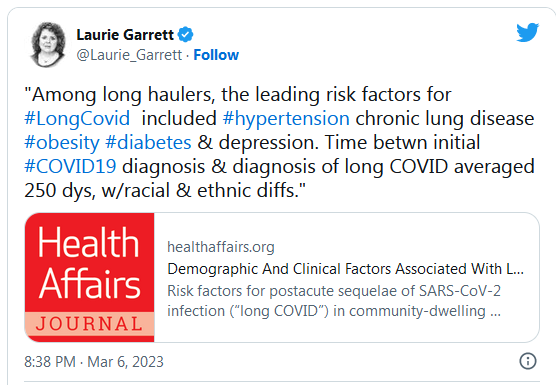 (link)
My carefully calibrated efforts to avoid getting Covid are mostly to avoid Long Covid. As @EricTopol shows in today's Substack, this isn't just about symptoms—we should be equally motivated by persuasive evidence that Covid infections raise cardiac risk. https://t.co/AlXL47Pc2x

— Bob Wachter (@Bob_Wachter) March 4, 2023
======
NYC wastewater tests for #COVID19
"We report detecting increasing frequencies of novel cryptic #SARSCoV2 lineages not recog'ed in @GISAID database…contain mutations rarely observed in clinical samples…indicate presence of a nonhuman animal reservoir."https://t.co/rjs9MVFcAv

— Laurie Garrett (@Laurie_Garrett) March 7, 2023
Ronnie DeSantis and his merry men have a lot to answer for: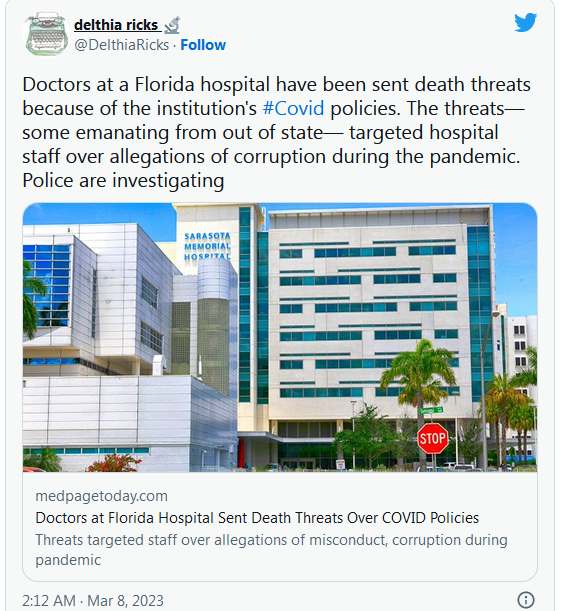 (link)
Start of a thread:
Intelligence assessments are not the same as scientific papers. I wrote about the differences here. 1/https://t.co/4LZGFRDYTA

— Cheryl Rofer (@CherylRofer) March 4, 2023
Reader Interactions