On the Road is a weekday feature spotlighting reader photo submissions.
From the exotic to the familiar, whether you're traveling or in your own backyard, we would love to see the world through your eyes.
lashonharangue
Leaving Damaraland we drove further east toward Etosha National Park. We actually stayed at Ongava Lodge located on a private game reserve that is next to the park.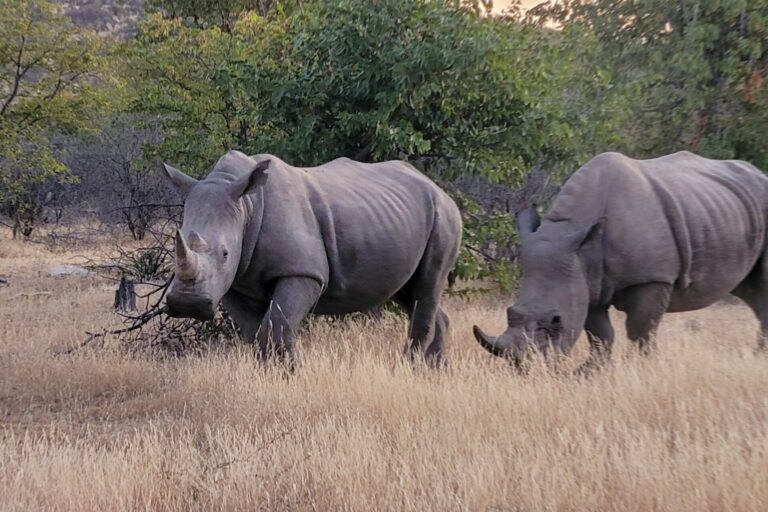 Soon after we arrived at the lodge we went on a late afternoon safari drive. We saw our first white rhinos up close, crossing the road directly in front of our vehicle. They can be distinguished from black rhinos by the uneven length of their horns and the shape of their mouth. White rhinos are grazers and have wide rectangular mouths. They are called white because the Afrikaans word for wide is "wyd." Early English settlers misinterpreted the "wyd" for "white." Our guide Jeremia said the shape of their mouth is like a vacuum cleaner. I guess white rhino is better than vacuum cleaner rhino.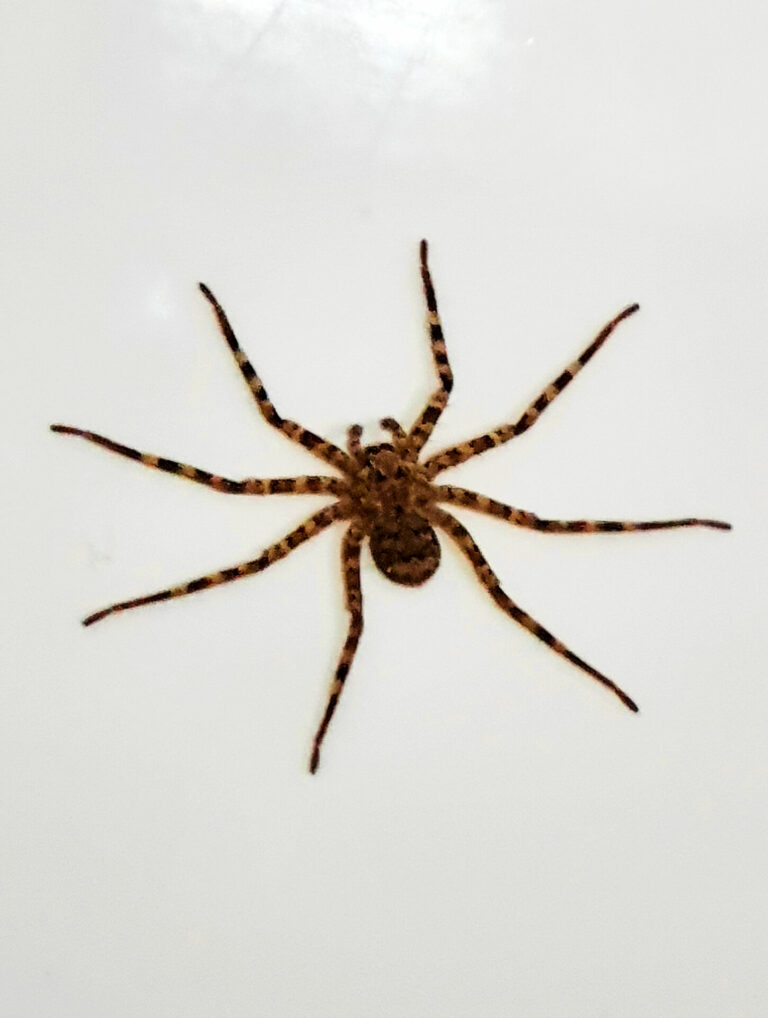 Throughout our stay in Namibia our beds always had mosquito netting. Malaria is relatively rare there but we took anti-malaria medication to be extra careful. Our first night at this lodge we got into bed and closed the netting. As we were about to turn off the lights my spouse screamed and pointed at this spider on the inside of the canopy of our netting. Having been asked to deal with the creature that was the size of my palm I considered my options. Trapping or trying to kill it seemed impossible as the netting would bulge out with any applied pressure.  
Luckily this lodge had wifi internet access in the room. I googled the image on my phone and found out it was a common wall spider.  Having determined it was harmless to us and would hunt other insects (including mosquitoes), we then turned out the light. It was not there when we got up the next morning.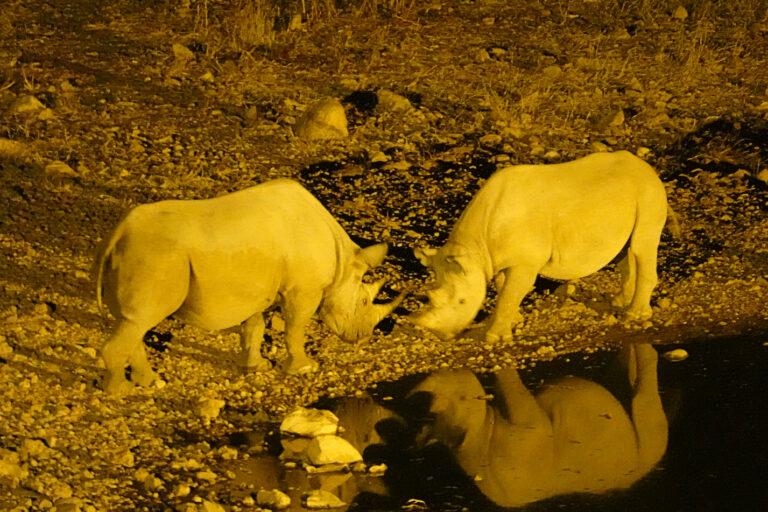 The lodge was located on a ridge. At the base of the ridge was a waterhole where animals came to drink. It was lit at night and you could see it from the restaurant terrace.
There was one aggressive male that was keeping other black rhinos from drinking. A mother rhino showed up with her baby. She observed this standoff for a while and then got tired of it. She came in and backed off the more aggressive male. She and her offspring then got a drink.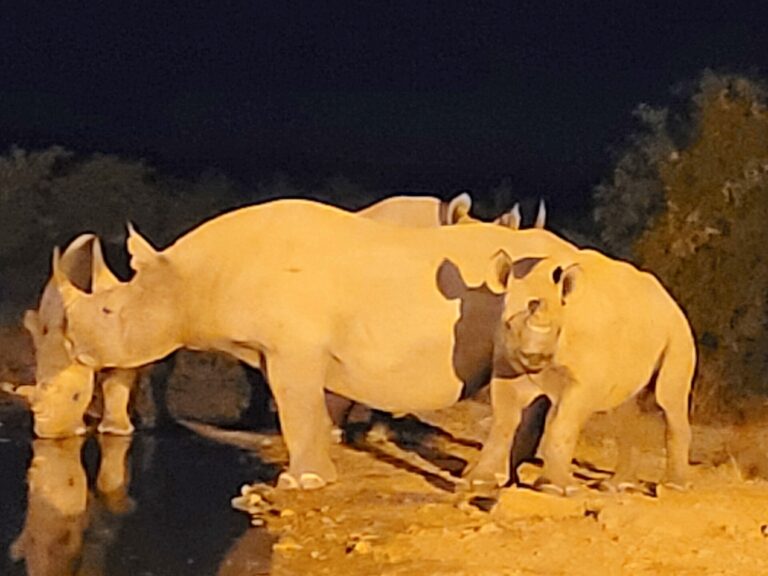 There was also a blind built next to the water hole. This photo of a mother with two young ones was taken from there. Notice the difference in mouth shape and more even horns as compared to the white rhinos.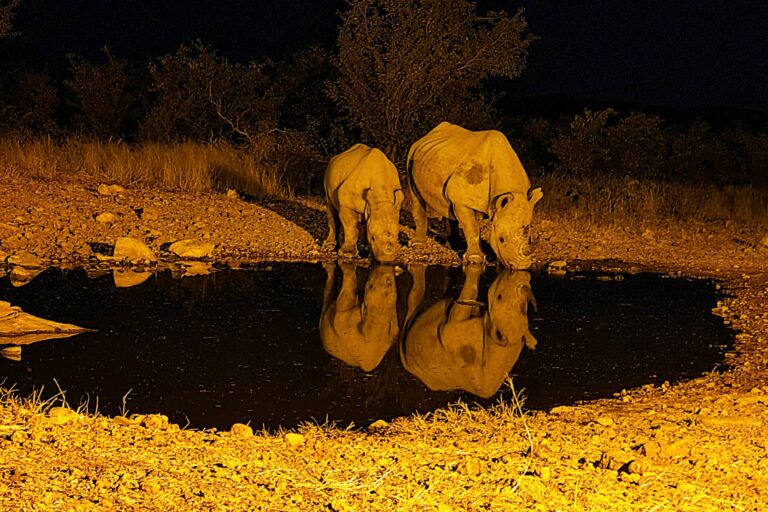 My favorite photo from the blind.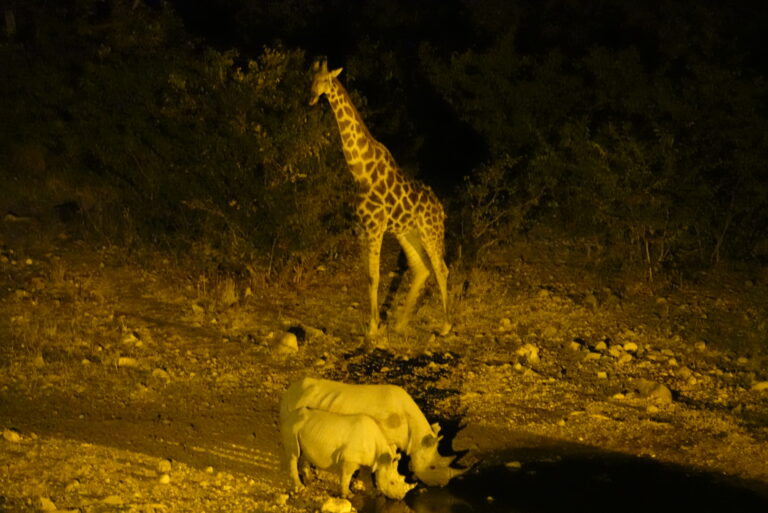 Giraffes also needed to drink but were very careful when approaching the waterhole. They would wait until they could drink alone.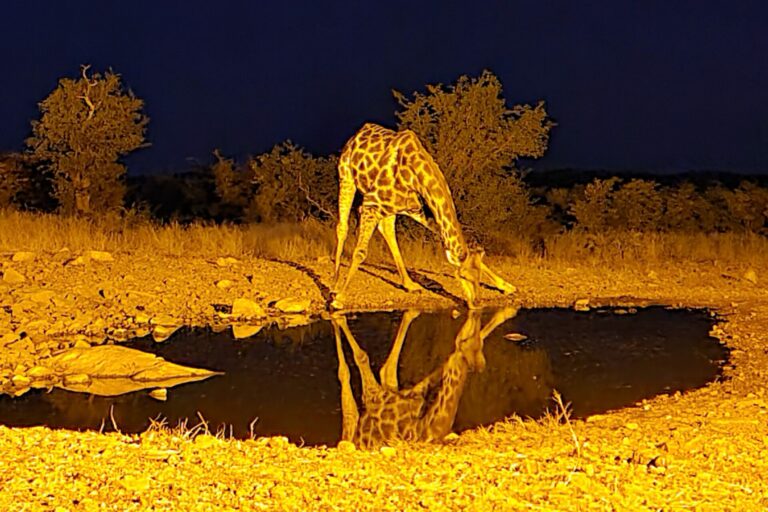 The rhinos eventually left and the giraffe got to drink. It requires something like a yoga pose.
Next Stop – Etosha National Park