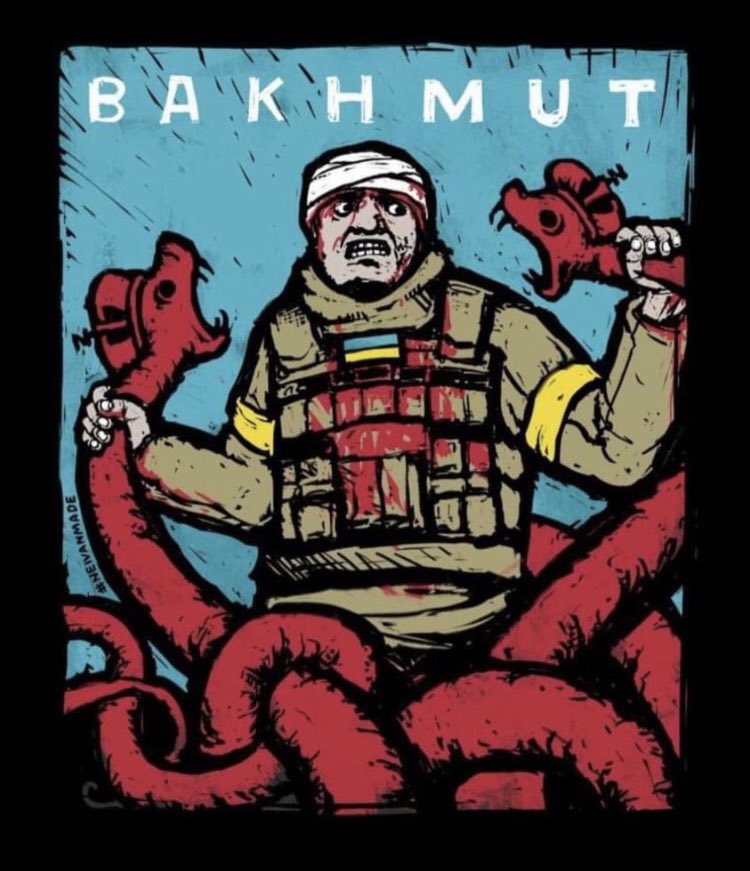 (Image by NEIVANMADE)
On a London-NY flight, when attendant Consuelo comes to thank me for flying.
"What do you do?"
"Journalist."
"Where?"
"FT," pointing to my FT paper.
"I read it all the time! What do you write for them?"
"Ukraine correspondent."
"Oh gosh. Has Bakhmut fallen?"
"No. Bakhmut holds."

— Christopher Miller (@ChristopherJM) March 8, 2023
More on Bakhmut after President Zelenskyy's address from earlier today. Video below, English transcript after the jump:
We are doing everything to ensure that our tactical steps contribute to the strategic goal – the success of Ukraine – address by President Volodymyr Zelenskyy

8 March 2023 – 21:47

Good health to you, fellow Ukrainians!

A brief report of the day.

I held a meeting with the military and intelligence. The frontline, our defense, the battle for Bakhmut and the entire Donbas. This is the first priority.

We are doing everything to ensure that our tactical steps contribute to the strategic goal – the success of Ukraine in the battle for the entire temporarily occupied territory of our state.

And I am thankful to each of our warriors who are fighting. Fighting for Ukraine, for their brothers-in-arms. I thank all those who are defending positions, all those who are repelling attacks, all those who are helping those fighting next to them with their fire. It is very important that the frontline is not a line on the map, it is people, it is resilience, it is willingness to fight, it is support for each other, it is help for each other.

And it is help of our entire nation for those who are now in combat. Help from all those who provide logistics for the front and for the warriors. From everyone who volunteers for our heroic combat brigades and other units of the defense forces. From everyone who works and pays taxes so that Ukraine can endure. Every day at all levels in Ukraine should bring benefits for our defense.

We are also preparing new and quite just steps by our state against those in Ukraine who are still trying to weaken the state and undermine the strength of our society. A new meeting of the National Security and Defense Council will soon take place, and we have relevant draft sanctions decisions. Ukraine's internal security is also a top priority.

Today, UN Secretary-General António Guterres visited Kyiv. We had important talks. The key issue was protection. Protection of Ukraine and the entire international order. The issue of peace – for us and for the world. Condemnation of the aggressor.

We discussed with Mr. Guterres the situation with our people held in Russian captivity. These are captured Ukrainians, as well as deported adults and children. We have to return them all.

We discussed the situation at Ukraine's nuclear facilities and the relevant threats posed by Russia.

We discussed food security and Ukraine's global role as a guarantor of food stability. It is in the interests of our country and all conscientious states of the world that food exports from Ukraine are maintained.

And, of course, I outlined my vision of the capabilities of the UN institutions and the UN Charter that can contribute to the implementation of the Ukrainian Peace Formula – all of its points.

And one more thing worth mentioning today.

I want to thank everyone who has been holding Ukrainian flags in the squares and streets of Georgia these days. I want to express gratitude for our national anthem that was played in Tbilisi. This is respect for Ukraine and I want to express my sincere respect for Georgia. There is no Ukrainian who would not wish success to our friendly Georgia. Democratic success. European success.

We want to be in the European Union and we will be there. We want Georgia to be in the European Union, and I am sure it will be there. We want Moldova to be in the European Union, and I am sure it will be there. All free nations of Europe deserve this.

Glory to all those who are now fighting for Ukraine!

Glory to all those who are fighting for their brothers-in-arms!

Glory to Ukraine!
Here is former NAVDEVGRU Squadron Leader Chuck Pfarrer's most recent assessment of the situation in Bakhmut (newest first).
BAKHMUT CITY/ 2300 UTC 8 MAR/ RU forces have consolidated forces on the E bank of the Bakhmutka. RU infantry effected a crossing of the river via a ruined footbridge in the vicinity of School No. 5. UKR troops are reported in urban combat west of the school. Fighting continues. pic.twitter.com/8p62U6E34o

— Chuck Pfarrer | Indications & Warnings | (@ChuckPfarrer) March 8, 2023
BAKHMUT AXIS /1420 UTC 8 MAR/ On 7 MAR, RU forces renewed futile attacks on the village of Dubovo-Vasylivka. UKR troops broke up 30 sequential attacks in heavy fighting. In the city of Bakhmut, RU forces have advanced the line of contact to the east bank of the Bakhmutka River. pic.twitter.com/AMekT1cEZr

— Chuck Pfarrer | Indications & Warnings | (@ChuckPfarrer) March 8, 2023
Vuhledar:
While Prigozin posts daily complaints about lack of ammunition, soldiers of the 136th Brigade, who will be replacing the 155th Kamikaze Brigade in Vuhledar, accuse the command of sending all ammo to Wagner. pic.twitter.com/FJI9CEqOM5

— Dmitri (@wartranslated) March 8, 2023
Here's something for you logistics and acquisitions enthusiasts.
In a letter sent to the EU, Ukrainian Defense Minister Oleksiy Reznikov said Ukraine is firing an average of 110,000 155mm artillery rounds per month (1/4 of what Russia is firing) and is asking for 250,000 rounds per month from the EU.https://t.co/zTFa7BTNNL pic.twitter.com/e3DRtJO5WD

— Rob Lee (@RALee85) March 8, 2023
In Bakhmut, Vuhledar, and other key battles right now, Russia is firing several times more rounds per day. Without that advantage, Russia's offensive potential would be significantly degraded. Investments in production capacity now could be critical for Ukraine in 2024-2025.

— Rob Lee (@RALee85) March 8, 2023
From The New York Times:
BRUSSELS — So desperate is Ukraine for ammunition, it is firing considerably fewer artillery shells than it otherwise would, its defense minister says.

But it is still going through shells faster than the West can produce or supply them, and making more shells is expensive. If arms manufacturers are to increase production and build new factories, they want large orders with guaranteed money — and those factories can take two to three years or more to come online.

Hoping to address these problems, the European Union's defense ministers will gather on Wednesday in Stockholm to consider proposals to use the E.U. budget to order and purchase up to one million shells for Ukraine at an estimated cost of four billion euros.

It is an approach the European Commission president, Ursula von der Leyen, likens to the one used by Europe to secure vaccines early in the Covid-19 pandemic — pooling resources to offer more money up front to encourage manufacturers "to invest in new production lines now" for the "standardized products that Ukraine needs desperately."

With that in mind, Prime Minister Kaja Kallas of Estonia, with support from Ms. van der Leyen and the E.U. foreign-policy chief, Josep Borrell Fontelles, made her ambitious proposal to buy up to one million shells for Ukraine.

Short of that, Mr. Borrell has proposed spending €1 billion in the next few months to help reimburse countries that donate artillery ammunition to Ukraine, while pushing member states to place fresh joint orders to replenish and expand their stocks, which are running precariously low.

Jens Stoltenberg, the NATO secretary general, has told its member nations not to worry too much about reducing their own stocks for now, despite formal NATO requirements, since they could refill them later. But he warned last month that "the waiting time for large-caliber ammunition has increased from 12 to 28 months."

Initially, Ukraine's challenge was to find enough Soviet-era ammunition to satisfy the outmoded arsenal it had. But European countries have recently been sending modern Western guns to Ukraine. Those require a shell of a different size, 155 millimeters.

Arguing that their efforts to hold back current Russian attacks in the Donbas are being hampered by lack of ammunition, Ukraine's defense minister, Oleksii Reznikov, told E.U. counterparts in a recent letter obtained by The Financial Times that, at a minimum, Kyiv needed 250,000 artillery shells a month. He also said that his forces were firing only about 120,000 a month, a fifth of the rounds they would ordinarily use.

But a senior European official, who spoke on the condition of anonymity because of the sensitivity of the topic, said that the 12 companies in 10 E.U. countries that make such artillery shells can currently produce only 650,000 a year — and that includes other types of ammunition that are in short supply, including 120-millimeter rounds needed for German Leopard 2 tanks and 105-millimeter rounds needed for the older Leopard 1 tanks.

The United States has already sent Ukraine about one million 155-millimeter artillery shells from its stocks and is backfilling them in part with purchases from South Korea, which refuses to sell directly to Ukraine.

But the United States, too, does not make many 155-millimeter shells and is trying to increase its own production. It is ramping up from about 14,400 rounds a month to 20,000 a month this spring, with plans to be making 90,000 rounds a month by 2025.

All those numbers pale compared with Ukraine's needs, let alone the number of shells Russia is firing at Ukraine, estimated at 10,000 a day, though sometimes twice that, Mr. Borrell said.

Russia, too, is facing ammunition shortages, and its munitions factories are working at speed. But it has also reduced the number of shells it is firing. Last summer in the Donbas, the Russians were firing 40,000 to 50,000 artillery rounds per day, while the Ukrainians were firing 6,000 to 7,000 a day.

Ukraine also needs ammunition for its existing fleet of Soviet-era T-72 tanks, which Western companies do not manufacture.
Much more at the link!
And for those of you into the cyber!
📊 @dsszzi has prepared an analytical report titled Russia's Cyber Tactics: Lessons Learned in 2022 to cover russia's #cyber aggression against Ukraine in 2022👇
🌐https://t.co/UVH3GFLycs#cyberwar #russianhackers #hacker
#spyware #cybercrime #cybersecurity #cyberdefence pic.twitter.com/d5kUUL3xMs

— SSSCIP Ukraine (@dsszzi) March 8, 2023
Here's the summary, with links to the full report as a pdf, from Ukraine's State Service for Special Communications and Information Protection of Ukraine:
Russia's Cyber Tactics: Lessons Learned in 2022 — SSSCIP analytical report on the year of russia's full-scale cyberwar against Ukraine

08.03.2023 07:20

The SSSCIP has prepared an analytical report titled Russia's Cyber Tactics: Lessons Learned in 2022 to cover russia's cyber aggression against Ukraine in 2022. This report studies principal hacking groups, their motivation, attack methods and tools. This knowledge will help us build efficient defense systems established in both Ukrainian institutions and organizations worldwide.

This report is targeted at everyone whose activities are related to cybersecurity in one way or another, including:

●  top management of Ukrainian public authorities;

●  information security specialists at critical infrastructure facilities and critical information infrastructure facilities and their service providers;

●  cybersecurity product vendors;

●  Ukraine's partners worldwide.

Based on the study conducted, we can discuss major trends of the cyber threat posed by russia.

Cyberattacks make up an essential component of russia's warfare against Ukraine

Objectives pursued by russian hackers are in line with the general goals of russia's military aggression. Civil infrastructure is a primary target for russian cyber criminals, and their priorities have been changing to reflect their military needs throughout the full-scale invasion. While government agencies remain key targets, early cyberattacks focused on the media and telecom, since the russian authorities expected a swift victory and hoped to influence Ukrainians through the mass media, to scare us. Later on, both the russian army and hackers shifted their focus towards the energy sector.

Technical vulnerabilities are a key source of hazard alongside phishing

Targeted phishing remains a predominant and efficient method to gain unauthorized access to affected organizations. However, we can see some changes in russian hackers' tactics starting the second half of 2022. Instead of attacking target organizations directly using phishing modalities, the hackers started to shift their focus towards exploiting technical vulnerabilities of the institutions providing services to critical information infrastructure operators.

Hackers are attacking all the institutions they can reach

Specifics of russia's hacking attacks indicate that no institution can be safe enough. The ones at the highest risk are companies servicing critical information infrastructure operators, such as software developers, Internet service providers, etc.

Hackers that carry out "quiet" operations are the most dangerous

Russian hackers are waging their cyberattacks for such purposes as revenge or psychological effect, i.e. to try and persuade people that their government is incapable of defending them. Such attacks attract the most attention from the mass media and society. However, slow and "quiet" attacks aimed at espionage are actually much more dangerous. For instance, such attacks are waged by the InvisiMole group (russia's foreign intelligence service). Their primary targets include top-level officials, diplomats and other specialists that have access to the most sensitive information. Since such "quiet" attacks are much harder to detect, they may have critical consequences.

Follow the link below to download the report
https://cip.gov.ua/services/cm/api/attachment/download?id=53370
And here's the link to the US Intelligence Communities unclassified Annual Threat Assessment for 2023. It was released to coincide with the IC leadership testifying before the Senate Select Committee on Intelligence. Here's the Introduction and Forward:
ANNUAL THREAT ASSESSMENT OF THE U.S. INTELLIGENCE COMMUNITY February 6, 2023 INTRODUCTION

This annual report of worldwide threats to the national security of the United States responds to Section 617 of the FY21 Intelligence Authorization Act (Pub. L. No. 116-260). This report reflects the collective insights of the Intelligence Community (IC), which is committed every day to providing the nuanced, independent, and unvarnished intelligence that policymakers, warfighters, and domestic law enforcement personnel need to protect American lives and America's interests anywhere in the world. This assessment focuses on the most direct, serious threats to the United States during the next year. The order of the topics presented in this assessment does not necessarily indicate their relative importance or the magnitude of the threats in the view of the IC. All require a robust intelligence response, including those where a near-term focus may help head off greater threats in the future. Information available as of 18 January was used in the preparation of this assessment.

FOREWORD

During the coming year, the United States and its allies will confront a complex and pivotal international
security environment dominated by two critical strategic challenges that intersect with each other and
existing trends to intensify their national security implications. First, great powers, rising regional powers, as well as an evolving array of non-state actors, will vie for dominance in the global order, as well as compete to set the emerging conditions and the rules that will shape that order for decades to come.
Strategic competition between the United States and its allies, China, and Russia over what kind of world
will emerge makes the next few years critical to determining who and what will shape the narrative perhaps most immediately in the context of Russia's actions in Ukraine, which threaten to escalate into a broader conflict between Russia and the West. Second, shared global challenges, including climate change, and human and health security, are converging as the planet emerges from the COVID-19 pandemic and confronts economic issues spurred by both energy and food insecurity. Rapidly emerging or evolving technologies continue to have the potential to disrupt traditional business and society with both positive and negative outcomes, while creating unprecedented vulnerabilities and attack surfaces, making it increasingly challenging to predict the impact of such challenges on the global landscape.

These two strategic challenges will intersect and interact in unpredictable ways, leading to mutually
reinforcing effects that could challenge our ability to respond, but that also will introduce new opportunities to forge collective action with allies and partners, including non-state actors. The 2023 Annual Threat Assessment highlights some of those connections as it provides the IC's baseline assessments of the most pressing threats to U.S. national interests. It is not an exhaustive assessment of all global challenges. This assessment addresses both the threats from U.S. adversaries and functional and transnational concerns, such as weapons of mass destruction and cyber, primarily in the sections regarding threat actors, as well as an array of regional issues with larger, global implications.
Russia's unprovoked full-scale invasion of Ukraine has highlighted that the era of nation-state competition and conflict has not been relegated to the past but instead has emerged as a defining characteristic of the current era. While Russia is challenging the United States and some norms in the international order in its war of territorial aggression, China has the capability to directly attempt to alter the rules-based global order in every realm and across multiple regions, as a near-peer competitor that is increasingly pushing to change global norms and potentially threatening its neighbors. Russia's military action against Ukraine demonstrates that it remains a revanchist power, intent on using whatever tools are needed to try to reestablish a perceived sphere of influence despite what its neighbors desire for themselves, and is willing to push back on Washington both locally and globally. Besides these strategic competitors, local and regional powers are seeking to exert their influence, often at the cost of neighbors and the world order itself. Iran will remain a regional menace with broader malign influence activities, and North Korea will expand its WMD capabilities while being a disruptive player on the regional and world stages.

At the same time, as the nations of the world strive to recover from the COVID-19 pandemic, they are beset by an array of shared, global issues. The accelerating effects of climate change are placing more of the world's population, particularly in low- and middle-income countries, under threat from extreme weather, food insecurity, and humanitarian disasters, fueling migration flows and increasing the risks of future pandemics as pathogens exploit the changing environment. Efforts by Russia, China, and other countries to promote authoritarianism and spread disinformation is helping fuel a larger competition between democratic and authoritarian forms of government. This competition exploits global information flows to gain influence and impacts nearly all countries, contributing to democratic backsliding, threats of political instability, and violent societal conflict through misinformation and disinformation. Regional and localized conflicts and instability will continue to demand U.S. attention as states and nonstate actors struggle to find their place in the evolving international order, attempt to navigate great power competition, and confront shared transnational challenges.

Regional challengers, such as Iran and North Korea, will seek to disrupt their local security environment and garner more power for themselves, threatening U.S. allies in the process. In every region of the world, challenges from climate change, demographic trends, human and health security, and economic disruptions caused by energy and food insecurity and technology proliferation will combine and interact in specific and unique ways to trigger events ranging from political instability, to terrorist threats, to mass migration, and potential humanitarian emergencies.

The 2023 Annual Threat Assessment Report supports the Office of the Director of National Intelligence's transparency commitments and the tradition of providing regular threat updates to the American public and the United States Congress. The IC is vigilant in monitoring and assessing direct and indirect threats to U.S. and allied interests. As part of this ongoing effort, the IC's National Intelligence Officers work closely with analysts from across the IC to examine the spectrum of threats and highlight the most likely and impactful near-term risks in the context of the longer-term, overarching threat environment.

The National Intelligence Council stands ready to support policymakers with additional information in a classified setting.
Let's make a quick check in with the Georgians and see what's going on:
A huge new pro-EU protest officially started in front of the Georgian Parliament in Tbilisi 2 minutes ago.

All eyes on Georgia tonight.

— Visegrád 24 (@visegrad24) March 8, 2023
— Georgian Legion (@georgian_legion) March 8, 2023
This Georgian-Ukrainian protester in Tbilisi tonight has a simple message: no more Russian imperialism! pic.twitter.com/u1McXUCpu1

— Business Ukraine mag (@Biz_Ukraine_Mag) March 8, 2023
Russia is trying to keep Georgia dependent on it. Putin aims to govern Georgia through his marionette politician Bidzina Ivanishvili.

Today in Tbilisi people are fighting to throw off Russian chains.

We stand with the people of Georgia. pic.twitter.com/hRbIrlmQOr

— Anton Gerashchenko (@Gerashchenko_en) March 8, 2023
Protesters give hearts to security forces in Tbilisi 🫶
🇺🇦❤️🇬🇪 pic.twitter.com/nvvc2Df4jD

— MAKS 22🇺🇦 (@Maks_NAFO_FELLA) March 8, 2023
Police dispersed the protest rally against the Russian foreign agents law in Tbilisi centre. Night. 08/03/23. Rallies will definitely continue. pic.twitter.com/OEzvhGqQt1

— Egor Kuroptev (@ESK001) March 9, 2023
I'm seeing reference to a Russian OMON, or Special Purpose, Regiment in Tbilisi, but the unit patches in the image aren't crisp and they don't seem to match the official ones I can find. So we'll keep an eye out for further details on that, though it wouldn't surprise me.
This is an interesting sign:
A #Georgian policeman has taken his uniform off & joined the protesters in #Tbilisi.#GeorgiaIsEurope pic.twitter.com/rMskpECNXs

— Stepan Gronk (@StepanGronk) March 9, 2023
This is how international women's day looks like in #Georgia.

Right now, women's march against #Russian law happening on Rustaveli ave. pic.twitter.com/pFmYcZ0dnz

— Mariam Geguchadze (@mariamgegu) March 8, 2023
That's enough for tonight.
Your daily Patron!
« Georgia on my mind »❤️

— Patron (@PatronDsns) March 8, 2023
❤️❤️❤️

— Patron (@PatronDsns) March 8, 2023
And a new video from Patron's official TikTok:
@patron__dsns

Том змусив мене зняти цей тренд! Усім гарний лизь👅✨
The caption machine translates as:
Tom made me take this trend down! Have a nice lick, everyone 👅✨
Open thread!