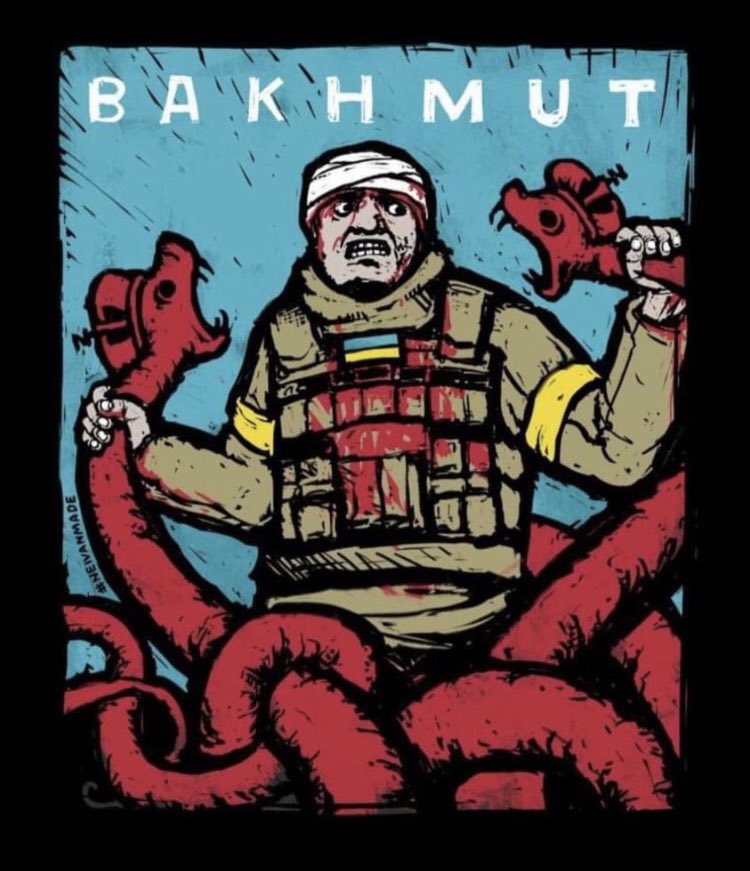 (Image by NEIVANMADE)
Just a quick housekeeping note: I have already explicitly addressed Sy Hersh's execrable attempt to explain the NordStream explosion once in detail. This was several weeks ago and in a long comment reply when a regular commenter asked about it. I have also now addressed it several times by linking too and providing excerpts from some of the best open source analysis that I've found on the explosions. This includes the material from Oliver Alexander that I've referenced twice in the past week. I won't be approving any more first time commenters with snide remarks asking when I'm going to get to it. So just don't bother.
Here is President Zelenskyy's address from earlier today. Video below, English transcript after the jump:
Russia has become a synonym for terror and will become an example of defeat and fair punishment – address of President of Ukraine

11 March 2023 – 19:39

Dear Ukrainians!

Today, I would like to support all those cities and communities of ours facing brutal terrorist attacks by the evil state every day, every night.

Our Kherson region and the city of Kherson, on which the occupier is seeking revenge for its loss. Our Zaporizhzhia. Our cities of Donetsk region and Luhansk region, which Russia wants simply to burn. Our Kharkiv region and the city of Kharkiv. Only since the beginning of this year – in less than two and a half months – over forty enemy missiles have already struck Kharkiv. Nikopol, Marhanets – our Dnipropetrovsk region. Our Sumy region. Our Chernihiv region.

Missiles and artillery, drones and mortars – the evil state uses a variety of weapons. But with one goal. To destroy life and leave nothing human.

Ruins, debris, shell holes in the ground are a self-portrait of Russia, which it paints where normal life reigns without Russia.

Today, Russian shelling took the lives of people in Kherson who simply went to a store to buy groceries. Three Ukrainians died. My condolences to the relatives!

In Zaporizhzhia, a Russian missile hit the city's life support facility. In the border areas, the occupier fired at villages to intimidate people, to drive people away.

But Russia will not be there. It has become a synonym for terror and will be an example of defeat and fair punishment for this terror. The punishment that the Kremlin cannot stop.

Today, I thank our fighters of the Pivnich task force for destroying a terrorists' missile and a Shahed. Fighters of our air defense in Chernihiv region, fighters of the 2nd separate regiment of the National Guard in Sumy region – thank you, guys!

Thanks to all our fighters in the south, who are destroying the warehouses, logistics and positions of the occupiers! Every blown up enemy position is a saved Ukrainian life.

Khortytsia task force… Today, I would like to especially mention the 92nd separate mechanized brigade named after Ivan Sirk, the 80th brigade – our paratroopers, the 5th separate assault brigade… All of them, together with our other soldiers, are defending Bakhmut. Thanks for the strength!

We've got a lot to thank the 54th Separate Mechanized Brigade named after Hetman Mazepa and the 81st Separate Airmobile Brigade operating in Donbas. Well done, guys!

Thanks to everyone who helps our units! Thank you to everyone who supports our civilians in the frontline and border areas! Thank you to everyone who is convincing the world that it is necessary to show more determination right now! Now, when we are preparing our active actions against the occupier, so that every shot at Ukrainians will be a responsibility of the terrorist state.

And one more. Our new sanctioning step against individuals and legal entities associated with the evil state. The relevant decree has been published. These are more than 280 companies and 120 people who, through gambling business schemes, worked against Ukraine, withdrew funds from our state and financed various Russian schemes.

It took some time to prepare the decision. It has been thoroughly worked out and closes schemes worth tens of billions. And it is not the last such decision.

Ukraine will defend itself everywhere. And by all civilized means.

Glory to everyone who is now fighting for our country! Glory to everyone who helps! In memory of all those whose lives were taken by Russian terror!

Glory to Ukraine!
Here's the tally of Russia's genocidal war against Ukraine and Ukrainians:
Russia shelled Ukraine over 40,500 times since Feb. 2022, according to Ukraine's Interior Minister Klymenko

Over 152K residential buildings were destroyed. 66,300 criminal proceedings have been registered regarding the war crimes committed by Russian military, Klymenko said.

— Euromaidan Press (@EuromaidanPress) March 11, 2023
Here is former NAVDEVGRU Squadron Leader Chuck Pfarrer's most recent assessment of the situations in Kreminna and Bakhmut:
KREMINNA /1840 UTC 11 MAR/ RU resumed offensive operations across the P-66 HWY with a probe at Nevske; it was repelled by UKR forces. UKR troops are again in contact in the urban area of Kreminna, RU forces were repelled S of Bilohorvika. pic.twitter.com/IxJsGXwCam

— Chuck Pfarrer | Indications & Warnings | (@ChuckPfarrer) March 11, 2023
BAKHMUT AXIS /1550 UTC 11 MAR/ Wagner PMC claimed to have captured the village of Dubovo-Vasylivka; UKR reports that its units are still in contact at that place. Combat ongoing in Bakhmut. UKR engaged the enemy at Paraskoviivka, indicating a penetration of RU lines. pic.twitter.com/466vTmD5lG

— Chuck Pfarrer | Indications & Warnings | (@ChuckPfarrer) March 11, 2023
Kherson:
Kherson. Saturday afternoon. Parking lot near the supermarket. Three people killed, two wounded. Everyone who gives orders and fires on civilians will be prosecuted for these war crimes. Justice will be served. pic.twitter.com/HYpIDGwfsA

— Maria Avdeeva (@maria_avdv) March 11, 2023
Only zoom in if KIAs don't bother you:
The killing fields.
Zoom in to see. pic.twitter.com/4QJ9JaJRw7

— Illia Ponomarenko 🇺🇦 (@IAPonomarenko) March 11, 2023
Iron People of Ukrzaliznytsia. War heroes who have evacuated millions of people from the worst-hit areas and keep Ukrainian Railways running despite ongoing Russian attacks on energy infrastructure. pic.twitter.com/Sha4uj6DiU

— Maria Avdeeva (@maria_avdv) March 11, 2023
The Kyiv Independent provides a detailed profile of Dmytro Kotsiubailo, the Ukrainian Soldier whose funeral I posted about last night:
It was another one of those losses.

A young, bright Ukrainian who had a long life to live. Somebody who many perceived as "immortal" because the country's future was hard to imagine without their dedication and patriotism. Somebody for whom thousands, both friends and strangers, would gather in central Kyiv to say final goodbyes.

This time, it was 27-year-old Dmytro Kotsiubailo, known by his call sign "Da Vinci." He was one of the youngest commanders in Ukrainian history, a legendary soldier, and a Hero of Ukraine, killed by Russia near Bakhmut, Donetsk Oblast, on March 7.

"(Russian President Vladimir) Putin's horde is taking our most beautiful sons and daughters," said the priest during the memorial service at the St. Michael's Golden-Domed Monastery on March 10, with hundreds of people clustered inside around Kotsiubailo's body and his family.

"Dmytro showed, through his example, how to love and defend your country," the priest went on.

Kotsiubailo was the commander of the First Mechanized Battalion "Da Vinci Wolves."

"He died with a weapon in his hands… going into the battle first" his battalion wrote on their official Telegram channel. "He lived and died like a hero," the post said.

"Back then, he was a year younger than me, yet he had the authority, and always went into the battle himself," a 28-year-old soldier Pavlo, who goes by nom de guerre "Belarussian" because of his origins, told the Kyiv Independent.

He asked to conceal his full name citing fear for the security of his family, who are still back in dictator-ruled Belarus. After immigrating to Ukraine in 2017, Pavlo spent two months fighting with the Da Vinci Wolves in Donbas before joining the Azov regiment.

Pavlo said that Kotsiubailo "never sent his soldiers into battle alone while sitting it out," only sending to the front line those who were prepared.

"What surprised me was that every single one of Da Vinci's positions were fully equipped for a full-scale battle – there were all weapons imaginable," Pavlo said, comparing the conditions to some of the official units in the Ukrainian army that were undersupplied at the time.

"Every person who came to Da Vinci was given everything they needed to work comfortably – from bulletproof vests and helmets to personal hygiene products… Da Vinci always said that you have to prepare for the worst."

In December of 2021, President Volodymyr Zelensky presented Kotsiubailo with the nation's highest award – the Golden Star order, as well as the Hero of Ukraine title. Kotsiubailo became the youngest commander to receive the title, as well as the first volunteer fighter in the history of Ukraine to be awarded while still alive.

"There was never anything more important for him than his personnel… they were his family. The execution of combat tasks wasn't as prioritized as the saving of human life, the lives of his men," Podolyak said.

Five months into the all-out war, Ukraine's Forbes put Kotsiubailo on their 30 Under 30: Faces of the future list, along with many other famous young soldiers and paramedics, including Mykhailova.
There's a little more at the link!
As I wrote last night, the Russians have worked very hard to infiltrate Germany's intelligence and security services. Spiegel has the details on the Russian mole inside the BND:
It was May 13, 2021, Ascension Day, in the Bavarian town of Weilheim, and a local club was having a party. The pandemic had put a bit of damper on the festivities, but 10 guests showed up nonetheless. It was a cozy gathering.

The party had been organized by Reno S., a soldier in the German military, the Bundeswehr, and a functionary in the right-wing radical party Alternative for Germany (AfD). Among the invitees was a businessman named Arthur E., and one of his friends from town, a friendly, heavyset man named Carsten L., who coached youth soccer. Arthur E. would later tell investigators that Carsten L. had a fair amount to drink that night and began gloating about working for the Bundesnachrichtendienst (BND), Germany's foreign intelligence agency. Arthur E. and the BND agent apparently took to each other instantly.

Cut to a scene around half a year earlier: The Ritz-Carlton in Moscow, a glamorous building with a red façade located near the Kremlin in the heart of the Russian capital. A room here costs around 500 euros per night.

On October 24, 2020, Arthur E., the businessman who would later attend the party in Weilheim, spent the night here, getting to know the Russian businessman Visa M. A wealthy man, Visa M. spoke to Arthur E. about his business interests. The Russian is thought to have excellent connections to senior Russian politicians, and it seems likely that this was the moment when Arthur E. saw an opportunity to earn a pile of money.

Two meetings, two random encounters – but they mark the beginning of the biggest spying scandal in recent years, perhaps even in recent decades. The upshot of the affair are suspicions that BND agent Carsten L. may well have committed high treason by pilfering important BND documents related to the war in Ukraine and delivering them to Arthur E. Nothing has yet been proven, no charges have been filed and the presumption of innocence remains in effect. But hardly any doubts still remain that Carsten L. was used as a spy.

Arthur E. is thought to have delivered the information to the FSB, the Russian domestic intelligence agency. Visa M., the man Arthur E. met in the Ritz-Carlton, is thought to have connected Arthur E. with the FSB.

The case has rocked the BND, besmirching its reputation as a partner to other Western intelligence agencies – at a time when Russia is waging war against Ukraine. Indeed, in a situation where the secure exchange of extremely delicate information was, and continues to be, crucial, BND information ended up in Moscow. A worst-case scenario and extremely embarrassing for the Germans.

The repercussions have already made themselves felt at the BND. Even as heads of other agencies officially insist that they continue working with the Germans just as cooperatively as ever, agents lower down the chain of command say they have noticed a significant reticence from Germany's NATO allies. For a time, at least, the governments of the United States, Britain and other countries curtailed intelligence- sharing with Berlin.

Germany's partners were also aggravated by how easy it apparently was for Carsten L. to smuggle information out of the BND and have it brought to Russia. There are a number of indications that the BND's control mechanisms failed. And clear warning signs, such as clues pointing to the right-wing extremist leanings of those involved, were ignored.

Carsten L. was apparently able to establish a network of mostly involuntary helpers without his superiors realizing that anything untoward was going on. And all that in an agency that underwent radical restructuring, including the introduction of new levels of control, following the scandal surrounding the U.S. agency NSA several years ago.

The BND was only able to track down the mole in its ranks thanks to a tip-off from a partner agency, which set off an extensive investigation. Since then, Arthur E., the intermediary to the wealthy Russian businessman, has provided extensive testimony. His statement, to the degree it can be corroborated, is largely consistent with other investigation findings. It's doubtful, however, that Arthur E. has a complete overview of the case. Carsten L. has apparently remained silent on the allegations thus far. His lawyer chose not to respond to questions and Arthur E.'s lawyer didn't reply to a DER SPIEGEL request for comment.

Still, it is clear that this particular thriller has plenty of tragi-comedic elements, even if only the Russians are able to laugh at them. And the three main characters seem to be anything but well-seasoned agents.

Visa M., the millionaire businessman, is married to one of the richest women in Russia and, according to information gathered by Western intelligence agencies, he has been friends for several years with a high-ranking FSB functionary.

Arthur E., the German businessman, is a former German soldier who recently earned his money in the diamond trade.

And Carsten L., the Bundeswehr officer, has been working for the BND since 2007, even though his biography when he joined the agency was anything but unproblematic.

At the BND, Carsten L. apparently didn't go out of his way to conceal his right-wing leanings. One coworker says that he once said words to the effect that refugees should be summarily executed. Other colleagues, though, remember him as being perhaps a bit gruff, but a friendly man who enjoyed drinking beer. Still others say he was a loudmouth and could be manipulative.

His political leanings were also no secret to more senior BND levels, and they were a focus of his most recent security check. Agents who work in sensitive areas of the BND must regularly undergo an evaluation. As part of the process, coworkers from the relevant division are interviewed, as are people from the agent's private circle of friends and acquaintances. In those interviews, Carsten L. was described as being "very conservative" or "nationalist." But the BND seemed unconcerned. Political views, after all, aren't a crime.

Later, once Carsten L. was under suspicion of being a spy and his employer was secretly monitoring him, internal investigators noted that he apparently didn't just voice right-wing extremist sentiments, but also subversive views.

In September 2022, the month in which Carsten L. likely delivered the first documents to Russia, he began a new job inside the agency. He was transferred to Berlin to become part of the division responsible for evaluating other agents – the precise division that he had been so successful in deceiving.

Living in the Alpine foothills with his wife and two children, Carsten L. looked to the outside world like an upstanding family man. Until his arrest in December, they lived on the outskirts of Weilheim in a duplex with solar panels on the roof and carefully pruned bushes in the yard. Now, though, several of the shutters are closed and somebody has scratched the name off the mailbox. If you approach the doorbell, an alarm goes off.

Neighbors were surprised when several black sedans rolled up to the house one morning before Christmas. Only later did they realize they belonged to investigators. Carsten L. was, says one neighbor, affable enough and wasn't at all secretive about working for the BND. Another neighbor says that Carsten L. enjoyed going shooting and that he occasionally had guests over for parties. "Totally normal, really."

For years, he was actively involved in the local soccer club, called TSV 1847, where he coached youth teams and was, for a time, head of the club's entire youth division. Some parents didn't like his military tone and pulled their children out of the club, but others say that they appreciated the passion he showed.

When Carsten L. and Arthur E. met at that Ascension Day party in 2021, the two men perhaps got along so well because of their similar backgrounds. Businessman Arthur E. spent several years as a radio operator for the German military, just like Carsten L. and AfD man Reno S.

Born in the Soviet Union in 1991, Arthur E. emigrated to Germany with his parents when he was still a child. He became a German citizen when he was eight and joined the Bundeswehr before his 18th birthday. He initially signed for 12 years, but left the armed services in 2015.

Following his time in the military, E. apparently founded an import-export company trading for a time in erectile dysfunction medicines. Later, according to investigators, he moved on to precious metals and gemstones. He is said to be married to a Russian dentist.

It's not difficult to find traces of Arthur E. on the internet. There are pictures showing him as the head of a company based in Sierra Leone and others taken during a visit of his to a Russian conglomerate. He also once attended a fashion show in Moscow.

An examination of his roughly 1,300 Google reviews and flight bookings clearly demonstrates that Arthur E. traveled a lot, apparently making trips to Moscow, Israel, Dubai, Miami, New York and Sierra Leone.

The encounter with Russian businessman Visa M. at the Ritz-Carlton in Moscow seemed promising for both of them. A Chechen by birth, Visa M. could very well have seen Arthur E. as someone who could help him get a foothold in the German market, and perhaps also as a possible business partner in Africa.

Arthur E., for his part, felt the business opportunities with the 59-year-old Visa M. were immense.

According to company registries in Russia, Visa M. has found success with investments in the food industry and through lucrative stakes in several companies. He is thought to have close ties to the Kremlin and allies within the FSB. And for many years, he had a residency permit for Germany because he used to be married to a German woman.

But the businessman is also able to freely travel to the European Union without the residency permit. Because even though Visa M. can apparently hardly speak English, he is thought to have a passport from a former British colony in the Caribbean in addition to his Russian citizenship. All you have to do is invest enough money on the island and you become a citizen, allowing you to travel visa-free to Europe. It is a popular trick among Russians to circumvent annoying limits on their freedom of movement.

Visa M.'s current wife, Olga Belyavtseva, also has plenty of money. In 2018, Belyavtseva came in fifth place in a Forbes ranking of the wealthiest women in Russia, with estimated assets of half a billion U.S. dollars. In Russia, that usually translates to excellent political connections.

According to media reports, Belyavtseva owns a home in the gated mansion community of Meyendorff Gardens, near Moscow – one of the most expensive places to live in the entire country. Photos show swanky estates surrounded by park-like gardens. The community is also home to Russian President Vladimir Putin's official guesthouse – and his defense minister apparently also owns property here.

Belyavtseva's rise in Russia sounds like an oligarch fairytale. Shortly before the collapse of the Soviet Union, she was working as a packer in a state-owned canned-goods factory, according to reports in the Russian media. During the vast wave of privatizations in Russia in the 1990s, she became a partial owner of the factory.

The sale of the successor company for billions to Pepsi in 2008 netted over $100 million for Belyavtseva, and today, she is co-owner of the largest baby food manufacturer in Russia. In addition, she and Visa M. own a synthetic materials company that supplies such well-known companies as IKEA. Olga Belyavtseva did not respond to a DER SPIEGEL query, and her husband Visa M. could not be reached for comment.

Back in Germany, Arthur E. and Carsten L. met in August 2022 to deepen their new acquaintanceship, choosing the Pöltner Hof, a slightly upscale hotel and restaurant in Weilheim, for their rendezvous. It's a place that serves traditional fare like bratwurst with red cabbage and mashed potatoes, but guests can also order "Black Label" caviar or Cuban cigars. The AfD functionary Reno S. is thought to have joined them, though he is not a defendant in the case. He did not respond to DER SPIEGEL queries.

That evening, Arthur E. apparently spoke about his numerous business trips. And he admitted that he was under investigation by Munich prosecutors for the possession of a falsified diplomatic passport and because he had stuck a diplomatic sticker to his car. He said he had received the documents from Ukraine due to his involvement with a charity and hoped they would make his many trips that much easier. But, he added, he hadn't realized they were falsified.

Carsten L., the BND agent, was apparently fascinated by Arthur E.'s stories. He allegedly told Arthur E. that he would make a good BND informant, providing information on terrorist groups in Africa, for example. Arthur E. said he thought the idea was "cool."

But he also wanted something from Carsten L. on that evening. His Moscow friend, Visa M., had asked him for help with obtaining permanent residency for Germany. In exchange, he offered Carsten L. a share of his business deals in Africa. Carsten L. was evasive in his response, but he didn't reject the idea outright. Perhaps it would be nice for retirement, Carsten L. responded according to Arthur E.'s testimony.

A short time later, Arthur E. asked out of the blue for a current list of sanctions against Russia. According to his testimony, his new friend at the BND, Carsten L., sent him the information a short time later.
Much, much, much more at the link!
LTC Shoot the tanks optics with paint balls to defeat them has thoughts:
Russia will run out of soldiers, I don't care what people say about the amount they can force into service. They tried to mobilize 300K, required capturing people off the street and more than 400K Russian men fled the country. https://t.co/Q8PDcQZeZ5

— John Spencer (@SpencerGuard) March 11, 2023
I will remind everyone that the North Koreans did NOT lose the Korean War and the North Vietnamese/Viet Minh/Viet Cong did NOT lose the Indochina Wars NOR the Vietnam War.
As I've repeatedly stated, I don't think Russia is going to win their re-invasion of Ukraine, but having the ability to throw more bodies into combat than your opponent has the ability to at least protract the war making it seem like a frozen conflict. It also has the potential to drag it out for so long that it does, indeed, become frozen. This is one of those metrics that may not mean what it seems to mean at face value. Or one that fits within Einstein's axiom that there are things that count that cannot be counted and things that can be counted that do not count.
EuroMaidan Press reports that Denmark is stepping up the number of Leopards they're planning to send to Ukraine:
The Danish Defense Ministry 

reports

 that Denmark's Acting Defense Minister Troels Lund Poulsen hopes Ukraine will receive the first Leopard 1A5 tanks in the spring. Denmark plans to donate at least 100 Leopard 1s to Ukraine in collaboration with Germany and the Netherlands.

On 10 March, Minister Troels Lund Poulsen and the German Defense Ministry's State Secretary Thomas Hitschler visited the German military vehicle manufacturing company Flensburger Fahrzeugbau Gesellschaft (FFG) to be updated on the work to prepare Leopard 1 tanks for Ukraine.

"I am very excited to have visited FFG. I was there to see that the work to prepare Leopard 1 tanks for Ukraine is progressing so that we can get them going as soon as possible. I am proud that Denmark, in cooperation with other countries, supports Ukraine's struggle for freedom with a large and important donation, and we still hope to be able to deliver the first tanks to Ukraine during the spring," he said.

Denmark launched the project to refurbish a large number of Leopard 1A5 tanks together with the Netherlands and Germany in early February.

According to Denmark's Defense Ministry, the project's "first sub-goal is to be able to deliver tanks for two battalions – corresponding to approximately 80 tanks – as quickly as possible. The first tanks are expected to be ready during the spring and will be used to train Ukrainian forces."

The project includes training the Ukrainian soldiers on the Leopard 1 tanks, and supplies of spare parts and ammunition.
As I mentioned last night, the issue here is not the amounts pledged, not the training for the Ukrainian tankers, but the time frame to see the tanks actually delivered. And, of course, if the pledged numbers actually show up. At this point every EU and/or NATO member with Leopards should be sending every last one to Ukraine and, at the same time, placing orders for either the newest most upgraded variants for themselves and/or the next generation main battle tanks they were considering eventually ordering. There is no reason for any of these tanks to remain in the states they're in now. Those EU and NATO members are not going to need them. Russia can barely manage to continue to attack Ukraine with even incremental tactical success, Putin doesn't actually have the material left to threaten any EU or NATO member state in Europe. So rather than hold material back under the claim that it might be needed for defense in the EU and NATO Member states in Europe, the question should be repeatedly asked: "in defense from whom?" Sure, Orban probably won't send his, but even he isn't megalomaniacal enough to consider invading his EU and NATO neighbors. And Erdogan is stretched far too thin. The PRC isn't even ready to move on Taiwan, so traipsing across either Central Asia or southern Russia isn't happening either. Send everything! It'll both help Ukraine defeat Russia and weaponized Keynesianism is good for the economy!
Well this is interesting:
Pakistan has offered to give 44 T-80UD tanks to Ukraine in exchange for western financial support.

🇵🇰🇺🇦 pic.twitter.com/Hf8iwgL3z7

— Visegrád 24 (@visegrad24) March 11, 2023
That's enough for tonight.
Your daily Patron!
A new video from Patron's official TikTok:
Open thread!