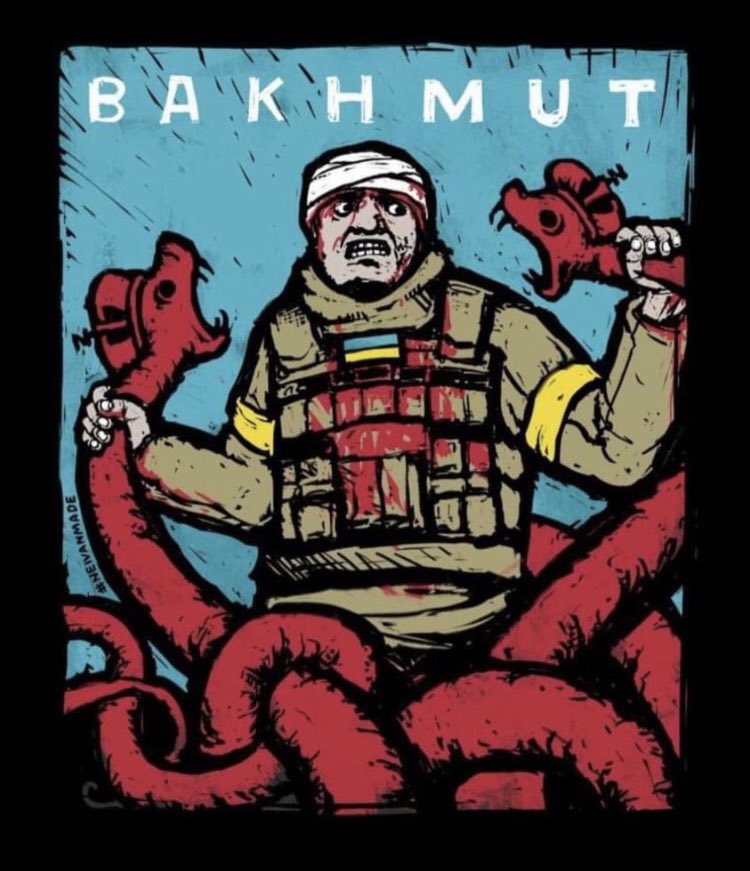 (Image by NEIVANMADE)
As I do occasionally, so I'm not doing it one at a time in the comments. Thank you to everyone for the kind words and you are all most welcome for the updates. I wish I didn't have to do them. I look forward to them no longer being necessary, but until then, we'll all sit vigil for and bear witness too the bravery and resilience of the Ukrainians.
I conferred the title of Hero of Ukraine upon Oleksandr Matsiyevsky. A Ukrainian warrior. A man who will be known and remembered forever. For his bravery, for his confidence in Ukraine and for his "Glory to Ukraine!". Glory to the Hero! Glory to the Heroes! Glory to Ukraine! pic.twitter.com/uKUKIhCfMp

— Володимир Зеленський (@ZelenskyyUa) March 12, 2023
Here is President Zelenskyy's address from earlier today. Video below, English transcript after the jump: (emphasis mine)
Now is the time when Ukraine can overcome all historical difficulties if we preserve our unity – address by the President of Ukraine

12 March 2023 – 20:11

Good health to you, fellow Ukrainians!

Today I spoke with the new President of the Czech Republic, Pavel. A good conversation, a conversation of partners. We discussed defense against the terrorist state, our joint defense of Europe. I thanked him for the support already provided by the Czech Republic. There are things we can still do together. I invited Mr. President to visit Ukraine.

Overall, this week was, as always, active for Ukraine. Visits by the Prime Minister of Finland, the Minister of Defense of Norway, UN Secretary-General Guterres, leaders of the ruling German Social Democratic Party, and a conversation with Ursula von der Leyen, President of the European Commission. All of this yields results.

In particular, we have significantly strengthened air defense – I thank Norway for this; we have new agreements on the diplomatic front; there is movement on the European integration track – as a result of the implementation of anti-corruption steps set out in the recommendations of the European Commission, including the appointment of a new Director of NABU.

I would like to express gratitude to our power engineers for this week, to all the repair crews, local and central authorities who were involved in the elimination of consequences of the Russian terrorist attack on Thursday.

As of today, we have managed to restore the technical capabilities of electricity supply. Kharkiv has electricity. Zhytomyr region has electricity. All cities and communities that had problems with energy supply have been powered again. I thank each and every person who worked for this!

By the way, our program for exchanging old lamps for new LED lamps is also being actively implemented. In total, Ukrainians have already received 12 million LED lamps. Speaking of energy saving, this volume allows us to save up to 600 megawatts of energy. This is roughly equivalent to more than half of the generation of the most powerful nuclear power plant unit. Please take advantage of this lamp exchange program.

I would like to thank our rescuers from the State Emergency Service of Ukraine in Donetsk, Kharkiv, Kherson and Zaporizhzhia regions, and in the border areas of Sumy and Chernihiv regions. To all those who are consistently eliminating the consequences of Russian shelling.

Today, I would like to commend the 41st state fire and rescue unit of Kostiantynivka, Donetsk region. Major Herman Starcheus, Captain Serhiy Kulinchenko, junior sergeants Roman Dychko and Kyrylo Sayenko. Thank you guys for your excellent work and courage!

Of course, I am grateful to all our warriors from Khortytsia and Tavria who are fighting in the hottest spots in the most difficult conditions.

In less than one week – since March 6 – in the Bakhmut sector alone, they managed to eliminate more than 1,100 enemy soldiers, which are Russia's irreversible losses, losses there, near Bakhmut. In addition, at least 1,500 more sanitary losses of the enemy – these are wounds incompatible with continuing fighting. Plus, dozens of units of enemy equipment were destroyed. Plus, more than ten Russian ammunition depots were burned.

I am grateful to every warrior of the Armed Forces of Ukraine, our intelligence – the Shaman fighters, the National Guard, our border guards – everyone who is really fighting for Ukrainian land, for Bakhmut!

I am grateful to the fighters of Tavria who are effectively fighting in the areas of Avdiivka and Maryinka. To the artillerymen of the 55th separate Zaporizhzhia Sich brigade, the warriors of the 35th separate marine brigade, the 74th separate reconnaissance battalion, and our Seventy-Niners – the paratroopers!

And also the Zaporizhzhia direction of Tavria – the 128th separate mountain assault brigade. Thank you all, guys!

I am grateful to each and every one who again helped our soldiers this week, treated them after their injuries, searched for things to support them with, organized volunteer fundraising and sent to the front what they asked for! Together, in unity, we will achieve victory.

This week there is also a movement to strengthen our spiritual independence. Society sees this. And I see the approval of Ukrainians for these steps, which are quite legitimate. And we will continue this movement. We will not allow the terrorist state to have any opportunity to manipulate the spirituality of our people, to destroy Ukrainian shrines – our Lavras – or to steal any valuables from them.

And one more thing. Today is the 160th anniversary of the birth of the outstanding Ukrainian scientist Volodymyr Vernadsky. A man who lived in a very difficult time, but who, despite everything, believed in Ukraine, chose Ukraine, and helped Ukraine.

We are now living in a time when Ukraine can overcome all historical difficulties. We can do that! If we preserve our unity, take care of each other and our country. I thank everyone who cares about Ukraine and Ukrainians! I thank everyone who cares about our unity and the unity of the world for the sake of Ukraine! I thank each and every one who is now fighting for the independence of our country!

May the memory of all those who gave their lives for Ukraine be eternal! All those whom we remember when we say "Glory to Ukraine!"

Today I conferred the title of Hero of Ukraine upon Oleksandr Matsiyevsky, a soldier. A man whom all Ukrainians will know. A man who will be remembered forever. For his bravery, for his confidence in Ukraine and for his "Glory to Ukraine!"

Glory to the Hero! 

Glory to the Heroes! 

Glory to Ukraine!
Here is former NAVDEVGRU Squadron Leader Chuck Pfarrer's most recent assessment of the situation in Bakhmut:
BAKHMUT AXIS /1515 UTC 12 MAR/ UKR forces are reported to be engaged at Berkhivka and Krasna Hora, indicating that RU units have been driven back in the vicinity of the T-05-14 and M-04 junction.  Urban combat continues in the city of Bakhmut. pic.twitter.com/MfgSRPG9H8

— Chuck Pfarrer | Indications & Warnings | (@ChuckPfarrer) March 12, 2023
Bakhmut: video updates from Kyianyn and Magyar:
Update on Bakhmut, 12 March – Kyianyn. pic.twitter.com/wntLzAKhrl

— Dmitri (@wartranslated) March 12, 2023
Magyar on the line, 12 March. pic.twitter.com/xHIGDBWGoo

— Dmitri (@wartranslated) March 12, 2023
Vuhledar:
Private First Class Hamster.
The secret of Ukrainе's effective defense in the Vuhledar area is the involvement of the best specialist in earthworks.

🎥@DPSU_ua pic.twitter.com/2Dpy2t4eNn

— Defense of Ukraine (@DefenceU) March 12, 2023
And thanks to Dmitri, here's an English subtitled report on Ukrainian Soldiers training in England:
A report about the training of Ukrainian soldiers by British instructors in the north of England. pic.twitter.com/ba7XWriqng

— Dmitri (@wartranslated) March 12, 2023
The Ukrainian officer who tweets as Tatarigami has posted another interesting analysis of Russian assault units. First tweet in the thread below, the rest from the Thread Reader App:
🧵Thread
1/
In my previous analysis, I explored the armament and role of assault units. However, their actual effectiveness and structure often differs from what is written in manuals. To provide a more realistic perspective, I'll share a final insight about assault units pic.twitter.com/8s0e6WITw3

— Tatarigami_UA (@Tatarigami_UA) March 12, 2023
2/ 

To begin, it is crucial to differentiate between temporary and permanent assault units. Assault units that are integrated into a battalion, regiment, or brigade structure, are called "Storm" units. Their size can range from a company to a reinforced battalion

3/ 

There are also temporary assault units/groups assembled within a regiment or battalion for a specific assault operation, they do not have number, name, defined structure, regular commanders, or armament, but are instead tailored to each mission's specific requirements 

4/ 

Temporary assault formations are created for specific missions and do not receive additional training or time to build unit coordination. Once the mission is completed, the formation is disbanded and soldiers return to their regular platoons and companies until the next task. 

5/ 

For instance, if the enemy detects that Ukrainian defenders have only 10 soldiers in a trench with no significant anti-tank weaponry, they may form an assault group with a 5:1 advantage and support it with a few tanks to increase their chances of success.

6/ 

Based on personal anecdotes gathered across the frontline, the quality of temporary assault units is questionable. These units have displayed a propensity to retreat after initial losses and often lack proper communication, leading to difficulties in coordinating their actions

7/ 

Furthermore, they have been vulnerable to deception, with many being misled into launching premature assaults under false pretenses, such as the purported destruction of Ukrainian positions by artillery fire. 

8/ 

Permanent assault units called "Storm" are integrated into the structure and have formal commanders. The quality of their training can vary widely depending on the unit forming the "storm" unit, ranging from no training to rigorous and serious training.

9/ 

Storm assault unit is typically comprised of an assault company, along with one or two tanks and several APCs, that are utilized to transport infantry to the front lines. These units may also be deployed on foot, or transported on top of tanks, depending on the situation.

10/ 

It seems that the russian command, possibly influenced by Wagner, has made a decision to establish "Storm" units for break-through assault missions. As a result, the success of these units will depend heavily on the resources and competence of the brigade itself 

11/ 

Some Storm units received extensive training and experienced instructors to build teamwork, while others were hastily assembled from unwanted soldiers to fulfill orders, leading to varied levels of quality.

12/ 

It's worth noting that certain Storm units were transformed into "penal units", where officers place problematic or disobedient soldiers. There have been at least 2 documented cases where officers used the threat of transferring soldiers to these units as a means of extortion 

13/ 

While not without flaws, some Storm units have proven to be formidable in assault missions. Their adaptability and flexibility allows them to successfully locate and engage weak points in static and non-maneuverable defenses.

14/ 

My assessment suggests that the Kremlin is conducting a large-scale, ongoing experiment to adapt to the challenges. Field commanders are attempting to implement directives from their superiors, with varying degrees of success ranging from full execution to mere imitation. 

15/ 

The enemy's shift in military strategy from a focus on divisions and armies to smaller battalions and companies may suggest limited capabilities. The creation of assault groups indicates a willingness to continue grinding offensive operations albeit on a smaller scale. 

In the future, I will share additional real-life examples of Storm assaults, highlighting their strengths and weaknesses. Be sure to follow for updates, as Twitter's algorithms may not prioritize war-related content, and you wouldn't want to miss out. 
Colonel-General Syrsky, the Ukrainian theater commander, posted the following on his Telegram channel:

War is psychology. If the enemy is nervous, you need to put him in a stable state of anxiety so that he makes mistakes.

This is done not only thanks to unexpected decisions and strikes, but also military tricks, which in recent weeks have been well demonstrated by the soldiers of 10 separate mountain assault and 54 separate mechanized brigades. Their non-standard, asymmetric and daring actions constantly unpleasantly surprise the enemy.

The nervousness of the enemy due to insecurity must be turned into panic, so that it creates chaos, the result of which are "gestures of goodwill".
Why do we still fight? This is first part of our answer. The second part you'll see in the coming weeks. #SpringIsComing pic.twitter.com/N61HVadUFu

— Defense of Ukraine (@DefenceU) March 12, 2023
"Due to the powerful support of partners, many lives of Ukrainians have been saved, and objects of the state's critical infrastructure have been protected.
🇳🇴🇺🇸 Thank you for your help!"

Commander of the Air Force of the Armed Forces of 🇺🇦
Lieutenant General Mykola Oleshchuk pic.twitter.com/Ru0RtcRJ40

— Ukrainian Air Force (@KpsZSU) March 11, 2023
That's enough for tonight.
Your daily Patron!
A new video from Patron's official TikTok!
Open thread!