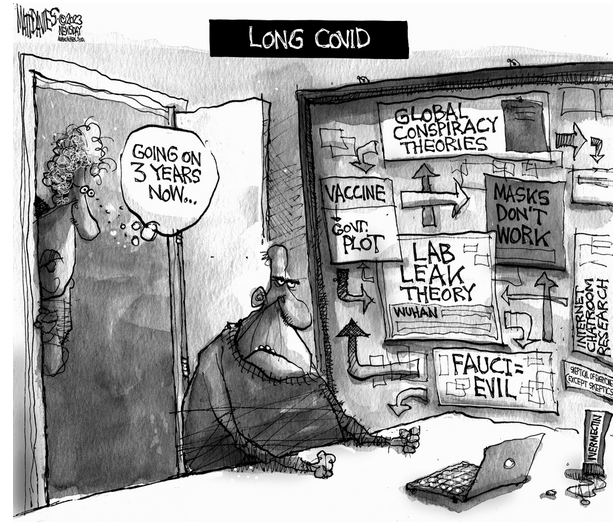 It's 15 March #LongCovidAwareness Day.
It exists.
It's real.
It's disabling to many.
It can affect anyone regardless of their previous health.
It needs more research.
It need equitable clinical pathways.
It needs employment fairness.
It needs destigmatising.
Give your support.

— Prof Nisreen Alwan 🌻 (@Dr2NisreenAlwan) March 15, 2023
This is why I wear a mask.

I'll repeat that it is likely we will see a wave of a mystery disease of older people in 20-30 years, which will be sequelae of Covid-19. https://t.co/gI5baI3p9O

— Cheryl Rofer (@CherylRofer) March 7, 2023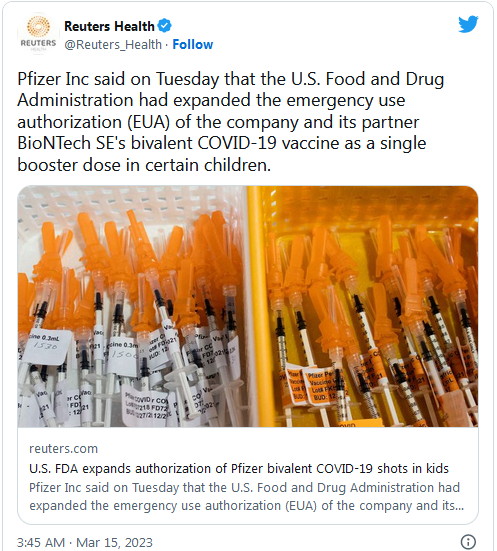 From a long, worthwhile thread:
This is a very interesting article, featuring a quote from yours truly about how many lives *could* have been lost in the US due to the pandemic before vaccines. This is my reasoning 1/n https://t.co/TFFLjBJjrO

— Bill Hanage (@BillHanage) March 10, 2023

Unpaywalled link to the Washington Post story:
… What unfolded in March 2020 was a national shutdown unlike anything the country had tried before.

The shutdown was profoundly strange and has had lasting effects on our national psyche. But memories fade, circumstances change, opinions shift. Three years later, the decision by local, state and federal government officials to limit spread of the virus continues to spark rancorous battles in the pandemic-fueled arenas of the culture war.

So what will the country do the next time a deadly virus comes knocking on the door?…

A traveler from China brought the first documented coronavirus case to the United States, the Centers for Disease Control and Prevention announced on Jan. 20, 2020. For weeks afterward there was only a smattering of isolated cases, and no deaths.

But this was a stealthy virus, able to move among people who didn't show any symptoms…

The administration's top doctors ultimately persuaded President Donald Trump to issue a national public health order, a stay-at-home guideline titled "15 Days to Slow the Spread," effective March 16. The doctors knew a mere 15 days of social distancing and other precautions would not be enough to bring the contagion under control. But that's all they thought they could sell to Trump and his aides.

"The president listened — to his credit — listened to what Dr. Birx and I said about it," said Anthony S. Fauci, until recently the director of the National Institute of Allergy and Infectious Diseases.

The scale of the viral calamity became increasingly clear. At a briefing on March 31 to announce the 30-day extension of the shutdown, Birx provided shocking new modeling projections: 100,000 to 240,000 people would die of covid-19 in coming months even if the country followed the mitigation efforts. Without the restrictions, modelers forecast as many as 2.2 million deaths. Trump was persuaded…

In public health, though, success is measured against counterfactual outcomes: hypothetical infections, conjectured suffering, imaginary deaths.

By contrast, the pain of the national shutdown — businesses going under, weddings postponed, protracted isolation of the elderly, learning losses among schoolkids — is glaringly obvious. Critics of pandemic restrictions contend that the cure was worse than the disease. In response, Republican-dominated legislatures in many states have passed laws limiting public health interventions, such as vaccine or mask mandates.

The pandemic schooled everyone. It taught many office workers how to function remotely. It taught restaurateurs how to turn sidewalks into dining spaces. It taught the CDC how critically important it is to communicate clearly with the public — and the consequences of failing to do so.

And it taught the opponents of the public health authorities how to block government mandates and restrictions.

This is not an esoteric dilemma: There are more pathogens out there poised to spill into the human species. A novel strain of avian influenza, H5N1, already has seized the attention of scientists as a potential spillover hazard.

Wachter, of UC San Francisco, said the opposition to emergency measures "will emerge on Day One" of any new pandemic: "It will create a tension and a level of pushback against any public health mandates to do anything."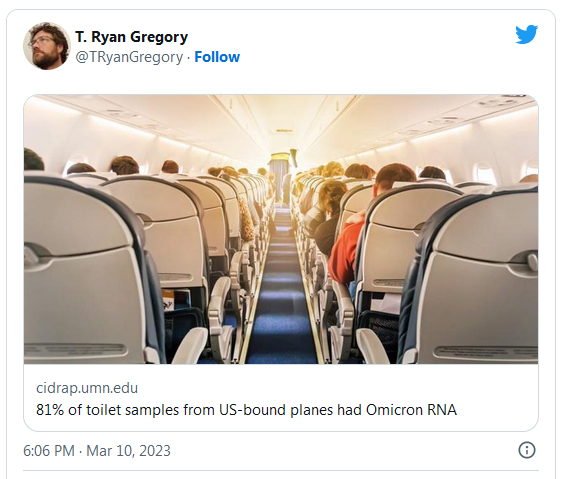 (link)
Doing pieces on how privileged and well-resourced people are taking more risks with COVID is manufactured consent. It leaves out the many stories of people who are being excluded from society and can't get access to essential needs like medical care due to lack of protections.

— Dr. Lucky Tran (@luckytran) March 12, 2023
======
The pandemic at 3 yearshttps://t.co/rvOR5COfai by @CarlaKJohnson @AP

— Eric Topol (@EricTopol) March 10, 2023
Short thread — read the whole thing:
On March 11, 2020, @pahowho characterized #COVID19 as a "pandemic," stating, "We have rung the alarm bell loud and clear."
Here @KFF lists 10 key data points that illuminate the challenges, and progress, made to date.
MORE pic.twitter.com/JqQhq2UL5I

— Laurie Garrett (@Laurie_Garrett) March 12, 2023
— David Wallace-Wells (@dwallacewells) March 12, 2023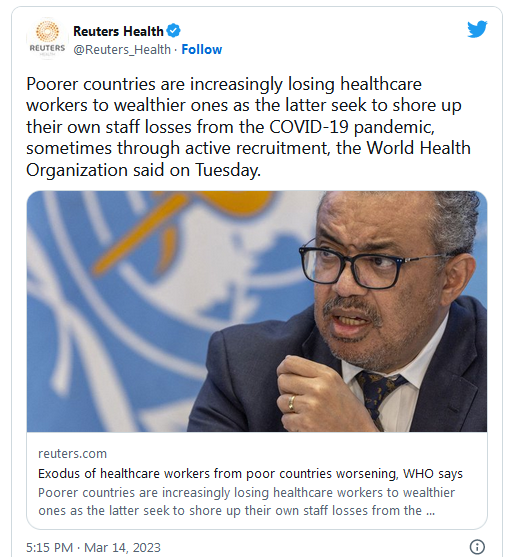 (link)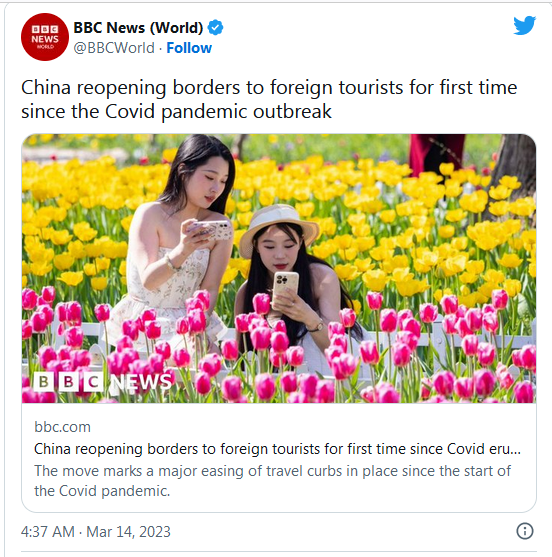 (link)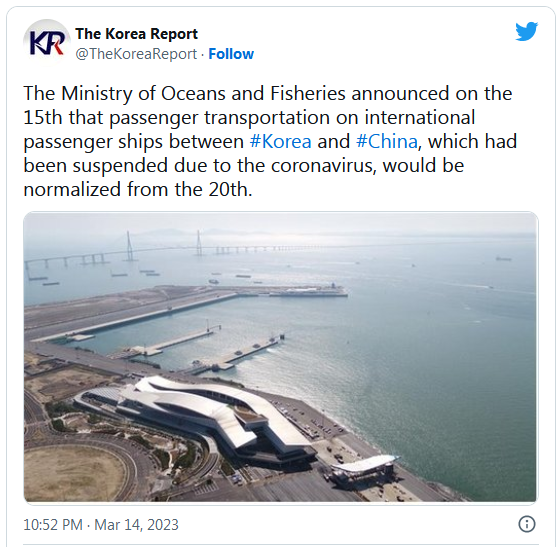 (link)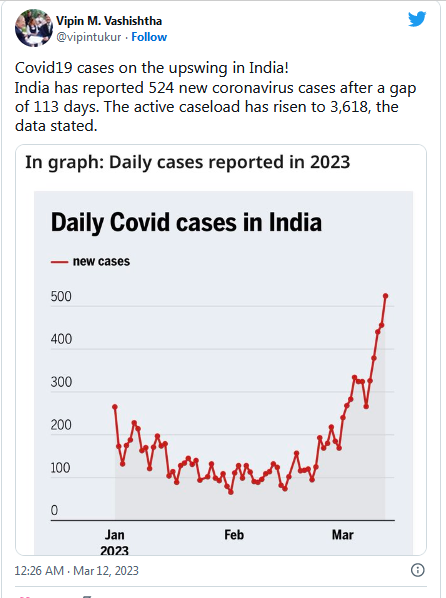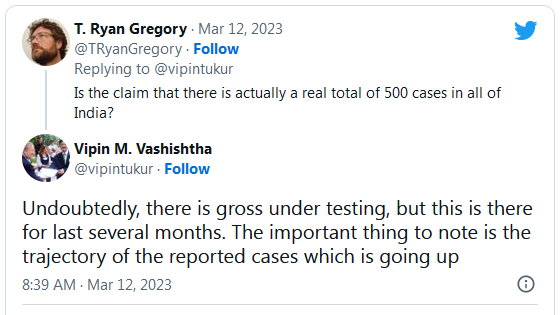 (link)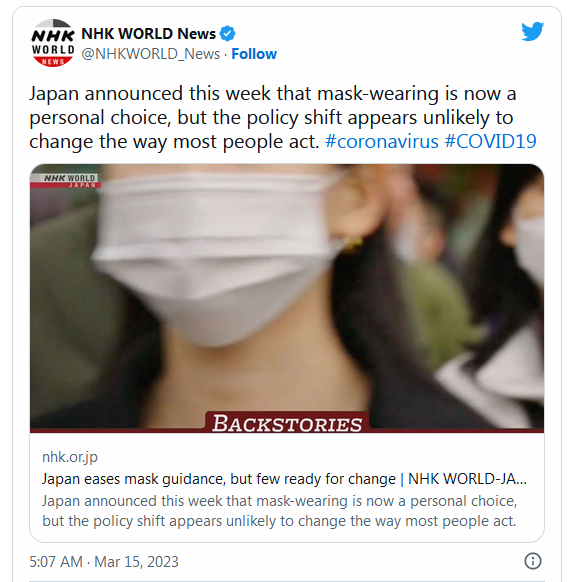 (link)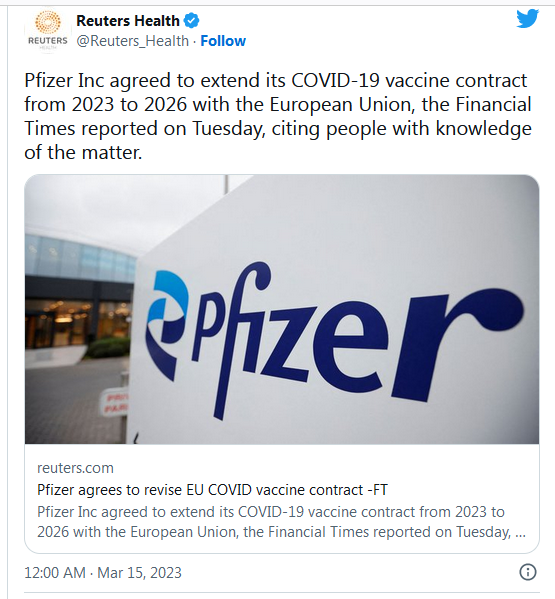 (link)
Let's protect our children from COVID as we protect astronauts.

Wear tight-fitting N95 (or better) masks. pic.twitter.com/QGqn5vsawV

— Augusto Carballido 😷 (@AstroAugusto) March 12, 2023
I signed this. What needs to happen in the next pandemic: TRIPS waiver, tech transfer, regional manufacturing, robust communications & community engagement campaigns at the outset, @AfricaCDC a key decisionmaker in future countermeasures platform. https://t.co/A8G59rs6Jb

— Dr Fifa A Rahman (@FifaRahman) March 13, 2023
=======
"Long COVID has not received anywhere near the same level of attention or resources: the result has been widespread harm to health, societies, and economies. 3 years in, more is needed to recognise, treat, and support patients with long COVID." 💯https://t.co/oJXNqC9snq

— Prof. Akiko Iwasaki (@VirusesImmunity) March 11, 2023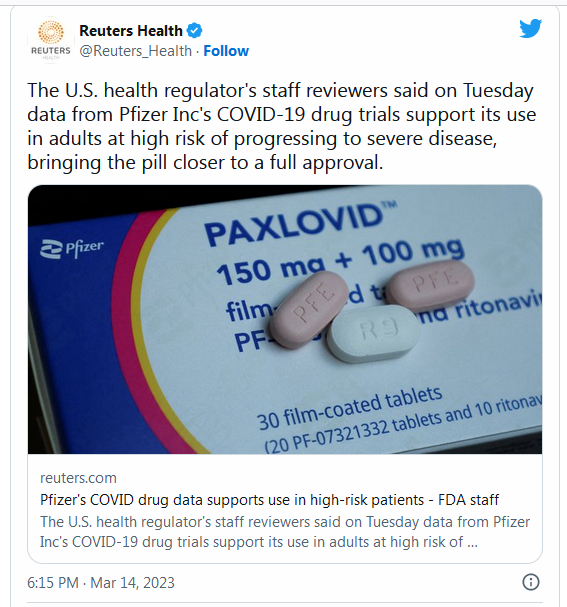 (link)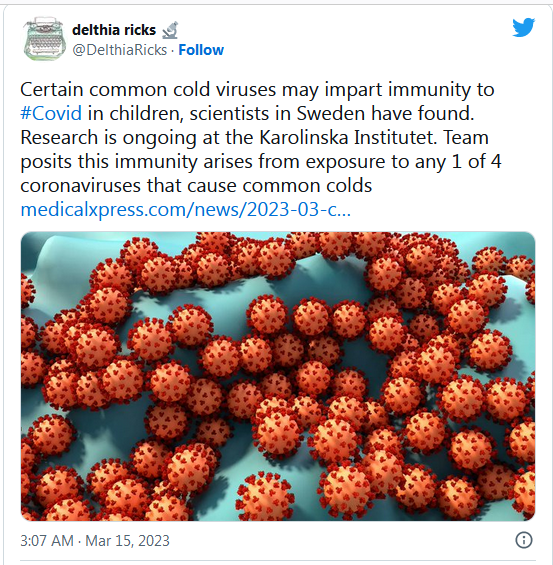 (link)
Things will look different in twenty years — hopefully, sometimes for the better:
Nearly everyone has some form of immunity against the coronavirus now. But most of us didn't acquire that protection as kids. When the coronavirus reaches everyone early in life, will COVID be a different disease? @KatherineJWu reports: https://t.co/gnSr9spcXr

— Helen Haskell (@hhask) March 14, 2023
Who is most at risk for #LongCovid? New Harvard research has found that in the US, #Covid "long haulers" were more likely to be older & female, w/ chronic conditions. The nat'l study focused on people w/ private insurance or Medicare Advantage coverage https://t.co/ubBmhgEJ1j

— delthia ricks 🔬 (@DelthiaRicks) March 10, 2023
Friends, we are once again putting out a big call for ANYONE who has had COVID and FULLY RECOVERED (no persistent symptoms) in the NEW YORK CITY area to assist us with a #LongCovid study. If this sounds like you, please contact us at [email protected]

— Putrino Lab (@PutrinoLab) March 14, 2023
I've published a detailed intro to CO2 monitoring.
– How to use it
– What it tells you
– What levels should be
– Limitations you need to be aware of
– Gauging risk for airborne disease transmissionhttps://t.co/QXiUO8E9Bq

— Joey Fox (@joeyfox85) March 12, 2023
=======
My friends & colleagues in India are still angry with him for arguing in Jan 2021 that most Indians were immune (they were NOT) & that it would be harmful & unethical to vaccinate them.

Shortly after his article, the horrific 2nd wave happened. pic.twitter.com/czXxUD8Wdo

— Prof Gavin Yamey MD MPH (@GYamey) March 13, 2023
'Accidental' citywide trial…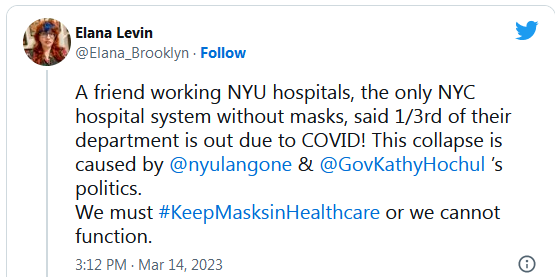 (link)
Why do we work so hard to counter misinformation about COVID vaccines?

Because the damage caused by misinformation is real & long-lasting.

25 years after Wakefield's fraudulent study, MMR vaccine rates are lagging & case of measles rising.https://t.co/s9rh4IeQxC pic.twitter.com/D7YuPnDTPZ

— Glen Pyle | #WomensHeartHealth ❤️‍🩹 (@glenpyle) March 12, 2023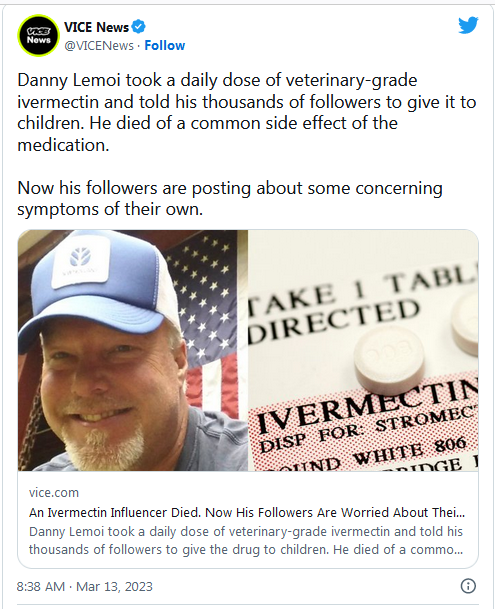 Danny Dumbf*ck may've deserved it, but what about those poor kids?
… For the last decade, Lemoi had taken a daily dose of veterinary ivermectin, a dewormer designed to be used on large animals like horses and cows. In 2021, as ivermectin became a popular alternative COVID-19 treatment among anti-vaxxers, he launched what became one of the largest Telegram channels dedicated to promoting the use of it, including instructions on how to administer ivermectin to children.

But despite Lemoi's death, the administrators of his channel are pushing his misinformation—even as his followers share their own worrying possible side effects from taking ivermectin and some question the safety of the drug…

Lemoi began taking the version of ivermectin designed for animals on a daily basis in 2012, after he was diagnosed with Lyme disease, according to a detailed account of his medical history he gave on a podcast last November. He said then that five months after first taking the drug, he quit all other treatments and believed ivermectin had "regenerated" his heart muscle…

In the Telegram channel, administrators broke the news of his death to his followers. "Though it was obvious that Danny had the biggest heart, it was unbeknownst to him that his heart was quite literally overworking and overgrowing beyond its capacity, nearly doubled in size from what it should have been," the admins wrote, adding: "We understand that this is going to raise questions for those who were following him."

"Danny was fully convinced that his heart had regenerated after his incident with Lyme disease that almost ended in congestive heart failure," the admins wrote, before claiming that "a family history of heart disease and chronic stress" were why his heart had ultimately become engorged. "All of his other organs were unremarkable," the admins wrote. "And this was determined to be a death by unfortunate natural causes." …

Some members of the group are taking ivermectin not only as a treatment against COVID, but as a cure-all for almost every disease—from cancer and depression, to autism and ovarian cysts—believing that every disease is caused by a parasite that is removed from the body by ivermectin, just as animals are given the drug to treat a variety of parasitic worms.
Ad Block Choices

Lemoi also formulated an ivermectin regimen for children, and numerous members of the group reported that they were using it. This week alone one member wrote that she had established another group for "parents of children on the spectrum, cerebral palsy, pans/panda, downs etc.," who are using the Lemoi's recommended children's dosage…