After the big wins at the Oscars on Sunday, I wrote to gwangung to say that I thought this was a Big Joe Biden Deal, and I wondered if he thought so, too.  I asked if he might like to share his thoughts with us – and he was happy to share his joy with us!
Every Award for Asians, Everywhere All At Once
by gwangung
This past Sunday, I sat down and did something I haven't done for twentysome odd years. I watched the Academy Awards. Live. From start to finish (including monologue.
Because I was tuned in with the rest of the Asian American AND Asian community (two things Hollywood, like much of white society, conflate, but were utterly united in this) to see how well a movie called Everything Everywhere All At Once, starring Asian icon Michelle Yeoh and Asian American pioneer Ke Huy Quan, could do with its 11 nominations. 
To say this was highly anticipated by Asians and Asian Americans is…an understatement. Here's a post from well known Asian American blogger Phil Yu (aka Angry Asian Man) from last year's Oscars:
I tweeted this during last year's #Oscars https://t.co/mWcy2TQCEO

— Phil Yu (@angryasianman) March 13, 2023
Of course, my (and a billion other eyes) weren't glued to just the TV screen or monitor; we hadda scroll various social media (from Facebook to TikTok to, yes, even Twitter) to hear bon mots from the Asian online community. Asians are good at social media (remember? K-pop fans overwhelming white supremacists) and the snark of Asian Twitter is second only to Black Twitter.
And they were totally invested in EEAAO. Over and over, you can see AA posting, "That's my mother up there" or "That's me coming out to my parents." The identification with the film was total across the board.
The reasons behind this are many and emotionally deflating. One is the total lack of representation; from 2007 to 2019, according to a report in Hollywood Reporter, Asians were only 6 percent of all roles with speaking lines (an IMPROVEMENT over the 20th Century). This covers other arts, as well; the Asian American Performers Action Coalition found that Asian made up less than 5% of roles on stage in NYC, an area with a 16% Asian American population (and in Seattle where Asians are 20% of the population but with only 5% off roles on stage—and I helped create a third of those).
Moreover, the kind of roles Asians play were almost always minor. That same Hollywood Reporter article also showed that only 3.4% of those roles were leading roles—and most of them were Dwayne Johnson.  Blogger Will Yu started the meme #StarringJohnCho to show what it would look like if today's Hollywood blockbusters cast an Asian-American actor.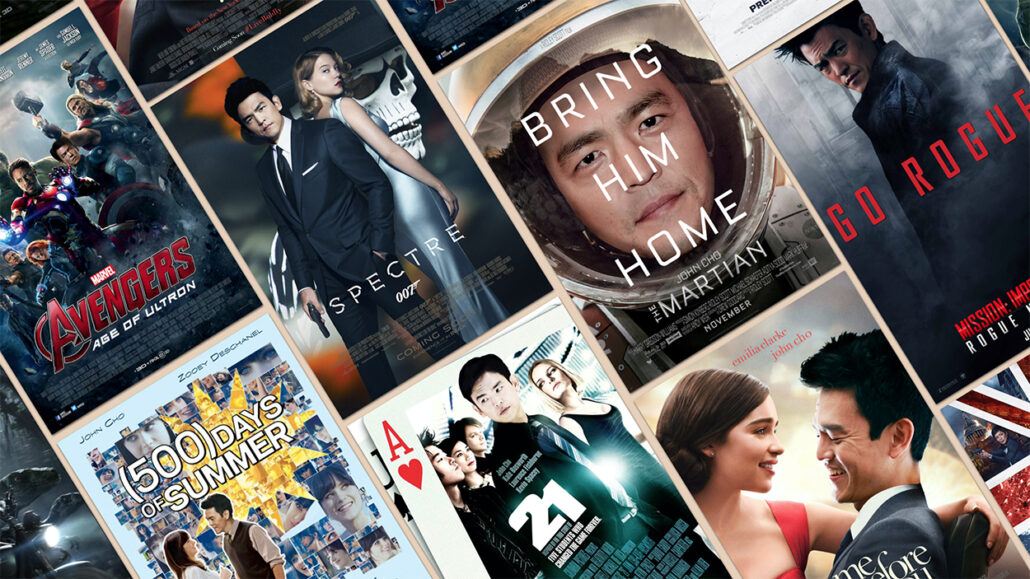 Most gallingly of all, Hollywood practiced yellow face…the practice of casting white actors as Asian characters. Werner Oland as Charlie Chan is a classic example, but it was something still done in modern times; from 2000-2016, there was at least one major film a year that cast white actors as Asian characters, from the entire cast of 21 to Emma Stone in Aloha to Scarlett Johansson in Ghost In the Shell. 
      This resulted in the rather embarrassing fact that until this year, there were just as many white actresses who won Oscars playing Asian characters (Luise Rainier in The Good Earth and Linda Hunt in The Year of Living Dangerously) as Asian actresses winning them for playing Asians (Miyoshi Umeki in Sayonara and Youn Yuh-Jung in Minari).
With all of this history, pile on to that the toll of the pandemic (and so many racists nattering on about the Wuhan Flu) plus all of the anti-Asian violence (the Atlanta massacre in particular) and the Asian American community were hungry to claim a victory.
      So, yeah. Asian folks were PRIMED.
     As the evening went on, and EEAAO started racking up the wins, Asian social media slowly went out of their minds. Folks like Ming Na Wen, Daniel Dae Kim and Tammy Duckworth were fan-boying and fan-girling with everyone else. A post from Will Yu is kinda emblematic.
IF YOU'RE NOT TRYING TO GIVE ME THAT STEPHANIE HSU ENERGY WHEN I GET MY WINS THEN I DON'T WANT IT ✨ pic.twitter.com/ay8nkkgdwy

— William Yu 유규호 (@its_willyu) March 13, 2023
      And one of my own posts went viral, racking up hundreds of re-shares (and shares of reshares).
      In the end, EEAAO scored seven Oscars, including the biggies of Best Actress, Best Original Screenplay, Best Director and Best Picture. The party on social media is only now subsiding…
      But is this a gamechanger? Maybe…and maybe not. Persistent stereotypes still have sway in Hollywood (like all of American society). Casting directors still think Asian actors were not very expressive. They certainly aren't as experienced (because they aren't getting cast). Ky Huy Quan will finally keep his health insurance and get cast (the clue-by-four of an Oscar helps), but it'll probably be in dorky Dad roles, and Michelle Yeoh won't get roles much beyond action or Asian exoticism (though maybe Wicked might break that?). There's still a reluctance to green light projects wth Asians as headliners; still getting screenwriters asked "Can you change one or both of your protagonists to white?"
      The triumphant parade of awards for EEAAO has a dark side. As EEAO Producer Jonathan Wang puts it, Ke Huy Quan didn't leave acting; Hollywood wasted his talents for decades by not casting him, And it took Hollywood almost as long to put Michelle Yeoh number one in the call sheet—and there's no buzz that it's changing. Even now, Hollywood slips back into its old, habits. Naatu Naatu from RRR won for best song (as much as its choreography as anything else), but for the live Oscar performance, they did not use South Asians for the choreography and the majority of  the dancers were not South Asian. 
      Still. Still. Still. There can be no commonplace without firsts. And this was a bunch of major firsts. Hollywood, and the the arts in general, is like the rest of American society (which includes politics). It is resistant to change, and those who want more inclusion, more equity, will have to seize the power from the current establishment to make it occur.
      Let me end this with yet another tweet from Will Yu:
what a time we're in 🤩 https://t.co/xTKLEt89i4

— William Yu 유규호 (@its_willyu) March 13, 2023
Will Yu created #StarringJohnCho.
#StarringJohCho helped Director John Chu pitch Crazy Rich Asians to the studios. 
Crazy Rich Asians brought Ke Huy Quan back to acting.
Ke Huy Quan joined the cast of Everything Everywhere All At Once.
And the rest is history.
Success of EEAO: don't pander to a white audience and make weird-ass content FOR the people you're representing.

— cph (@cathyparkhong) March 13, 2023