This morning I woke up, and like most mornings, I readied myself for the daily wave of anti-trans rhetoric.
For those of you who don't know what a gish gallop is, it's a tool used when debating to overwhelm an opponent with SO MANY arguments, with no discretion for the validity of the argument, that it is impossible to respond. Waves and waves of anti-trans "concerns" flood the news, and by the time you even begin to answer one "concern," there are a dozen more that have accumulated while you've been responding.
Honestly, some days it's hard to breathe when I get hit by that tidal wave.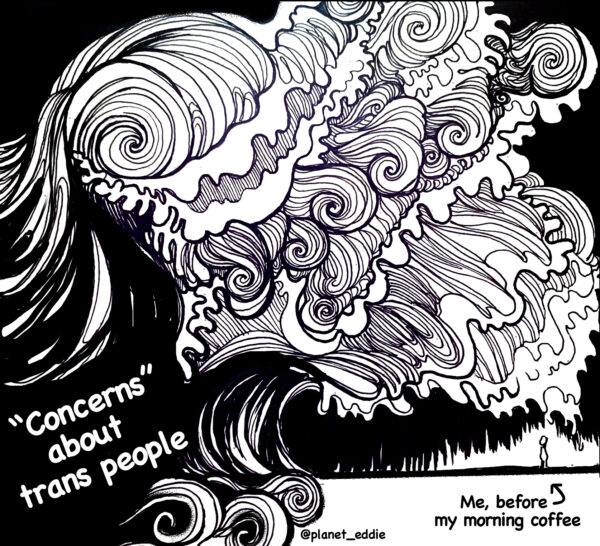 Something I've observed though is that most of the "concerns" around trans folks are premised on fundamentally not believing trans people are who they say they are. This pile of problems creates an unnavigable morass to distract from the primary issue: trans people are people who deserve full human rights, dignity, and respect.
I cannot tell you how many times I have stopped a conversation about women's bathrooms or trans people in sports in its tracks by simply cutting straight to the chase "Do you believe that trans women are real women?" In that moment there is often… a hesitation, and then something like "Well… yes but also they haven't lived as real women…" or "If someone has fully transitioned, then yes, but if they haven't then…" This slippery nugget slithers under the majority of trans-related concerns, creating an Otherness in people's minds, and until it is addressed it will continue to insinuate itself into every "concern."
It's okay to not "get it." It's okay to be confused, and there will be lots of messy uncomfortable moments as the world adjusts to creating space for trans people. People's feelings will get hurt. Change is hard! But the first thing you can do as an ally is simply this: believe trans people.
Trans people are basically made into a public spectacle where everyone gets to chat about what they really think is enough for someone to be "real." People jump right into discussing the logistics of "the trans debate," creating a huge tally of problems, without first reflecting on their own biases and coming to truly 100% accept that trans people are telling the truth about who they are. Any argument that isn't first founded on believing trans people is simply a bad faith argument. A lot of people need a little guidance to get to this place.
For instance, my mother is an extremely liberal woman, but she definitely struggled to accept that trans women were "real" women, even years after accepting me, her own kid, as nonbinary. I asked her to engage in an imaginative exercise with me. "Imagine," I told her, "That you are you: Kate. Exactly you, with all the textures and flavors of Kate-ness, knowing with your full heart and soul that you are YOU." Then I asked her to imagine herself born in a different body. Not that she had been born a man, but as herself, Kate, treated like someone else. By building from that imaginative space, I asked her to imagine being forced into certain kinds of behaviors and expectations knowing that she was really herself underneath all that, and that furthermore when she tried to tell people the truth of who she was, they tried to convince her that she was mentally ill and tried to heavily regulate her in public and private spaces. Trans women don't spend their childhoods "living as boys," they spend their childhoods living as girls who are perceived and forced to live as boys. Trans women endure all the same pressures and gender norms as cis women do but in different ways, and they have to wrangle with the added layers of transphobia and misogyny that emerge when they come out or try to transition.
"But women are killed all over the world, just for being women," she told me in one heated argument.
"Exactly," I responded. "And some of those women are trans."
That's when she got it.
I have had so many awkward and uncomfortable but transformative conversations when I shift the gear to what I am really hearing underneath a person's "concerns." I am hearing that they don't get it and that that makes them afraid. I am hearing that they are afraid that they will lose something, that women will be robbed of their spaces. However, once someone is able to make this mental shift, their concerns shift as they realize that protecting trans women IS protecting women, and that women's rights and trans rights are inherently woven together.
So my task for you today, Jackals, is to reflect on who in your life you can have this gentle conversation with. I wouldn't go for your far-right MAGA hat wearing uncle, but maybe there's someone in your book club or friend group who you can invite out for coffee. Help trans folks by seeing if you can get one person to open their mind today. If all 200+ of you who commented on my last post could shift 5 people over the course of the month, that's 1,000 people who are suddenly seeing things a bit more clearly.
Also, speaking to my own mental health: Because every day feels like an assault, I have to take these posts simply and gently. They're probably full of typos! I'm hoping to do a post about later in the week about how transphobia is an old tool used by fascists to seize power, and definitely recommend the linked article. I also encourage people to stay up to date on anti-trans legislation by subscribing to Erin in the Morning substack — Erin is doing *tremendous work* for the trans community and is well-worth subscribing to!
I'm on a train heading to DC for a wedding, and I'm spending a few extra days there because I'm thinking of moving there. If you're local and have any fun recs, please holler in the comments! Hopefully his majesty will be okay for a few days without me.