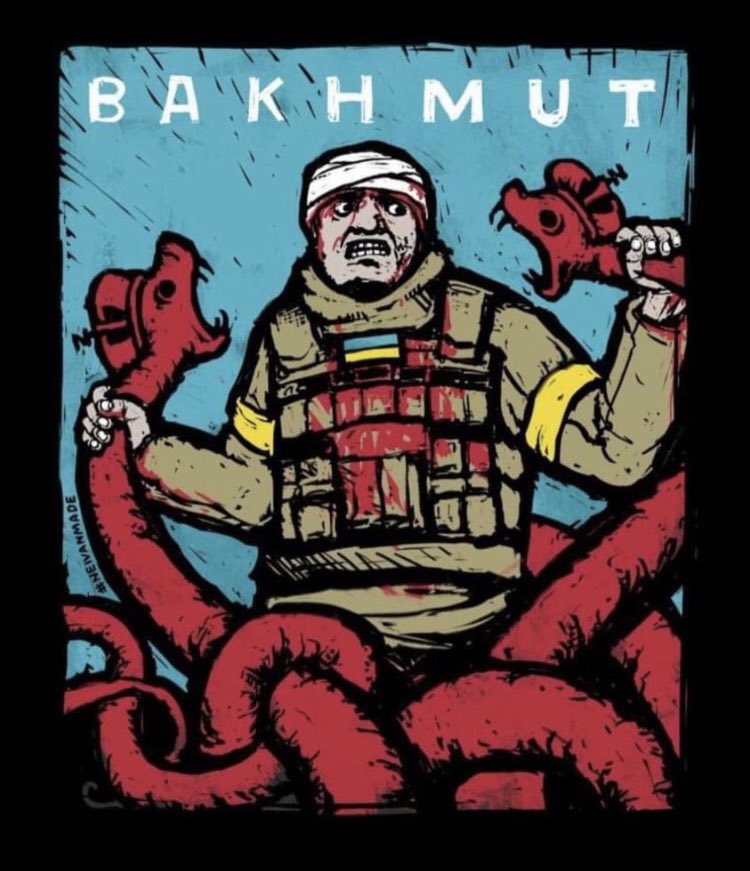 (Image by NEIVANMADE)
Just another quick update tonight.
Here's President Zelenskyy's address from earlier today. Video below, English transcript after the jump: (corrected to today's address)
Now we feel that the Russian aggression is approaching the point where it can break – address by the President of Ukraine

15 March 2023 – 22:45

Good health to you, fellow Ukrainians!

Today was a fruitful international day for our country, for our defense.

Another meeting in the Ramstein format was held, the tenth one already. Ammunition for our warriors, artillery, tanks, protection of Ukrainian skies – all this was discussed. There are solutions. I am grateful to the United States, which coordinates Ramstein, and all of our partners for their unflagging willingness to help.

This is especially important now, when we feel that the Russian aggression is approaching the point where it can break.

There is no terrorist that can build up its potential in confronting the free world. Russia is no exception.

We must constantly increase the pressure for terror. Pressure in our defense, in sanctions against Russia, in destroying the ways the Russian state and its companies circumvent sanctions, in political and legal pressure.

The more pressure we put on them, the faster we will move towards restoring our territorial integrity and international legal order. We are doing everything for our partners to feel this. This necessity to continue pressure. Step by step. Without ceasing.

I would like to thank Denmark separately today. Both for the new defense package for Ukraine and for the decision to establish a special fund to help our country in the amount of DKK 7 billion, which is USD 1 billion. It is extremely significant. It is extremely necessary.

I am grateful to the Danish government and parliament, to the entire Danish society. Such decisions ensure that we can speed up the return of peace to Ukraine and stability to the whole of Europe.

There is also an important decision in London today – in the case of the Kremlin bribe to Yanukovych back in 2013. When Russian money and dirty schemes with the then-politicians in Ukraine were actually used as part of the aggression against our country. An aggression that began back then – politically, economically, and later with the use of the special services and military force.

It is in this context that the $3 billion bonds case should be considered. Fully considered. And this is fair.

I addressed the participants of the powerful British conference of the Society of Editors. This is a gathering of leading media professionals in the United Kingdom, authoritative journalists, authoritative editors. People who have actually dedicated their lives to freedom – freedom of speech.

I urged them to spread the truth even more actively about Russian aggression, about our people whose lives are being destroyed by Russia, about our defense, which is returning freedom and security to Ukrainians and all Europeans.

Journalists – the free media of Ukraine and the world – have done a lot during this war to make Russian terror lose. To make Russian propaganda lose. And I want to emphasize: they did it simply by spreading information about what is happening here and now in Ukraine, in Europe, in the world. They were just spreading the truth.

This must be continued. The Kremlin will never defeat the truth. Neither will it defeat Ukraine.

I met with representatives of the American magazine The Atlantic, one of the most prominent global media brands. I met with the owner of the magazine, Mrs. Jobs, the editor-in-chief, Mr. Goldberg, and Anne Applebaum, an authoritative journalist.

We had a very meaningful conversation. In particular, about how we use modern technologies to reinforce our warriors and our institutions. About our army of drones, which will only get bigger and more powerful. About our IT specialists who help protect Ukraine. About the threats posed by Russia in the cyber and information space.

The world must know that the terrorist state seeks to bring destruction not only to our people, but also to all peoples who want to be free.

Of course, I am constantly in touch with our military, with the commanders. Everything we do, everything the state does, is subordinated to one task: to give each of our warriors more capabilities to fight, to give each of our cities more security.

As always, today I would like to commend our warriors who are delivering results in critical areas of the frontline. Of course, Bakhmut. Of course, Donetsk region in general. But also the south. And Kharkiv region. We do not forget about any of the directions of state defense.

The 54th and 92nd separate mechanized brigades – guys, thank you for your resilience and strength in Bakhmut.

The 3rd operational brigade of the National Guard and our border guards, who are fighting for Bakhmut together with all units of the defense and security forces… Thank you, warriors!

Thank you for your courage and for replenishing our exchange fund.

The 15th separate regiment and the 1st presidential operational brigade of the National Guard – I thank you for your results in the battles for the cities of Donetsk region!

The border guards of Kharkiv region – thank you for your strong counteraction to the enemy!

The 406th separate artillery brigade and the 131st separate reconnaissance battalion – thank you, warriors, for the defense of Kherson region! Thank you for your powerful responses to enemy strikes at Ukrainian cities.

The occupier must be destroyed. Thank you to everyone who makes this possible! Glory to each and every one who is now in combat! Glory to everyone who helps!

Glory to Ukraine!
Here's former NAVDEVGRU Squadron Leader Chuck Pfarrer's most recent assessments of the situation in Bakhmut:
BAKHMUT CITY/ 1915 UTC 15 MAR/ Positional fighting continues in Bakhmut urban area. UKR air defense downs a Russian Su-24 strike fighter near Opytne. #Bakhmut pic.twitter.com/WEL0oIzzlC

— Chuck Pfarrer | Indications & Warnings | (@ChuckPfarrer) March 15, 2023
BAKHMUT AXIS /1445 UTC 15 MAR/ Heavy positional fighting continues around Bakhmut. UKR conducted 9 aviation strike sorties, including 3 Suppression of Enemy Air Defense (SEAD) missions. Air defense units downed a Russian Su-24 fighter. Urban fighting along the T-05-13 HWY axis. pic.twitter.com/kJkNaklkih

— Chuck Pfarrer | Indications & Warnings | (@ChuckPfarrer) March 15, 2023
Bakhmut:
The most mysterious place in Ukraine is the Bakhmut triangle, where russian planes have been disappearing for a year now…

🎥@93_OMBr @RomanShrike pic.twitter.com/dsI5dFcHgk

— Defense of Ukraine (@DefenceU) March 15, 2023
Here's the details machine translated from the Ukrainian Ministry of Defense's Telegram channel:
🗣👊Commander of the Land Forces Colonel-General Alexander Sirsky on the situation on the Eastern Front:

💬 Today, a warrior of 93 OMBr «Cold Yar» with a call sign «Alan» destroyed an enemy Su-25 plane in Bakhmut. 

The enemy continues to try unsuccessfully to surround the city and move forward. There, fighters of the 93rd Brigade, along with other defenders, restrain the insane pressure of the enemy. Due to their work, enemy tanks, BMP, RSZV and warehouses with BC – take off into the air.

The occupiers are also pushing in the Kupiansky and Lyman directions. Warriors 92 OMBr. Ivan Sirka was given with dignity on the teeth of the enemy, destroying the systems of radar, RSZV and control points of the aggressor.  Such decisive actions of our army significantly deplete and demoralize the enemy and accelerate our victory.  Glory to Ukraine!
There's a bit of confusion about the type of Russian fighter. Ukrainska Pravda originally reported it as a SU-24 based on the 93rd Brigade's Telegram post, which was later updated to identify the downed fighter as an SU-25. Colonel-General Sirsky's identification of it as a SU-25 in the Ukrainian MOD's post above is the correct one. Here's the 93rd Brigade's updated Telegram post:
93 OMBr landed forever an enemy cacapolitan, probably a Su-24. Bakhmut direction

UPD. Su-25
There's video at the link. Or below courtesy of Dmitri from WarTranslated:
Officers of the 93rd Brigade filmed the takedown of a Wagner Su aircraft in Bakhmut using Igla MANPADS today.

The press service of the brigade was lucky enough to see with their own eyes how the bomber was shot down and to film the launch of a rocket at https://t.co/KEAHD8DRE2… https://t.co/no4afho7wL pic.twitter.com/pZJytl4rXE

— Dmitri (@wartranslated) March 15, 2023
We really need to be able to embed Telegram posts like we do tweets and YouTube videos…
More Bakhmut news:
Prigozhin directly accuses the Russian MoD of purposefully cutting ammo supplies in order to prevent Wagner from taking Bakhut under any circumstances, because "Soledar was enough". He revealed it in a heated interview published today. pic.twitter.com/c0wI95F2xM

— Dmitri (@wartranslated) March 15, 2023
Or, more accurately, whinging.
Kostyantynivka:
Kostyantynivka, Ukraine. March, 2023

📸 by @AFP's Sergei Sheshtak pic.twitter.com/oLtEvU6KMo

— Jonathan Brown (@jonathaneebrown) March 15, 2023
Kupiansk:
After I took this random photo in Kupiansk, police arrested there a Russian soldier, who was in hiding for six months. Perhaps he heard people speaking English, decided that Kupiansk is now part of NATO and it's better to surrender. pic.twitter.com/ctlS7Pjpxh

— Maria Avdeeva (@maria_avdv) March 15, 2023
Sometimes you should just SHUT THE FUCK UP!
Russian Security Council Patrushev said Moscow would try to recover the wreckage of the drone. "I don't know if we can recover it or not, but we will certainly have to do that".

Well, they couldn't raise Kursk submarine from 354 ft without external help, it took a year and $65 m pic.twitter.com/cOOkYAeg6J

— Maria Avdeeva (@maria_avdv) March 15, 2023
2/2https://t.co/tEpNssv6lWhttps://t.co/WMngBQOp6w

— Olga Honcharenko (@olga_pp98) March 14, 2023
That should be USEUCOM in case you were wondering.
By the way for those who might be interested in it, communications on 8585 USB are still ongoing, not too frequently but it is. https://t.co/CFL0uvI47k

— Olga Honcharenko (@olga_pp98) March 14, 2023
This is all circumstantial, but it would seem that the Black Sea Fleet was prepared to do recovery operations of the MQ-9 Reaper that was accidentally clipped by one of the two Russian SU-27s yesterday. As I've previously written, Ms. Honcharenko is Ukrainian and lives in Odesa. She monitors Russian military aviation and naval transmissions. Anytime Russian military air assets start squawking, she starts tweeting it out. She has no tweets about the SU-27s, which may indicate their transponders were turned off.
Wagner is advertising for new mercenaries.
ЗМІ звернули увагу на те, що ПВК "Вагнер", власником якого є Євген Пригожин, почали рекламувати на популярному порносайті Pornhub (18+). pic.twitter.com/pXfiXq2jrI

— Українська правда ✌️ (@ukrpravda_news) March 15, 2023
Ukrainska Pravda's tweet machine translates as:
The media drew attention to the fact that the Wagner PMC, owned by Yevhen Prygozhyn, began advertising on the popular porn site Pornhub (18+).
And here's their English language reporting:
Several media outlets have reported that the Wagner Group, a Russian private military company financed by Yevgeny Prigozhin, launched an advertising campaign on Pornhub, a popular pornography website.

Source: Kholod (Cold) and Kasparov, Russian media outlets; A Guy With Porn Dependency Telegram channel

Details: A video shared by Pornhub users in Kemerovo and Volgograd oblasts shows a woman saying "We are the most f***ing amazing private army in the world. We are hiring fighters from all parts of Russia. Don't wh*ck off, apply for a job with the Wagner Group."

A phone number then appears on screen; the number has been linked to Wagner Group recruiters.

The video can be accessed by Pornhub users in Russia who do not use VPN or adblocks.

Several media outlets have reported that the Wagner Group, a Russian private military company financed by Yevgeny Prigozhin, launched an advertising campaign on Pornhub, a popular pornography website.
That's enough for tonight.
Your daily Patron!
Tom was kidnapped! Not for real, but only in the new episode of my cartoon «Patron The Dog ». I will be glad if you watch, like, and comment❤️https://t.co/g9xoWheYov

Thanks for your support @USAIDUkraine and @UNICEF_UA 🙌🏻 pic.twitter.com/MjCDTy3ONp

— Patron (@PatronDsns) March 15, 2023
Here's the new episode:
And a new video from Patron's official TikTok!
The caption machine translates as:
Which option is better? 😄🤭 #песпатрон
Open thread!