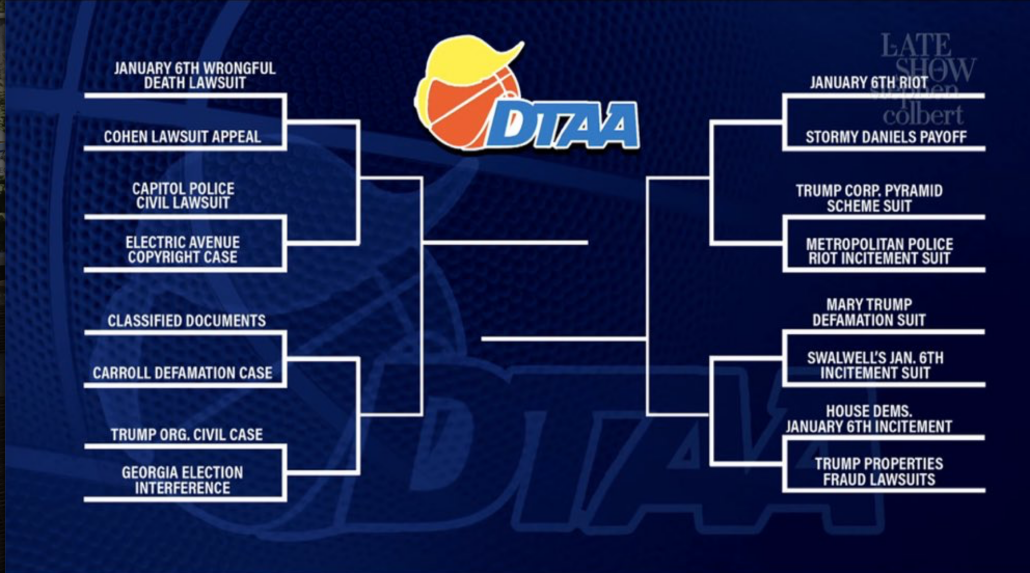 Realistically speaking, predicting the timing for any of these lawsuits is nearly impossible.  Still, it feels to me like we will some big action on at least one of these suits this week, possibly today but more likely tomorrow.
It's interesting, even the people whose podcasts I listen to don't agree on everything.  The GA Grand Jury foreperson who wanted her 15 minutes of fame.  Most say it wasn't ideal but it won't have any real effects legally, but one says it's a big deal.  Some thing Michael Cohen's testimony will hold sway; some think his testimony won't hold sway because he has lied before.
The only conclusion I have really drawn, to a near certainty, is that in their podcasts and videos, Meidas Touch seems to have turned into the Rush Limbaugh of the Left.  Less news, less informed speculation, more bloviating.  Am I being too harsh?
Even Preet annoys me.  I loved him when he first started his podcast, but he is way too both sides-y for me.  SO GLAD he was not chosen as AG. I dropped my paid subscription to his Tuesday show, and mostly stopped listening to the free Thursday one.  The farther Preet gets from his time in the Southern District, the more he has turned into just one more Talking Head.  Too harsh?
I used to pay $10 a month as a Lawfare patron, but I ditched that well over a year ago.  Even Popehat and his Republican sidekick are kind of annoying.  I am paying $6 a month for what, maybe 3 35-minute episodes a month?
I find that I can't even listen to Pod Save America regularly anymore.  Jon Favreau has had some really dumb takes lately, as has Tommy.  I really like Andy McCabe on the podcast Jack, but even the Mueller She Wrote lady is too cute by half, with something like 4 or 5 different podcasts, so I am not appreciating her much these days, either.  I like swearing as much as the next person, but some of her swearing feels contrived, like it's part of her schtick.  Disingenuous.
Am I just in a cranky phase?  Maybe the endless waiting for consequences is getting to me.
Update:  To be clear, I know that all of this takes time.  But it's becoming more and more clear to me that even most of the "experts" who used to be on the inside of these things are just speculating, and I'm not sure they know that much more than the rest of us who are paying attention.