Jonathan Chait, who I do not support, is right to defend Bethany Mandel, who I do not support, for faltering under the brutally tough questioning of drone-loving M$DNC shitlib Briahna Joy Gray.

by Glenn Greenwald

— New York Times Pitchbot (@DougJBalloon) March 15, 2023
It's all about performance for these chickenshites. Either they'll shout you down with a Gish gallop of lies and lurid phantasies, or they'll whine bitterly about how meeeaaann you are (and probably use deceptively edited clips to fundraise from their followers).
Senator Sanders' former press secretary Briahna Joy Gray, currently making what I'm told is a nice living from her own podcast, invited preeminent right-wing victimology performer Bethany Mandel to 'discuss' Mandel's new book on wokeness. Despite her recent research, when pressed on-air, Mandel proved incapable of defining wokeness… because she knew better than to say 'Anything that makes me uncomfortable, especially anything that suggests Those People might hold opinions at odds with the revered shibboleths of my deeply conservative ideology', and she hadn't bothered to prepare anything less offensive to normie book-buyers.
I was discussing this clip with Kay in the comments last night:
I've written posts about Bethany Mandel before; she's the 'point person' for testing the latest terrible right-wing ideas before her bigger-megaphone comrades start using them. If they flop (she was responsible for the 'If it means I can take my kids to the park, call me a grandma-killer' tweet at the start of lockdowns in 2020), she can take a year or two off, because her husband is a high-dollar think tank official and she's technically 'a full-time, stay-at-home mommy'.

For the same reason, anyone who contradicts her wildly dishonest narratives… is being mean to a mother, which just goes to show all lie-berals hate kids, also the flag and probably apple pie.

My personal suspicion, cuz I'm a Cynic, is that BrieBrie's 'takedown' has already been snipped & circulated by the right-wing wurlitzer as an example of how those nasty leftist colored ladies will attack decent God-fearing conservatives…
Sure enough, just a few hours later: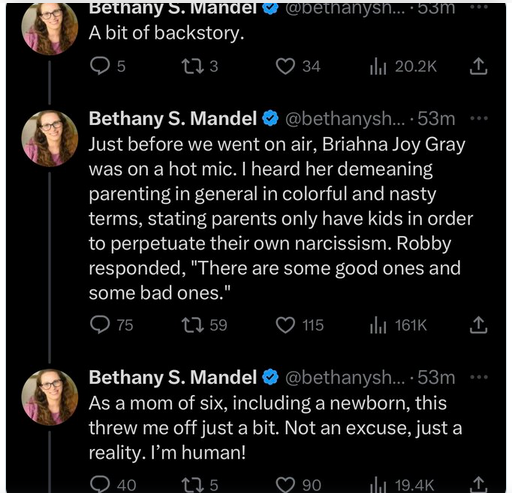 Including a newborn! Brutally attacking the mother of a newborn! Oh, the inhumanity!

"she's not an idiot": pic.twitter.com/1SizQUgszy

— Greg Greene (@ggreeneva) March 15, 2023

She's not an idiot, she's just a self-centered monster. But a very well-compensated monster, so who are we to judge her?
Sometimes when people say "woke" they mean "liberals being self-righteous and vicious about trivial things" and sometimes they mean "integration," or "civil rights laws" or "black people on television" and it's convenient not to have to explain what you actually mean.

— Adam Serwer 🍝 (@AdamSerwer) March 15, 2023