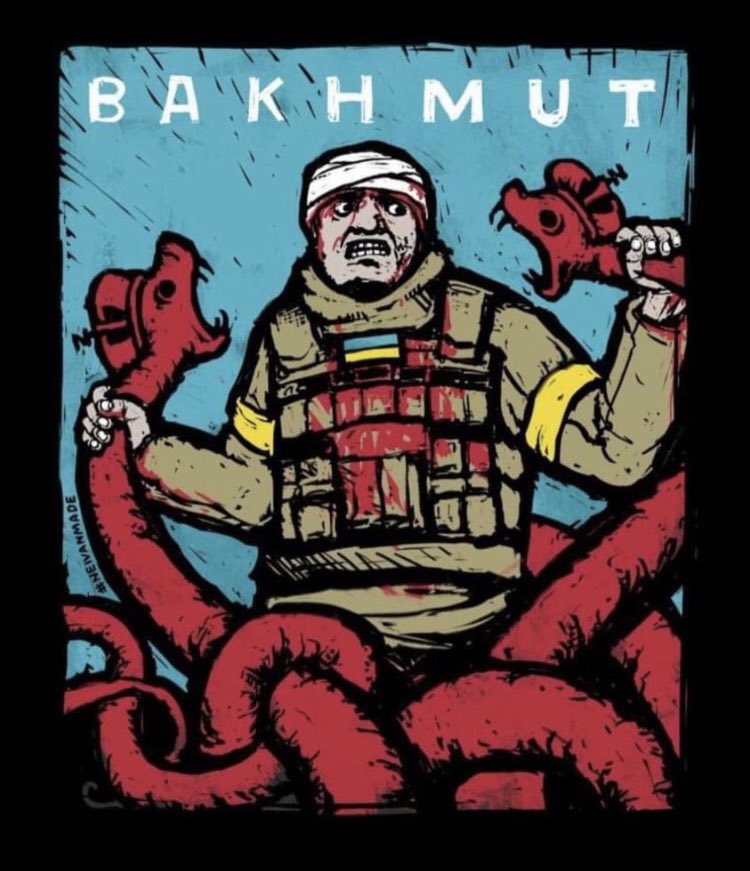 (Image by NEIVANMADE)
I really shouldn't complain. I get to sleep in my own bed, have my dogs around, and no one is trying to shoot me, bomb me, and/or otherwise blow me up. Anyhow, this has been a long and draining week. So let's get to it.
Before we really start, and before someone asks in comments, I am aware of social media chatter that Russia put the Belgorod to sea, that it was seen off the coast of the US last week, etc. Everything seems to track back to a Newsweek article that doesn't actually mention the Belgorod at all. And H.I. Sutton didn't have anything about it on his feed, which tells me that the Belgorod may be at sea, but there isn't any actual news about it. For those who are trying to figure out why Russia has decided to float an an entire city, the Belgorod is supposed to be their cutting edge submarine that can shoot the cuttingest of edgiest nukes. The sea trials and participation in naval exercises have not really gone well.
Here is President Zelenskyy's address from earlier today. Video below, English transcript after the jump:
President Volodymyr Zelenskyy: All Rashists will be held accountable for every Ukrainian life taken

16 March 2023 – 22:03

Dear Ukrainians!

A year ago, the Russian military committed one of the worst crimes of this war. Russian bombs destroyed a theater in Mariupol. A building that was used as a shelter. There were women with children, pregnant women, and the elderly. A civilian object deliberately destroyed by the occupier. We still don't know the exact number of victims. Hundreds of people? A thousand?

The inscriptions "Children" next to the building clearly indicated who became the target for Russia. One of many such targets. The evil state will be held accountable for each of them.

In mid-March last year, the occupier was still in the north of our country. In many places in the Kharkiv region. The enemy had completely different positions in the south. But already then we began to drive them out. The day will come when we will liberate Mariupol. Our entire south. Our entire east. Just like we liberated our other cities.

The day will come when a tribunal will be established to bring justice to our people. A tribunal that will punish this aggressor in the same way as the aggressors of the past were punished.

The day will come when all the perpetrators of war crimes against Ukrainians will be brought to justice in the halls of the International Criminal Court and national courts.

We will do all the legal work. We will mobilize all the partners that are necessary for this. This is already being done. Every day we bring justice closer to Ukraine. We work for this every day. The Prosecutor General and his Office, Ukrainian law enforcers, special services, the government, diplomats, my Office.

Rashism will not be able to remain unpunished evil. There will be punishment. And if some terrorists hope to hide somewhere… It will not work for them.

All those who bombed Ukraine. Who burned our villages, who shelled Ukrainian cities… Mykolaiv, Kherson, Nikopol and Marhanets, Zaporizhzhia, cities of Donbas, Kharkiv, Kharkiv region. All those who carry out terrorist fire against the communities of Chernihiv and Sumy regions… All those who brought the war to Donetsk and Luhansk. All those who tried to enslave Crimea. All Rashists will be held accountable. They will be held to account for every Ukrainian life taken.

Eternal memory to all our people, all adults and children whose lives were taken by Russian terror!

Today I spoke with the British Prime Minister. Generally, we talked about how to increase our defense capabilities. As always, it was a very concrete conversation, and I thank Rishi, I thank all the British people for their unflagging and attentive support. There will be the results of the conversation. Our warriors will see them.

Today I also met with the Prime Minister of Latvia in Kyiv. I thanked him for the new defense package for our country, for the principled support at all levels – from weapons to politics, from sanctions against Russia to legal issues.

We are constantly working on two directions of our foreign policy – European and Euro-Atlantic. With all our partners. With officials and public figures, with politicians and all other communities that have influence.

I thank Latvia for supporting Ukraine on both of these paths. The European Union and NATO. Today we spoke with Prime Minister Kariņš about the respective prospects for this year.

Ukraine has always been Europe. Ukraine will always be Europe. Russian bombs will not change the objective reality. The reality that Ukrainians are defending.

I thank everyone who is fighting now near Maryinka, near Bakhmut, near Avdiivka, in Luhansk region, on the frontline in the south. I thank everyone who makes Russia admit the fact that responsibility for evil is inevitable.

Paratroopers of the 79th brigade – I am thankful to you today as well! The 35th and 36th separate marine brigades – thank you guys! Warriors of the 55th separate artillery brigade – well done! The 74th separate reconnaissance battalion – thank you! I thank the warriors of the National Guard who are fighting in the east together with all our defense forces. Battalion groups of the Central and Western operational and territorial units of the National Guard – thank you, guys! Zaporizhzhia direction: the 128th separate mountain assault brigade and the 44th separate artillery brigade – as always, well done! Kharkiv region: the 3rd separate tank Iron brigade, the 1st separate Bohun special forces brigade, the 127th separate brigade of the territorial defense – thank you, warriors!

Glory to each and every one who is now fighting for Ukraine!

I am grateful to each and every one who brings accountability for the evil state closer!

All of Ukraine will be free.

Glory to Ukraine!
Here is the most recent operational update, as a machine translation, from the Ukrainian Ministry of Defense's Telegram channel:
Here is former NAVDEVGRU Squadron Leader Chuck Pfarrer's most recent assessment of the situations in Kreminna and Bakhmut:
KREMINNA AXIS /2110 UTC 16 MAR/ UKR forces great up Russian counter-attacks in southern urban area of Kreminna city. UKR artillery and missile forces target Russian HQs, radar stations and troop concentrations. pic.twitter.com/ib5gCQOMJi

— Chuck Pfarrer | Indications & Warnings | (@ChuckPfarrer) March 16, 2023
Notice the changes in the three hours between the two Bakhmut updates below:
BAKHMUT CITY /1745 UTC 16 MAR/ CRITICAL/ RU forces have made an important advance in the SW urban area. The line of contact now conforms to Korsunskogo Street. The development jeopardizes the S quadrant of the Bakhmut urban area.
NOTE: New street projection of city. pic.twitter.com/e6plVfhWMM

— Chuck Pfarrer | Indications & Warnings | (@ChuckPfarrer) March 16, 2023
BAKHMUT AXIS /1410 UTC 16 MAR/CRITICAL/ Russian forces have registered important gains in the urban areas of Bakhmut. Critically, RU troops are in contact along the rail right-of-way, the H-32 HWY and the Korsunskogo / Ushinskogo Street cut-off in the southern urban area. pic.twitter.com/jxVeSi3ItH

— Chuck Pfarrer | Indications & Warnings | (@ChuckPfarrer) March 16, 2023
Bakhmut:
Ukrainian channel "Bakhmut Demon" with close links to defenders of Bakhmut gives an update, believes encirclement of the city is unlikely, "even Russians don't believe it". pic.twitter.com/47V1DeDMlf

— Dmitri (@wartranslated) March 15, 2023
Here's the screengrab of Dmitri's translation from the tweet above:

Zaporizhzhia:
Leader of the nazi group Rusich reveals that in his inspection of the so-called "Surovikin line" of defence in Zaporizhzhia, he found a large number of inconsistencies and issues that pose a threat to its defenders. He says the line is built by civilians https://t.co/8XaLVUOeKp… https://t.co/e2fev1THb5 pic.twitter.com/3KDOdkkB3e

— Dmitri (@wartranslated) March 16, 2023
Here's the machine translation from Rusich's Telegram channel:
Remember, Rusich is rabidly pro-reinvasion and, under agreements signed last December, officially working for the Kremlin in regards to pushing material pertaining to the reinvasion. So if he's writing that the Russians are screwing up he's doing so because he wants them to actually perform well.
Mariupol:
A year ago, Russia deliberately dropped a bomb on the Drama Theater in Mariupol. Next to it was the inscription "Children", which was impossible to overlook. Hundreds of people were hiding there. We are working to hold the terrorist state to account for what it has done. pic.twitter.com/iZICS5Q5J0

— Володимир Зеленський (@ZelenskyyUa) March 16, 2023
From the Ukrainian officer who tweets as Tatarigami. Here's the copy and paste of the full text of his first tweet:
People following me know that I do not downplay or deny losses suffered by our side. Furthermore, I meet criticism for speaking out in public about it. Recently, I came across a Politico article which claimed that 100,000 Ukrainian soldiers have been killed in action (KIA). However, I have reason to doubt the accuracy of this figure. While the intensity of battles has undoubtedly led to an increase in casualties, I am skeptical that the number of KIA is as high as 100,000. It is possible that the journalist has misunderstood the definition of "casualties" and used it interchangeably with "killed", which is a common mistake.
Politico article I am referring to: https://t.co/Ua8LfbLYww

— Tatarigami_UA (@Tatarigami_UA) March 16, 2023
Tallyho!
Combat flight of a pilot MiG-29 of the Ukrainian Air Force 🇺🇦😎 pic.twitter.com/ud7DEFXo9A

— Ukrainian Air Force (@KpsZSU) March 16, 2023
"I am appealing to you to step up efforts to provide the 🇺🇦Air Force with modern multi-purpose fighters of the fourth generation, which are capable of effectively protecting our country from🇷🇺air terrorist strikes."- commander of the Air Force, Lieutenant General Mykola Oleshchuk pic.twitter.com/8Ghorffz0z

— Ukrainian Air Force (@KpsZSU) March 16, 2023
Poland:
Reporting from The Financial Times:
Poland has pledged to send four of its MiG-29 fighter jets to Ukraine "in coming days", in what would be the first shipment of combat aircraft marking a significant new level of western military support to Kyiv.

Ukraine has made fighter jets a central demand from western allies since Russia's full-scale invasion last year, but Nato countries have been reluctant to provide them given the perceived risk of escalation from Moscow in response.

Poland and Slovakia have previously said that they would be prepared to supply Kyiv with some of their Soviet-designed MiG-29 aircraft, but only as part of a "coalition" of western countries, and backed up by pledges from other Nato states to replace those jets.

"In the coming days, we are handing over four aircraft in full working order," Poland's president Andrzej Duda said during a news conference with his Czech counterpart, Petr Pavel, adding that an unspecified number of additional jets would be sent later: "The rest are being serviced, prepared and will probably be handed over successively."

While Ukraine has asked for US-made jets, such as F-16s, allies have pointed out that the country's pilots are trained to fly MiGs and that flying western aircraft would require months of training. The UK has pledged to train Ukrainian pilots on Nato-standard planes when president Volodymyr Zelenskyy visited London in February.

Ukraine recently received Joint Direct Attack Munition-Extended Range precision guided bombs, or JDAM-ERs, according to people familiar with the matter. The kits, provided by the US, can be bolted on unguided bombs, giving them a range of up to 45 miles.

The long-range munitions, which US military officials said recently arrived in Ukraine, make fixed-wing aircraft more useful on the battlefield, people familiar with the matter said, adding that the JDAM-ERs are being used on Ukraine's existing MiG-29s, and could be used by the Polish jets if sent.

Warsaw has 28 MiG-29s in its air force and plans to phase them out with future deliveries of US F-35s and South Korean FA-50s. Slovakia has about a dozen MiG-29s. Other Nato country air forces with the aircraft include Bulgaria, Croatia and Romania.

Poland first attempted to send jets to Ukraine a year ago but the plan fell apart after it was clear that Washington did not support the move.

In addition to the training of pilots, western officials have cautioned that Nato-compatible aircraft requires additional refuelling, servicing and armament capabilities that would also need to be sent.

The UK has previously suggested it is willing to send some RAF Typhoons and personnel to Poland and other Nato countries on the eastern flank to backfill any contributions made to Ukraine's fleet of fighter jets — a point made most recently by James Heappey, the junior defence minister, at a parliamentary hearing last week.
✈️ ✈️ ✈️ ✈️ https://t.co/8NyYfRFP7M

— Andriy Yermak (@AndriyYermak) March 16, 2023
Lithuania:
Lithuania's new military support package for Ukraine includes 155 mm ammunition, vehicles and military rations. The total value of the military support provided by 🇱🇹 to 🇺🇦 will soon reach 450 million euros.

— Arvydas Anušauskas (@a_anusauskas) March 16, 2023
The European Council/Brussels:
EU's energy trade deficit jumped from 1.7% in 2021 to 4% of our GDP in 2022. While the US surplus increased threefold.

The economic consequences of the war force us to tackle the right questions about our competitiveness.

At #EUCO we will focus on long-term action to boost it. pic.twitter.com/Nsm5zIf2sm

— Charles Michel (@CharlesMichel) March 15, 2023
The EU cannot be the playground of others' decisions. We want to build a powerful 🇪🇺 in which we are the masters of our destiny.

By strengthening our economy, defence and security, we choose to build an EU of peace and prosperity for the future of our children. #EPlenary pic.twitter.com/ihv04PtbA1

— Charles Michel (@CharlesMichel) March 15, 2023
Ottawa:
At the Ukraine Defense Contact Group, I announced a new package of Canadian military aid to Ukraine.

✳️ First, we will donate approximately 8,000 rounds of 155 mm ammunition, as well as 12 air defence missiles to sustain the air defence systems currently deployed in Ukraine.

— Anita Anand (@AnitaAnandMP) March 15, 2023
✳️ Finally, I am happy to share that the @CanadianForces have started the shipments of the additional Leopard 2 main battle tanks pledged by Canada at the end of February.

Canada stands with Ukraine in its fight for freedom and democracy. 🇨🇦🇺🇦

— Anita Anand (@AnitaAnandMP) March 15, 2023
From the Canadian Department of National Defence:
Defence Minister Anita Anand announces additional military donations to Ukraine at Ukraine Defense Contact Group meeting 

News release

March 15, 2023 – Ottawa, Ontario – National Defence / Canadian Armed Forces

Today, Defence Minister Anita Anand participated virtually in the Ukraine Defense Contact Group meeting hosted by United States Secretary of Defense Lloyd J. Austin III, where she announced additional military assistance to Ukraine.

At the meeting, the Minister announced that Canada will donate approximately 8,000 rounds of 155mm ammunition, as well as 12 air defence missiles sourced from Canadian Armed Forces' (CAF) inventory, to sustain the air defence systems currently deployed in Ukraine. Canada will also donate more than 1,800 rounds of 105mm tank training ammunition. This ammunition will support the donation of Leopard 1 tanks announced by Denmark, Germany, and the Netherlands.

Defence Minister Anita Anand also confirmed that the CAF started the shipments of the additional Leopard 2 main battle tanks pledged by Canada at the end of February. Canada has committed eight Leopard 2 main battle tanks to Ukraine in total, four of which have already been delivered to Poland with a team of CAF personnel training Ukrainian soldiers on their use. All eight Leopard 2 main battle tanks, as well as the previously announced armoured recovery vehicle, ancillary equipment, and ammunition donated by Canada, are expected to be in Ukraine in the coming weeks.

Since February 2022, Canada has committed over $1 billion in military aid to Ukraine. We continue to work closely alongside our Allies and international partners to provide and coordinate comprehensive military support for Ukraine as it fights for its independence, sovereignty, and territorial integrity.

Quotes

"Canada stands firm with Ukraine in the fight against Russia's illegal and unjustifiable war. We are strengthening our collaboration with our Allies and partners and are continuing to respond to Ukraine's military needs with comprehensive military aid. We will continue to do whatever it takes to safeguard freedom, democracy, and the rules-based international order."

The Honourable Anita Anand, Minister of National Defence

Quick facts

The Ukraine Defense Contact Group (UDCG) was created by the United States Secretary of Defense in April 2022 to provide a strategic mechanism to identify critical equipment needs and gaps for Ukraine, allow Allies and partners to synchronize donations, consult and coordinate assistance to Ukraine, and build the capabilities of the Armed Forces of Ukraine. Convening monthly at the ministerial level, the UDCG now brings together over 40 countries. This was its tenth meeting.
Since the beginning of 2022, Canada has committed over $5 billion in direct financial, military, humanitarian, and other assistance to Ukraine.
Since February 2022, Canada has committed over $1 billion in military assistance donations to Ukraine. This includes over 200 Senator commercial pattern armoured vehicles, a National Advanced Surface-to-Air Missile System (NASAMS) with associated munitions, 39 armoured combat support vehicles, anti-tank weapons, small arms, M777 Howitzers and associated ammunition, high-resolution drone cameras, and more.
Since late March 2022, the CAF has been assisting with the delivery of military aid for Ukraine within Europe from Canada and on behalf of our Allies and partners, transporting over 7.5 million pounds of military donations to date.
CAF personnel are currently deployed to both the United Kingdom and Poland to assist with the training of members of the Armed Forces of Ukraine under Operation UNIFIER, Canada's military training and capacity building mission in support of the Armed Forces of Ukraine.
Since the start of Operation UNIFIER in 2015, the CAF has trained over 35,000 members of the Security Forces of Ukraine in battlefield tactics and advanced military skills.
Rostov on Don:
Rostov-on-Don. A surveillance camera recorded the explosion and the beginning of the fire at the headquarters of the Regional Board of Border Troops of the FSB. pic.twitter.com/vHaKaPB1JY

— Belsat in English (@Belsat_Eng) March 16, 2023
A fire broke out in the Russian city Rostov on Don. There is the claim that it is the local FSB office.

Ups…#Rostov #Russia pic.twitter.com/CMToifc6aq

— (((Tendar))) (@Tendar) March 16, 2023
Here's the video released by the DOD of the SU-27 colliding with the MQ-9 Reaper:
Here's the video from the source https://t.co/QdOtTNWk5k

— Eliot Higgins (@EliotHiggins) March 16, 2023
Reuters takes a deep dive into the Wagner mercenaries. Here's some excerpts:
Reuters tracked down and interviewed five Russian prisoners who fought in Ukraine in return for freedom. They gave the most detailed insider account yet of Wagner's convict army.

In October last year, a Russian news site published a short video of Yevgeny Prigozhin, founder of the Wagner Group, the Russian mercenary army, sitting with four men on a rooftop terrace in the resort town of Gelendzhik, on Russia's Black Sea coast. Two are missing parts of a leg. A third has lost an arm. They are identified as pardoned former convicts, returned from the front in Ukraine after joining Wagner from prison.

"You were an offender, now you're a war hero," Prigozhin tells one man in the clip. It was the first video to depict the return of some of the thousands of convicts who joined Wagner in return for the promise of a pardon if they survived six months of war.

Reuters used facial recognition software to examine this video and more than a dozen other videos and photographs of homecoming convict fighters, published between October 2022 and February 2023. Reporters were able to identify more than 30 of the men by cross-checking the images with social media and Russian court documents.

In their ranks are murderers, thieves and a self-declared "Satanist." Several are in hospital recovering from wounds sustained in the fighting. Reuters managed to make contact with 11 of these men. Five agreed to be interviewed by phone and messaging app. What follows is the most detailed insider account yet of Wagner's convict army: the fighters' recruitment and training, the combat they saw in Ukraine, and their uncertain future in a Russia turned upside down by war with its neighbour.

Four of the men said they were personally recruited by Yevgeny Prigozhin as he toured Russia's prison system to bolster his private army. Some of the men were deployed to Ukraine's eastern Bakhmut region, site of some of the most intense fighting of the one-year-old conflict, where one man described the "utter hell" of the battlefield. Thousands have been killed on both sides. The battle for the city of Bakhmut now hangs in the balance. A former Wagner commander who fled to Norway in January has said he witnessed members of Wagner's internal security administering brutal treatment to prisoner recruits, including executions for desertion.

Combat training, some conducted by veterans of Russia's special forces, was short but intensive, according to the men. Ukrainian and Western officials say Wagner is sending poorly prepared fighters to certain death in eastern Ukraine. Mike Kofman, an expert in the Russian military at the Arlington County, Virginia-based CNA think tank, told Reuters the two to three weeks of training received by the convict recruits would be unlikely to bring them up to speed, even if some of the men had prior military experience.

"It takes time to learn combat basics, receive individual training, and you also need some collective training as a unit on top of it – a couple of weeks alone isn't going to do that much for you," Kofman told Reuters. A more rigorous training scheme would last several months.

All five ex-prisoners expressed a fierce loyalty to Prigozhin for giving them a second chance at life. Though Reuters could not independently confirm the men's accounts of their service, many of the details were consistent with one another. Russia's Defence Ministry and penal service did not respond to detailed questions for this article, nor did Prigozhin and Wagner. In a brief emailed statement, Prigozhin dismissed Reuters' questions as "crazy." He has previously described Wagner as "probably the most experienced army that exists in the world today" and said its casualty rate is comparable with other Russian units.

Now free years ahead of schedule, whether at home or facing long periods of treatment and rehabilitation, the surviving fighters are returning to a country where their actions on the frontline are lionised by many. Prigozhin has previously said that he is giving convicts who join Wagner a "second chance" at life, and an opportunity to redeem themselves.

Earlier this month the State Duma passed a law making it a crime to "discredit" Wagner fighters. The law, which previously applied more narrowly to Russia's armed forces, was extended at Prigozhin's request.

Prigozhin's growing power has not been greeted warmly by all sections of the Russian elite. In February, a long-running feud between the Wagner leader and Russia's military chiefs exploded into open hostility. Prigozhin accused Russian defence minister Sergei Shoigu and Chief of the General Staff Valery Gerasimov of "treason," saying they were starving Wagner of munitions out of personal animosity towards him. Shoigu and Gerasimov could not immediately be reached for comment. Earlier the same month, Prigozhin said he had ended Wagner's recruitment of prisoners, hinting in an interview that he was forced to do so by unnamed officials.

The five fighters interviewed by Reuters felt a deep personal gratitude to Prigozhin for recruiting them and wiping their criminal records.

"We're better than ordinary citizens," said Yastrebov, the car thief, now at home in his native St Petersburg. "We are not ex-convicts now, thanks to Wagner."

In a January video, Prigozhin is shown telling injured convict fighters: "The police must treat you with respect. Everything has already been agreed at various levels, so that there is no nit-picking… If necessary, I myself will call and talk to the governors and so on, and we will find a solution."

For Kuzhelev, who as of February had been in a Krasnodar region hospital for four months, Prigozhin had given him a new lease on life. Court documents show he spent almost seven of his 29 years in prison for six separate convictions. "The last time I was sent to prison, I was thinking: 'Well, here I am again, what's next?'" he said. "I'll serve a year, another, a third, and then what? I'll go out, and what am I going to do on the outside? What am I going to do with myself, given my background?"

"Well, now I'm clean. I have some money. I can think about the future. Think about getting a mortgage to buy an apartment … I have all this thanks to our esteemed Yevgeny Viktorovich," Kuzhelev added, using Prigozhin's patronymic as a sign of respect.

All five of the men who spoke to Reuters said either that they would remain with Wagner after their six month service, or were seriously considering doing so.

Some said they wanted to get back to the frontlines as soon as they were able to. Nikita Lyubimov, a native of the Volga city of Cheboksary who had been serving a four and a half year sentence for grievous bodily harm, said his first priority was "to support the lads, to recover as soon as possible, and get back to the front line". The 23-year-old had received a shrapnel wound two months into his initial stint in Ukraine, and was invalided out.

The men said that the able-bodied among them were offered the chance to sign on as professional full-time mercenaries, while the injured were offered supporting roles. Borovkov, who is getting a prosthetic arm after amputation, said that he had been offered a job at a Wagner hospital in Luhansk when he recovers.

Yermakov said he hoped to recover sufficiently to re-enroll as a contract mercenary, and hoped to be deployed in future to Libya, Syria or the Central African Republic, where Wagner operations predate the group's present campaign in Ukraine. He cited limited prospects available in Russia's civilian economy as pushing him towards returning to Wagner.

"People work hard without days off for 12-14 hours a day, and at best they earn 50-60,000 roubles ($672-$806) a month," said Yermakov, who told Reuters he has two small daughters. "I will return to the (Wagner) company and I will definitely be able to earn 150,000 roubles ($2,000) a month."

For others, a return to Wagner offers an alternative to sinking back into a life of crime. Kuzhelev, who has spent almost seven of his 29 years in prison, told Reuters that he hoped that service in Wagner would enable his young daughter to build a career in future, without the stigma of her father's criminal past.

"My daughter, when she grows up, can go on to study banking, or attend the police academy," said Kuzhelev. "And she will not have problems because her father was in prison. Isn't that motivation? Of course it is."
Much more at the link!
Also, obligatory: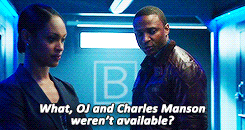 That's enough for tonight.
Your daily Patron!
A new video from Patron's official TikTok! Which is the trailer for the full new episode of Patron's official cartoon I posted last night.
Here's the machine translation of the caption:
The new episode about Tom's kidnapping is already on my YouTube! Link in the profile header ❤️ #песпатрон
And in case you missed it last night, and if you did SHAME ON YOU!!!!!, here's the new episode of Patron's official cartoon from Patron's official YouTube channel:
Open thread!