I hope I don't rub anybody the wrong way by posting something orange today–because I would really like to introduce you all to Momo, the new kitten at chez majeur! She is an orange tabby of some persuasion (classic?), and 5-6 months old.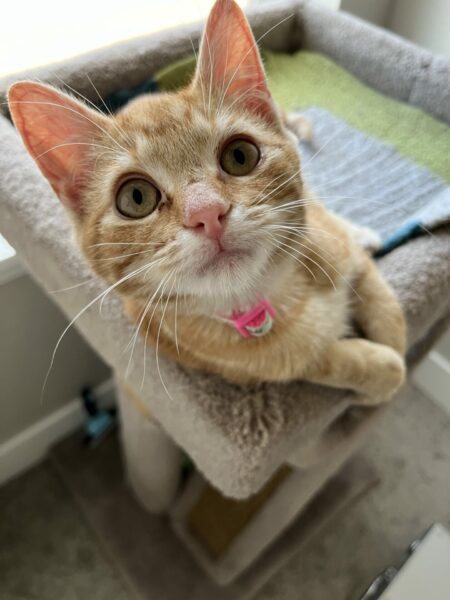 After moving to Denver, we had a lot more space, so we were finally able to get a second cat. We got her in early February, but I decided I'd wait until she was well-integrated into the household to introduce you all. Superstition, I guess. Samwise hated her at first, which was to be expected but still not fun for anyone! Now they more or less get along. She wants to play a lot more than he does, which earns her some hissing, but they generally tolerate each other. If we leave them alone we can be confident the only damage will be to furniture.
On the Denver front… things are great! Hoping to be around here more (apologies in advance), now that my six months of home-purchase-and-move-anxiety are over. It sucks not to have friends nearby but that's okay, we'll make new ones. The house itself is really nice, although it's a little jarring moving from a prewar apartment with thick plaster walls into new American construction with gypsum "walls".
The amount of space we have now feels almost embarrassing, though it's really not that much, 1600 square feet plus an unfinished basement. But I'm writing this from the writing desk in the guest bedroom, not to be confused with my computer workstation/standing desk in the office, which is not to be confused with my husband's workstation downstairs. What a bounty! God, we were living like peasants before.
And we have a fireplace! Or should I say, the cats do.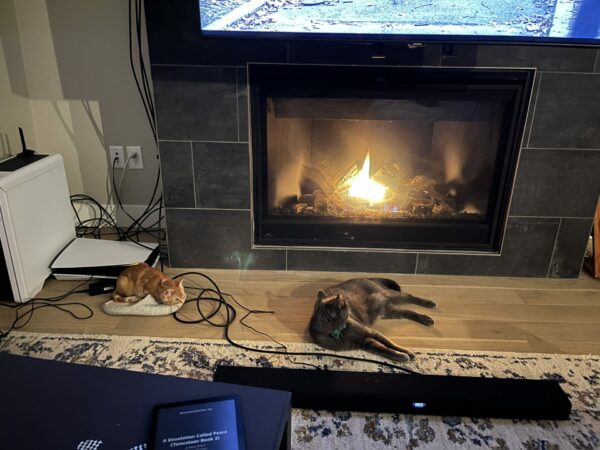 And I guess I can offer up some St. Patrick's content, too. I made this soda bread recipe for a family dinner the other night. It turned out really well! (I used these high altitude adjustments and substituted dried cranberries for raisins.) It did need a little longer in the oven than the recipe calls for, but fortunately I bake with a thermometer. I think it was around 205 degrees when I took it out–which is maybe a little hot for a soda bread? not sure?–but it was perfect, if you ask me, although as is typical for my cooking it could have looked a little nicer.
Perfect pic.twitter.com/1atwDe4xSn

— ☕️ hoopy frood 🍵 (@TynanPants) March 16, 2023
Happy Friday, everyone! Open thread.