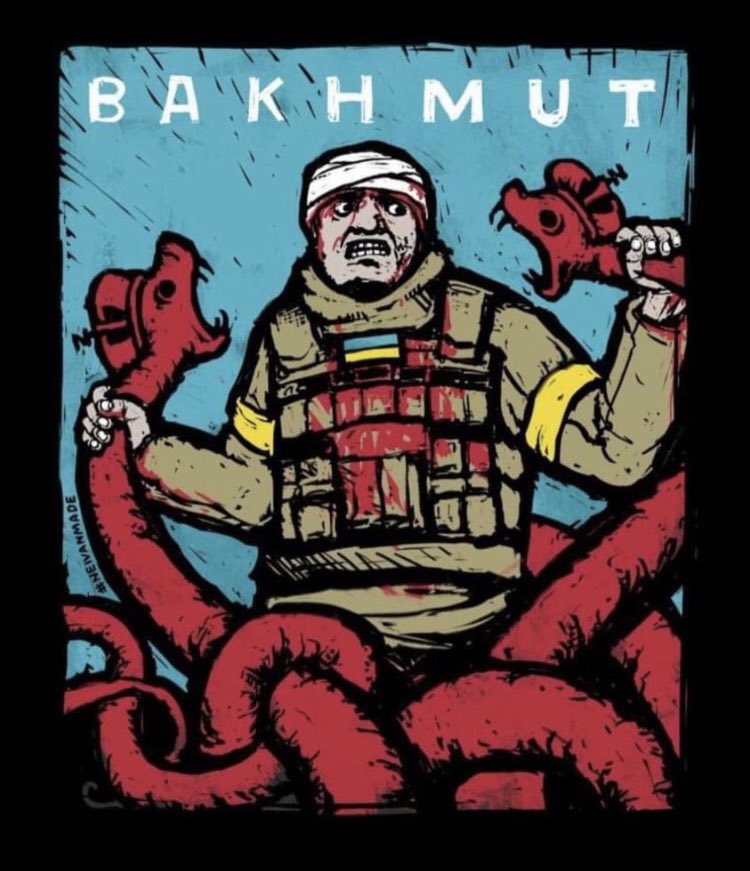 (Image by NEIVANMADE)
FRIDAY!!!!! I'm feeling all of the long week. So just a quick update and then I'm to bed!
Here is President Zelenskyy's address from earlier today. Video below, English transcript after the jump:
International Criminal Court issues warrant of arrest for Putin; the historic decision, from which historical responsibility will begin – address of President of Ukraine

17 March 2023 – 20:26

Dear Ukrainians, I wish you health!

Today, we have a fundamental decision of international justice. In a case which has a true prospect. The International Criminal Court issued a warrant of arrest for Putin.

The historic decision, from which historical responsibility will begin.

The head of the terrorist state and another Russian official have officially become suspects in a war crime. The deportation of Ukrainian children – the illegal transfer of thousands of our children to the territory of the terrorist state.

Over 16,000 cases of forced deportation of Ukrainian children by the occupier have already been recorded in criminal proceedings investigated by our law enforcement officers.

But the real, full number of deportees may be much higher.

It would be impossible to commit such a criminal operation without the order of the top leader of the terrorist state.

Separating children from their families, depriving them of any opportunity to contact their relatives, hiding children on the territory of Russia, throw them in remote regions – all this is an obvious state policy of Russia, state decisions and state evil. Which begins precisely with the top official of this state.

I am grateful to the team of Prosecutor Karim Khan and the International Criminal Court, everyone in the world who is helping us in the fight for justice. I am grateful for integrity and willingness to really bring to justice those who are guilty.

So far, it has been possible to return a little more than 300 children from all those who were taken away by force, stolen from Ukraine. It is obvious that we have to return everyone.

It is obvious that we will continue doing everything for this. For returning every Ukrainian, every Ukrainian woman, every our child. And for the real responsibility of all those responsible for this deportation – from the head of the terrorist state to all the executors.

I held a meeting of the Staff of the Supreme Commander-in-Chief today. The main focus is on the battles in Donbas: Avdiyivka, Bakhmut, Vuhledar, Maryinka, Bilohorivka.

The main focus is on our soldiers, how to support our brigades, how to give them more strength, opportunities, more weapons and protection.

As always, the Commander-in-Chief, intelligence, task force commanders reported. The commander of Khortytsia group General Syrsky, the commander of Tavria group General Tarnavsky. It is these groups that operate in Donbas.

And I thank every soldier, every sergeant, every officer – everyone who acts on the front line, everyone who maintains a real defense with their endurance and courage. Thank you for resilience, for strength and for the fact that the state sees a prospect for our defense operations, for further active actions.

Today, I would like to pay particular attention to the fighters of our special units.

Special Operations Forces – 8th Separate Special Forces Regiment, thank you guys for the filigree destruction of the enemy near Bakhmut and the powerful reinforcement of our defenses in this direction, in Bakhmut.

Thank you to all our Special Operations Forces fighters who defend Luhansk region.

Special gratitude goes to our Navy SEALs, the Naval Special Purpose Center, for the successful actions in the south, for the tangible losses of the enemy near Kherson and Zaporizhzhia, for the powerful response we give to the occupier to its attacks on our forces and cities.

Thank you to the soldiers of the Security Service of Ukraine. To all our defenders from the Alpha unit, in particular from the White Wolf and Kusto groups. The 13th Directorate of SSU Military Counterintelligence – thank you all!

Thank you to the soldiers of the Defense Intelligence of the Ministry of Defense – every soldier, every unit. I thank the soldiers of our International Legion, all who feel the need to fight for freedom in the same way that Ukrainians feel this need.

I spoke today with the Prime Minister of Slovakia. I thanked him for the new and strong defense support package. In particular, for MiG fighters, which will fly for the security of Ukraine and the whole of Europe. We agreed to continue our security dialogue – in Ukraine.

And, by the way, we are already working on the next weeks' tasks – the time that we will use to strengthen Ukraine, to supply new weapons to our soldiers and to speed up the punishment – the punishment of Russia for this war.

Glory to all who are now fighting for Ukraine!

Glory to everyone who helps us protect our people!

Glory to Ukraine!
Every criminal must be held accountable, especially when a top official is involved in the deportation of children.
We've been flagging russian war crimes for a long time.
The arrest warrants for the ugly duo are just the beginning. The tribunal, verdicts&punishments are coming. pic.twitter.com/st8T4Qs5FJ

— Oleksii Reznikov (@oleksiireznikov) March 17, 2023
Here is some #NAFO art for your Friday night.
Time for some Guinness ☘️ ☘️ ☘️#HappyStPatricksDay pic.twitter.com/pezgMOGAEf

— Defense of Ukraine (@DefenceU) March 17, 2023
Just to be clear, that's Kremlin spokesman Dmitry Peskov between Defense Minister Shoigu and Putin, not former Secretary of Defense Hagel.
Here is the most recent operational update, machine translated, from the Ukrainian MOD's Telegram channel:
And here is a machine translated statement from the Land Force Component Commander Colonel General Syrskyi:
A little public diplomacy from the Ukrainian Minister of Foreign Affairs:
This is going to become one of my favourite soundbites from any foreign minister I have interviewed. I asked @DmytroKuleba what was behind the creative diplomacy Ukraine had shown during the war: pic.twitter.com/a1RlMzgp5e

— James Landale (@BBCJLandale) March 17, 2023
Here is former NAVDEVGRU Squadron Leader Chuck Pfarrer's most recent assessment of the situation in Bakhmut – newest first:
BAKHMUT CITY TACMAP /2240 UTC 17 MAR/ Urban fighting continues. The line of contact in the north sector of the city conforms with the rail right-of-way. In the south, RU forces are attempting to close the gap between the H-32 and T-05-13 HWYs. #BakhmutMap pic.twitter.com/fGj1oEqdS6

— Chuck Pfarrer | Indications & Warnings | (@ChuckPfarrer) March 17, 2023
BAKMUT AXIS/1320 UTC 17 MAR/RU maintains important lodgments in the SW urban area of Bakhmut. UKR troops hold defense positions along the rail right-of-way, the H-32 HWY and Korsunskogo Street southern urban area.  //Urban TACMAP to follow.// #BakhmutMap pic.twitter.com/pe9GemwG2y

— Chuck Pfarrer | Indications & Warnings | (@ChuckPfarrer) March 17, 2023
Bakhmut:
A late posted video update from Kyianyn:
Quick update from fired up Kyianyn – 16 March. pic.twitter.com/1jKm09Ud1i

— Dmitri (@wartranslated) March 16, 2023
Chasiv Yar:
Fighters of the 71st Jaeger Brigade defend the city of Chasiv Yar in the Donbas, preventing Russians from cutting the supply line to Bakhmut.

One of the heroes here is the commander of the special purpose group Petro, callsign "Kharkiv", who went to his position immediately… https://t.co/DmfichfUN8 pic.twitter.com/xTODL3POIz

— Dmitri (@wartranslated) March 17, 2023
Avdiivka:
Avdiivka, Donetsk region.
The result of four russian air strikes today.#russiaisaterroriststate

📷 Office of the President of Ukraine pic.twitter.com/18VPw7GwXb

— Defense of Ukraine (@DefenceU) March 17, 2023
Eastern, southern, northern, and parts of central Ukraine:
Ukraine under Shahed attack these minutes. Russia is possibly preparing for the next missile attack and uses drones to detect air defense. pic.twitter.com/0Ma6y2GM07

— Maria Avdeeva (@maria_avdv) March 17, 2023
For those who are curious, and I apologize for not posting it sooner, here is the link to the air raid alert map of Ukraine.
The Slovak Republic:
#Slovak gov. just approved sending 13 #MiG29s to #Ukraine! Promises must be kept&when @ZelenskyyUa asked for more #weapons incl. fighter jets, I said we'll do our best. Glad others're doing the same. #Military aid's🔑to ensure🇺🇦can defend itself&the entire #Europe against #Russia

— Eduard Heger (@eduardheger) March 17, 2023
Our hearts w/Ukraine. Our jets for Ukraine. 🇸🇰🤝🇺🇦 #Slovakia is to donate 13 MiG-29 jets (and SA-6 air def system) to #Ukraine. Agreement signed ✅@UKRinSR @DefenceU @MyroslavKastran @oleksiireznikov @Slovakia_NATO @USEmbassySK @ZelenskyyUa pic.twitter.com/f0obiLsl2R

— Jaro Nad (@JaroNad) March 17, 2023
Ukrainian angels from @KpsZSU are ready to protect good and punish evil. But they need wings.
MiG-29 jets + Kub air defense system from 🇸🇰 will help us defend our skies effectively.
Thank you to @eduardheger @JaroNad and the 🇸🇰 people.
Aircraft coalition is assembling! pic.twitter.com/15A9GhuO42

— Oleksii Reznikov (@oleksiireznikov) March 17, 2023
That's enough for tonight. Provided I'm feeling rested and refreshed, I'll get to some of the longer stuff tomorrow night.
Your daily Patron!
Today I just want to listen to the songs of Lady GAAGA. Don't know why 😏

— Patron (@PatronDsns) March 17, 2023
And a new video from Patron's official TikTok!
Here is the machine translation of the caption:
Which is your favorite? 😁 #песпатрон
Open thread!