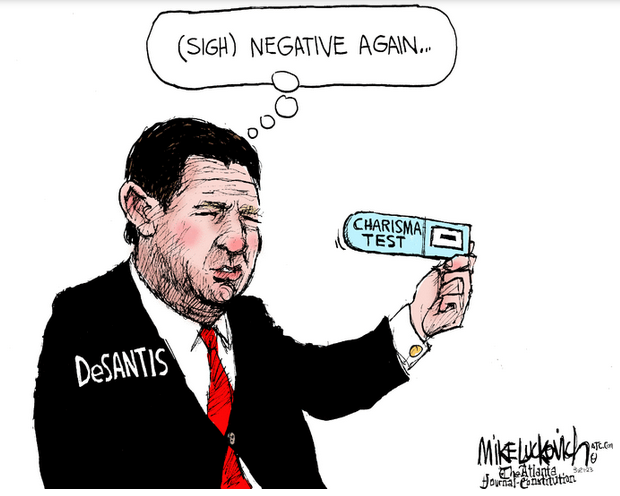 We all had a good laugh over DeSantis's recent 'Assigned Floridian at birth, Identifies as a Rust Belter' claims, but this is no joke.
In a strong, lengthy @VanityFair piece Katherine Eban writes that @GovRonDeSantis has decided his ticket to the White House in '24 is going all-out #antivax — on all vaccines.
Playing politics via dangerous anti-public health messaging…https://t.co/lKutoaCyRX

— Laurie Garrett (@Laurie_Garrett) March 21, 2023
On December 14, 2020, Florida governor Ron DeSantis, wearing a mask, watched expectantly as a FedEx truck backed up to a loading dock at Tampa General Hospital. The truck carried precious cargo: boxes of the very first COVID-19 vaccines. With a flourish, DeSantis signed the FedEx manifest. "Today, we will have shots going in arms," he proudly declared.

At the time, Republicans across the country were eager to share credit for a singular feat in President Donald Trump's otherwise disastrous handling of the pandemic: the record-speed development of COVID-19 vaccines that offered hope of a return to normal life. 

By the end of last year, however, DeSantis's vaccine cheerleading was a distant memory. On December 13, almost exactly two years after the FedEx delivery, he petitioned the Florida Supreme Court to let him empanel a statewide grand jury to investigate COVID-19 vaccine makers, particularly Pfizer and Moderna. "It is against the law to mislead and misrepresent, particularly when you're talking about the efficacy of a drug," DeSantis said, comparing the vaccine push to the profiteering that drove the deadly opioid epidemic.

In January, the grand jury went to work looking for dark intent or false claims behind the lifesaving vaccines. It is slated to report its findings by January 2024. That would be just in time to potentially influence the outcome of the Republican presidential primaries, in which DeSantis is widely seen as a leading challenger to Trump, even though he hasn't yet officially declared his candidacy…

Those familiar with DeSantis's inner circle say his vaccine stance is indeed driven by politics, not science. "There's no medical people involved in this," someone with knowledge of DeSantis's advisers says. "It's all political people. Now a couple of those TV doctors, those people are in his orbit, but this is not engineered by the scientific side of the house." His goal, insiders say, is to tack to Trump's right and peel off anti-vaxxers whose votes could prove decisive in the Republican presidential primaries next year. 
In his new book, The Courage to Be Free, DeSantis attempts to paint Trump as a passive actor in the early days of the pandemic, standing by as Dr. Anthony Fauci, then director of the National Institute of Allergy and Infectious Diseases, controlled the public health response. "As the iron curtain of Faucism descended upon our continent, the State of Florida stood resolutely in the way," DeSantis writes, doubling down on his ideological about-face. (Governor DeSantis's office did not respond to detailed questions seeking comment. Through a spokesperson, Fauci declined to comment.) 

DeSantis has recruited a host of doctors who are helping him disparage federal health agencies and platform concerns about vaccine safety. Leading the pack is his handpicked surgeon general, Dr. Joseph A. Ladapo, who has recommended against the COVID-19 vaccine for children and claimed, in a widely debunked study, that Pfizer and Moderna's mRNA vaccines elevate the risk of cardiac-related deaths in young men…

While DeSantis's strategy may be rooted in politics, it is likely to have far-reaching public health repercussions, says Dr. Jonathan Howard, an associate professor of neurology and psychiatry at NYU Langone Health. "You're going to continue to see Republicans dying [from COVID-19] at a higher rate, and a return of measles and whooping cough and God knows what else," says Howard, who has studied the anti-vax movement for a decade…

It is hard to predict the overall impact of Florida's decisions, says Dr. Sean O'Leary, chair of the Committee of Infectious Diseases for the American Academy of Pediatrics. Do parents "trust Ron DeSantis more than they trust their pediatrician? I don't think so," he says. Nevertheless, "it has become a deeply held belief for a lot of people that these COVID-19 vaccines are somehow bad." 

This widespread distrust is reflected in the low uptake of pediatric COVID-19 vaccines. In Florida, only 11.8% of people five and up are fully vaccinated and boosted against COVID-19—lower even than the nationwide average of 17.4%, according to CDC data.  

Florida's stance on pediatric vaccines sets a dangerous precedent, says Peter Hotez, codirector of the Texas Children's Hospital Center for Vaccine Development. "No one state has the intellectual horsepower to make those complicated assessments on illness in children. There are reasons to have a federal government. To have individual states going rogue really endangers that state's population."

Ruth Ben-Ghiat, a professor of history at New York University and author of Strongmen: Mussolini to the Present, sees DeSantis's COVID-19 policies as part of his effort to use Florida as a testing ground for an American model of autocracy. Wearing a mask or getting vaccinated are acts of collective caretaking, she says. "Autocrats want to turn everyone against each other. They don't want you to have solidarity. They want radical individualism. It makes people paranoid of the federal government. The real goal is to elevate their own [power and judgment]." …