I've been meaning to get a post up to cover the insane onslaught of anti-trans bills from the last few weeks, but it's been exhausting to keep up!
First of all, @erininthemorn is doing the heavy journalistic work that most major news sources have been ignoring. She deserves a damn medal for her work, and I highly encourage you to follow and support her independent journalism. It's been extremely frustrating that trans issues are falling under the radar when so much has been happening. Two years before Roe v. Wade was struck down, I was chatting with a trans friend about how there were 87 anti-trans bills in state legislatures, and how upsetting it was that pro-choice advocates and cis-women couldn't see that if trans people were losing their bodily agency, that abortion and women's bodies were next on the docket… Now we are in a veritable ocean of legislation targeted at both, and we have to remember that these fights are linked.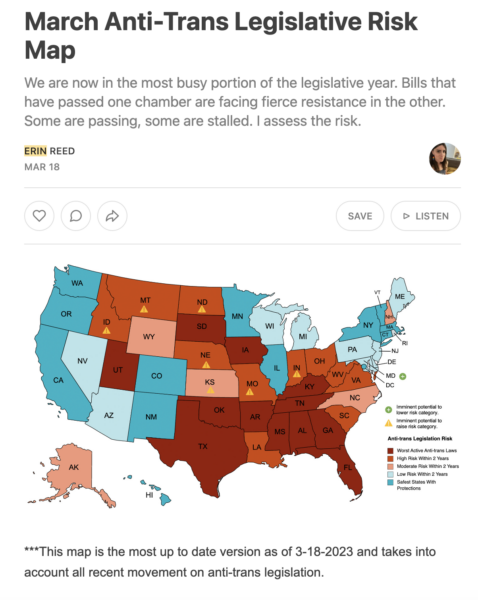 Greg Abbot has officially directed Family and Protective Services to begin investigating all trans children in Texas and prosecuting their parents as child abusers.

He has also instructed all teachers, doctors, and caregivers to begin reporting any trans students they see. pic.twitter.com/AO4FdYNuym

— Erin Reed (@ErinInTheMorn) February 23, 2022
This is still in effect a year later, as it was first blocked by a lower court, but then the TX Supreme Court rapidly overruled that judgement… This has been the foundation for the recent bounty hunter laws. The ACLU has a great article about Texas' attempts to Tear Parents and Trans Youth Apart One Year Later…
And in recent cruelty, HB150 passing in Kentucky, "combines Don't Say Gay policies, forced outing, pronoun bans, and a gender affirming care ban for trans youth has one last cruel wrinkle: it tells doctors exactly how they are to medically detransition the trans teens under their care. It passed the House and was immediately rushed to the Senate for final passage, where it passed 30-7 on a nearly party line vote."
Rep White cruelly stands and says, "This is a sissy bill. I voted yes but I wanted more teeth in it."

Holy hell how cruel. pic.twitter.com/3lMReSzX2w

— Erin Reed (@ErinInTheMorn) March 16, 2023
And it's become very very clear that what is happening across out country is an intentional, well-planned campaign of hatred that is not based in science or healthcare, but is about making it difficult and shameful to be transgender…
Leaked emails give a glimpse of the religious-right networks behind transgender health care bans.

On a Saturday afternoon in August 2019, South Dakota Republican state Rep. Fred Deutsch sent an email to 18 anti-trans activists, doctors, and lawyers withthe text of a bill he planned to introduce that would make it a felony for doctors to give transgender children under 16 gender-affirming medical care. "I have no doubt this will be an uphill battle when we get to session," Deutsch warned the group. "As always, please do not share this with the media. The longer we can fly under the radar the better."

The message was one in a trove of emails obtained by Mother Jones between Deutsch and representatives of a network of activists and organizations at the forefront of the anti-trans movement. They show the degree to which these activists shaped Deutsch's repressive legislation, a version of which was signed into law in February, and the tactics, alliances, and goals of a movement that has sought to foist their agenda on a national scale.
The emails demonstrate close collaboration between groups working behind the scenes to push bills banning transgender health care, including ADF—which has defended state-sanctioned sterilization of trans people in Europe—and the ACPeds—which has opposed adoption by gay couples and supported conversion therapy for LGBTQ youth. In recent years, ADF has drafted legislation banning trans children from using school restrooms or playing on school sports teams that align with their gender identity. (Both groups are also staunchly anti-abortion; ADF, which drafted the Mississippi abortion ban at the heart of the case that overturned Roe v. Wade, is currently representing ACPeds in a closely-watched lawsuit to ban an abortion pill, mifepristone, nationally.)

"These are groups who we know are not interested in the best-practice care for trans kids," says Cathryn Oakley, state legislative director and senior counsel for the Human Rights Campaign. "These bills are coming from national organizations whose purpose is to harm LGBTQ people." 


More than half of transgender and nonbinary kids have considered suicide, according to a 2021 survey by the Trevor Project, and 93 percent say they worry about state laws denying transgender people access to gender-affirming medical care. This treatment approach—which typically includes puberty blockers for pubescent children, cross-sex hormones for teenagers or adults, and, almost exclusively for adults, surgeries—represents a broad medical agreement that such care can be crucial for supporting trans kids' wellbeing. Gender-affirming care is supported by the American Medical Association, American Academy of Pediatrics, American Psychiatric Association, the Endocrine Society, and other major medical organizations. And studies have found that it is associated with better mental health outcomes over both short and longer-term periods
Highly recommend you read the whole article! 
More soon, but this is as far as I can play in the anti-trans waters today without getting overwhelmed <3