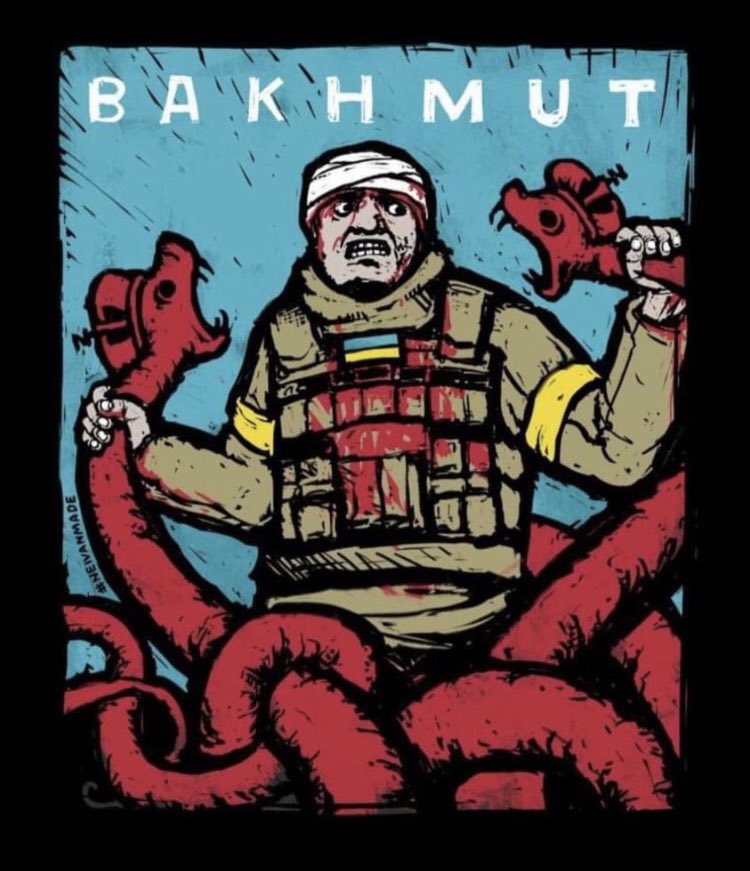 (Image by NEIVANMADE)
Someone in comments last night asked who made the image I used at the top of the post. I honestly do not know. Someone sent it to me over a year ago, I saved it, and then used it for a number of posts. Given the theme of last night's post I thought it was appropriate. If anyone knows who originally made the image, please let me know and I'll make sure to acknowledge it.
Earlier today President Zelenskyy went to Bakhmut:
President Zelensky arrived in the east of Ukraine today to award the heroes defending their homeland.

Online sources say the President came to Konstantinivka, not far from Bakhmut. pic.twitter.com/1OmjxYBh91

— Dmitri (@wartranslated) March 22, 2023
Here is President Zelenskyy's address from earlier this evening. Video below, English transcript after the jump:
We will do everything to ensure that the blue and yellow colors continue their liberation movement – address by the President of Ukraine

22 March 2023 – 19:51

Good health to you, fellow Ukrainians!

Today I have been working in the regions all day. Donbas – the frontline, our warriors, the region. The Kharkiv region after that – the situation in Kharkiv, on the border, in all districts of the region, restoration, protection of critical infrastructure.

I started from the front, from the Bakhmut area. It is an honor for me to support our warriors who are defending the country in the toughest frontline conditions. I presented state awards, thanked our soldiers for their bravery, for their resilience, for Ukraine – which we are preserving thanks to such heroes, thanks to each and every one of them who is fighting against Russian evil.

I paid a visit to the wounded warriors. I wished them – and I'm sure on behalf of all of you, all of our people – a speedy recovery.

I thanked the doctors and nurses. And now I want to thank everyone who supports our soldiers recovering from injuries. Who helps with everything necessary, our doctors, everyone who works for rehabilitation after injuries. I am grateful to every volunteer, every partner of ours who helps!

It is distressing to look at the cities of Donbas, to which Russia has brought terrible suffering and ruin. The almost constant, hourly air-alert siren in Kramatorsk, the constant threat of shelling, the constant threat to life… Right there, in Donbas, in the Kharkiv region – wherever Russian evil has come, it is obvious that the terrorist state cannot be stopped by anything other than one thing – our victory. And we will ensure it – the Ukrainian victory.

In all areas of the east of our country, where there is a Ukrainian flag, there is also hope. It is felt. We will do everything so that the blue and yellow colors continue their liberation movement – returning normal life to our entire land, from Donetsk to the border.

We will certainly respond to the occupier for every attack on our cities… Today's Russian strikes at Zaporizhzhia, the night attack on the Kyiv region… All Russian strikes will receive a military, political, and legal response.

Russia will lose this war. There is no subject in the world who does not feel this already. Everyone understands all this. And every Russian murderer should understand that an arrest warrant is the best thing that can happen to them.

My condolences to all our people who lost their relatives and loved ones due to Russian terror!

In the second half of the day, I, my team, the Head of the Office – we all worked in the Kharkiv region. Just as in the Donetsk region, I held a meeting on the situation in the region, on social and security needs.

It is very important that Kharkiv stands strong. Well done! Thank you, people of Kharkiv! You hold on with confidence. The city lives, the city fights, Kharkiv gives strength to our entire east. I thank everyone who stayed in Kharkiv, who works, who gives work to others, who maintains security, protects the border! Thank you to everyone – in positions, at posts, at critical infrastructure facilities, utility workers, local authorities, businesses, educators…

The representatives of the region informed me about some issues that must be resolved by the government for stable social security of all those who work for our people in the Kharkiv region. These issues were discussed. We also discussed issues of reconstruction, humanitarian demining, and restoration of energy networks. Everything that is within the competence of the government will be done for sure.

And, of course, I was very pleased to hand over a special award to Kharkiv… Award of the hero city, a ribbon on the city's flag denoting the special bravery of the people of Kharkiv.

And one more thing.

This evening begins the holy month of Ramadan for Muslims. A significant part of our Ukrainian Muslim community, the Crimean Tatar people, is forced to meet Ramadan under occupation, under the threat of Russian repression and abuse in Crimea, under shelling in other parts of Ukraine, and in frontline battles.

I have no doubt that we will return freedom, respect, and security to our entire state and to all communities. And may the power of prayer in this holy month help us cleanse Ukraine of Russian godless evil, of those who truly believe in nothing, and that is why they are capable of such terror. Let the next Ramadan begin in peace and on the entire Ukrainian land free from Russia. Ramadan Mubarak!

Glory to all who are now fighting for Ukraine and the people!

Gratitude to everyone who helps every day!

Glory to Ukraine!
The success of 🇺🇦 forces on the land, in the sky and at sea really brings peace closer. Full compliance with the sanctions regime against Russia really restores the force of the UN Charter. Global unity can restore global stability. 2/2

— Володимир Зеленський (@ZelenskyyUa) March 22, 2023
Here's the most recent operational update from the Ukrainian MOD machine translated from the post on their Telegram channel:
Here is former NAVDEVGRU Squadron Leader Chuck Pfarrer's most recent assessment of the situations in Avdiivka, Kreminna, and Bakhmut:
ANDIIVKA AXIS /2050 UTC 22 MAR/ UKR forces broke up a series of RU attacks north of Avdiivka. Assaults on the urban area of Avdiivka were repelled, as was a major Russian effort to the west of the city. UKR defenders drove back RU units at Lastochkyne, Sieverne and Pervomaiske. pic.twitter.com/sw5EywTk8Q

— Chuck Pfarrer | Indications & Warnings | (@ChuckPfarrer) March 22, 2023
KREMINNA AXIS /2345 UTC 22 MAR/ UKR forces in contact in urban areas of Kreminna and Dibrova. RU assault on Makiivka broken up by UKR defenders. pic.twitter.com/Q6nlknXco3

— Chuck Pfarrer | Indications & Warnings | (@ChuckPfarrer) March 22, 2023
BAKHMUT CITY /1945 UTC 22 MAR/ President Zelensky visits frontline positions in Bakhmut. Wagner attacks on Bohdanivka and Hyrhorivka repelled. UKR breaks up Russian VDV assaults on Ivanivske. pic.twitter.com/cRXhuBZERw

— Chuck Pfarrer | Indications & Warnings | (@ChuckPfarrer) March 22, 2023
BAKHMUT AXIS /1545 UTC 22 MAR/ RU continues 'round the clock' assaults on Orikhovo-Vasylivka, Dubovo-Vasylivka, Hyrhorivka, Bohdanivka and urban Bakhmut. UKR forces broke up a Russian VDV assault on Klischiivka. RU units are losing high numbers of men and equipment pic.twitter.com/6ejMOGx2lh

— Chuck Pfarrer | Indications & Warnings | (@ChuckPfarrer) March 22, 2023
Bakhmut:
Update from Kyianyn on 22 March pic.twitter.com/y4iRPqLpp8

— Dmitri (@wartranslated) March 22, 2023
Near #Bachmut on March 22, 2023. #Ukraine #UkraineRussiaWar pic.twitter.com/yRnPYY4FSF

— Aris Messinis (@ArisMessinis) March 22, 2023
Bakhmut holds.
We are standing our ground.
We are protecting our land.
We will win.
Glory to Ukraine!

🎥 @operativno_ZSU pic.twitter.com/7MIkXxrcaI

— Defense of Ukraine (@DefenceU) March 22, 2023
Konstyantynivka:
I hope Zelensky got an OKKO dog with that coffee in Kostyantynivka. https://t.co/e4IvzMxbCF

— Christopher Miller (@ChristopherJM) March 22, 2023
The original tweet machine translates as:
Donetsk region.
Konstantinovka.
Our president and our unbreakable team of one of the two operating gas stations in the city.

P.S. We filled up with the right kind of fuel – Pulls of revenge.
Zaporizhzhia:
#RussiaIsATerroristState pic.twitter.com/YYnARMcOdA

— Andriy Yermak (@AndriyYermak) March 22, 2023
#Zaporizhzhia
What kind of military objective did Russians have here? Killing more civilians in a brave and beautiful city that has symbolic meaning for all Ukrainians with its cossack history doesn't count as a military objective, you know. pic.twitter.com/8L2mFcOk37

— Victoria Amelina 🇺🇦 (@vamelina) March 22, 2023
18 civilians, including 2 children, were injured as a result of this Russian missile strike on a high-rise apartment building in Zaporizhzhia; 1 of them died in the hospital, according to preliminary information from local authorities. https://t.co/U9mbeJE4CH

— Christopher Miller (@ChristopherJM) March 22, 2023
Borodyanka:
The world must not forget the true cost of Ukrainian grain. Fragments of projectiles and casings collected after plowing just one field near Borodyanka in Kyiv region.

📷 @unian pic.twitter.com/2VLdvdGMAj

— Defense of Ukraine (@DefenceU) March 22, 2023
Kyiv:
Last night, the terrorist state attacked Ukraine with Iranian-made Shahed drones.
16 were shot down by Ukraine's air defenders.
As a result of the russian attack, three civilians were killed and seven were injured in Kyiv region.

📷 @SESU_UA pic.twitter.com/LfohkPtCfl

— Defense of Ukraine (@DefenceU) March 22, 2023
Occupied Sevastopol, Crimea:
Early this morning temporarily occupied Crimea was attacked again. This time with naval drones. It is reported that the bay in Sevastopol was attacked by 3 surface drones.

Seems like drones might become a game changer in the upcoming counteroffensive. pic.twitter.com/orikim4YYP

— Maria Avdeeva (@maria_avdv) March 22, 2023
If this footage of naval drone attack on Sevastopol is authentic, it's pretty remarkable. pic.twitter.com/vOZmySY6qm

— Maria Avdeeva (@maria_avdv) March 22, 2023
Vladivostok:
A huge queue is shown by a local resident in a new cemetery in Vladivostok, Russian Far East. According to them, there was not a single grave in this location just in December. Mobilisation in effect. pic.twitter.com/W6JAKDL3c2

— Dmitri (@wartranslated) March 22, 2023
Primorsky Krai:
Holy cow, I've lived to see Russians de-mothball my favorite early Cold War legacy T-54/55s.
Again: T-54s.
Remember — the special military operation is running in full compliance with the plan as scheduled. https://t.co/KLL8V8DDh3

— Illia Ponomarenko 🇺🇦 (@IAPonomarenko) March 22, 2023
The original tweet machine translates as:
News that will please fans of gluing tanks: in the possession of our team there are photos of a train carrying T-54 tanks of the mid-20th century from the Primorsky Krai to the West. We see this as a sign of a shortage of armored vehicles in the Russian Armed Forces
Dmitri and his merry band of translators at WarTranslated have translated the 24TV Ukraine interview with Mykhailo Podylak:
24tv.ua interview: The counteroffensive of the Ukrainian Armed Forces should be a surprise for the enemy – Mykhailo Podolyak
Posted on 22 March 2023

A translation of an interview with the Adviser to the President of Ukraine, Mykhailo Podolyak by Kanal 24 (Ukraine), from 17.03.2023.

Original article: https://24tv.ua/intervyu-mihaylom-podolyakom-pro-pidgotovku-kontrnastupu-syurpriz_n2275897

By Alina Vyshnevska (for Kanal24, @24tvua)

Translation by @Anastasiya1451A

Original video interview in Ukrainian:

The development of Ukraine after the liberation of the territories

Interviewer: The occupiers completely wiped off the face of the earth the city of Popasna in the Luhansk region (pre-war population of 20,000) – this is something that they admitted to. However, just a couple of days ago the Russian mercenary group "Wagner" boasted that they had taken a village inhabited by 2 people until 2022. They told about the heavy battles with which the village was taken.

Podolyak: It is the village of Zaliznyanskoe. There are literally 3 buildings in that village. And I just want to note one thing: there is no such thing as so-called "L/DPR" – there are territories that are temporarily occupied by Russia. There is no Luhansk or Zaporizhzhia region that joined Russia. There is only a common act of aggression – a war initiated by Russia against Ukraine, and it has corresponding goals:

-to destroy the maximum number of citizens of Ukraine – civilians, military – it does not matter.

-to destroy the maximum number of Ukrainian towns and villages in the occupied territories.

-to loot, if not destroy, everything that is in the occupied territories.

-to try to stay there for a certain time, as they in Crimea, unfortunately for you and me, stayed for 8 years.

Crimea was stolen and robbed. Today, [Russians] are taking everything out of there, because they understand that it won't be like in 2014. When Russians went in and appointed some criminals, such as Aksyonov, as the heads of unrecognized administrative units, it will be for a certain time. They understand that this won't last in 2023. Therefore, they gradually begin to take everything from Crimea – to evacuate their families [to Russia], to take away the material values ​​that they have accumulated during this time.

But in between, there is no difference in what kind of documents they write, what kind of administrative arrangements, etc. It will not be discussed at all. Russia must necessarily lose, because only after that we will be able to hold negotiations with Russia within the framework of international institutions. It is also key for us to record everything that they have to compensate Ukraine.

The rebuilding and development of Ukraine after the liberation of its territories is a huge cost that we will need to cover somehow. I understand that when a country wins a big war, investors come here because it will be a huge brand of freedom. And there will be a lot of people who would want to invest in Ukraine.

This is very important, because it will not be so much about profits, although those who want to make big profits will come as well. After all, there will be a boom here. And this will be an investment in symbolism. But in order to correct historical injustice, we need to take a huge amount of money from Russia [as reparations].

This is why it is important to record these facts about Popasna, other settlements that were completely or partially destroyed. Just look at Mariupol!

In Russia, there is this individual, Faizullin, he heads the Russian Ministry of Construction, who says that they built something there in Mariupol. 2 houses were built for the exhibition, and the surrounding buildings and infrastructure were completely destroyed. There just is no Mariupol as such. There is no Bakhmut either – from the point of view of what kind of cities they were before the Russian invasion.

If you look at Donetsk, where fat men like Pushylin are running around, there is no Donetsk. This is a strange, criminal, uncomfortable, completely destroyed city. Such cities cannot exist in the modern world. There is nothing to do there.

In 8 years, they did not make it into a "model, magazine cover" city, they made Donetsk look like any other city in Russia. I do not mean Moscow and St. Petersburg, but any other city – destroyed, uncomfortable, neglected – one that cannot exist in the modern world.

Thousands of destroyed occupiers near Bakhmut

Interviewer: The senior military adviser to the delegates of Great Britain to the OSCE at the Security Cooperation Forum in Vienna says that Russia lost at least 30,000 killed in the Bakhmut. At the same time, we saw that they managed to occupy only 0.004% of the territory for the month of February. In fact, 30 thousand were killed for 25km2 [the size of two London Heathrow Airports].

Podolyak: Let's record who exactly the Ukrainians killed near Bakhmut. These were the most prepared remnants of the Russian army – those who know how to fight. All others in Russia – these are mobilized – a completely different level of training.

For me, it is much more important that Russia today has a certain resource depletion. They have much less ammunition. They reduced the intensity of shelling. Yes, it is high, but it is not what it was six months ago.

Russia is hysterically looking for shells in other markets, including Iran, North Korea, and China. Do you understand now the intensity of this war?

And this creates an important sense of panic in the military and political leadership of Russia. They understand that they calculated this war expecting it to last a certain number of days, for which they did not care how many missiles, shells, etc. they would spend.

When they say that the war will drag on for years, I ask: where are the resources? It is not a question of dragging out the war when you take a machine gun and use firearms. After all, the intensity of the war is great, so where are the shells, missiles, etc.?

Therefore, they spent not only 30,000 soldiers on the Bakhmut offensive. In total, they spent 3 thousand tanks. Although Russia wrote before the war that 12,000 tanks were in storage in Russia. But let's be objective. There are not 12 thousand, but much less. And there are even fewer of those capable of combat. Almost everything has already been destroyed.

Therefore, they search hysterically. In Belarus, they took away everything that was in stockpiles. But not all tanks are ready for use, because this is Belarus [and] Russia after all – they steal everything internally. Therefore, war is Mathematics.

Preparation for the counteroffensive of the Ukrainian Armed Forces

Interviewer: Politico reported our losses of 100,000 [KIA, MIA & WIA]. Yet, then Politico immediately gives information that Ukraine's counteroffensive will begin in May. The publication even presents 2 possible scenarios.

Podolyak: I find it a bit ironic when journalists say what counterattack scenarios Ukraine will use. Maybe, they should take a direct part in the work of the General Staff of Ukraine and plan operations then? If they understand so well what exactly where and when to do.

Firstly, newspapers should not discuss the timing of the counter-offensive. It should be a surprise for the enemy. It can only be said that the following months are required to accumulate a certain resource. After all, an offensive requires tools in a certain amount, which must be accumulated. We understand how long this will take logistically.

Secondly, even the military does not need to talk about the priority directions or scenarios of the attack. Ukraine is much more creative than Politico journalists think. We have already proven this many times during the war. In particular, in the Kharkiv region or with what is happening now in general along the frontline, especially in the Donetsk direction.

The main thing is that both the military leadership – in the Armed Forces and the Ministry of Defence, and the political leadership, first of all, I am talking about Volodymyr Zelenskyi – have a completely consolidated position that we cannot stop midway. We need counterattacks at a certain point. And this requires a concentration of resources.

We cannot simply retreat or advance without being prepared for different scenarios and taking into account all the risks. All this is discussed at the Headquarters of the Supreme Commander-in-Chief, where collective decisions are made, and all scenarios are openly discussed. The only thing that isn't there is Politico or any other journalists.

Let's not get carried away by peer reviews or journalistic publications on these hyped topics. Let's wait for the development of events. We have no other option but to go on the counterattack at a certain time according to a certain scenario. Otherwise, there will be no statehood of Ukraine.

Stopping somewhere in the middle, as it was in 2014 – when the territories remained under the occupation of Russia – will mean that after some time, Ukraine will not exist as a state. After all, Russia today at various levels, including Vladimir Putin, fixes its position: "Ukraine must be destroyed as a state and a territory where Ukrainians live."
Much, much, much more at the link!
That's enough for tonight.
Your daily Patron!
Open thread!