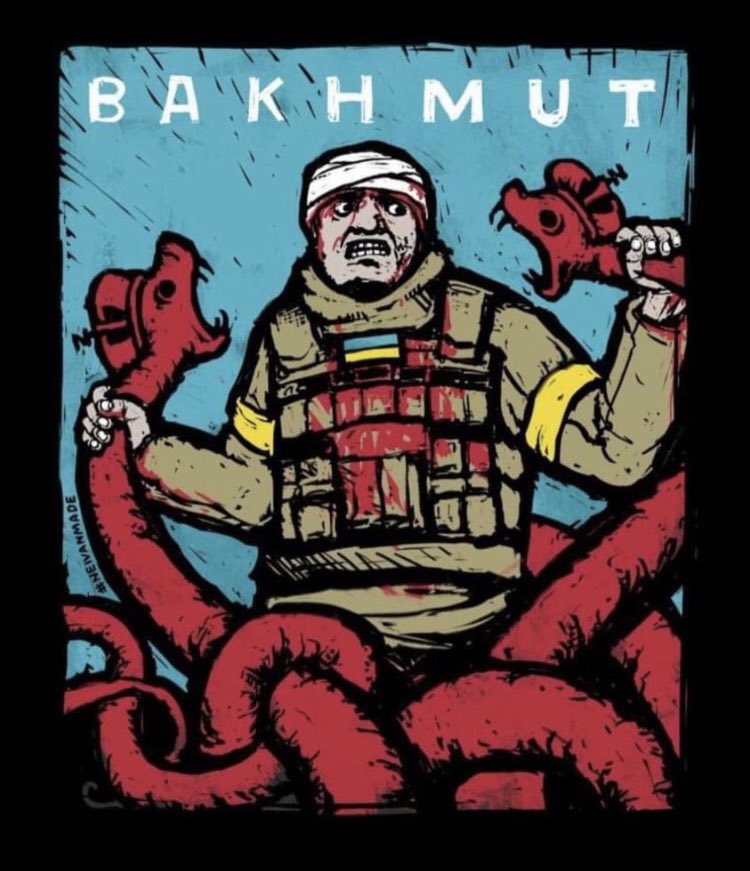 (Image by NEIVANMADE)
Just a quick housekeeping note: thank you to Another Scott who helped identify Oleksandra Olishevska as the artist of the image of Ukraine being hugged that I used to start the update the other night. This is Ms. Olishevska's description of that image:
as much as possible 💙💛
Hold on, dear, victory is coming!
we love you and will not give you to anyone
Thanks again, now I can properly attribute the next time I use the image.
Russia opened up just about everywhere in Ukraine it could easily reach today:
My news feed today is constant reports of Russian shelling on civilian objects. Chernihiv, Sumy, Zaporizhzhia, Kherson. Civilians killed and wounded. What is this if not state terrorism? pic.twitter.com/13ZxaeCw9x

— Maria Avdeeva (@maria_avdv) March 24, 2023
We'll have more after the jump.
Here is President Zelenskyy's address from earlier today. Video below, English transcript after the jump:
The enemy must know: Ukraine won't forgive offenses against our people, won't forgive these deaths and injuries – address of President Volodymyr Zelenskyy

24 March 2023 – 20:10

Dear Ukrainians, I wish you health!

Today, I took part in two events of gratitude and respect for our soldiers – our defenders.

Young officers graduated from the educational institutions of the National Guard of Ukraine. All of them go to the permanent defense and security forces, the units of our National Guard, which, together with all our soldiers, defend Ukraine.

I am grateful to our boys and girls who have chosen such a path of service to Ukraine, to the future of the Ukrainian people – the path of officers. Thanks to all the families of our young professional soldiers for such sons and daughters.

Patriotic, brave and effective, those who chose the opportunity to act for the defense of our state and people as their profession.

Today, on the eve of the Day of the Security Service of Ukraine, I congratulated the staff of the Security Service of Ukraine, all our security service personnel.

It is definitely worth noting: the Security Service of Ukraine is undergoing a fundamental internal transformation.

The service was fully mobilized for the real defense of the state. And it is now giving Ukraine such results that each of us can only be proud of.

The SSU staff is fighting the external enemy, neutralizing internal threats, putting a historical end to any attempts by Russia to manipulate Ukraine through agents.

Today, I thanked all the SSU employees. And I am sure that the Service will give Ukraine even more results in defending the state.

I had the honor to present state awards to soldiers from the SSU and National Guard ranks.

I am sincerely grateful for the strength that can be felt in the eyes of our fighters. The strength of those who are able to win for Ukraine.

I met today with a delegation from the World Bank. We do not lose a single day for international contacts, we work at all levels.

The current support programs for Ukraine and promising new ones were discussed.

Of course, we focused on reconstruction – everything that needs to be done in many Ukrainian cities and villages that suffered terrorist attacks by the occupier.

Residential buildings, social infrastructure, the economic basis of life – all this needs to be rebuilt. And I thank the partners for understanding that timing and coordination of efforts are crucial.

As always, today I will mention our fighters, who gave the best result in the past day.

First of all, in Donetsk region.

Glorious 72nd separate mechanized brigade named after the Black Zaporozhians – thank you, guys! Marines of the 36th brigade – well done! The 55th Separate Artillery Brigade Zaporizka Sich – thank you, soldiers, for your constant accuracy, real battle-hardened deeds!

Marines of the 35th brigade and the 79th separate air assault brigade – thank you!

Zaporizhzhia direction: the 44th Artillery Brigade named after Hetman Danylo Apostol – thank you for the accuracy!

I would like to mention all our fighters who strike at the occupier in response to terror, who identify the enemy's positions from which they attack our cities. Each destroyed terrorists' position is the saved life of our people.

I thank the Armed Forces, intelligence, and Security Service personnel – everyone who is involved in performing this task… The fair fire response to those who are the source of terror.

Such strikes as on Kostiantynivka today, as many other of our cities… The enemy must know: Ukraine won't forgive offenses against our people, won't forgive these deaths and injuries.

All Russian terrorists will be defeated.

Thanks to everyone who brings the Ukrainian victory closer! Glory to everyone who is fighting for Ukraine!

Eternal memory to all those whose lives were taken by Russia and its terrorist war!

Glory to Ukraine!
Here is the machine translation of the Ukrainian MOD's latest operational update from their Telegram channel:
And here is a machine translation of their announcement about UAV development as a follow on from last night's update: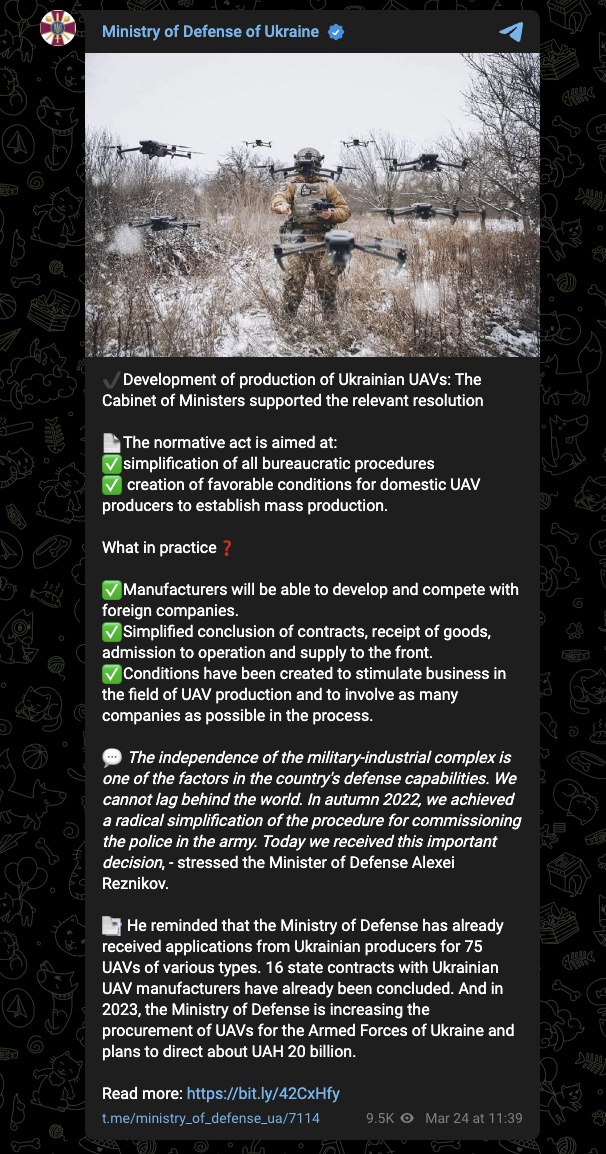 Here is former NAVDEVGRU Squadron Leader Chuck Pfarrer's most recent assessment of the situations in Avdiivka, Kreminna, and Bakhmut:
ANDIIVKA AXIS/1310 UTC 24 MAR/ UKR forces broke up a series of RU attacks north of Avdiivka. Assaults on the urban area of the city were repelled, as was a major Russian effort to the west at Lastochkyne, Vodiane, Natailove and Pervomaiske. RU losses heavy. pic.twitter.com/3y86bvFEYy

— Chuck Pfarrer | Indications & Warnings | (@ChuckPfarrer) March 24, 2023
KREMINNA AXIS /2210 UTC 24 MAR/ RU forces were repelled in attacks at Serebryansk Forestry and Bilohorvika. UKR conducted 16 aviation strike missions and missile and artillery units registered hits on Russian HQ elements, air defense sites and Electronic Warfare (EW) equipment. pic.twitter.com/eytWvwY3p9

— Chuck Pfarrer | Indications & Warnings | (@ChuckPfarrer) March 24, 2023
BAKHMUT AXIS /2100 UTC 24 MAR/ UKR again defeated attacks at Orikhovo-Vasylivka & Bohdanivka. A RU assault was defeated E of Predtechyne. RU losses for the period include 4 Main Battle Tanks (MBTs), 24 Infantry Fighting Vehicles & more than a 1,020 troops KIA. pic.twitter.com/reGioOWF6z

— Chuck Pfarrer | Indications & Warnings | (@ChuckPfarrer) March 24, 2023
BAKMUT AXIS /1220 UTC 23 MAR/ UKR registered gains between Zaliznianske & Orikhovo-Vasylivka. Wagner forces continued attacks along the M-03 HWY axis, where UKR defenders broke up attacks at Orikhovo-Vasylivka and Bohdanivka. RU continues costly assaults on the urban areas. pic.twitter.com/fA6pTHyr3c

— Chuck Pfarrer | Indications & Warnings | (@ChuckPfarrer) March 24, 2023
The Donbas:
Our latest from Donbas, where Russian eyes are always watching. @dcinfocus @StuHollandEsq and Liuba. #ukraine #україна pic.twitter.com/4688OZ9QpM

— Quentin Sommerville (@sommervilletv) March 23, 2023
Kharikiv:
Azov SSO unit Kharkiv destroys Russian infantry. pic.twitter.com/6md8kfdxWm

— NOËL 🇪🇺 🇺🇦 (@NOELreports) March 24, 2023
Donetsk:
"ADAM" battalion named after Dzhokhar Dudayev at work in the Donetsk direction. pic.twitter.com/Xnk6SxdSEc

— NOËL 🇪🇺 🇺🇦 (@NOELreports) March 24, 2023
Bilopilya:
The results of russian airstrike at Bilopilya, Sumy region.
Two people are reported dead.
The terrorist will never stop until they are stopped.#russiaisaterroriststate

📹 @suspilne_news pic.twitter.com/XKUIMvfDf8

— Defense of Ukraine (@DefenceU) March 24, 2023
Kostiantynivka:
Russia attacked Point of Invincibility in Kostyantynivka with S-300 missile. Three elderly women killed. Another "glorious victory" for Russian army – they killed three pensioners from Donbas. pic.twitter.com/7Wv1wLgGi0

— Maria Avdeeva (@maria_avdv) March 24, 2023
Vodyane:
Russian soldiers from the "Storm" unit, consisting of both convicts (and likely some mobilised), formed by Russian MoD, published a video revealing they were purposefully sent into slaughter during the assault of Vodyane while blocking units prevented their retreat. The unit… pic.twitter.com/J3citHJOpQ

— Dmitri (@wartranslated) March 24, 2023
CNN has new reporting about a Ukrainian orphanage and the Russian re-invaders:
Kherson, Ukraine CNN — A boom of artillery fire shook the ground as Olena opened the gate to the Kherson Children's Home.

She barely flinched.

Russian positions are just across the Dnipro River and Kherson, a city in southern Ukraine, is under regular attack.

Like many Ukrainians during this war, Olena prefers not to share her last name. She has worked at the orphanage for more than 17 years.

Olena said she loved all the children at the home, but she was closest to Arkasha. "Of course, everyone has their favorite, but he was mine," she said.

Five-year-old Arkasha's locker is orange – with a sticker of a rooster on it. His name is neatly printed in Cyrillic script.

Inside the rooms, there are paintings of bunnies holding balloons, floating through the sky; play areas for toddlers; cupboards stacked with toys. In the bedrooms, sparkling clean cots and tiny bunk beds with brightly colored mattresses.

But the 48 children who lived here are gone – seized by Russian officials during the city's months-long occupation.

"I feel emptiness, emptiness. Everything has stopped," said Olena. "The children were happy. They had everything!"

Hidden in a basement
When the war began in February last year, the staff at the children's home came up with a plan.

They spirited all the children, mostly under 5, to the Holhofa church on the other side of town, Olena recounted.

The church and caregivers from the home kept the children safe and warm in the basement. They hid them to keep them safe from the fighting and to escape the Russians, said Olena.

Kherson fell to the Russian forces in the early days of the war. The invading troops moved swiftly over the Dnipro River; it was the first major city to be taken and the only regional capital.

"Yes, the children were here," Victor, the 74-year-old caretaker of the church, told CNN. "But after the Russians occupied this city, they started asking questions."

After a few weeks, he said, agents from Russia's security service, the FSB, came to the church and demanded that the caregivers transport the children back to the orphanage.

The caregivers felt they didn't have a choice. And it was then that Olena realized that the Russians wanted to take the children away.

"They kept saying, 'these are our children,'" she said of the FSB agents.

In October, Russian officials informed the orphanage that they were coming for the children.

"They warned us to collect their clothes. The Russians called in the evening and said we should prepare the children for the next morning. The buses arrived at eight," she said.

In occupied Kherson, the Russians didn't hide their actions in taking the children from the Kherson Children's Home.

In fact, they widely advertised the move and used it for propaganda purposes. Eventually, the incident could be used as evidence in a war crimes trial.

Shared on Telegram, the footage of that October morning shows bewildered children being shunted onto buses – away from their beloved nurses.

Olena said the nurses wrote the children's names on their jackets or on their hands – so that at least they would be called by their real name wherever they went. The organizers said they were taking them to occupied Crimea. It's not clear exactly where they ended up.

Ukrainian investigators have said orphans taken from occupied territory also ended up in Russia, where they were given citizenship and handed to Russian couples.

"They do not deserve our children. They should bring them back. They do not deserve them," said Olena.

One nurse at the hospital took such efforts to thwart the Russians' actions a step further.

Tetiana Pavelko kept going back to see a newborn called Kira, who'd won her heart. "From the beginning, I really loved her. She was such a beautiful child," she told CNN.

Pavelko begged the hospital doctors and administrators to keep Kira off the list of children that collaborators regularly checked.

"Every day, the list was updated. And they made that list twice a day. I made sure that Kira was never on that list," she recalled.

When Ukrainian soldiers took back Kherson from the Russians in November, Pavelko was allowed to take Kira home. She has started adoption proceedings, she said.
More at the link!
That's enough for tonight.
Your daily Patron!
A new video from Patron's official TikTok!
For whatever reason none of my browsers – Brave, Firefox, or Safari will let my highlight the caption for machine translation. This appears to be a TikTok issue as I can still highlight and machine translate on other sites.
Open thread!