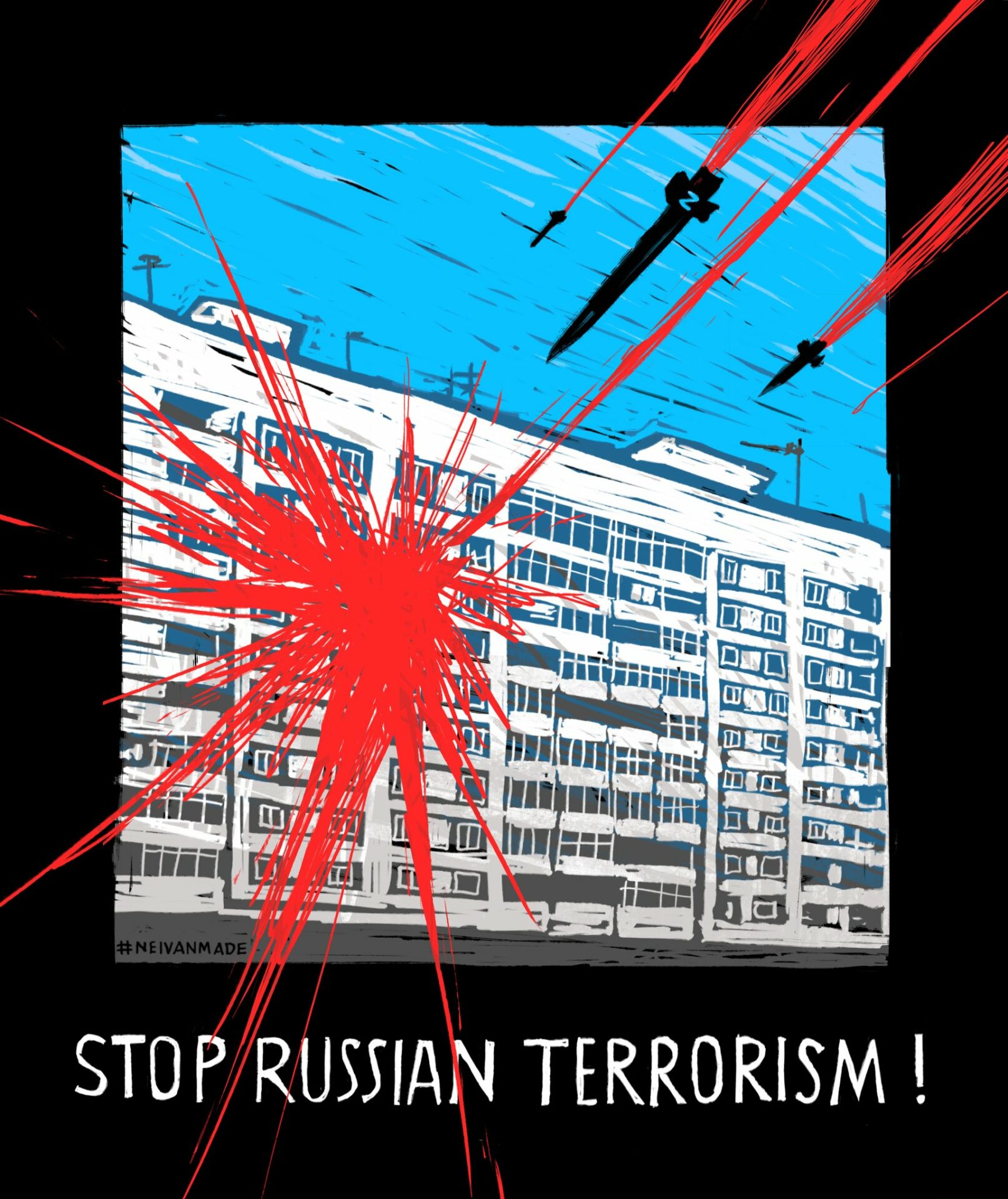 (Image by NEIVANMADE)
In past 24 hours, russians shelled 119 settlements in Ukraine, destroyed or damaged 63 infrastructure facilities. As a result of shelling and bombing by russian terrorists, 16 civilians were killed and 59 were injured.

— Defense of Ukraine (@DefenceU) March 25, 2023
The more Ukraine is able to stymie and frustrate Russian operations in the Land Domain, more and more of this stand off bombardment is going to happen. Until Russia runs out of munitions. And despite the dwindling stocks, that day is, unfortunately, a long way off.
I'm sure a number of you have now seen the reporting regarding Putin's statements that a facility was being built in Belarus to house Russian nuclear weapons. Aside from the fact that I expect the facility to be repeatedly blown up during construction, this, like all of his nuclear saber rattling, is information warfare. It is intended to get in the head of the US national command authority and the equivalents among our allies and partners and impede their decision making. Just as Russian nuclear and information warfare doctrine states. It is also intended to provide ammunition, for lack of a better term, for the pro-Putin and neo-isolationist elements of the Republican Party in the US and other opposition parties in America's EU and NATO and non-EU and non-NATO allies so they can now point to what Putin is doing as evidence in their argument that Ukraine, aided and abetted by the Biden administration, the EU, and NATO, have placed the world on a path to nuclear war. Notice Putin still hasn't used his nuclear warhead tipped hypersonic missiles in Kaliningrad that are pointed at every EU capitol? Notice he hasn't mentioned they're their, they're nuclear tipped, and they're aimed at every EU capitol in almost a year? Note today's announcement as bluster and then ignore it.
Here is President Zelenskyy's address from earlier today. Video below, English transcript after the jump:
It is the full-scale defeat of Russia that will be a reliable guarantee against new aggressions and crises – address of the President of Ukraine

25 March 2023 – 21:41

Dear Ukrainians, I wish you health!

Another week of defense is almost over, another week when Ukraine has become stronger. And when the enemy became even more isolated, even more hopeless.

This week we have a decision on new defense support packages from the United States, Lithuania, Finland, and Germany.

The Swedish Parliament has already approved the 11th defense support package for Ukraine.

There is a security package and strong agreements with Japan – I thank Prime Minister Kishida once again for the productive visit.

We received EUR 1.5 billion in macro-financial assistance from the European Union – the funds are already in the National Bank's accounts.

The Croatian government has adopted a program for treating and rehabilitating our wounded warriors.

Greece joined the group of partners working on establishing the Special Tribunal.

We are also moving in defending historical justice for Ukrainians: Iceland recognized the Holodomor famine as genocide of the Ukrainian people.

Step by step, we are doing everything possible and everywhere so that Russian revanchism loses in every element of its aggression against Ukraine and the freedom of nations in general.

Russia must lose on the battlefield, in the economy, in international relations, and in its attempts to replace the historical truth with some imperial myths. The Kremlin is losing in its efforts to spiritually enslave our people.

It is the full-scale defeat of Russia that will be a reliable guarantee against new aggressions and crises.

Again I would like to congratulate the Security Service of Ukraine – all employees of the Security Service of Ukraine – on your professional day.

Everyone, who is currently in combat, at posts, in operative, agent, and investigative work. Everyone in the SSU, who, together with all the forces of our state, brings Ukrainian victory closer and defends our people.

The training of our officers of the National Guard, the Navy, and our army ended last week. From Kharkiv to Vinnytsia, Lviv region, from Kyiv to Odesa. The National Academy of the National Guard, the Kyiv Institute of the National Guard, the Odessa Maritime Academy, and the National Ground Forces Academy completed a special training course for junior lieutenants…

I thank all the teaching staff of our defense educational institutions, all parents, and mentors of new Ukrainian officers!

I believe this year's graduation will increase the glory of Ukraine and strengthen all of us – the entire state.

Our government made several important decisions during the week. In particular, I would like to note the decision that steps up drone manufacturing.

In general, this year at least UAH 20 billion will be provided to buy drones for our troops. And it is not the limit.

There are also new decisions regarding reconstruction. The range of needs is very wide. Wherever I was this week on business trips, requests require significant resources. We will find these resources. Kherson region, Kharkiv region, Donetsk region, and every other region affected by hostilities will return to regular life.

I would like to note separately the cooperation with the International Criminal Court. This week gave Ukraine an agreement to open the International Criminal Court country office.

Both at our national justice system and international level, we are doing everything to make Russian war criminals answer for literally every attack on Ukraine, on our people.

Of course, I thank each of our soldiers, everyone, who is currently in battle, everyone who defends our positions, defends our border, for the fact that Ukraine is going strong this week as well.

From Bakhmut to Kherson region, from Avdiyivka to Kharkiv region… Thank you to everyone who fights the enemy, who rescues our soldiers after being wounded, who trains our soldiers, and who supplies everything necessary for Ukrainian defense!

When every day gives our state a result, every such day makes the war shorter and our victory closer.

Thank you to everyone who strengthens our Ukraine!

Glory to all who fight for freedom for Ukraine!

Glory to Ukraine!
Here is the latest operational update, as a machine translation, from the Ukrainian MOD as posted on their Telegram channel: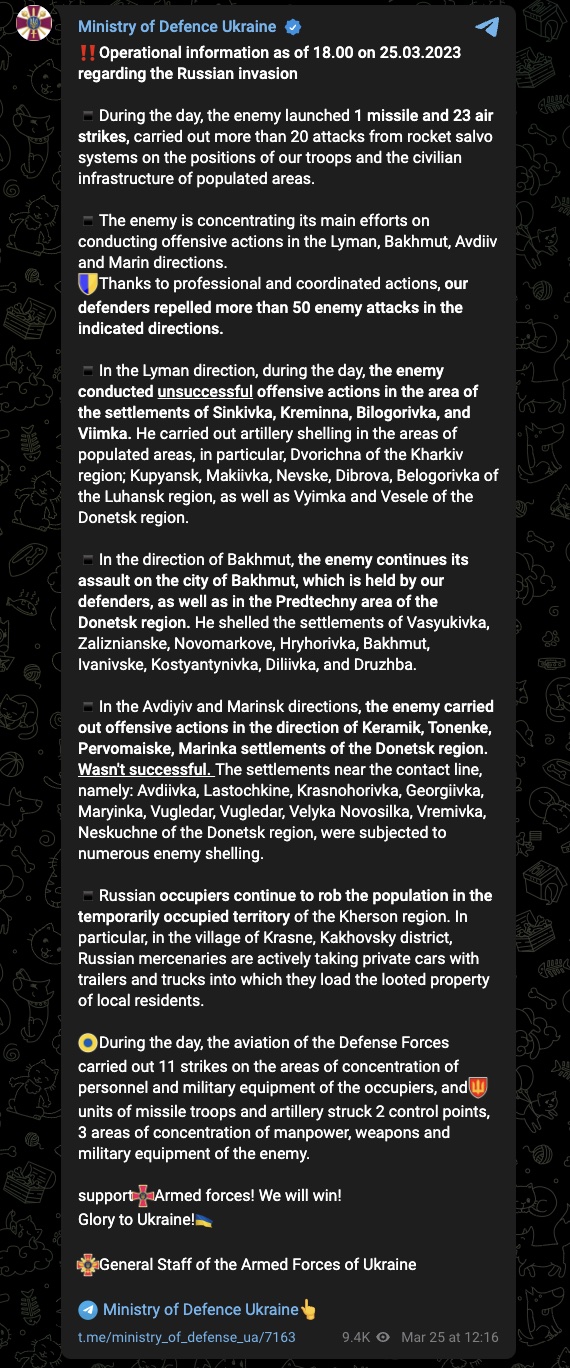 Here's former NAVDEVGRU Squadron Leader Chuck Pfarrer's most recent assessment of the situation in Bakhmut:
BAKHMUT CITY /2115 UTC 25 MAR/ Russian forces continue attempts to take urban terrain. UKR forces report repelling RU attacks at Bohdanivka and Ivanivske. pic.twitter.com/P5ZJZ8iSn9

— Chuck Pfarrer | Indications & Warnings | (@ChuckPfarrer) March 25, 2023
Bakhmut:
Bakhmut at night.

🎥 @operativno_ZSU pic.twitter.com/EhfQp7wj96

— Defense of Ukraine (@DefenceU) March 25, 2023
🇺🇦"Bakhmut Demon" reporting from Bakhmut this morning:

"Reporting.

The Russians are gradually exhausting. Everything that was ours remains ours. Russian assaults from the outskirts failed, the fight for Khromovo ended in our favor, and for Ivanovske as well. We stand.

Under… pic.twitter.com/nke9Qd4VYf

— Dmitri (@wartranslated) March 25, 2023
Follow him for more regular updates: https://t.co/HHCz5xT2Os

— Dmitri (@wartranslated) March 25, 2023
Here's the guy who shot down that SU-25:
Ukrainian operator "Chub" denazified a Russian Su-25 plane on 9 March using the Polish Piorun MANPADS. pic.twitter.com/DxG7uWqW8e

— Dmitri (@wartranslated) March 25, 2023
The Ukrainian officer who tweets as Tatarigami has this interesting thread on gas attacks:
2/ The use of tear gas in this way is often followed by a second drone dropping fragmentation grenades, which can result in casualties among those who have left their dugouts. pic.twitter.com/HoQgfqd6qz

— Tatarigami_UA (@Tatarigami_UA) March 25, 2023
4/ The gas is typically contained in a K-51 chemical hand grenade or other containers, including improvised ones. It has been confirmed that regular military-issued gas masks provide good protection against the gas. pic.twitter.com/SSEqZInQJZ

— Tatarigami_UA (@Tatarigami_UA) March 25, 2023
@bekamaciorowski do you guys still need gas masks? Few people inquired in my thread, perhaps it's a good opportunity for you to chime in and maybe get masks if you still need them ☺️

— Tatarigami_UA (@Tatarigami_UA) March 25, 2023
Rebekah Maciorowski, tagged in that last tweet, is the American trauma nurse who voluntarily went to Ukraine to train combat medics and serve along side them. Apparently she does need gas masks:
Thanks to you guys, I can now get my windshield fixed!! I am blown away by your generosity! Question: do you guys mind if I use the extra funds to buy (WORKING) gas masks for our troops? Many new troops have yet to be issued one, and those that do have one, often have this GP-5… pic.twitter.com/QgPxrqUuNe

— Rebekah M (@bekamaciorowski) March 22, 2023
And here she is doing some training:
Sneak peak into some training for our amazing soldiers. Thank you Brandon Mitchell for filming and thank you Irena for interpreting. pic.twitter.com/VXZD4HfQkL

— Rebekah M (@bekamaciorowski) March 25, 2023
The New York Times published a long form report today that confirms much of what The Kyiv Independent has been reporting for months about those seeking adventure, social media fame, and all too often money in Ukraine. Amazingly for the Times, they actually cited and linked to The Kyiv Independent's reporting (I think this breaks the fifth seal of the apocalypse). There was another blow up among one of the Americans who'd gone to play soldier in Ukraine and he is part of the focus of the reporting.
They rushed to Ukraine by the thousands, many of them Americans who promised to bring military experience, money or supplies to the battleground of a righteous war. Hometown newspapers hailed their commitment, and donors backed them with millions of dollars.

Now, after a year of combat, many of these homespun groups of volunteers are fighting with themselves and undermining the war effort. Some have wasted money or stolen valor. Others have cloaked themselves in charity while also trying to profit off the war, records show.

One retired Marine lieutenant colonel from Virginia is the focus of a U.S. federal investigation into the potentially illegal export of military technology. A former Army soldier arrived in Ukraine only to turn traitor and defect to Russia. A Connecticut man who lied about his military service has posted live updates from the battlefield — including his exact location — and boasted about his easy access to American weapons. A former construction worker is hatching a plan to use fake passports to smuggle in fighters from Pakistan and Iran.

And in one of the more curious entanglements, one of the largest volunteer groups is embroiled in a power struggle involving an Ohio man who falsely claimed to have been both a U.S. Marine and a LongHorn Steakhouse assistant manager. The dispute also involves a years-old incident on Australian reality TV.

Such characters have a place in Ukraine's defense because of the arms-length role the United States has taken: The Biden administration sends weapons and money but not professional troops. That means people who would not be allowed anywhere near the battlefield in a U.S.-led war are active on the Ukrainian front — often with unchecked access to weapons and military equipment.

Many of the volunteers who hurried to Ukraine did so selflessly and acted with heroism. Some have lost their lives. Foreigners have rescued civilians, aided the wounded and fought ferociously alongside Ukrainians. Others raised money for crucial supplies.

But in Europe's largest land war since 1945, the do-it-yourself approach does not discriminate between trained volunteers and those who lack the skills or discipline to assist effectively.

The New York Times reviewed more than 100 pages of documents from inside volunteer groups and interviewed more than 30 volunteers, fighters, fund-raisers, donors and American and Ukrainian officials. Some spoke on the condition of anonymity to discuss sensitive information.

The interviews and research reveal a series of deceptions, mistakes and squabbles that have hindered the volunteer drive that began after Russia's full-scale invasion in February 2022, when President Volodymyr Zelensky of Ukraine called for help. "Every friend of Ukraine who wants to join Ukraine in defending the country, please come over," he said. "We will give you weapons."

Thousands answered the call. Some joined military groups like the International Legion, which Ukraine formed for foreign fighters. Others took roles in support or fund-raising. With Kyiv, Ukraine's capital, under attack, there was little time for vetting arrivals. So people with problematic pasts, including checkered or fabricated military records, became entrenched in the Legion and a constellation of other volunteer groups.

Asked about these problems, the Ukrainian military did not address specific issues but did say that it was on guard because Russian agents regularly tried to infiltrate volunteer groups. "We investigated such cases and handed them over to law enforcement agencies," said Andriy Cherniak, a representative for Ukrainian military intelligence.

The International Legion, hastily formed by the Ukrainian government, spent 10 minutes or less checking each volunteer's background early in the war, one Legion official said. So a Polish fugitive who had been jailed in Ukraine for weapon violations got a position leading troops. Soldiers told The Kyiv Independent that he had misappropriated supplies, harassed women and threatened his soldiers.

Ukrainian officials initially boasted of 20,000 potential Legion volunteers, but far fewer actually enlisted. Currently, there are around 1,500 members in the organization, say people with knowledge of the Legion.

Some are experienced fighters working as part of the Defense Intelligence of Ukraine. But there have been high-profile problems. A former Army private first class, John McIntyre, was ejected from the Legion for bad behavior. Mr. McIntyre defected to Russia and recently appeared on state-run television, which said he had provided military intelligence to Moscow.

Internal documents show that the Legion is struggling. Recruitment has stagnated. The Washington-based Counter Extremism Project wrote in March that the Legion and affiliated groups "continue to feature individuals widely seen as unfit to perform their duties."
There is much, much, much more at the link.
None of this surprises me at all. For every legitimate volunteer seeking to do the right thing there are always profiteers, stolen valor types, wannabes, etc. And, unfortunately, they often outnumber the legit folks who are doing the hard work for the right reasons. There are a lot of the legit folks who have gone to Ukraine, as well as who are working on Ukraine's behalf from their own countries. Almost all of them are not on social media. They're not self promoting
That's enough for tonight.
Your daily Patron!
Were discussing today with @smelyansky_igor how to help in demining Ukraine 🙌🏻 https://t.co/8yVZpth6Ii

— Patron (@PatronDsns) March 25, 2023
And a new video from Patron's official TikTok!
@patron__dsns

Обіцяю, що відірватись від читання буде неможливо🤭💛
For whatever reason, TikTok is still not playing nicely with my browsers, so I can't machine translate the caption for you.
Open thread!