The ACA choice space is a mess.  In some counties in 2023 on Healthcare.gov a single insurer offers more than twenty bronze plans.  There can be substantial within insurer and metal level domination possibilities happening.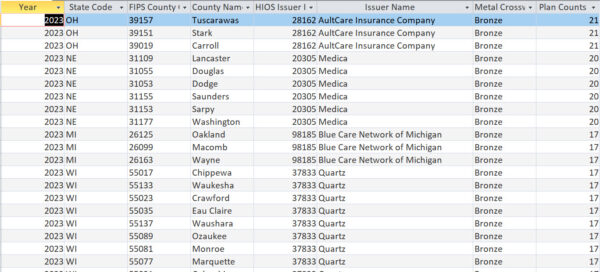 I'm going to pick on Tuscarawas County, Ohio because that is where my in-laws live and I visit the county a couple times a year. AultCare offers twenty one bronze plans.  They are all EHB only so the entire premium is eligible for subsidy.  Some of the plans are priced massively below benchmark so for a single 40 year old, an Ault Bronze could be zero premium up to 250% Federal Poverty Level (FPL).  Other plans are priced above the benchmark so there is always a net premium.
For the plans that are priced so that an individual could see a zero premium plan, there are a lot of options.  There are plans with an $8500 deductible, other plans with $7000 deductibles, a few plans with $8250 deductibles.  Each of those plans come with and without pediatric dental services.  The inclusion of pediatric dental benefits increases premium by a few bucks.  Between these plans, they all share the same insurer, the same network, the same customer service center, the same formularies for prescription drugs.  They share a lot.  They vary on benefit richness and premiums.  And if someone is seeing multiple zero premium plans, premium is irrelevant within this subset of choices.
So how do people make their choices?  Are people who are enrolling kids picking the pediatric dental versions while the no-kids on the policy folks picking the equivilent policy without the pediatric dental benefit as that benefit is worthless to them?  If people are seeing both the $7000 and $8500 deductible versions at no premium, are they picking the $7000 deductible for a richer benefit at the same cost?
This is messy as hell and it is just within a single county and single insurer.  I strongly suspect that dominated choices are being routinely made which increases individual exposure to cost-sharing and leads to higher premiums collected by insurers.