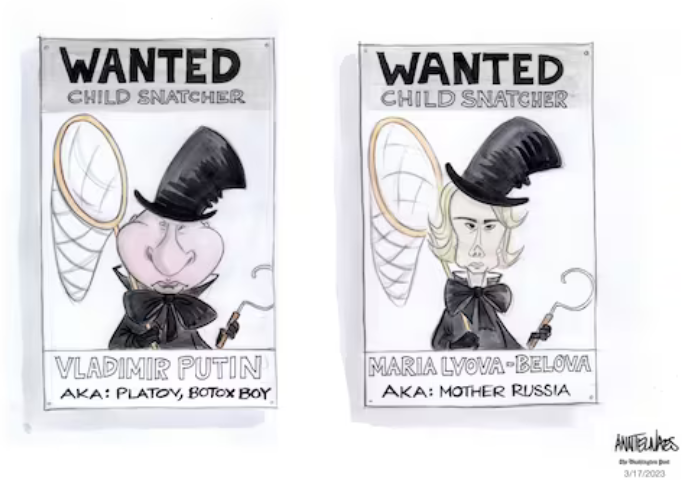 Arrest warrants out for Putin and the Mariupol child abductor!

I bet they are both additionally triggered that a judge with Polish nationality is announcing this. https://t.co/hkpUxOtTWX

— Maria Popova (@PopovaProf) March 17, 2023
Adam already covered the bare bones here, of course. But I admire the simplicity of the ICC's specific charge here. The fog-of-war arguments about who started the conflict and what happened afterwards will be dragged out for generations, but: It has been agreed that stealing children is wrong. Putin and his supporters have stolen children, are doing their best to steal more children, and are gleefully celebrating their child-stealing. When the war crimes trials start, the supporting documentation will be extensive.
The International Criminal Court's arrest warrant for Vladimir Putin highlights a terrifying practice that the Kremlin has not concealed and says will continue: the abduction and deportation of Ukraine's children. https://t.co/ItQ1MjLGO7

— The New York Times (@nytimes) March 18, 2023
The coordinator of large-scale abduction and deportation of Ukrainian children, war criminal Maria Lvova-Belova, wanted by the ICC along with putin, is married to the priest of the russian orthodox church. The family also kidnapped a Ukrainian kid – 15yo boy from Mariupol pic.twitter.com/dTkAerJpYL

— Olena Halushka (@OlenaHalushka) March 19, 2023
What's even weirder about this is that Russia is a country that still has very strong biases against adoption, to the point where women will fake pregnancies to hide the fact of an adoptive baby. They're celebrating something they normally disdain with all this forced fun. https://t.co/YvSx2Wbfei

— Tom Nichols (@RadioFreeTom) March 19, 2023
Several kids that Russia kidnapped were returned to Ukraine. Listen to what they say.

They were told their parents abandoned them, promised adoption into ???? families and told they are now forever "children of Russia"

And Russian discipline: getting beaten with a metallic rod. pic.twitter.com/btJRsb3e6z

— Anton Gerashchenko (@Gerashchenko_en) March 23, 2023
The Kremlin understands just how bad this is for Dear Leader:
Russian officials care about the ICC arrest warrant for Vladimir #Putin. They care a lot. https://t.co/P6rqoejXX3

— Steven Pifer (@steven_pifer) March 21, 2023
Team Putin Melts Down Over International Arrest Warrant

The Kremlin's propagandists say Vladimir Putin is being mistreated by the legal system just like Donald Trump.https://t.co/TiIhhvPkOw

— Julia Davis (@JuliaDavisNews) March 20, 2023
And Putin's supporters here have loudly placed themselves on the wrong side of history:
The Russian govt has literally bragged about the program. Always with these people, 'just being skeptical' means just being an outright denialist. The furthest thing from truth-seeking. https://t.co/d6lmpOqSfu

— Centrism Fan Acct ?? (@Wilson__Valdez) March 21, 2023
Alex Jones says the Trump arrest is timed with the ICC charging Putin for "evacuating children from a war zone," because globalists are trying to stop people who won't go along with their plans. (Putin had Ukrainian children kidnapped and shipped to Russia). pic.twitter.com/ZpQApbXjzv

— Ron Filipkowski ???? (@RonFilipkowski) March 19, 2023