I'm lucky.  I get to read interesting papers and I get paid for that privilege.  This morning's interesting paper is from the Journal of Risk and Insurance by Lavetti et al.  It is in the new issue.  They are looking at the spending of low income ACA enrollees in Utah who received Cost-Sharing Reduction (CSR) subsidies in 2014 or 2015.  They are estimating elasticities of demand — if out of pocket spending goes up by a buck, what happens to service consumption?  It is a very econ-y question but that is not what made me stop and write a Balloon Juice post.  Instead it is the image below: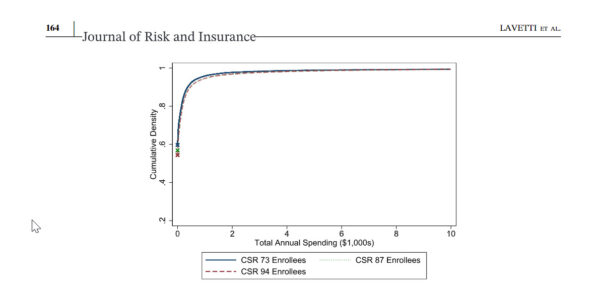 Two things stuck out to me.  First I can't differentiate differences between CSR 73 (201-250% FPL) versus CSR 94 (100-150% FPL)
Second, and this is an eyeball check, but about 90% of the people in the sample have under $1000 (if I squint hard, maybe $1200)  in claims.
That slightly surprised me.  I expected a priori 50% to have less than $500 in claims and then the 90th percentile to have $3000-$5000 in claims.  This also shows the challenges of health insurance.  Not many people use a lot of services while many people are paying premiums while using in a given year not that much in services.