(Boston)
The empty city: Photos from a city deserted between March 17 and July 4, 2020 #covid19 https://t.co/js12zhJh1Z pic.twitter.com/wLtRieVftg

— Adam Gaffin (@universalhub) March 18, 2023
We've reached the stage where the big tsunami wave has rolled back, and we're picking through the rubble looking for survivors and whatever we can scavange. Excellent summary of our current moment:
"It's a really stupid idea to schedule the end of a #pandemic, because viruses don't have Outlook calendars. Having said that, it is reasonable to suggest that we need to prepare for the next phase."https://t.co/4ZsVwxDLkG

— Laurie Garrett (@Laurie_Garrett) March 24, 2023
More on USA state-by-state #COVID19 death rates.
"When adjusting the data to acct for age & comorbidities, AZ saw the highest COVID death rate (581 deaths per 100,000 people) in the nation. WaDC (526 /100,000) & NM (521/100,000) were the 2nd & 3rd worst."https://t.co/PPviVQoUfX

— Laurie Garrett (@Laurie_Garrett) March 25, 2023
Another knock-on effect that will haunt us for years: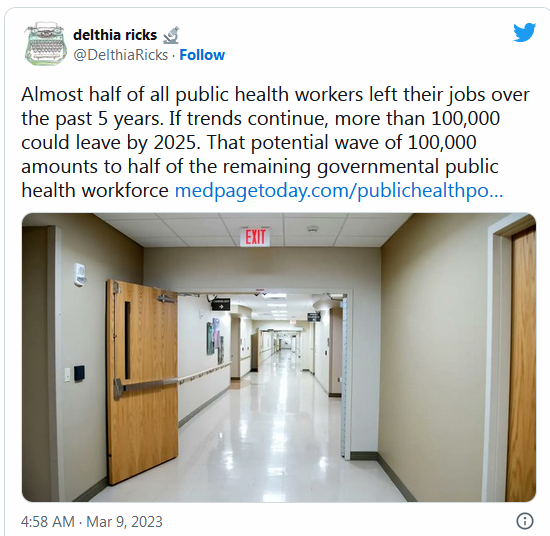 (link)
Before @WHCOVIDResponse is dismantled, important to recover/repurpose unspent #COVID $ to launch Operation Warp Speed 2.0: next gen vaccines w/ broader/long lasting immunity. Improved vaccine platforms prepare us for the next pandemic. @WHOSTP @ASPRgov @BARDA @HHSGov @ashishkjha https://t.co/4ZrcWm0umX

— Rick Bright (@RickABright) March 25, 2023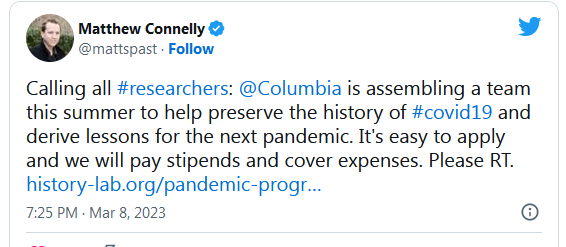 (link)
======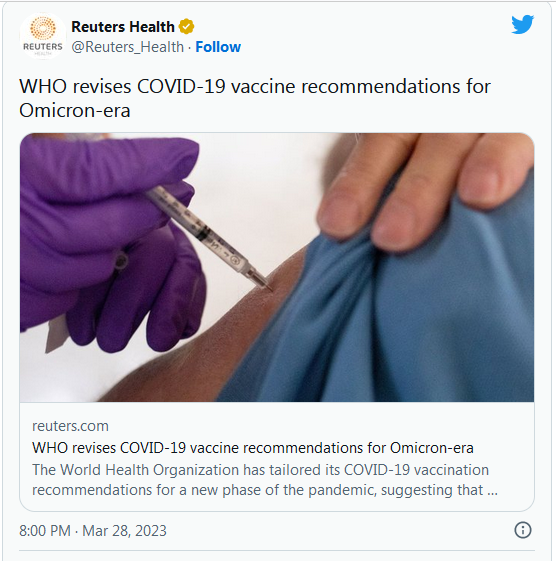 .@WHO's vaccine advisers, the SAGE, recommends countries focus Covid booster efforts on high-risk people. Of medium & low risk people, they are saying to countries: Boost them if you want, but prioritizing other health spending may make more sense. https://t.co/hQ5ArRqocf

— Helen Branswell 🇺🇦 (@HelenBranswell) March 28, 2023
More updates on XBB.1.16 aka #Arcturus
-It has already spread to 20 countries
-Total Sequences: 629
-Apart from India, rapid growth is seen in the US, Japan & NSW
-A new child of it-XBB.1.16 has already emerged & designated:
XBB.1.16.1 = XBB.1.16 + Spike T547I. 1/ pic.twitter.com/KctbHZobw7

— Vipin M. Vashishtha (@vipintukur) March 25, 2023
What a difference a year makes… now China seems to want to totally "disappear" COVID. Neighbor with covid-like systems saying she can't find covid-related medicine in pharmacy, and work won't let her take days off (tho she'll be required to work in isolated room). https://t.co/RxWhm07Aks

— tbCh (@blackChinahand) March 24, 2023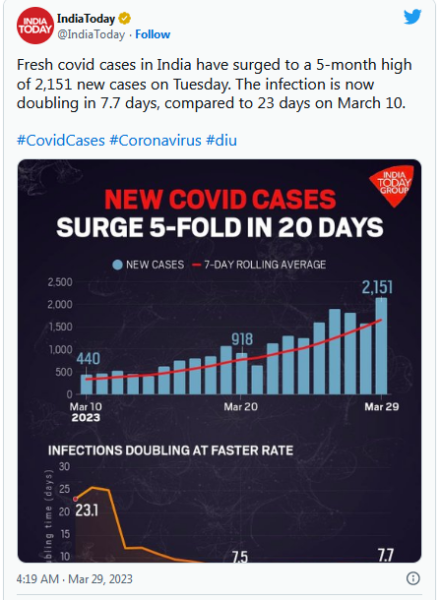 (link)
India has been witnessing a gradual increase in coronavirus infections in recent days. A new variant could be driving the rise. https://t.co/a1VY7bWLXt

— DW News (@dwnews) March 28, 2023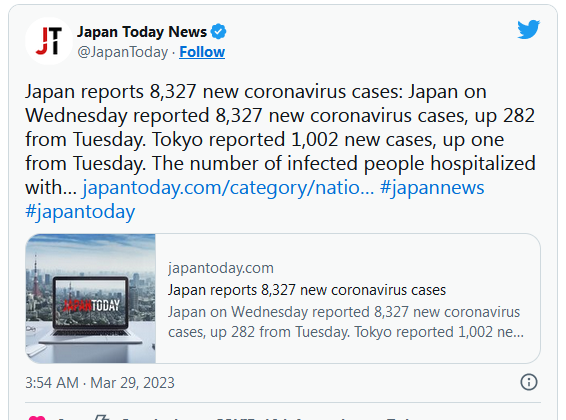 (link)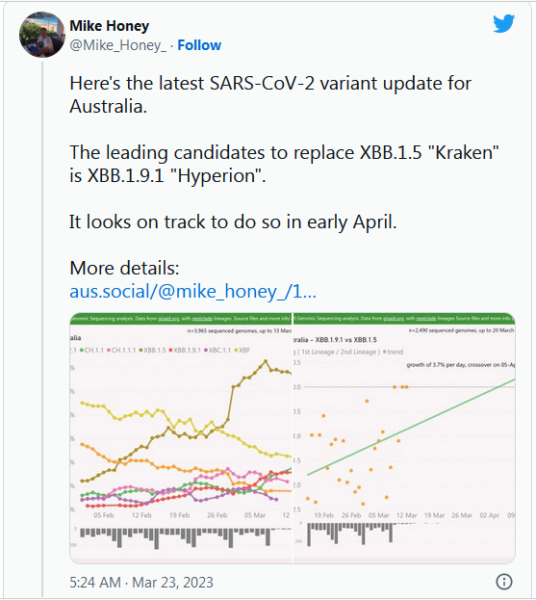 United Kingdom:
The presenter also said that some people said lockdown saved thousands of lives but others said it was a great infringment of civil liberties & what did I think.

I said both things are true – but some countries with beter public health response managed to avoid lockdown. 2/2 pic.twitter.com/2lAasAY2Yn

— Prof. Christina Pagel 🇺🇦 (@chrischirp) March 26, 2023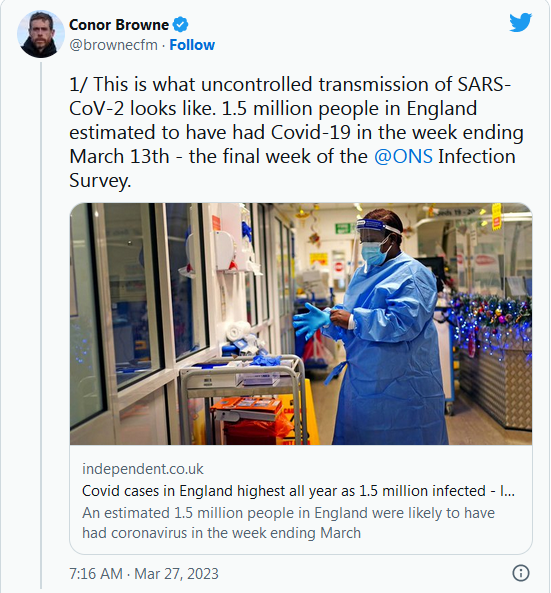 I in 40 for England. pic.twitter.com/EakKX4SG09

— Conor Browne (@brownecfm) March 27, 2023
======
Update: SARS-CoV-2 data from China CDC related to samples collected in Huanan Market in Wuhan, China are available again on @GISAID https://t.co/5UFisyB0aa

— Maria Van Kerkhove (@mvankerkhove) March 28, 2023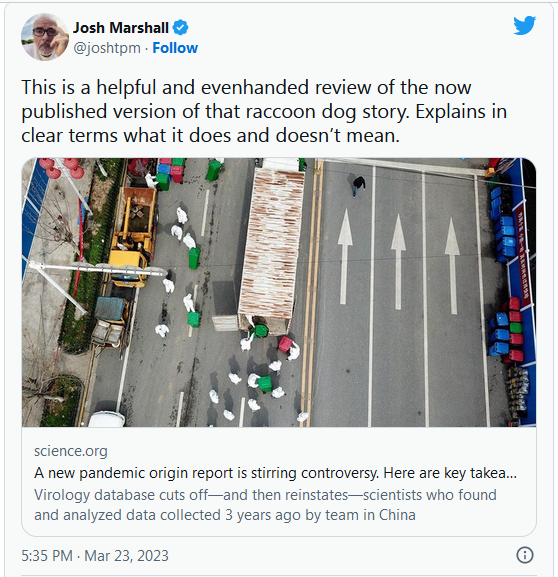 (link)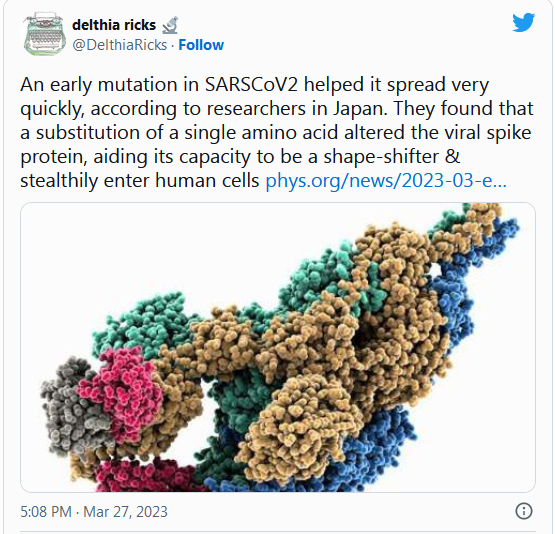 (link)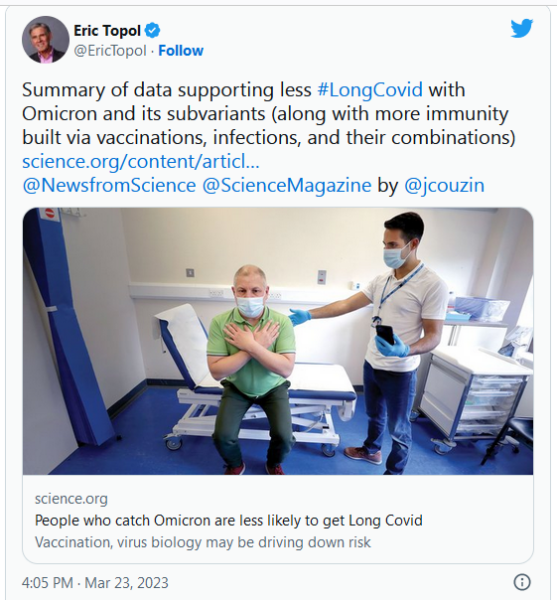 (link)
Brings this piece to mind and that we need to markedly accelerate and quadruple efforts for effective treatments. Much too little is being done.https://t.co/X4B0k6ubDm#LongCovid https://t.co/Z1R7ztmZTI pic.twitter.com/hTh6hmDwQd

— Eric Topol (@EricTopol) March 27, 2023
LONG COVID 🧵:
Clips from today's @IndependentSage from world leading experts. PLEASE WATCH!

1. @EricTopol We know a LOT MORE now about how Long Covid manifests in people & physiological mechanisms (loads) BUT are FAR BEHIND on finding treatments. Signifcant pandemic legacy 1/9 pic.twitter.com/kqrT2gAg2T

— Prof. Christina Pagel 🇺🇦 (@chrischirp) March 24, 2023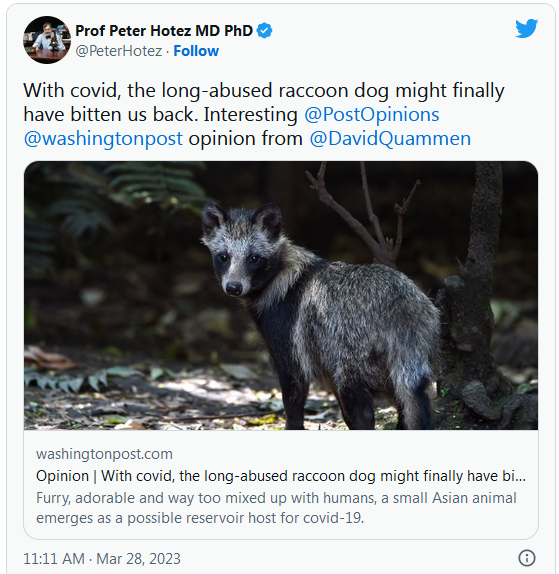 David Quammen is always worth reading. Here's a gift (unpaywalled) link:
… We owe it to raccoon dogs, after all they have suffered from humans, not to incriminate them prematurely. Even if they did carry the coronavirus into the market, and spilled it into a person or two, they weren't there by choice, after all. The vast commerce in wild animals that carried those miserable raccoon dogs to Wuhan goes far beyond China, bringing wild creatures in many countries — and the viruses they carry — increasingly into close contact with humans. And although that traffic might please the palates of some consumers, it's a recipe for pandemic.

The new international analysis is dramatic, but solving the origin question definitively could take a long time. Forty-one years passed between the first known outbreak of Marburg virus (a cousin of Ebola) in humans and the discovery of its animal host. For SARS-CoV-2, we might never know, given how much precious evidence and opportunity for collaborative research have already been lost.

Whatever happens, raccoon dogs are now a central part of the investigation — as Holmes told me, three years ago, that he suspected they should be. Their presence at covid's ground zero serves to remind us that spillovers of dangerous viruses from wild animals into people happen often and all over the world, sometimes inconsequentially, sometimes causing catastrophe. And, if our longtime abuse of this suddenly famous creature led to a pandemic, we have only ourselves to blame.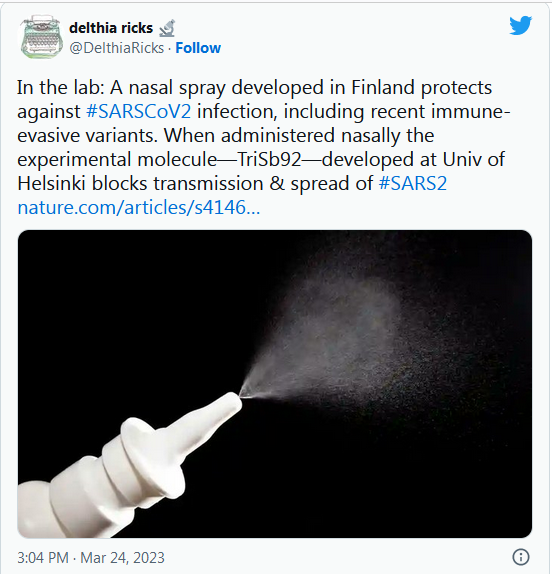 (link)
=======
Trump's mismanagement of the gov't response and dismissiveness of the severity of the COVID-19 pandemic cost at least 130,000 American lives—according to his own COVID-19 adviser Dr. Deborah Birx. And the disruptive effects on the education of our young people were devastating. pic.twitter.com/XV2f5Q2T8d

— Rep. Jamie Raskin (@RepRaskin) March 28, 2023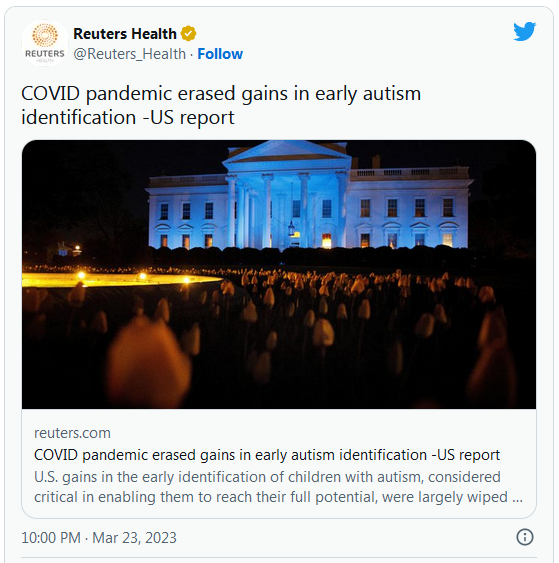 (link)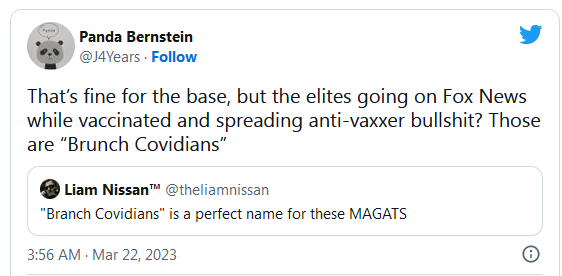 (link)
1/n Interesting bit of revisionist history from NY Times Opinion. Here's my take: https://t.co/AlugRILXFv

— Prof Peter Hotez MD PhD (@PeterHotez) March 28, 2023
2/n The OG assertion coming from the US Govt had nothing to do with lab leak or anything like that. The claim from the White House West Wing in 2020 was that the Chinese Communist Party was sending infected Chinese citizens abroad to ignite a pandemic for global domination

3/n I was in the (virtual) green room with Chuck Todd about to go on MSNBC when the announcement came. Not only was it ridiculous, but it also ignited a disgusting wave of anti-Asian racism in America

4/n Later they came up with the now discredited hypothesis that the SARS-2 coronavirus was created in a laboratory, because of a furin-cleavage site found in the virus, and that was also discredited https://t.co/wK5E5ZextA

— Prof Peter Hotez MD PhD (@PeterHotez) March 28, 2023

5/n Finally and as a fall-back position a lab leak was alleged, which the biomedical scientific community always said was a possibility including me back in 2021

6/n But no evidence for a lab leak was ever forthcoming, nada, zip, zero. There remains no evidence for a lab leak. And that's why there's no published scientific article about this. It doesn't mean it's not possible, but one could say this about any emerging virus.

7/n In contrast, we have several published scientific articles that strongly support the emergence of the virus from a wet market in Wuhan for SARS-2, just like for SARS and published in @ScienceMagazine https://t.co/v4uepokx0i and elsewhere

— Prof Peter Hotez MD PhD (@PeterHotez) March 28, 2023

8/n Bottom line: stop blaming the biomedical scientists for the conspiracies generated by those with political/other agendas, or for the Chinese Govt that destroyed or hid wet market evidence. Of course in early days there were uncertainties: that's a reality of most pandemics.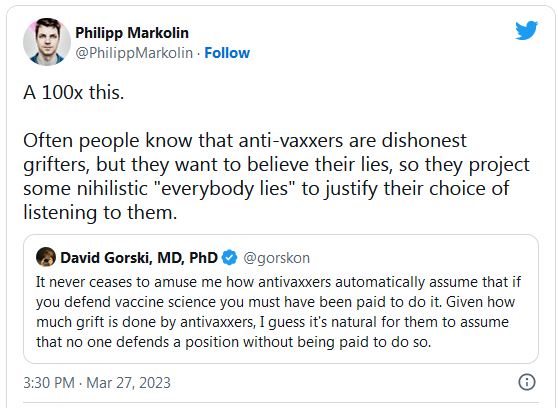 (link)
Reader Interactions