On the Road is a weekday feature spotlighting reader photo submissions.
From the exotic to the familiar, whether you're traveling or in your own backyard, we would love to see the world through your eyes.
BillinGlendaleCA
As the Milky Way core set into the western horizon here in the northern hemisphere, many landscape astrophotographers hang up their tripods and trackers to await it's return in March when it is well above the horizon.  I am not one of these photographers, love the "off season".  There is much to see in the Winter Sky: Orion, the Rosette Nebula and much more.
In late November I purchased at new camera, a Sony A7iv which is a full frame camera(it's sensor is the same size as a 35mm negative).  The larger sensor enables the collection of much more light than my Samsung's cropped sensor.
In the last three months, I've undertaken a few of my night drives out to some of my favorite dark sites to get some shots.  My work schedule and the weather has prevented me from making more trips than I'd like, but I think I've got some pretty good shots.  Though I have a lot of experience with shooting the night sky, in some ways working with the Sony has been like starting anew.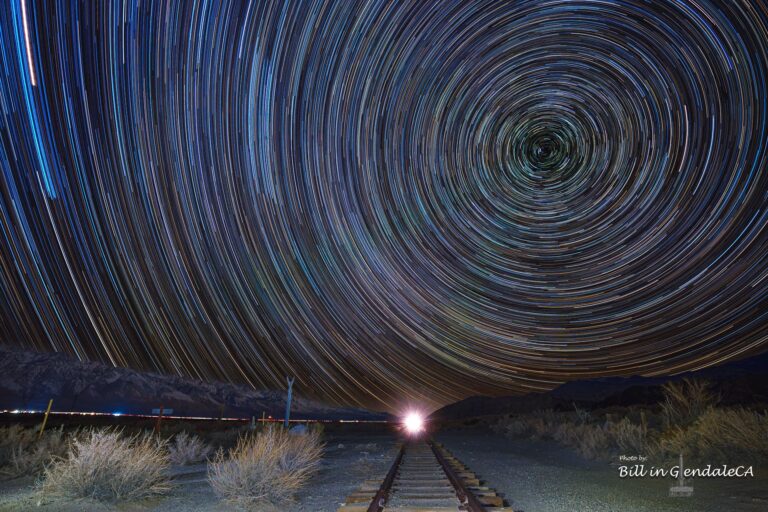 Kearsarge, CA
December 19, 2022
Kearsarge is an old station along the railroad that ran though the Owens Valley in the late 19th and early 20th centuries.  They have a small section of track, a railroad crossing sign and station sign to memorialize the long gone station.  I shot the Milky Way core here about a year and a half ago and thought this would be a good location for some star trails.  The sky was clear of clouds and there was no wind, however it was quite cold(14℉ when I left).  I shot 3 minute segments for about 2 hours, and planned to light paint the foreground once the star trails were finished.  Just before the last few 3 minute exposures were complete, I noticed a bright light to the north that became brighter and brighter.  It was a guy in a truck driving down the old railbed.  As he passed, he stopped and asked if anything was wrong, I told him that I was taking some picture and he drove on.  His timing was quite fortunate in that I was close to completing my shots.  I had to toss the last 3 minute sub since the headlights were producing a lot of glare in the shot, but I decided to incorporate his headlights into the star trails, giving the effect of a train coming down the tracks.  After he left I took a four minute base shot and a few light painting shots of the foreground.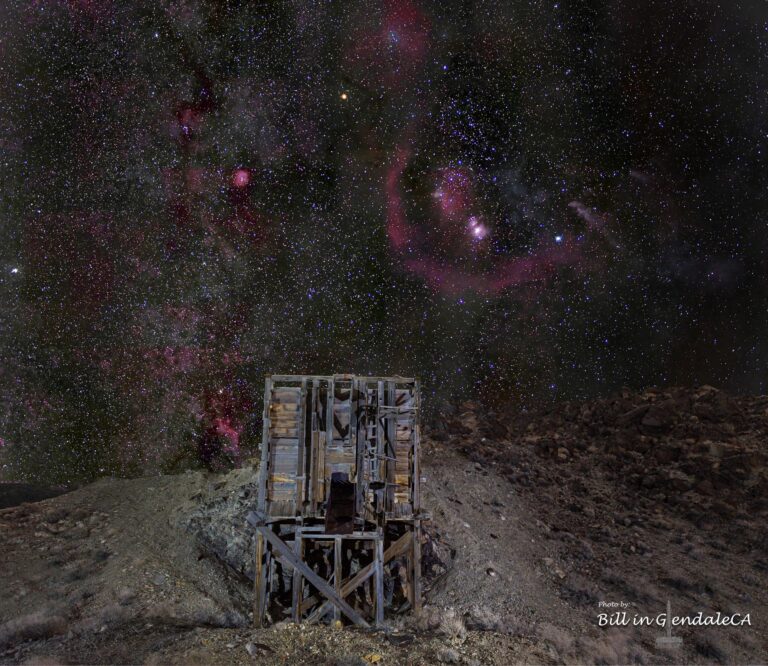 Kearsarge, CA
December 18, 2022
About a quarter of a mile from the old railroad station is an old ore loader on a hill, I also shot the Milky Way core over the ore loader a year and half ago.  I thought the ore loader would be in interesting foreground for Orion.  The plan was to shoot 16, 2 minute shots with the tracker and then shoot the light painted foreground.  I was aligning the tracker to true north using my polar scope camera when disaster struck, my computer was losing contact with the camera.  Turning on my headlamp, I noticed that the connector on the USB cable was broken and I didn't have a spare, however I did have the optical scope and aligned it optically and hoped for the best.  This seemed to work pretty well and I got my shots of Orion.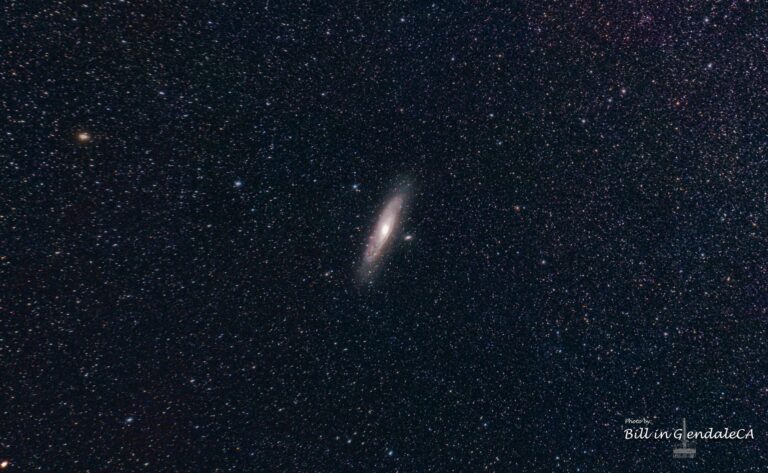 Kearsarge, CA
December 18, 2022
After shooting Orion and getting the light painted foreground shots, I turned the camera to shoot the Andromeda Galaxy(M31).  I didn't have a long lens yet, so I just put on the 28-70mm kit lens and set it to 70mm.  I took 8, 2 minute shots and combined them for this shot.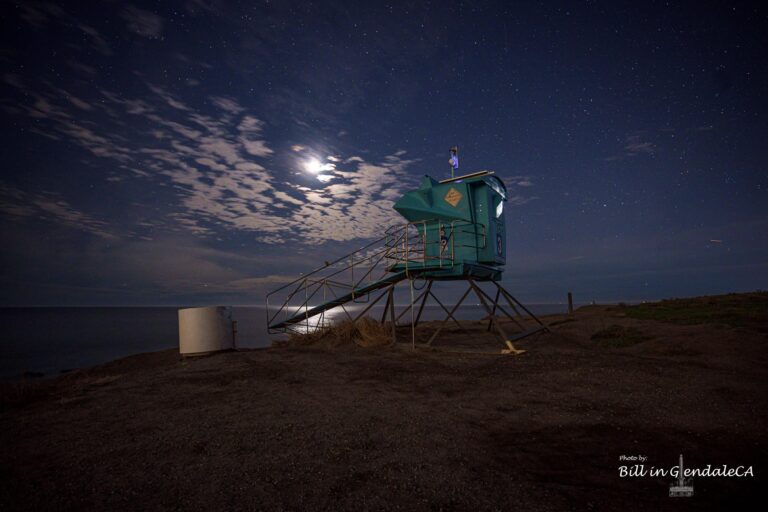 Leo Carrillo State Park, Malibu, CA
December 26, 2022
I had Boxing Day off, so I headed to Lifeguard Station #3 at Leo Carrillo State Park for some shots.  The Moon was still in the sky and it was a bit cloudy, but I wanted to test out the camera at one of my old haunts.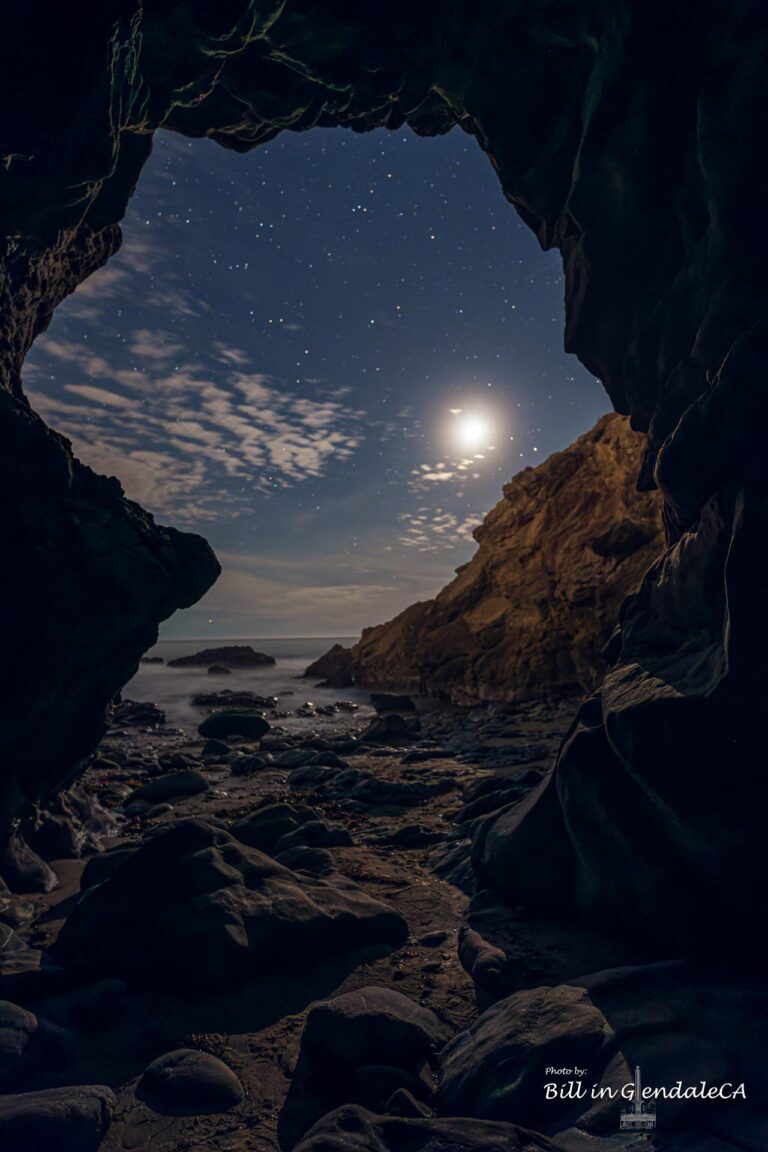 Leo Carrillo State Park, Malibu, CA
December 26, 2022
A few years ago, I was shooting the Milky Way at Leo Carrillo and a guy asked if it would be a problem if he light painted some of the rocks in the direction that I was shooting at the time.  I told him that I was shooting sky shots and it would not be a problem.  Once he was done, he stopped by and said that he was shooting from the sea cave.  I asked him where the sea cave was, he said right below where we were standing.  He said he was from San Diego and if I ever wanted to shoot at Anza Borrego to let him know since he knew the area and gave me his card.  It turns out that he is a pretty well known landscape astrophotographer(his work has been on APOD 4 times).  After shooting at Lifeguard Station #3, I headed down to the beach to find a very low tide, heading around some rock, there was the sea cave.  The sea cave is "U shaped" and ends in a cove on the other side of Point Sequit.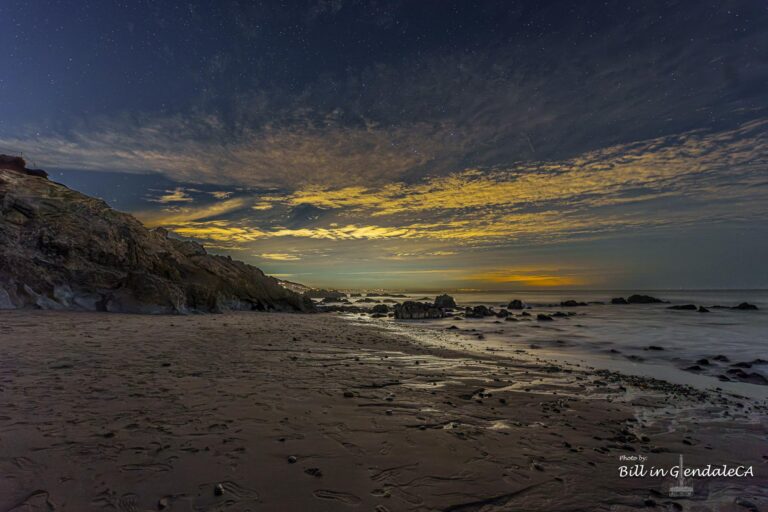 Leo Carrillo State Park, Malibu, CA
December 26, 2022
Sunrise at 730pm?  No this is the light pollution from Los Angeles from the beach at Leo Carrillo State Park.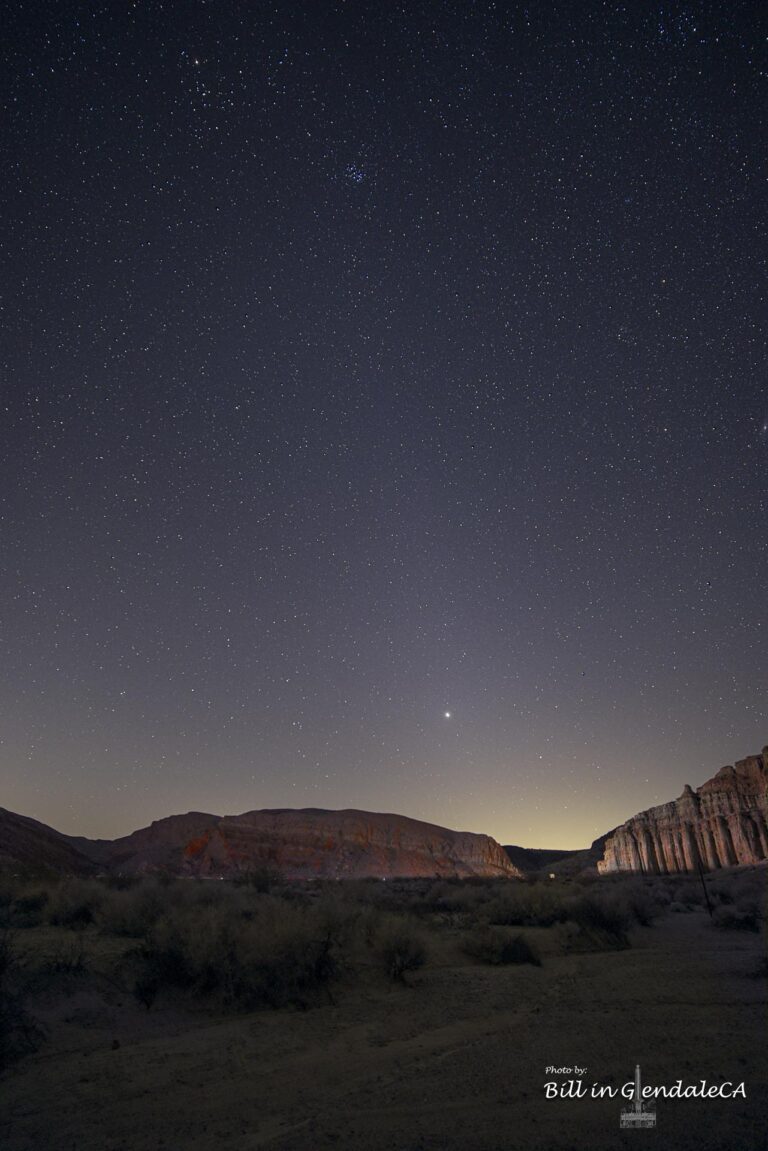 Red Rock Canyon State Park, CA
February 15, 2023
After a failed trip to the Owens Valley in late January, due to high winds; I headed back there in mid-February to shoot the one thing that I was unable to shoot during my trip up there in December, the Winter Milky Way arch.  Looking at Stellarium(a star map program) it looked like I could catch the zodiacal light at the Red Cliffs.  I've loaded the Red Cliffs foreground into Stellarium and could see that the zodiacal light would extend from just to the left of the Red Cliffs, past Venus, Jupiter and on to Mars.  The zodiacal light is caused by the sun reflecting off interplanetary dust and is most prominent just after sunset and before sunrise.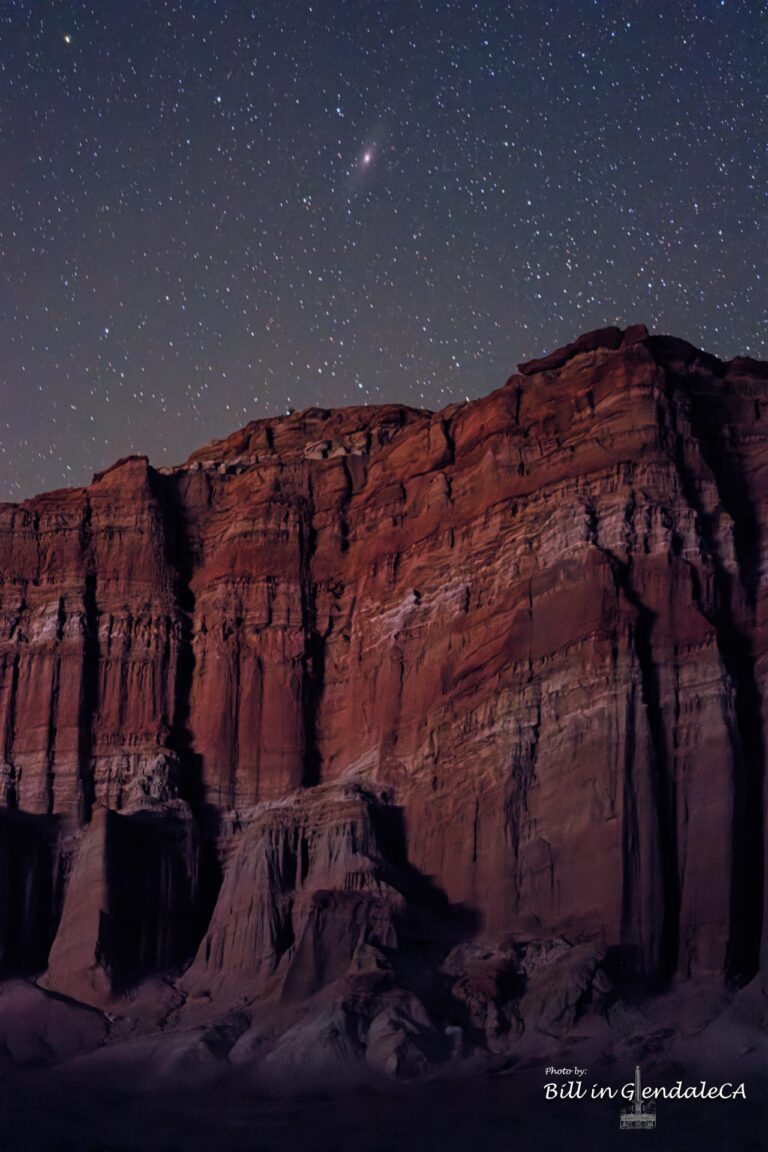 Red Rock Canyon State Park, CA
February 15, 2023
After shooting the zodiacal light, I turned my camera to the face of the Red Cliffs to get a shot of Andromeda as it was setting below the cliffs.  I didn't shot this with the tracker, so it is not as well defined and there is more light pollution at Red Rock than at Kearsarge.

Kearsarge, CA
February 15, 2023
After leaving the Red Cliff, I drove the hour and a half up to Kearsarge.  I was a bit windy at the Red Cliffs and I was concerned about the winds at Kearsarge, there was no wind, but it was quite cold(21℉).  I shot 8 sets of 16 shots each for the panorama as well as 8, 4 minute shots for the foreground.  If it were warmer, I probably would have used the tracker and only shot 4 shots per set, but I'm pretty happy with the result as it is.