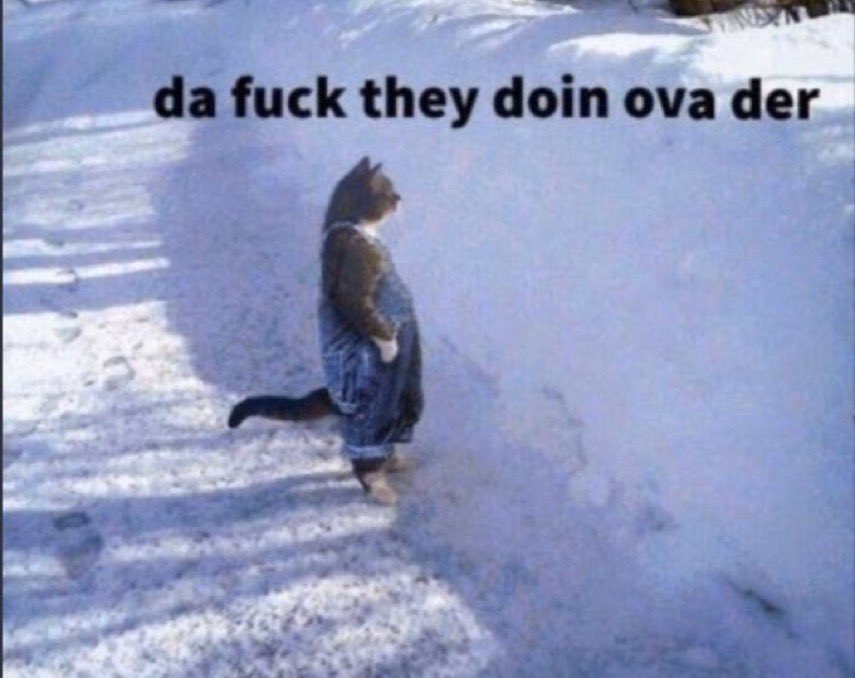 Before we jump in and get started just a housekeeping note. Last night in comments eclare was upset that I posted immediately after Anne Laurie posted, thereby bigfooting her and her post. Leaving aside that this is Balloon Juice, my curt reply, and several other piling on on my behalf, I want to make sure there's a bit of explanation here. First, feeling like I've bigfooted someone else's post is fine. Expressing it in the comments is fine. Please, everyone, we have enough stuff to actually argue about, let's just let that go. eclare you are welcome to comment when and how you like, my apologies for being abrupt. Second, I do these nightly updates on top of my day job, which as you all know, because it's in my Balloon Juice bio, is working as a national security professional. I don't discuss that work here for a number or reasons, but basically I finish my day's work and then start on these updates, which usually take somewhere between an hour to two hours to put together from start to finish. This is like adding two hours of work to my work day or two hours of work adjacent/related stuff to my work day. I made a commitment that as long as my boss says it's okay to keep doing them, that I will make sure that we can all stand vigil every evening or night (or morning for our antipodean and Asian friends) to the Ukrainian's defense of their state, their society, their culture, their families, their friends, their lives, and, quite frankly, the rest of us that live in what is usually defined as the Western world. Quite frankly it is the least we can do. But because I'm doing these on top of my full time work I have no time to do posts on anything else, no time to check into comment threads on other posts. Frankly, unless one of you or one of my fellow front pagers has asked if I saw post X or comment Y, I have not looked at or read another post on this site in 13 months and six days. I just don't have the time, the energy, or the bandwidth. I have no idea who has posted what when, what posts are scheduled to publish at what times. My life is work; these updates; working out to stay fit; the doggos including nightly two mile 2o minute pace walks with them; a bit of reading or watching rugby or hockey to relax and divert myself a bit; and sleep. Up at 0 Dark Hundred every morning, asleep by 10(ish) every night. That's it. So if I bigfoot your favorite front pager, now you know why; it is not intentional nor malicious. And for those that keep thanking me: thank you for the kind words, you are most welcome, I look forward to the day I don't have to do these because Ukraine has won the war. Off to walk the dogs…
The Russians arrested Wall Street Journal Reporter Evan Gershkovich on charges of espionage:
The Lefortovo court has ordered Evan Gershkovich to be put under arrest. https://t.co/dYihkWlcVf

— Christopher Miller (@ChristopherJM) March 30, 2023
The Associated Press has details: (emphasis mine)
Russia's security service arrested an American reporter for The Wall Street Journal on espionage charges, the first time a U.S. correspondent has been detained on spying accusations since the Cold War. The newspaper denied the allegations and demanded his release.

Evan Gershkovich, 31, was detained in Yekaterinburg, Russia's fourth-largest city, about 1,670 kilometers (1,035 miles) east of Moscow. Russia's Federal Security Service accused him of trying to obtain classified information.

Known by the acronym FSB, the service is the top domestic security agency and main successor to the Soviet-era KGB. It alleged that Gershkovich "was acting on instructions from the American side to collect information about the activities of one of the enterprises of the Russian military-industrial complex that constitutes a state secret."

The Journal "vehemently denies the allegations from the FSB and seeks the immediate release of our trusted and dedicated reporter, Evan Gershkovich," the newspaper said. "We stand in solidarity with Evan and his family."

The sweeping campaign of repression is unprecedented since the Soviet era. Activists say it often means the very profession of journalism is criminalized, along with the activities of ordinary Russians who oppose the war.

Earlier this week, a Russian court convicted a father over social media posts critical of the war and sentenced him to two years in prison. His 13-year-old daughter was sent to an orphanage.

Gershkovich is the first American reporter to be arrested on espionage charges in Russia since September 1986, when Nicholas Daniloff, a Moscow correspondent for U.S. News and World Report, was arrested by the KGB. Daniloff was released without charge 20 days later in a swap for an employee of the Soviet Union's United Nations mission who was arrested by the FBI, also on spying charges.

At a hearing Thursday, a Moscow court quickly ruled that Gershkovich would be kept behind bars pending the investigation.

While previous American detainees have been freed in prisoner swaps, a top Russian official said it was too early to talk about any such deal.

In Washington, the Biden administration said it had spoken with the Journal and Gershkovich's family. White House press secretary Karine Jean-Pierre condemned the arrest "in the strongest terms" and urged Americans to heed government warnings not to travel to Russia.

The State Department was in direct touch with the Russian government and seeking access to Gershkovich, Jean-Pierre said. The administration has no "specific indication" that journalists in Russia are being targeted, she said.

Gershkovich, who covers Russia, Ukraine and other ex-Soviet nations as a correspondent in the Journal's Moscow bureau, could face up to 20 years in prison if convicted of espionage. Prominent lawyers noted that past investigations into espionage cases took a year to 18 months, during which time he may have little contact with the outside world.

The FSB noted that Gershkovich had accreditation from the Russian Foreign Ministry to work as a journalist, but ministry spokeswoman Maria Zakharova alleged that Gershkovich was using his credentials as cover for "activities that have nothing to do with journalism."

Kremlin spokesman Dmitry Peskov told reporters: "It is not about a suspicion, it is about the fact that he was caught red-handed."

Ivan Pavlov, a prominent Russian defense attorney who has worked on many espionage and treason cases, said Gershkovich's case is the first criminal espionage charge against a foreign journalist in post-Soviet Russia.

"That unwritten rule not to touch accredited foreign journalists, has stopped working," said Pavlov, a member of the First Department legal aid group.

Pavlov said the case against Gershkovich was built to give Russia "trump cards" for a future prisoner exchange and will likely be resolved "not by the means of the law, but by political, diplomatic means."

Russian Deputy Foreign Minister Sergei Ryabkov ruled out any quick swap.

"I wouldn't even consider this issue now because people who were previously swapped had already served their sentences," Ryabkov said, according to Russian news agencies.
Much more at the link!
Here is President Zelenskyy's address from earlier today. Video below, English transcript after the jump:
Four hundred days of our defense against full-scale aggression is a colossal path that we have endured together – address by the President of Ukraine

30 March 2023 – 21:43

Good health to you, fellow Ukrainians!

Four hundred days… Four hundred days of our defense against full-scale aggression.

This is a colossal path that we have endured . All together – everyone who fought and fights for Ukraine. Who took care and takes care about the state and Ukrainians. Who helped and helps our logistics. Who strengthened and strengthens Ukrainian resilience.

Ukraine went through the most terrifying days of that February. We survived this winter as well. There is a colossal effort behind these words…

We passed last spring, which turned the tide of this war in favor of our defense.

Last summer and autumn, we proved that the spring liberation of our northern regions was no accident. The battle for Kyiv, Chernihiv and Sumy regions… The return of the territories of our Kharkiv region, the return of Kherson, the defense of Bakhmut and Donbas in general – this is the heroism of Ukrainians that the world will not forget.

We are preparing our next steps, our active actions. We are preparing the approach of our victory.

What is the strength of Ukraine? If your intentions are good, the whole world will be on your side and help you.

Today, on the four hundredth day of resistance, full-scale resistance, I want to thank everyone in the world who stands with Ukraine. Who shares our interpretation of freedom. Who supports our pursuit of justice. Who has the same strong conviction that we, Ukrainians, have… the conviction that the world should be based on rules, on civilized rules – on the rules of humanity, respect and peace. That is why Ukraine will win.

Because freedom and justice, humanity and respect, peace deserved by the people must prevail.

I thank all our soldiers and sailors, all our sergeants and first sergeants, all our officers and generals. I thank each and every one who holds this front – the front of protecting the best that humanity has. The front of protecting the best that you and I have – our Ukraine.

United, invincible and forever free.

I thank everyone who is currently fighting! Each and every one who is fighting to protect themselves and brothers-in-arms in neighboring positions!

Thank you to everyone who cares about our brave warriors! Thank you to everyone who protects our cities and restores normal life in the areas where it was violated by Russia with its aggression and terror!

I also thank everyone who helps the daughters and sons, wives and husbands, mothers and fathers of our people, soldiers and civilians, whose lives were taken away by this war, by Russia!

Ukraine will win at the front. Ukraine will win in recovery. Ukraine will win in restoring justice.

We will not leave a single trace of Russia on our land. And we will not leave any enemy unpunished either. We are preparing news about this.

This day, like any of the four hundred, was as active as possible for me.

Communication with commanders, with intelligence. Meetings regarding the internal situation. I made another appeal to the parliament of the partner country – to the Austrian parliament. And I thank Austria for the fact that Ukraine was heard. A productive meeting with the delegation of the German defense enterprise Rheinmetall AG… I am thankful to our partners for their willingness to cooperate with us in an even more meaningful way.

Tomorrow will also be active. To the maximum.

We will do everything so that the day comes sooner when I can thank you, dear Ukrainians, for our victory!

Glory to Ukrainian heroes!

Glory to Ukraine!
Here is the machine translation of the Ukrainian Ministry of Defense's most recent operational update from their Telegram channel:
Here is former NAVDEVGRU Squadron Leader Chuck Pfarrer's most recent assessment of the situations in Avdiivka and Bakhmut:
AVDIIVKA AXIS /2200 UTC 29 MAR/ RU forces were rebuffed at Novokalynove, Krasbohorivka, Stepove, Sieverne and Pervomaiske. UKR forces conducted counter-battery fire against RU artillery and carried out a precision strike against RU logistics on Donetsk city. pic.twitter.com/qJx75hLzDd

— Chuck Pfarrer | Indications & Warnings | (@ChuckPfarrer) March 29, 2023
BAKHMUT CITY /1245 UTC 30 MAR/ RU troops continue to improve tactical positions in heavy urban fighting. UKR artillery conducted counter-battery activity; RU losses include 12 artillery systems. While UKR maintains LOCS, RU is registering gains in urban fighting. pic.twitter.com/PnNFbUMV2W

— Chuck Pfarrer | Indications & Warnings | (@ChuckPfarrer) March 30, 2023
BAKHMUT AXIS /1145 UTC 30 MAR/ RU forces have consolidated gains in the N urban areas of Bakhmut. UKR reports breaking up 28 RU attacks during the last 12 hours. RU losses included: 1 main battle tank, 8 IFVs, 12 artillery pieces hit by UKR counter battery fire and 560 RU KIA. pic.twitter.com/0gdZb2pws6

— Chuck Pfarrer | Indications & Warnings | (@ChuckPfarrer) March 30, 2023
Kharkiv:
In these minutes Russia is attacking Kharkiv with S-300 from Belgorod. At least 6 explosions are reported.

— Maria Avdeeva (@maria_avdv) March 30, 2023
Cardiff City Stadium, Cardiff, Wales:
the fans started to sing putin-khuilo song which made the russian commentator go silent 😅
2/2

— Mariia Kramarenko (@KramarenkoMari3) March 30, 2023
Tallyho!
Wings for Ukraine – Wings for Freedom!

🎥 @CinC_AFU pic.twitter.com/72msebGAto

— Defense of Ukraine (@DefenceU) March 30, 2023
This morning, EU President von der Leyen gave a speech on EU-China relations to the Mercatur Institute:
Noah Barkin of the Rhodium Group and the German Marshall Fund of the US (GMFUS), whose specialty is the PRC's objectives regarding and interaction with Europe, has some analysis:
Von der Leyen has delivered the speech on China that Europe has been waiting for. It is a clear-eyed, confident vision for the relationship that acknowledges China has changed & that Europe's response must too, with an economic security strategy at its core. My quick takeaways:

— Noah Barkin (@noahbarkin) March 30, 2023
3) Europe needs to focus on economic de-risking (not decoupling). Most trade is not risky. But she promises tougher approach to technology transfer/dual use goods + ideas on EU economic security strategy by year-end. This includes narrow outbound investment regime …

— Noah Barkin (@noahbarkin) March 30, 2023
5) Von der Leyen is throwing down the gauntlet to those in Europe who still harbor illusions about partnership w/China. These include Macron, w/whom she will travel to Beijing next week. It is a bold move but her message is overdue. The reactions in 🇫🇷 & 🇩🇪 will be interesting

— Noah Barkin (@noahbarkin) March 30, 2023
The Economist is reporting that Russian hackers are preparing for their own spring offensive.
Russia's cyber-offensive last year was fast, furious—and underwhelming. In it, hackers conducted perhaps the largest ever assault on computer networks. Ukraine, well-prepared and supported by foreign tech companies and allies, parried many of these blows, keeping communications and crucial government services online against all expectations. But the cyberwar, like the physical one, is evolving.

Russian cyber-forces, portrayed as lumbering bumblers, have in fact adapted to circumstances, argues Dan Black, who served in NATO's cyber-threat analysis branch until December and now works for Mandiant, a cyber-security firm within Google. During its offensive in eastern Ukraine between April and July, Russia expanded its cyber-operations in Poland and eastern Europe to collect intelligence on arms shipments to Ukraine. The GRU, Russia's military-intelligence agency, began using more malware from criminal markets to augment fancier home-made tools.

In a paper for the IISS, a think-tank, Mr Black says Russian forces showed signs of "a more prepared and reinvigorated cyber-programme" from October, during Ukrainian offensives in the south and east. That included heightened cyber-attacks against energy, water and logistics targets in parallel with drone and missile strikes on Ukraine's power grid. This pointed to a co-ordinated strategy to ratchet up cross-domain pressure, he argues. A report published by Ukraine's main cyber-security agency on March 8th showed that "critical" and "high-severity" cyber-incidents, the two most serious sorts, leapt in December, reaching the highest level since the first week of the war.

That pressure is still building. On March 15th Microsoft Threat Intelligence, which monitors Ukrainian networks, warned that the GRU was "preparing for a renewed destructive campaign", including reconnaissance against important targets. Its deployment of "wiper" malware, which destroys data, was "reminiscent of the early days of the invasion". Between January and mid-February hackers working for all three main Russian intelligence services tried to penetrate government and military targets in 17 European countries, paving the way for either espionage or disruption—access to a network allows both.

Russian cyber-doctrine also puts a premium on information warfare. In November a website began publishing private messages from two senior officials in Moldova—a classic "hack-and-leak" operation akin to the one the GRU conducted ahead of America's presidential elections in 2016. On March 10th the White House publicly accused Russia of trying to foment a coup in Moldova. Recent Russian propaganda has also spread false claims that Ukrainian refugees abroad were being extradited and conscripted into Ukraine's army.
More at the link!
Lithuania's Regional Cyber Defense Center has issued a new report on Russia's use of offensive cyber operations during their re-invasion of Ukraine. Here is the link to the pdf. And here are the conclusions and way forward, though I also recommend reading the recommendations for mitigation on pp. 21-22:
Conclusions and Way Forward

The following key conclusions can be drawn from the analysis of Russia's cyber offensive operations during the conflict in Ukraine:
1. All available evidence indicates that Russia has conducted a coordinated and broad cyber-campaign intended to provide its forces with an early advantage during its war in Ukraine. Some reporting showed a huge increase in exploits on the first day. The intent appears to have been to create disorder and overwhelm the Ukrainian defense. This was a wide-ranging attack using the full suite of Russian cyber capabilities to disrupt Ukraine, but it was not a success.

2. Russian Advanced Persistent Threat (APT) actors and other unattributed threats have conducted destructive attacks, espionage operations, or both, while the Russian military forces are attacking the country by land, air, and sea. It is unclear whether the computer network operators and physical forces are just pursuing a common set of priorities independently or they are actively coordinating. However, the Ukrainian experience demonstrates that cyber and kinetic actions have been taken simultaneously to degrade the Ukrainian Government and military functions.

3. When it comes to the different types of cyber-attacks, Ukraine's experience demonstrates that DDoS has been as popular as never. These attacks represent a broader pattern in cyberspace, the objective of the adversary to undermine the public's trust in state institutions and critical service providers. Most of the destructive attacks were aimed at organizations in critical infrastructure sectors that could have had a negative second order effects on the Government, military, economy, and people. Their primary targets were websites of the Ukrainian Government, energy and telecom service providers, financial institutions, and media outlets, however, the cyber-attacks encompassed most of the critical sectors.

4. As the war in Ukraine continues, there is a likelihood that cyber incidents will spill over into other countries. As a matter of fact, Russia has already expanded its destructive cyber-operations against the countries which have come together to defend Ukraine. This spill-over effect has already been seen in some countries, especially NATO members. The focus on the United States has been followed shortly by the activity targeting NATO members that are the closest to Ukraine geographically, including the Baltic States and Poland. For example, Lithuania's biggest state-owned energy company Ignitis Group has been targeted by a massive DDoS attack as part of the ongoing campaign by the pro-Russian hacking group Killnet106.

5. The lessons learned in Ukraine call for a coordinated and comprehensive mitigation response to strengthen the defenses against the full range of cyber destructive, espionage, and influence operations. This response should increase collective capabilities to better (1) detect, (2) defend against, (3) disrupt, and (4) deter foreign cyber threats. Please note that the findings and conclusions of the Report are not final and will be amended with additional information and lessons learned as the conflict progresses.
Finally, Eado Hecht of the Begin-Sadat Center for Strategic Studies (BESA) has issued a report on lessons learned from the Russian re-invasion of Ukraine for the Israeli Defense Forces:
BESA Center Perspectives Paper No. 2,189, March 26, 2023

EXECUTIVE SUMMARY: The war in Ukraine is an example of modern high-intensity warfare. As such, it offers a number of lessons that can be learned about the capabilities, limitations, and requirements of armies conducting such warfare. New technology and methods have added capabilities, but have not rendered more traditional methods of warfare and technology obsolete. The IDF should learn to merge the new with the old by acquiring competence in new technology and tactics while maintaining technical and tactical competence in the veteran "basics".

This article will point out a few of the more important lessons the IDF can learn from the Russo-Ukraine War. Before discussing those lessons, however, a caveat must be stated. The political and military situations of Israel, Russia, and Ukraine are different, so not every lesson being taught by the warfare in Ukraine is relevant to Israel. Also, some lessons might be relevant "as is" while others might require adaptation.

A Shift in Expectations

There has been discussion for decades in Western armies and academia, as well as in Israel, on the changing characteristics of warfare. It has been proposed that these changes represent not merely an evolution but a revolution, in that changes are occurring not only in the characteristics of warfare but perhaps even in the nature of war itself. Some of this discussion is purely theoretical, while some is based on analysis of wars conducted in the 1990s and early 2000s. The year-long war in Ukraine has added much fuel to this debate.

Over the late 1990s and early 2000s, the IDF gradually adopted an extreme view of the transformation occurring in warfare and the adjustments it needed to make to its own composition and operational art. Future wars, its senior commanders believed, would no longer include major maneuvers of massed formations conducting high-intensity warfare (inaccurately dubbed "old", "classic", or "traditional" warfare), but would be purely low-intensity warfare with the enemy invariably employing methods of guerrilla warfare and terrorism. Accordingly, it was argued, the IDF should be reorganized and retrained to focus on counter-guerrilla and counter-terrorist operations (just as inaccurately dubbed "new" warfare).[1] The conquering of territory was deemed irrelevant and even politically and militarily counter-productive. Wars would be decided by an exchange of fire with a minimum of maneuver or by small forces conducting counter-guerrilla raids, ambushes, and patrols.

Furthermore, argued proponents of this view, if by chance some enemy attempted to conduct "old-style" warfare against Israel, it would be easily defeated by the new technologies of surveillance systems and precise long-range weapons. Mechanized formations attacking these new capabilities would be rapidly decimated and were therefore no longer viable on the future battlefield. Statistical weapons were virtually obsolete and should be almost entirely discarded by the IDF, as should the majority of its armored vehicles.[2] New non-lethal options such as offensive cyber operations would disarm and dislocate enemy forces and even the enemy's political entity with a minimum of bloodshed, compelling the enemy to desist from its attacks on Israel.

The Reality in Ukraine

The war in Ukraine has obviously not met any of these expectations. Two very large armies employing large mechanized and infantry formations backed by significant statistical fire capabilities are engaged in offensive and defensive maneuvers. They have fought and are still fighting to control territory and have both suffered enormous casualties to achieve their goals.

The first and perhaps most important lesson of this conflict, and the lesson from which many of the others stem, is that this type of warfare can still occur and national armies must be prepared for it.

One could argue that this is a result of the fact that both armies in question are outdated. Neither studied the new reality or adopted the latest technologies, doctrine, and training, so the conflict in which they are engaged is not a good example of current and future trends in warfare. This is true, but only to a certain extent. Both armies have employed some new technological capabilities (cyber warfare, a wide variety of remotely piloted aircraft, and long-range guided munitions) that were supposed to revolutionize the character of warfare. Despite this, both armies continue to employ and reinforce their forces with supposedly obsolete technologies (artillery, armored personnel carriers and tanks) in order to sustain their military effort.

Russia's massive cyber warfare effort achieved only partial success and failed to neutralize or sufficiently disrupt the functioning of Ukraine's state and military apparatuses. Ukraine's use of armed remotely piloted aircraft and advanced anti-tank missiles slowed Russian mechanized formations and caused them severe casualties (though not in excess of similar wars in the past), but did not halt them, despite the tactical incompetence prominently displayed by these forces. The Russians were finally halted deep in Ukraine by concentrated close-combat actions and enormous statistical artillery concentrations.[3]

Some of the fighting in Ukraine looks very similar to the battles of WWII and even WWI, even with the addition of many modern technologies of communications, remotely piloted aircraft, and advanced guided munitions to the even more numerous "old" weapons being employed.

Possible Lessons from the Ukraine War for the IDF

In the war in Ukraine, most of the offensive actions are being conducted by the Russians, though the Ukrainians have conducted some as well. The causes of success or failure of these offensive actions must be studied to derive lessons relevant to the IDF, even if they require adaptation.

The first and most prominent lesson of the war in Ukraine is the necessity for technical and tactical competence and proficiency of combat forces in high-intensity warfare. Such warfare can still occur, and it requires different skills than the more common low-intensity warfare. Those skills include the ability to conduct, from the battalion to the division level, highly coordinated combined-arms operations against a massed enemy rather than against scattered teams of guerrillas or terrorists.

During the Second Lebanon War, the IDF exhibited a serious degradation of its proficiency in these skills. Creating and maintaining these skills requires first, acknowledgment that they are needed; second, a doctrine focusing on them; and third, sufficient training to implement that doctrine. In the wake of the tactical debacles of the Second Lebanon War, the IDF has improved in all three of these areas, but many Israeli observers contend that it is still far from its past level of proficiency.

Another possible lesson of the war in Ukraine is that while new technologies are very useful, they are not wonder-weapons that transcend veteran principles of warfare. Cyber offensives can be countered by cyber defense, redundancy, and alternate non-cyber-dependent equipment; massed use of remotely piloted aircraft can be countered by new anti-aircraft weapons and new electronic warfare equipment; and while precision fire is efficient, it does not provide everything ground forces need from their fire support. Though the rival armies in Ukraine might be somewhat deficient in precision fire, it has not proven a total game-changer, and older fire and maneuver weapons are still providing essential capabilities. The lesson for the IDF is that it has moved too fast and too far in reducing its arsenal of tanks and statistical artillery (both guns and mortars).

A third lesson is that troop numbers still count. True combat power amounts to a multiplication of quantity by quality and the will to fight. This means that the massive reduction in IDF reserve ground combat units might leave it with insufficient forces to conduct high-intensity operations–especially if a high-intensity war involves more than one front and continues for many weeks or months rather than the days or few weeks of the past. Furthermore, given that the new technologies are extremely expensive and the older technologies have proven to still provide worthwhile and essential capabilities, it is not necessary to provide every unit in the large IDF with all the latest technology. Certain new technologies might be more important than others. If some are allocated to less fully equipped units (for example, the basic active anti-missile protection system for armored vehicles), the total difference in combat capability would prove less dramatic than previously believed.

A vital lesson is the need to provide robustness and redundancy in communications. A military unit exists only if it has effective and stable communications between its component sub-units. Otherwise it is just a collection of soldiers and equipment functioning independently according to individual estimates of the situation and combative spirit.

The IDF has been computerizing its communications more and more in an attempt to create a networked force. If successful, this new technology will dramatically speed up the transfer of reports and commands, creating rapid responses with fire or maneuver to every new situation or target. However, this technology is also more susceptible to electronic and cyber attack and is also less mobile. The Ukrainian computerized command and control system was disrupted by a Russian cyber attack on the first day of the war. However, Kyiv had prepared for this eventuality by maintaining older systems that were less susceptible to such interference. This enabled the Ukrainian army to continue to function effectively, if less efficiently.

[1] Any serious perusal of the history of warfare shows that the vast majority of wars have always been low-intensity – i.e., focused on guerrilla and terror strategies and tactics. The so-called "new wars" are in fact the oldest and most common type of warfare and have existed ever since humans began to fight each other.

[2] According to public figures, over the past two decades the IDF has discarded most of its tanks and artillery and shut down a large number of formations.

[3] In the words of one Ukrainian senior officer: "Anti-tank missiles slowed the Russians down, but what killed them was our artillery. That was what broke their units."
Here's the link to the full pdf. There's much more really interesting stuff there. Stuff being a technical term…
That's enough for tonight.
Your daily Patron!
A new video from Patron's official TikTok!
Open thread!