Last night, the Journal of Health Economics published our recently accepted article on zero premium effects in the ACA individual health insurance markets.  Coleman Drake was the lead driver of this project, and I had the pleasure of working again with Sih-Ting Cai and learning a lot from Dan Sacks.  We asked a very simple question — does seeing a zero premium plan change plan choices and enrollment choices?
Coleman and I had first started thinking about this idea in November 2018 due to a Balloon Juice post on Oklahoma's weird pricing configurations in twelve counties — gold plans were free.  Our first crack at the problem used county level enrollment and pricing data to get a directional estimate.  We published in Health Affairs a study that estimated a 14% gain in enrollment for households earning between 151-200% FPL group. We did not detect changes outside of that income bad.  A Harvard team using Massachusetts data found that zero premium plans were really important for renewal and retention.  However we did not know what was happening at the household level.
Thankfully, the National Institute of Health Care Management  (NIHCM), funded Coleman and I to get data from Connect for Health Colorado and Ideon to examine what happens when people are just exposed to zero premium plans or just missed being exposed to zero premium plans.  We wanted to use Colorado as they were both happy to share data and there were a lot of policy changes that created a lot of variation in exposure as they went from normal CSR payment, to Broad Loading in 2018 to Silver Loading in 2019-present.
We used a technique called regression discontinuity.  We estimated the net of subsidy premium everyone faced.  We made a well supported assumption that net premiums varied among relatively similar people as if it was mostly random-ish.  We assume that people whose cheapest plan was (before truncation) negative one dollar looked a lot like people whose cheapest plan was $1.  We basically compare the outcomes of people whose cheapest plans were just under $0 and people whose plans were just over $0.  We're not looking at people and their choices when their cheapest plans were -$100 or whose cheapest plans were $100 or $300 a month.  We're looking at a very localized effect estimate.
So what did we find?
We did not find substantial differences in what plans people chose when they saw a zero premium plan.

Zero price is not particurly special
Lots of people choose zero only because lots of people choose the cheapest plan possible

We did not find substantial differences in the characteristics of plans chosen
We do find a lot more covered days

Most of this gain is from coverage starting on January 1st for zero premium buyers
This was the big finding for us.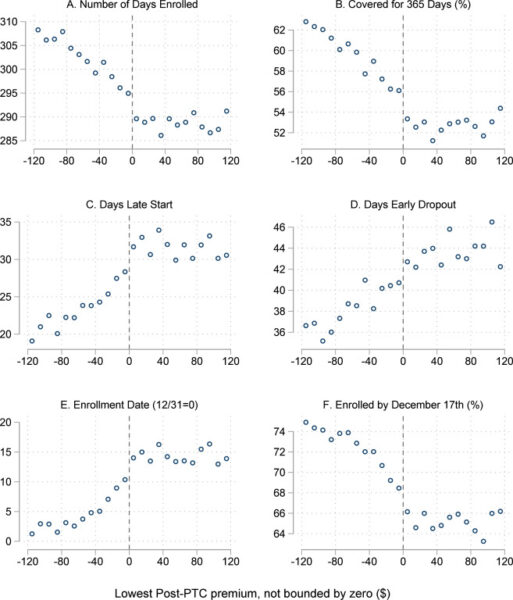 We found a notable change in the percentage of people who had 365 days of coverage (full year coverage) at the zero premium cut-off.  We found less mid-year drop-out as well.  We found substantial differences in the probability of enrollment by December 17th.  The effect was strong for lower income enrollees.  This was the key oddity that made us go hmmmmm….
Our original hypothesis was that zero was fundamentally weird and special.  It is but not in the way that we thought.  What makes zero special is that it substantially reduces transaction costs.  People who want to be insured have to pick a plan, make the initial payment and then start the plan.  Zero eliminates the middle step.
We think that we did not detect an enrollment effect in Colorado because Colorado always had an open enrollment period that always extended into January.  People who made a mistake in December in not setting up a payment had a second chance in January.  This was not the case in periods of time of the Healthcare.gov data set that we had used for the initial aggregate effect estimate in Health Affairs.  In that situation, there were not always a second chance to correct a mistake.
Administrative burden is big and it is real and it keeps some people who want to be insured from being insured.