Just a few fun tidbits I've gathered the past week. (Just a note, this was all supposed to run yesterday, but breaking news pushed it to another day).
Put him down he's the pilot. https://t.co/UeS4o3z3VW

— cats with jobs (@CatWorkers) March 18, 2023
The entire thread was a great mood lifter (can't be said about much of twitter these days)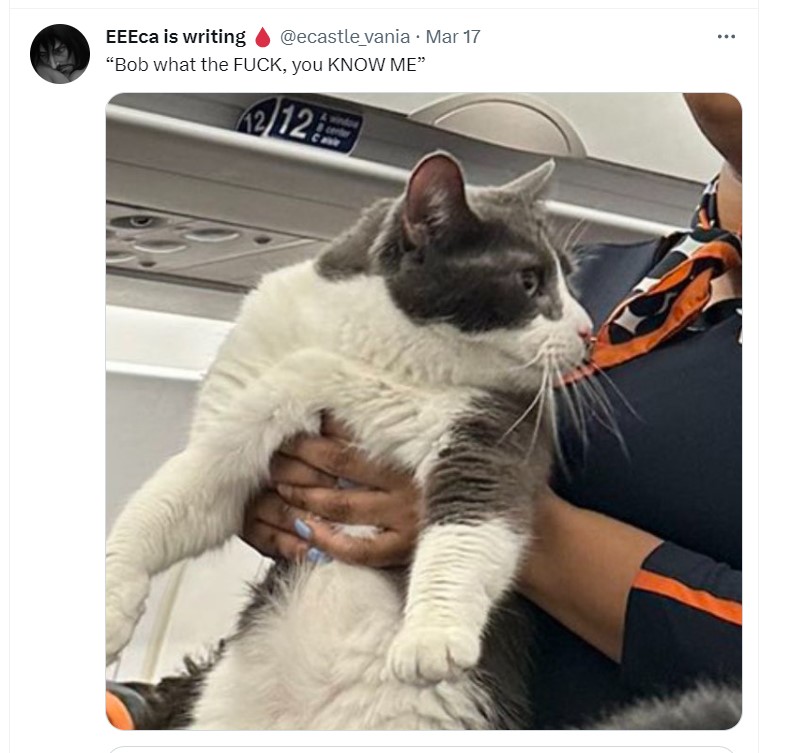 Yes Brian is a big boy, 19lbs! https://t.co/YaRgZCeXMI pic.twitter.com/9molrm2FAs

— Alexis (@prof_goddess) March 18, 2023
Brian definitely has resting annoyed-face.
He's doing great! :) My partner & I travel with him in a cat-backpack and the bottom flap isn't very secure. So Brian (pictured) mustve nudged it open while we were asleep pic.twitter.com/ttEA0oideq

— Alexis (@prof_goddess) March 18, 2023
=======================
Loved this and so appropriate on opening day: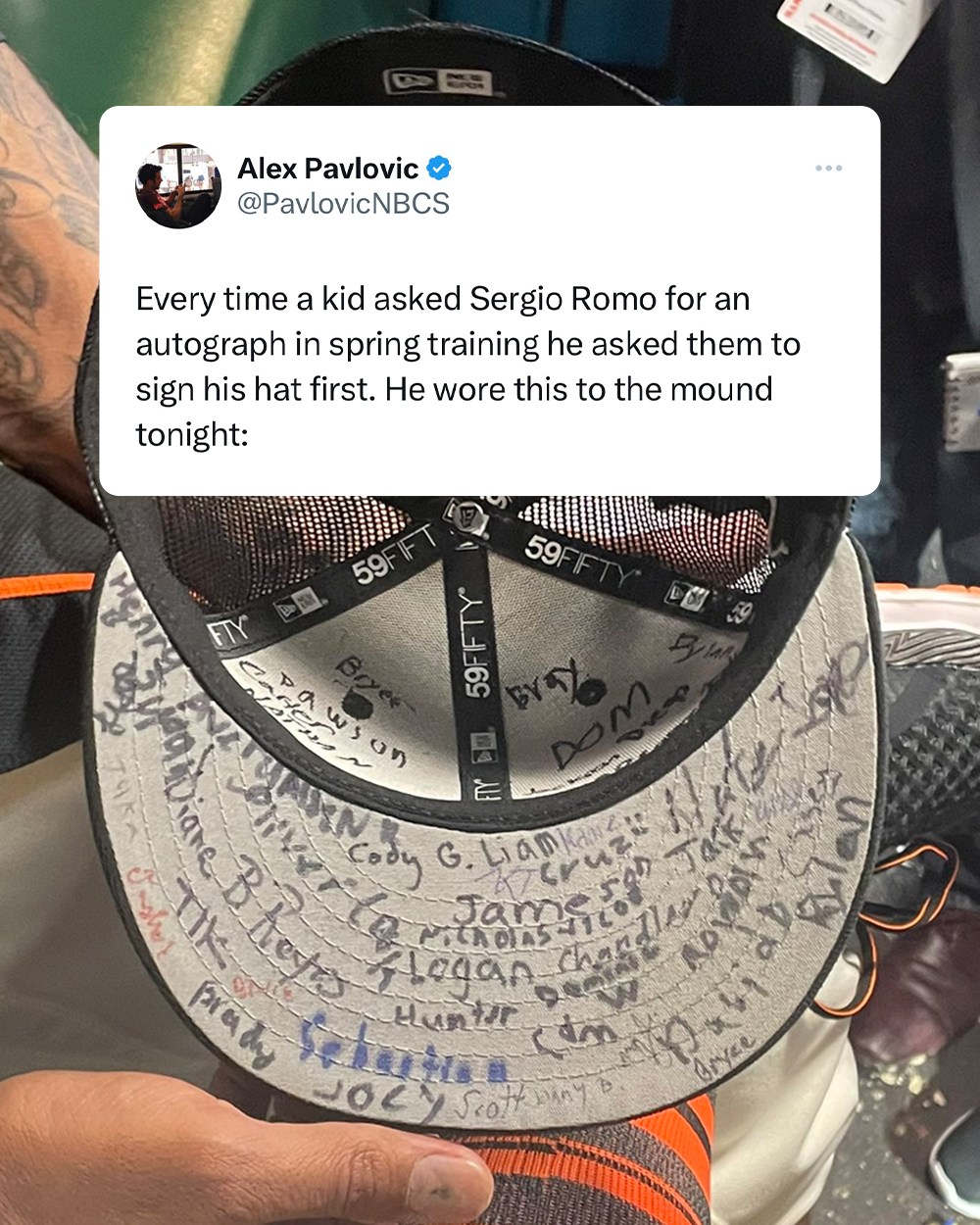 Reading some of the comments, it sounds like this is quite a minor league tradition – a lot of adults still have fond memories of this from their childhoods.
====================
Such a cat thing.
My brother just moved to a new apartment and his neighbour's cat keeps barging right in like he owns the place pic.twitter.com/AG1DIZAQC8

— Sofia Ajram (@SofiaAjram) March 9, 2023
I'm not fond of wandering cats, but some cats cannot be contained. I dropped a friend off last night and there, waiting for her, was the neighborhood cat, waiting to tell her that her husband had not given him his treats yet. Or maybe he had and this big boy was trying to scam some more treats – we had toyed with kidnapping this beautiful boy – but his owners have tried everything to keep him inside and he is constantly sneaking out – so all the neighbors look out after him.
=================
I learned so much from this. I didn't know that if the egg sack had detached from seaweed, they usually don't survive.

"I just wanted them a little bit long but they really shouldn't be a pet for people"
Direct link to video if you can't see it.  Youtube link to another version here. 
=====================
More saving sealife:
====================
Rusty sent this to me a while ago and this seems like the perfect thread to share it:
Why are people throwing Puffins off of cliffs? 
Watching thousands of baby puffins being tossed off a cliff is perfectly normal for the people of Iceland's Westman Islands.

This yearly tradition is what's known as "puffling season" and the practice is a crucial, life-saving endeavor.

The chicks of Atlantic puffins, or pufflings, hatch in burrows on high sea cliffs. When they're ready to fledge, they fly from their colony and spend several years at sea until they return to land to breed, according to Audubon Project Puffin.

Pufflings have historically found the ocean by following the light of the moon, digital creator Kyana Sue Powers told NPR over a video call from Iceland. Now, city lights lead the birds astray.
================================
And finally, loved this story about girls competing in wrestling and the benefits of this sport:
I have no animal photos for you today – I suppose I could have put the bunny ears on the Danes – but they are still upset with me for being out well after midnight last night ( I saw 1776 last night) and then diving right into work today without so much as an apology, LOL.
And today, I got to spend it with a friend, searching for a kitty edition to their crew. Nothing like snuggling a bunch of kittehs looking for the purrrrfect one for someone else. Including an 18+lb, I believe Norwegian Forest cat – hard to be sure because his paw was wrapped around his face – but he was the biggest cat I have ever, ever seen. He spilled over the cat tree he was snoozing upon. He wasn't even processed yet and had 3 holds.
It was a nice distraction – I lost one of my uncles this week and really feeling it (I have a LOT of aunts and uncles, and sometimes it feels like they leave us – too soon – in quick succession).
ETA: they decided to adopt this one!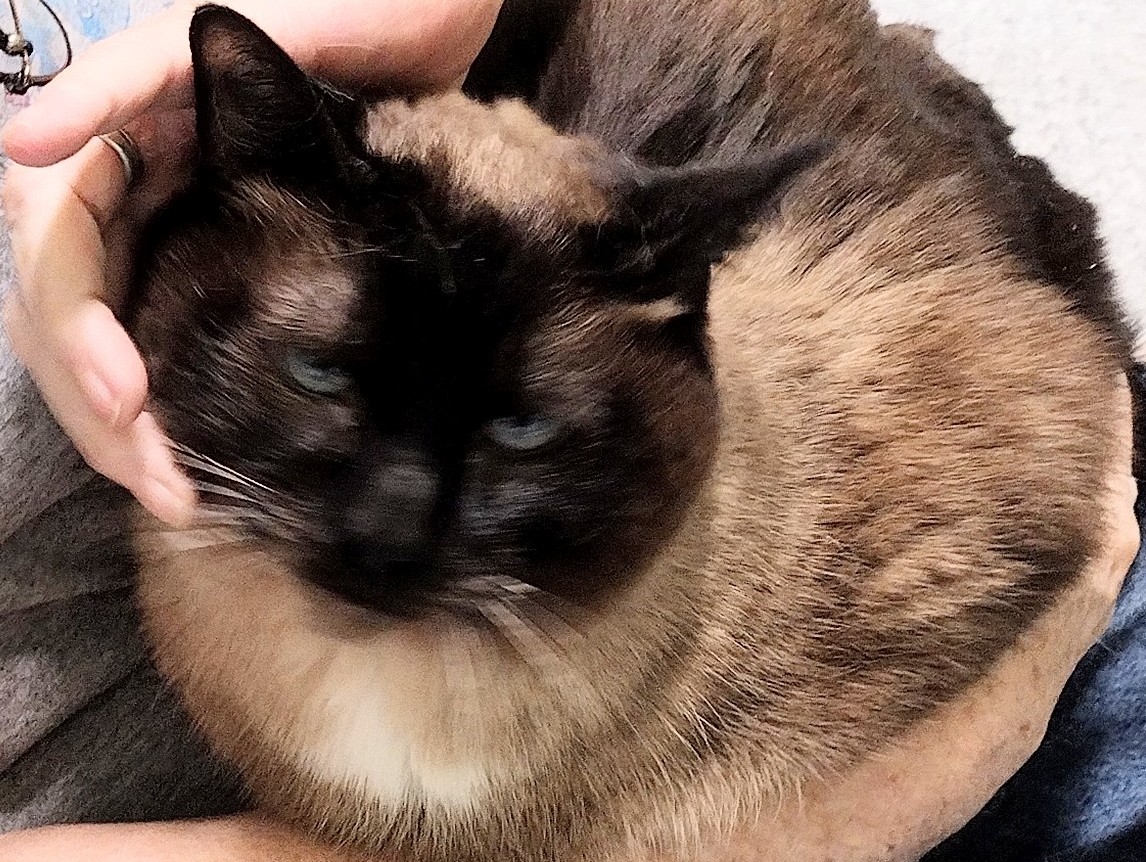 She's a five-year-old blue-eyed long-haired Siamese. Very shy, but super cuddly. And I suspect once she's settled will be quite the talker. She will be a big sis to Frank.
This is a good news open thread! Share some good news stories, discuss pets or other diversions. I think we can all use a little respite from the onslaught this past week.