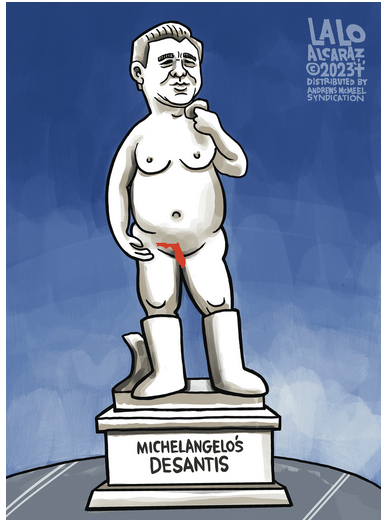 How did freedom-loving Florida fall for an authoritarian governor? @helenlewis traveled from England to Ron DeSantis's magic kingdom in search of an answer. https://t.co/1yOGpIUPeX

— The Atlantic (@TheAtlantic) March 28, 2023
A view from elsewhere — longish, but it's the weekend:
… Internet memes sometimes refer to Florida as "the America of America," but to a Brit like me, it's more like the Australia of America: The wildlife is trying to kill you, the weather is trying to kill you, and the people retain a pioneer spirit, even when their roughest expedition is to the 18th hole. Florida's place in the national mythology is as America's pulsing id, a vision of life without the necessary restriction of shame. Chroniclers talk about its seasonless strangeness; the public meltdowns of its oddest residents; how retired CIA operatives, Mafia informants, and Jair Bolsonaro can be reborn there. "Whatever you're doing dishonestly up north, you can do it in a much warmer climate with less regulation down here," said the novelist Carl Hiaasen, who wrote about the weirder side of Florida for the Miami Herald from 1976 until his retirement in 2021.

But under the memes and jokes, the state is also making an argument to the rest of the world about what freedom looks like, how life should be organized, and how politics should be done. This is clear even from Britain, a place characterized by drizzle and self-deprecation, the anti-Florida.

What was once the narrowest swing state has come to embody an emotional new strain of conservatism. "The general Republican mindset now is about grievances against condescending elites," Michael Grunwald, the Miami-based author of The Swamp, told me, "and it fits with the sense that 'we're Florida Man; everyone makes fun of us.' " But criticism doesn't faze Florida men; it emboldens them.

It is no coincidence that the two leading contenders for the Republican nomination both have their base in Florida. In one corner, you have Donald Trump, who retired, sulking, from the presidency to his "Winter White House" at Mar-a-Lago, in Palm Beach. (When Trump entered the 2024 presidential race, the formerly supportive New York Post jeered at him with the front-page headline "Florida Man Makes Announcement" before relegating the news story to page 26.)

In the other corner stands the state's current governor, Ron DeSantis, raised in the Gulf Coast town of Dunedin, a man desperately trying to conceal his attendance at the elite institutions of Harvard and Yale under lashings of bronzer and highly choreographed outrages. In his speeches, the governor likes to boast that "Florida is where 'woke' goes to die." In his 2022 campaign videos, he styled himself as a Top Gun pilot and possibly even Jesus himself. You couldn't get away with that in Massachusetts…

For so many who choose to live here, arriving in Florida feels like a relief: a liberation from cold winters, from COVID mandates, from the paralyzing fear of political correctness, from the warnings of climatologists and guilt trips by Greta Thunberg. "This is an irresponsible place," Grunwald told me—a counterweight to Plymouth Rock and the puritanism of the Northeast. When I drove across the border into Georgia, a battery of signs greeted me, warning against speeding and littering, as if to say: Look, we're relaxed here, but not Florida relaxed. In freedom-loving Florida, you presume, every warning and restriction has been reluctantly imposed in response to a highly specific problem. (Exhibit A, the hotel swimming-pool sign: No swimming with diarrhea.)…
Any serious consideration of DeSantis inevitably runs headlong into his lack of charisma. Can you win the presidency without being able to make small talk? The Republican donor class is very keen to lubricate his path to power, but they worry he can't schmooze and flatter as well as he bullies and schemes. He has courted partisan YouTubers and talk-radio hosts, but throughout his reelection campaign last year, he did not grant a sit-down interview to any mainstream publication, and declined to cooperate with profiles in The New Yorker, the Financial Times, and The New York Times. His press team specializes in insults that read as though ChatGPT has been trained on Trump speeches—gratuitous, yet somehow bloodless. (Asked to respond to fact-checking queries for this article, DeSantis's press secretary, Bryan Griffin, replied by email: "You aren't interested in the truth; this is just yet another worthless Atlantic editorial.")…

Buoyed by Trump's blessing and the support of right-wing media, DeSantis won Florida's Republican primary for governor in August 2018 by 20 points. Two months later, he went on to win the general election by just 32,463 votes. In The Courage to Be Free, he recalls asking his transition team to draw up an "exhaustive list of all the constitutional, statutory, and customary powers of the governor. I wanted to be sure that I was using every lever available to advance our priorities." If DeSantis ever sits behind the Resolute Desk, you can bet he'll do more than order Diet Cokes and compulsively check Twitter…

At 44, DeSantis represents a new generation of Republicans who have learned to speak Rumble—the unmoderated alternative to YouTube—as well as fluent Fox. He knows which of his actions to shout about, and which ones are better smothered in boredom. At a flashy press conference on April 19, 2021, for example, DeSantis surrounded himself with cops to sign the Combating Public Disorder Act, which was presented as taming the excesses of the Black Lives Matter movement but—according to Jason Garcia, a former Orlando Sentinel investigative reporter who now runs a Substack called Seeking Rents—gave police extra power to quell dissent and civil disobedience more generally. That was a moment worth staging for applause by the Blue Lives Matter contingent. By contrast, the governor waited until just before midnight the same day to approve Senate Bill 50, a blandly worded law that collects sales tax from online shoppers while giving tax breaks to Florida businesses. The difference between the splashy staging of the anti-riot bill and the quiet enactment of S.B. 50 "illustrates DeSantis to me so perfectly," Garcia said. "He's a governor that is masterful at driving these angry social-war fights that divide people, then turning around and governing like a pro-corporate Republican."…

Nothing is more damning of the modern Republican Party than the fact that DeSantis needs to flaunt his authoritarianism, anti-intellectualism, and casual cruelty to court its base. Even then, the routine falls flat. DeSantis lacks the weirdness, effervescence, and recklessness that makes his home state so compelling. A true Florida Man does not master bureaucracy and use his powers of patronage to reshape institutions in his image. A true Florida Man does not make the trains run on time. A true Florida Man tries to soup up his boat with a nitro exhaust and accidentally burns down the illegal tiki bar he built in his backyard. Some are born Florida Men, some achieve Florida Manhood, and some have Florida Manhood thrust upon them by the demands of right-wing politics.
if they wanted competent authoritarian leadership, they wouldn't have gotten behind trump in the first place, that's not what they're here for, they're here for the show, and desantis is not a showman

— GOLIKEHELLMACHINE (@golikehellmachi) March 27, 2023