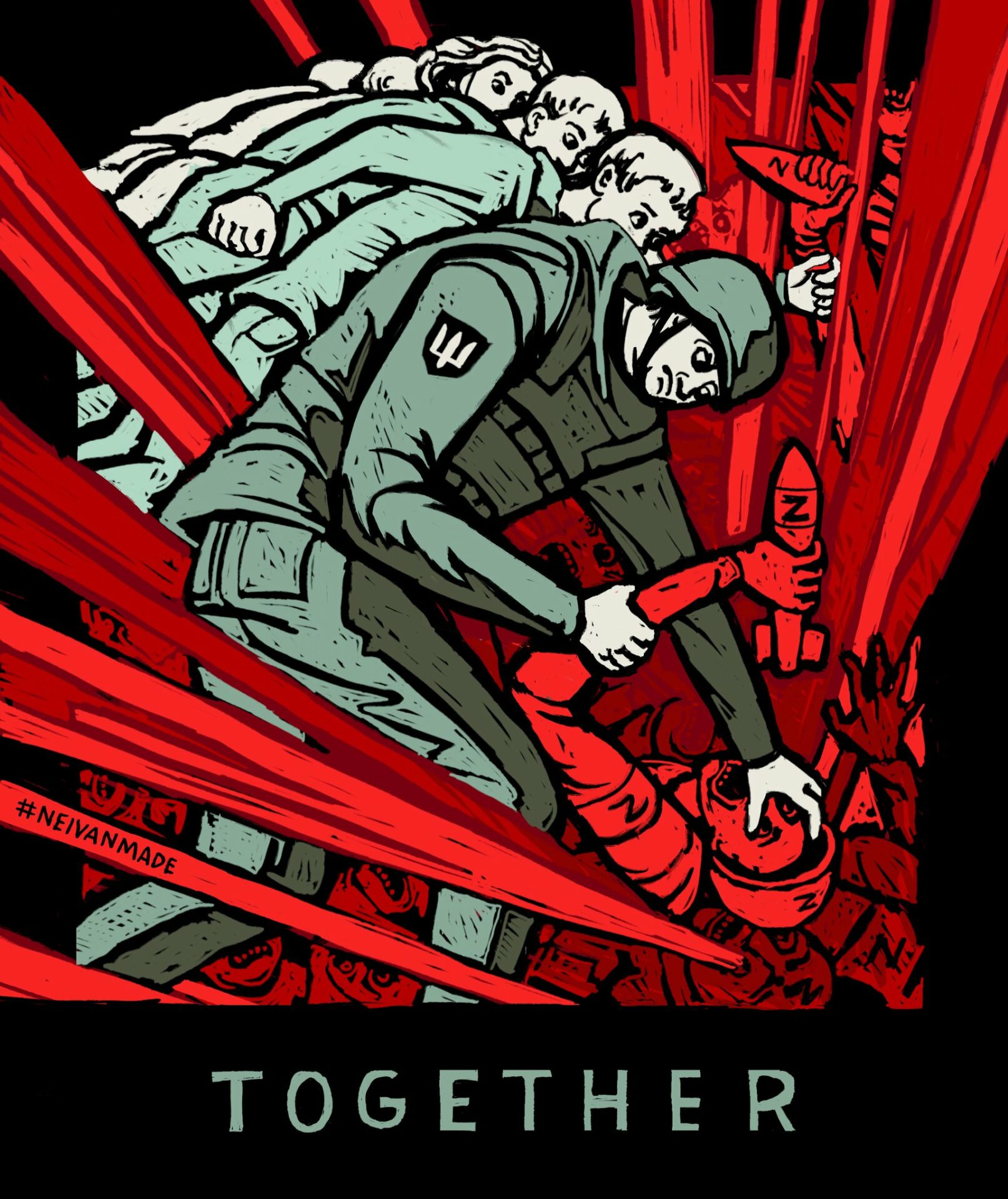 (Image by NEIVANMADE)
Here is President Zelenskyy's address from earlier today. Video below, English transcript after the jump:
Today, the terrorist state began to chair the UN Security Council, and yesterday the Russian army killed another Ukrainian child – address of President Volodymyr Zelenskyy

1 April 2023 – 20:02

Dear Ukrainians, I wish you health!

I signed two decrees on sanctions against those who work for Russian aggression.

These are officials of the aggressor state, its defense industry – hundreds of companies – and collaborators. It is about more than 650 newly sanctioned persons.

The NSDC will continue this work. And none of those who help terrorists, work for them, supply or manufacture weapons for terror – none will escape liability.

The blocking of accomplices of terror, the isolation of the terrorist state, its defeat, and trials are what await all those who started and are waging war against Ukraine and the international order.

By the way, this week Switzerland joined the tenth sanctions package of the European Union.

It is important when the states that are neutral in the military-political sense nevertheless take a clear moral position towards Russian terror, towards Russia's destruction of the global order based on rules.

Only in unity can we preserve peace as the basis of international relations, and I thank Switzerland for the relevant decisions.

I spoke today with President of France Emmanuel Macron. In detail, one hour. About the situation at the front, our political interaction, about how we are moving in implementing the Ukrainian Peace Formula. Thank you, France for your unwavering support.

In general, the week brought a number of positive news for Ukraine, for our defense, and for defending the regular life of all free nations.
Within the framework of the OSCE, work on the first separate international report, which will be dedicated to Russia's forced deportation of Ukrainian children and attempts to assimilate our children, began.

This crime committed by Russia is one of the most cynical and anti-human crimes of our time.

Russia commits it systematically and calculates it, at the state level. Accountability for it will be systemic too. Accountability of Russia as a state and everyone involved.

Thanks to Germany for the new steps in defense support that were taken this week.

Thanks to Croatia for another defense support package. Thanks to North Macedonia for the decision on helicopters. Thanks to Slovakia, Slovenia.

Thank you to Canada for the financial support, the funds have already arrived in the state budget of Ukraine.

Thanks to the IMF for the new programme for Ukraine. The programme is approved. The size is more than $15 billion. This will help us preserve social stability.

Unfortunately, we also have news that is obviously absurd and destructive. Today, the terrorist state began to chair the UN Security Council.

Yesterday, the Russian army killed another Ukrainian child – a five-month-old boy named Danylo. From Avdiyivka, in Donbas, together with his parents who were injured. Russian artillery… One of the hundreds of artillery strikes that the terrorist state launches every day.
And at the same time, Russia chairs the UN Security Council.

It is hard to imagine something evident that proves the complete bankruptcy of such institutions…

There is no such form of terror that has not yet been committed by Russia. And there will be no such reason that will stop the reform of global institutions, in particular, the UN Security Council. The reform that is clearly overdue – so that a terrorist state and any other state that wants to be a terrorist cannot disrupt the peace.

Terrorists must lose, must be held accountable for terror, and not preside anywhere.

Glory to all who are now in battle!

I thank everyone who helps Ukraine. Who defends the international order based on rules! Thank you to everyone who saves and helps save our people after being injured by Russian shelling!

Eternal memory to all adults and children whose lives were taken by the terror of Russia!

Glory to Ukraine!
Here is a machine translation of the latest operational update from the Ukrainian MOD:
Here is former NAVDEVGRU Squadron Leader Chuck Pfarrer's latest assessments of the situations in Bakhmut:
NOTE: The previous city map posted ay 2125 UTC 1 APL did not display an accurate depiction of the 'zero line' in S Bakhmut. Though the line of contact is variously reported, this inset shows the Foward Edge of the Battle Area based on latest reports. Updates will follow. pic.twitter.com/vtAD7cn14d

— Chuck Pfarrer | Indications & Warnings | (@ChuckPfarrer) April 1, 2023
BAKHMUT CITY /1315 UTC 1 APL/ The 0600 report : 'Bakhmut axis: the enemy does not stop storming the city of Bakhmut, trying to take it under complete control". UKR Lines of Communication & Supply are functioning, but RU is registering gains in heavy and costly urban fighting. pic.twitter.com/gRb174jQin

— Chuck Pfarrer | Indications & Warnings | (@ChuckPfarrer) April 1, 2023
Bakhmut:
It's snowing in Bakhmut.

🎥 @operativno_ZSU pic.twitter.com/9rjEaavw4r

— Defense of Ukraine (@DefenceU) April 1, 2023
🇺🇦👊🏻
The defense for #Bakhmut is unstoppable🔥🔥

📽 April 1, 2023 pic.twitter.com/5kWR7m6Vpz

— АЗОВ South (@Azovsouth) April 1, 2023
Tochka-U on Russian positions inside AZOM, northern Bakhmut. pic.twitter.com/1Kjk26th5P

— NOËL 🇪🇺 🇺🇦 (@NOELreports) April 1, 2023
Vuhledar:
Russian incendiary strikes on Vuhledar. Horrible munition that can burn everything it finds in its way. pic.twitter.com/ESnaz5G61z

— NOËL 🇪🇺 🇺🇦 (@NOELreports) April 1, 2023
Avdiivka:
The 36th Marine Brigade, first class heroes that are kicking *ss in Avdiivka environment are clearing enemy trenches. Brave warriors. pic.twitter.com/cgA38tIJwe

— NOËL 🇪🇺 🇺🇦 (@NOELreports) April 1, 2023
– I'm not going anywhere! I am NOT going anywhere.
– You endanger the life of your husband, baby and your own only for a house!
– That's right. Because I built it myself!
– It's just bricks. You can build another one.
– I will not go anywhere, that's it.

— Maria Avdeeva (@maria_avdv) April 1, 2023
Here is the third part of the Ukrainian officer serving in/near Vuhledar who tweets as Tatarigami's analysis of how the US and NATO have not fully committed to support Ukraine and that the Ukrainian military is not properly organized. First tweet below, then the rest from the Thread Reader App:
Thread🧵

1/ It is my belief that NATO and the US have not fully committed to stop russia in Ukraine. However, there are areas within our own military that require attention. As discussed in Part I, I will reference an article by Glen Grant to discuss these issues pic.twitter.com/L65qr6SU6D

— Tatarigami_UA (@Tatarigami_UA) April 1, 2023
2/ 

Glen suggests that a priority policy should be implemented to replace all military personnel who are not performing frontline tasks with civilians who have comparable or better related skills. Additionally, the use of TrO volunteers should be considered. 

3/ 

In some cases, commanders have been selected through nepotism or connections rather than their performance and results. This is a concerning issue that needs to be addressed immediately to ensure that the most qualified individuals are appointed to leadership positions. 

4/ 

It is imperative to establish a policy that streamlines the identification process of potential commanders for promotion and simultaneously identifies those who are unsuitable for command. 

5/ 

A fundamental area that requires urgent action is collective training. It is crucial for units to receive collective training to improve their skills and ensure that they can work effectively as a team. 

6/ 

In larger NATO countries, collective training is regularly conducted at battalion and brigade levels and even at the division level during major exercises. Lessons learned from the front line should be passed on to every soldier and instructor to improve their training. 

7/ 

Staff appointments such as Chief J7 (Training) should not make command decisions about training requirements. Commanders should only be appointed to command operations or to command the creation and training of units for operations. 

8/ 

The lack of standardization across the Ukrainian army is a significant problem that hinders successful operations. The mix of the Soviet system, NATO standards, and improvisation has led to chaos. It is essential to establish a unified system. 

9/ 

The reliance on Ukroboronprom to produce defence weapons has resulted in a monopolistic system that is not perfectly suitable for war. It has proven to be slow in delivering the necessary weapons and equipment. 

10/ 

The military medical system has major weaknesses. Uncoordinated training for soldiers in battlefield medicine, and poor policies at the national level for supporting and funding the seriously injured or those needing basic medical drugs. 

11/ 

It is crucial to have an officer in each unit who is not in the battle space and can assist with necessary documentation for families when a partner dies or is critically injured. 

12/ 

In order to ensure a streamlined logistics process, each area must have a dedicated logistics hub, that ensures that no brigade has to reach back more than one hour's drive to obtain what they require. 

13/ 

In instances where extreme distances are involved, the logistics "socket" should be extended to bring the required supplies closer to the unit. The logistics power socket should encompass the essential elements of combat supply 

14/ 

including medical supply and evacuation, unit combat supplies such as food, fuel, ammunition, batteries, vehicle spares, and drones, personal equipment of all types through digital registration 

15/ 

reach-back ability for technical equipment for replacement and repair such as phones, computers, and radios, and forward maintenance of all soft-skin and armored vehicles up to engine and barrel changes, and minor body repair, 

16/ 

In addition to the insightful observations made by Glen Grant, I would like to contribute my own observations regarding the current state of Ukraine's military organization. It is important to note that Ukraine's highest organizational unit is the brigade, 

17/ 

as it does not have standing armies or divisions. However, there exist de facto "territorial" organizational units that coordinate the actions of multiple brigades. While these units may function like divisions in some ways, they lack a proper division structure 

18/ 

and their assigned officers are typically temporary. In comparison, division or an army has a clearly defined structure that operates as a single mechanism with clearly defined duties and responsibilities. 

19/ 

In my forthcoming conclusion thread, I intend to provide a summary of the pressing concerns that require attention. In my view, merely seeking assistance from our allies is insufficient; it is imperative that we undertake internal changes to preserve the lives of our soldiers 
Full version of the article by Glen Grant that I am referring to can be located here: https://t.co/tYaUCu8UNr

— Tatarigami_UA (@Tatarigami_UA) April 1, 2023
The first post is here, one addendum to it is here and another here, the second thread is here.
He also brings us news of Wagner's latest war crime:
Thread🧵

1/ A well-known pro-Russian channel called "Поздняков 3.0" with over 240,000 subscribers recently uploaded a video that allegedly shows members of the "Wagner" group torturing a man who is tied up. pic.twitter.com/y5GiJFamhv

— Tatarigami_UA (@Tatarigami_UA) April 1, 2023
3/ The man appears to be semi-conscious and is being held by another masked individual while a third person plays the violin next to him. The act of playing the violin is a reference to the Wagner group, who are often referred to as "musicians."

— Tatarigami_UA (@Tatarigami_UA) April 1, 2023
5/ It is worth noting that many of the emojis posted in response to the video appear to approve such a behavior. It also should be noted that the authenticity of the video has not yet been confirmed and efforts are being made to identify the man in the video.

— Tatarigami_UA (@Tatarigami_UA) April 1, 2023
I thought some of you might find this interesting:
The chart below shows how control of the country has developed each month over the course of the war.

Prior to the invasion on 24th February 2022, Russia occupied approximately 6.45% of Ukraine. pic.twitter.com/sw46qxZciR

— War Mapper (@War_Mapper) April 1, 2023
A final graph highlighting the net changes to control each month. pic.twitter.com/qhrk7d9VJP

— War Mapper (@War_Mapper) April 1, 2023
Aerobatics from our MiG-29 pilot ✈️🇺🇦 pic.twitter.com/k3FBDNN6F5

— Ukrainian Air Force (@KpsZSU) April 1, 2023
Putin has signed a new foreign policy concept for the Russian Federation. Here's some machine translated excerpts. And yes, it is as delusional as you might expect:
4. More than a thousand years of experience of independent statehood, the cultural heritage of the previous era, deep historical ties with traditional European culture and other cultures of Eurasia, the ability developed over many centuries to ensure the harmonious coexistence of various peoples, ethnic, religious and linguistic groups on a common territory determine the special position of Russia as an original state-civilization, a vast Eurasian and Euro-Pacific power that rallied the Russian people and other peoples that make up the cultural and civilizational community of the Russian world.

5. The place of Russia in the world is determined by the presence of significant resources in all spheres of life, its status as a permanent member of the United Nations Security Council (UN), a member of leading interstate organizations and associations, one of the two largest nuclear powers, a successor state (successor) Union of the SSR. Russia, taking into account its decisive contribution to the victory in World War II, as well as its active role in the creation of a modern system of international relations and the elimination of the world system of colonialism, acts as one of the sovereign centers of world development and fulfills a historically unique mission to maintain a global balance of power and build multipolar international system, ensuring the conditions for a peaceful,

6. Russia is pursuing an independent and multi-vector foreign policy course dictated by its national interests and awareness of its special responsibility for maintaining peace and security at the global and regional levels. Russia's foreign policy is peaceful, open, predictable, consistent, pragmatic, based on respect for the universally recognized principles and norms of international law and the desire for equal international cooperation in order to solve common problems and promote common interests. Russia's attitude towards other states and interstate associations is determined by the constructive, neutral or unfriendly nature of their policy towards the Russian Federation.

II. The Modern World: Main Trends and Development Prospects

7. Humanity is going through an era of revolutionary change. The formation of a more just, multipolar world continues. The non-equilibrium model of world development, which for centuries ensured the outstripping economic growth of colonial powers by appropriating the resources of dependent territories and states in Asia, Africa and the Western Hemisphere, is irreversibly becoming a thing of the past. The sovereignty is being strengthened and the competitive opportunities of non-Western world powers and regional leaders are increasing. Structural restructuring of the world economy, its transfer to a new technological basis (including the introduction of artificial intelligence technologies, the latest information and communication, energy, biological technologies and nanotechnologies), the growth of national self-consciousness,

8. The ongoing, generally favorable, changes, however, cause rejection among a number of states, accustomed to thinking according to the logic of global domination and neo-colonialism. They refuse to recognize the realities of a multipolar world and, on this basis, to agree on the parameters and principles of the world order. Attempts are being made to restrain the natural course of history, eliminate competitors in the military-political and economic spheres, and suppress dissent. A wide range of illegal tools and methods are used, including the use of coercive measures (sanctions) bypassing the UN Security Council, provoking coups d'etat, armed conflicts, threats, blackmail, manipulation of the consciousness of certain social groups and entire nations, offensive and subversive operations in the information space. A common form of interference in the internal affairs of sovereign states has been the imposition of destructive neoliberal ideological attitudes that contradict traditional spiritual and moral values. As a result, the destructive impact extends to all spheres of international relations.

9. Serious pressure is being exerted on the UN and other multilateral institutions, whose purpose as platforms for coordinating the interests of the leading powers is artificially devalued. The international legal system is being tested for strength: a narrow group of states seeks to replace it with the concept of a world order based on rules (the imposition of rules, standards and norms in the development of which the equal participation of all interested states was not ensured). It becomes more difficult to develop collective responses to transnational challenges and threats, such as the illegal arms trade, the proliferation of weapons of mass destruction and their means of delivery, dangerous pathogens and infectious diseases, the use of information and communication technologies for illegal purposes, international terrorism, illicit trafficking in narcotic drugs, psychotropic substances and their precursors, transnational organized crime and corruption, natural disasters and man-made accidents, illegal migration, environmental degradation. There is a degradation of the culture of dialogue in the international sphere, the effectiveness of diplomacy as a means of peaceful settlement of disputes is declining. There is an acute shortage of trust and predictability in international affairs.

10. The crisis of economic globalization is intensifying. The existing problems, including in the energy market and in the financial sector, are caused by the degradation of many previous development models and instruments, irresponsible macroeconomic decisions (including uncontrolled emission and accumulation of unsecured debts), unlawful unilateral restrictive measures and unfair competition. The abuse of individual states by their dominant position in some areas increases the processes of fragmentation of the world economy and inequality in the development of states. New national and cross-border payment systems are spreading, interest in new international reserve currencies is growing, prerequisites are being formed for diversifying the mechanisms of international economic cooperation.

11. The role of the force factor in international relations is growing, and the conflict space is expanding in a number of strategically important regions. The destabilizing build-up and modernization of offensive military potentials, the destruction of the system of arms control treaties undermine strategic stability. The use of military force in violation of international law, the development of outer space and information space as new areas of military operations, the blurring of the line between military and non-military means of interstate confrontation, the aggravation of chronic armed conflicts in a number of regions increase the threat to global security, increase the risks of clashes between large states, in including those with the participation of nuclear powers, increase the likelihood of such conflicts escalating and escalating into local,

12. A natural response to the crisis of the world order is the strengthening of cooperation between states subject to external pressure. The formation of regional and trans-regional mechanisms for economic integration and interaction in various fields, the creation of multi-format partnerships to solve common problems is being activated. Other (including unilateral) steps are also being taken to protect vital national interests. The high level of interdependence, global scope and the transnational nature of challenges and threats limit the possibilities for ensuring the security, stability and prosperity of individual states, military-political and trade-economic unions.

13. Considering the strengthening of Russia as one of the leading centers of development of the modern world, considering its independent foreign policy a threat to Western hegemony, the United States of America (USA) and its satellites used the measures taken by the Russian Federation to protect their vital interests in the Ukrainian direction as a pretext for exacerbation of many years of anti-Russian policy and unleashed a new type of hybrid war. It is aimed at weakening Russia in every possible way, including undermining its creative civilizational role, power, economic and technological capabilities, limiting its sovereignty in foreign and domestic policy, and destroying territorial integrity. This course of the West has acquired a comprehensive character and is fixed at the doctrinal level. It was not the choice of the Russian Federation. Russia does not consider itself an enemy of the West, does not isolate itself from it, has no hostile intentions towards it, and expects that in the future the states belonging to the Western community will realize the futility of their confrontational policy and hegemonic ambitions, take into account the complex realities of a multipolar world and return to pragmatic interaction with Russia, guided by the principles of sovereign equality and respect for each other's interests. On this basis, the Russian Federation is ready for dialogue and cooperation. will take into account the complex realities of a multipolar world and return to pragmatic interaction with Russia, guided by the principles of sovereign equality and respect for each other's interests. On this basis, the Russian Federation is ready for dialogue and cooperation. will take into account the complex realities of a multipolar world and return to pragmatic interaction with Russia, guided by the principles of sovereign equality and respect for each other's interests. On this basis, the Russian Federation is ready for dialogue and cooperation.

14. In response to the unfriendly actions of the West, Russia intends to defend its right to existence and free development by all available means. The Russian Federation will concentrate its creative energy on the geographic vectors of its foreign policy, which have obvious prospects in terms of expanding mutually beneficial international cooperation. Most of humanity is interested in constructive relations with Russia and strengthening its position in the international arena as an influential world power making a decisive contribution to maintaining global security and ensuring the peaceful development of states. This opens up broad opportunities for the successful activities of the Russian Federation in the international arena.

IV. Priority directions of the foreign policy of the Russian Federation

Shaping a just and sustainable world order

18. Russia strives to form such a system of international relations that would ensure reliable security, preservation of cultural and civilizational identity, equal development opportunities for all states, regardless of their geographical location, size of territory, demographic, resource and military potentials, political, economic and social devices. In order to meet these criteria, the system of international relations must be multipolar and based on the following principles:

1) sovereign equality of states, respect for their right to choose models of development, social, political and economic structure;

2) rejection of hegemony in international affairs;

3) cooperation based on a balance of interests and mutual benefit;

4) non-interference in internal affairs;

5) the supremacy of international law in the regulation of international relations, the rejection of all states from the policy of double standards;

6) indivisibility of security in global and regional aspects;

7) the diversity of cultures, civilizations and models of organization of society, the refusal of all states to impose on other countries their development models, ideological and value orientations, reliance on a spiritual and moral guideline that is common to all world traditional religions and secular ethical systems;

8) responsible leadership of the leading states, aimed at ensuring stable and favorable conditions for development both for themselves and for other countries and peoples;

9) the leading role of sovereign states in making decisions in the field of maintaining international peace and security.

19. In order to facilitate the adaptation of the world order to the realities of a multipolar world, the Russian Federation intends to give priority attention to:

1) elimination of the vestiges of the dominance of the United States and other unfriendly states in world affairs, creating conditions for the rejection of any state from neo-colonial and hegemonic ambitions;

2) improvement of international mechanisms for ensuring security and development at the global and regional levels;

3) the restoration of the role of the UN as a central coordinating mechanism in coordinating the interests of the UN member states and their actions to achieve the goals of the UN Charter;

4) strengthening the potential and enhancing the international role of the BRICS interstate association, the Shanghai Cooperation Organization (SCO), the Commonwealth of Independent States (CIS), the Eurasian Economic Union (EAEU), the Collective Security Treaty Organization (CSTO), RIC (Russia, India, China) and other interstate associations and international organizations, as well as mechanisms with a significant participation of Russia;

5) support for regional and sub-regional integration within the framework of friendly multilateral institutions, dialogue platforms and regional associations in the Asia-Pacific region, Latin America, Africa and the Middle East;

6) increasing the stability and progressive development of the international legal system;

7) ensuring fair access for all states to the benefits of the world economy and the international division of labor, as well as to modern technologies in the interests of fair and equitable development (including solving the problems of global energy and food security);

8) intensifying cooperation in all spheres with Russia's allies and partners, suppressing attempts by unfriendly states to prevent such cooperation;

9) consolidation of international efforts aimed at ensuring respect and protection of universal and traditional spiritual and moral values ​​(including ethical norms common to all world religions), neutralizing attempts to impose pseudo-humanistic and other neoliberal ideological attitudes, leading to the loss of traditional spiritual and moral values ​​by humanity. moral guidelines and moral principles;

10) constructive dialogue, partnership and mutual enrichment of different cultures, religions and civilizations.

Rule of law in international relations

20. Ensuring the rule of law in international relations is one of the foundations of a just and sustainable world order, maintaining global stability, peaceful and fruitful cooperation between states and their associations, is a factor in reducing international tension and increasing the predictability of world development.

21. Russia consistently stands for the strengthening of the legal foundations of international relations and fulfills its international legal obligations in good faith. At the same time, decisions of interstate bodies adopted on the basis of the provisions of international treaties of the Russian Federation in their interpretation that contradicts the Constitution of the Russian Federation are not subject to execution in the Russian Federation.

22. The mechanism for the formation of universal international legal norms should be based on the free will of sovereign states, and the UN should remain the main platform for the progressive development and codification of international law. Further advancement of the concept of a world order based on rules is fraught with the destruction of the international legal system and other dangerous consequences for humanity.

23. In order to increase the stability of the international legal system, prevent its fragmentation and weakening, and prevent the selective application of generally recognized principles and norms of international law, the Russian Federation intends to give priority attention to:
There's a lot more at the link. It goes on and on and on and on like what I've copied and pasted above. If you feel the need click through and see for yourselves. I do, however, recommend using a good VPN.
That's enough for tonight.
Your daily Patron!
A new video from Patron's official TikTok:
Spa day!
Open thread!