Last week, JAMA Network Open published a new manuscript led by Graham Treasure which examined metal tier selection in the Affordable Care Act (ACA) by out of pocket spending and risk scores.  We used the 2019 Wakely risk adjustment database to describe the on and off exchange members who had a full year of data. We characterized 1.3 million unique individuals by their Hierarchical Condition Category (HCC) risk score and metal selection as well as by the Cost-Sharing Reduction (CSR) level that they are in.
Ideally we should see pretty aggressive sorting among the non-CSR tiers.  People with low risk should mostly be in Bronze plans, and people with higher levels of risk should be in Gold and Platinum plans.  This gets messier with CSR.  A lot of low risk people will be in CSR-94 and CSR-87 plans because those plans are comparatively affordable AND offer a lot of risk protection relative to lower premium plans.  The eligible groups for these CSR plans likely don't have a ton of assets nor income so risk protection is very valuable.
We mostly see this.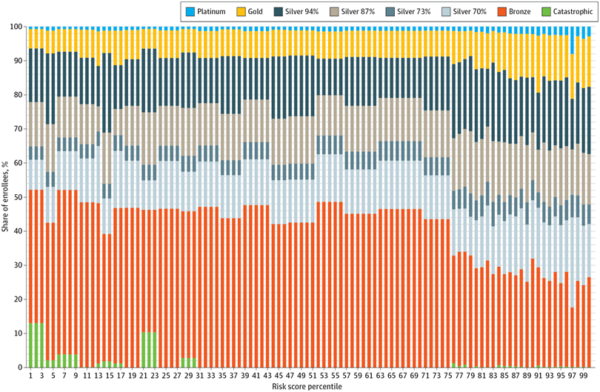 Around the 75% percentile is where the first coded condition that generates a risk score lies.  Below that percentile the risk score is made up of only demographic (age-sex) characteristics.  The lowest risk folks are 22 year old men with no diagnosis or prescription drug codes that trigger a score.  But at the 75th percentile where the first low level conditions are triggered, we see way less Bronze plans being bought.  We see a smidge more platinum, gold and silver being bought.  It is not inherently a wrong decision for someone with a high risk score to buy a Bronze plan.  The first scenario is they entered the year healthy and then got told really bad news mid-year which generated a massive risk score.  The second scenario is that they entered the year knowing they were likely to have huge medical expenses and a big risk score but a Bronze plan had the lowest total cost of premium and out of pocket expenses for a given network that they wanted.  But directionally, we're seeing choice that mostly makes sense-ish.
Now we also look at out of pocket (OOP) spending by risk score decile and plan selection: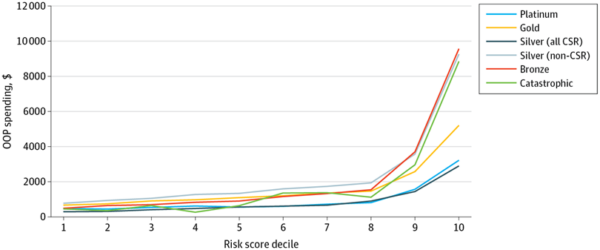 Again, we basically see what we expect.  Higher AV plans have lower OOP spending as risk increases.  Platinum and Silver CSR plans track pretty closely to each other (this is mostly CSR-94 and CSR-87 which are effectively Platinum Plus and Platinum Minus plan designs).  Gold matters only in the last decile.  Bronze, Catastrophic, and Silver (non-CSR) all look roughly alike.
This is the first of two fairly descriptive papers that we've published in the past week looking at the Wakely risk adjustment data.  We see patterns that we mostly expected to see.  I would think that the CSR to platinum lines would be even more similar in 2023 due to ARPA/IRA but the proliferation of zero premium Bronze might create incentives or reasons for people with risk scores that are both demographic AND medical risk to buy more Bronze plans.