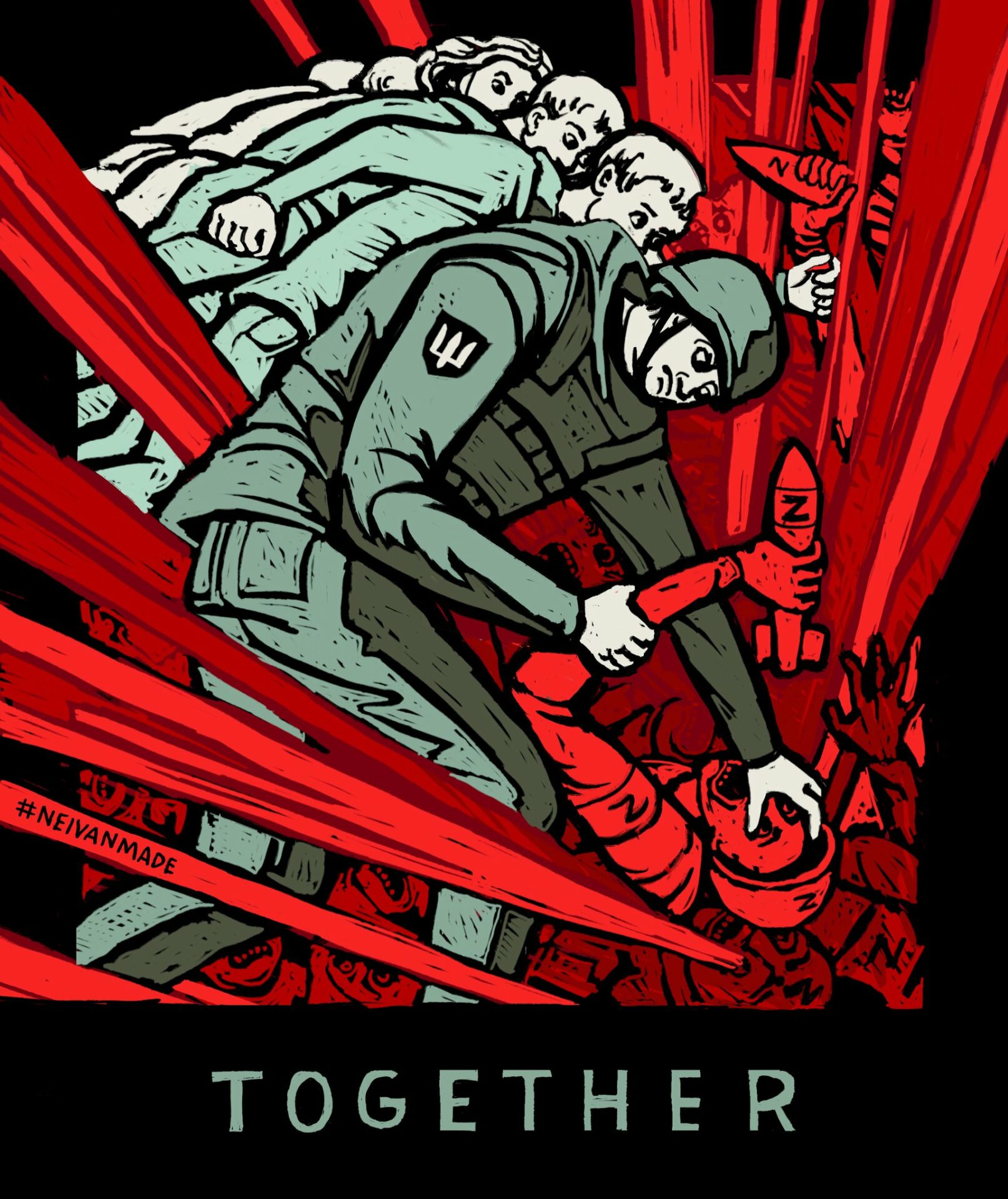 (Image by NEIVANMADE)
Quick housekeeping note: the answer to ReadWrite's question from last night will be the last thing I cover before we get to what you're all really here for – Patron!
President Zelenskyy made a trip to Chernihiv to visit wounded Soldiers recovering in a military hospital:
During a working trip to Chernihiv region, President Zelenskyy visited a military hospital and talked with defenders of Ukraine who are undergoing treatment after injuries they sustained during hostilities, in particular in the Donetsk region. pic.twitter.com/WBGGwt2zsF

— Oriannalyla 🇺🇦 (@Lyla_lilas) April 3, 2023
And here's a bit of an update on the young woman that the Russians have identified as the suspect in the bombing yesterday in St. Petersburg:
Russia detained Darya Trepova who is a suspect in the unexplained incident that led to the death of military correspondent Vladlen Tatarsky yesterday in St. Petersburg. She allegedly delivered the figurine which contained explosives to the cafe where Vladlen was holding a meeting… pic.twitter.com/MFZf0t8Sin

— Dmitri (@wartranslated) April 3, 2023
Here's the full text of Dmitri's tweet:
Russia detained Darya Trepova who is a suspect in the unexplained incident that led to the death of military correspondent Vladlen Tatarsky yesterday in St. Petersburg. She allegedly delivered the figurine which contained explosives to the cafe where Vladlen was holding a meeting with his fans.
And this is a still of the woman who brought the package with Tatarsky's statue to the cafe yesterday and then left before the explosion. It is from the videos posted yesterday.
Correction: Daria Trepova was not detained. She is still wanted along with her husband, Dmitry Rylov, a member of the Libertarian Party of Russia. Interfax news agency reported on the detention of Trepova but this turned out to be wrong. https://t.co/TfdYHPZDM5

— NOËL 🇪🇺 🇺🇦 (@NOELreports) April 3, 2023
I have no idea if these are the same woman.
Regardless, I am still in agreement with G&T from last night: this does not make a lot of sense. Unless, as has been suggested Prigozhin was going to be there and he was the actual target. And even then it doesn't make a lot of sense.
Here is President Zelenskyy's address from earlier today. Video below, English transcript after the jump:
Every day we are getting stronger, every day we are getting closer to the day when the terrorist state will be held to account – address by the President of Ukraine

3 April 2023 – 22:42

Good health to you, fellow Ukrainians!

A report on this busy day.

Staff. Another away meeting of the Staff – the first was in Dnipro, now – in Chernihiv.

Key security issues at the front, in the northern regions and at the border.

The commanders of the directions delivered reports. This time, Generals Syrskyi and Tarnavskyi reported by secure communication line, and not in person, from the hottest areas of the front.

The situation in Bakhmut, Avdiivka, Maryinka and throughout the Donetsk region. Bilohorivka and the entire Luhansk region.

The Commander-in-Chief and the Chief of the Main Intelligence Directorate, the Head of the State Border Guard Service, representatives of the Ministry of Defense.

Full-fledged meeting. Full-fledged coordination. Full-fledged preparation of our active actions for the liberation of Ukrainian lands.

There were many different events and negotiations in the Chernihiv region starting from this morning.

One of the most difficult trips in terms of emotions.

We visited Yahidne, an ordinary small village of our Chernihiv region, which Russian savages turned into one of the world's biggest examples of human abuse last year.

Russian soldiers made a command post at the school in Yahidne, and drove all the villagers into the basement of the school. Just like a human shield.

From March 3 to March 30 of last year, the occupiers kept more than three hundred people in the basement of this school… An ordinary village school, the basement, which is smaller than two hundred square meters.

Elderly people and little children, women and men… The oldest woman was 93 years old, the youngest child was less than six months old.

We will never forgive the evil state for this basement, this concentration camp in Yahidne, just as for all other crimes of Russia against people and humanity. And not only us.

The Kremlin will not be able to hide behind a chair in the UN Security Council, gas pipes or anything else. There will certainly be legal and fair responsibility for every Russian crime committed on Ukrainian soil. In the tribunal, in the International Criminal Court, in Ukrainian courts.

I am grateful to the guests of Ukraine who visited the Chernihiv region with me, who saw this concentration of Russian evil in our Yahidne. I thank German Vice Chancellor Robert Habeck and Secretary General of the Council of Europe Marija Pejčinović Burić. I am also thankful for the negotiations – meaningful and correct.

I thank UNESCO Director General Audrey Azoulay for her attention to Ukraine, for today's meetings in Ukraine. We are preparing the UNESCO World Heritage status for the historical center of Chernihiv. The same status that was recently obtained for the historical center of our Odesa.

As always, it was a special honor to visit our warriors in the hospital, who are recovering from battle wounds. To thank them for everything they do for Ukraine, to thank them for their faith in Ukraine, which our people defend, risking the most valuable – their lives.

I presented Chernihiv with the award of a hero city, a city of heroes. Chernihiv saw different occupiers, different kinds of evil… Protecting ourselves from this Russian evil is perhaps the most important thing in our history.

I awarded our warriors who distinguished themselves in the defense of the state.

And what is very important – I thanked everyone who ensures the reconstruction of our Chernihiv region. We will restore everything that the enemy destroyed.

Ukraine will never be a country of ruins, no matter how much the Kremlin dreams of it. Their dreams do not come true.

Already here, in Kyiv, after my return, I met with a delegation of American congressmen.

I thanked America for its consistently powerful help, from President Biden and the White House team to both houses of Congress and the entire system of American power.

We talked, of course, about the active actions of Ukraine. Of course, about our joint victory.

I also met with Mike Pompeo, former United States Secretary of State

I am grateful to everyone who helps us defend freedom! I am especially thankful today to Denmark and Norway for the initiative of the governments to transfer an additional batch of artillery shells to our warriors. This is very timely and useful.

We are getting stronger every day. Every day we are getting closer to the day when the terrorist state will be held to account.

Glory to all who are now fighting for Ukraine! May the memory of all those who gave their lives for Ukraine be blessed and eternal!

Glory to Ukraine!
Horrors of russian war crimes must not be forgotten.
The mastermind behind these crimes should… well let's hear it from our President @ZelenskyyUa pic.twitter.com/ef8PVEB4BK

— Defense of Ukraine (@DefenceU) April 3, 2023
And some good news, they've arranged another prisoner swap!
Another prisoner swap.
12 Ukrainians returned home, 5 of whom were seriously injured.
10 are privates and sergeants, and 2 are civilian hostages captured by russian terrorists in Lyptsi, Kharkiv region, and in Mariupol, Donetsk region. pic.twitter.com/s2DE8k9o23

— Defense of Ukraine (@DefenceU) April 3, 2023
— NOËL 🇪🇺 🇺🇦 (@NOELreports) April 3, 2023
Here is a machine translation of the latest operational update from the Ukrainian MOD:
Here is NAVDEVGRU Squadron Leader Chuck Pfarrer's most recent assessment of the situations in Avdiivka and Bakhmut:
AVDIIVKA AXIS /1240 UTC3 APL/ RU attacks were broken up at Avdiivka, Pervomaiske, and Marinka. UKR artillery and missile forces reported interdicting a Russian HQ element, 3 RU air defense sites and six other important enemy targets. RU forces make progress N of the city. pic.twitter.com/h7VjlZKSB9

— Chuck Pfarrer | Indications & Warnings | (@ChuckPfarrer) April 3, 2023
BAKHMUT CITY /1150 UTC 3 APL/ Heavy urban fighting continues. UKR forces report that they repelled more than 20 RU attacks in the city during fighting on 2 APL. Lines of Communication & Supply (LOCS) remain stable, RU is assessed to be making incremental, but costly, gains. pic.twitter.com/pzCorz2uZ6

— Chuck Pfarrer | Indications & Warnings | (@ChuckPfarrer) April 3, 2023
Bakhmut:
Ukrainian Panzerhaubitze 2000 pounding Russian troops in the Bakhmut area.#Bakhmut #Ukraine pic.twitter.com/SkLmLGJg8M

— (((Tendar))) (@Tendar) April 3, 2023
The intel and sabotage unit of the 3rd separate assault brigade carries out operations near Bakhmut.

Cool footage. pic.twitter.com/2HnpK4cuHp

— NOËL 🇪🇺 🇺🇦 (@NOELreports) April 3, 2023
Konstyantinivka:
The site of today's strike on Kostyantinivka that killed 6 people and injured 8. Two rockets (potentially S-300) landed in front of a high-rise residential building. pic.twitter.com/B33fVISB3N

— Guillaume Ptak (@guillaume_ptak) April 2, 2023
Melitopol:
Russian news about his condition:

"Photo of the car in which Maхуm Zubarev was.
He is in critical condition. He is receiving medical attention.
According to the TG channels, he has a hip injury and a pelvic fracture."#Melitopol #RussiaInvadedUkraine pic.twitter.com/JiHx79KsJ6

— ✙ Albina Fella ✙ 🇺🇦🇬🇧🇫🇷🇩🇪🇵🇱🇺🇸🇨🇦🇦🇺 (@albafella1) April 3, 2023
Got another one!
Avdiivka:
Heroes from the 72nd brigade clearing trenches near Avdiivka. pic.twitter.com/JXpW0Q3QBG

— NOËL 🇪🇺 🇺🇦 (@NOELreports) April 3, 2023
The 36th marine brigade working in Avdiivka area eliminates a group of Russian Wagner forces. pic.twitter.com/gEtOBejUd6

— NOËL 🇪🇺 🇺🇦 (@NOELreports) April 3, 2023
Last night I decided to leave these two threads from the Ukrainian officer who tweets as Tatarigami until tonight. The first tweet in the first thread is below followed by the rest from the Thread Reader App:
Thread🧵

1/ A well-known pro-Russian channel called "Поздняков 3.0" with over 240,000 subscribers recently uploaded a video that allegedly shows members of the "Wagner" group torturing a man who is tied up. pic.twitter.com/y5GiJFamhv

— Tatarigami_UA (@Tatarigami_UA) April 1, 2023
2/ 

According to the channel, the man is a "Georgian mercenary." The video shows an unidentified man with his arms and legs tied, with the word "Georgian" written on his forehead. 

3/ 

The man appears to be semi-conscious and is being held by another masked individual while a third person plays the violin next to him. The act of playing the violin is a reference to the Wagner group, who are often referred to as "musicians." 

4/ 

The author of the also included a message directed towards the man's relatives in Tbilisi. The message states that since the man is identified as a mercenary from Georgia, he is not considered a combatant and therefore his relatives should not expect him to return home.

5/ 

It is worth noting that many of the emojis posted in response to the video appear to approve such a behavior. It also should be noted that the authenticity of the video has not yet been confirmed and efforts are being made to identify the man in the video. 
And here's the first tweet of the second thread followed by the rest from the Thread Reader App:
🧵Thread

1/ Yesterday, a public announcement was made regarding the formation of a group called the "Club of Angry Patriots." To gain insight into the gravity of this group, I recommend briefly examining their backgrounds and reviewing the summary of their "manifesto." pic.twitter.com/JwMvOYOWzy

— Tatarigami_UA (@Tatarigami_UA) April 2, 2023
2/ 

This group consists of several terrorists, extremists, and political activists. Among its members are Pavel Gubarev, Vladimir Grubnik, Igor Strelkov, Viktor Alksnis, Maxim Kalashnikov, Maxim Klimov, Mikhail Aksel, and Evgeny Mikhailov.

3/ 

Pavel Gubarev is known as the "People's Governor" of the Donetsk Region in 2014. Western audience may recognize him for his statement: "But if you don't want to be convinced, we'll k*** you. We'll ki** as many as we have to: one million, five million, or exter**** all of you."

4/ 

Igor Strelkov(Girkin) is a terrorist, retired(?) FSB colonel, nationalist, and monarchist. Strelkov was a participant in the occupation of Crimea and was also a former leader of the separatist movement in Donetsk in 2014. He was convicted for shooting down flight MH17

5/ 

Vladimir Grubnik is a notable leader of the russia-backed separatist movement in Odesa. He was arrested as a leader of a sabotage group in 2015, but later exchanged during a prisoner swap in December 2019.

6/ 

Viktor Alksnis (also known as Black Colonel) is a former Soviet Air Forces colonel and a former Deputy of the State Duma. In 2018, he was elected co-chairman of the all-Russian movement "National-Patriotic Forces of Russia.

7/ 

Maxim Klimov is a retired Captain 3rd rank (equivalent to Lieutenant Commander in the US Navy). He frequently appears as a guest in Igor Girkin's videos and is often referred to as a "military expert" in various Russian media. Klimov mainly covers military naval topics.

8/ 

Maxim Kalashnikov is a writer and political activist. He is the host of the online platform "ROI TV," which frequently features Girkin alongside various conspiracy theorists, monarchists, radicals and marginalized political groups.

9/ 

Mikhail Axel is one of the leaders of the National-Bolshevik (Fascist-Communist party) movement in Moscow. He actively assisted Donbas separatists with humanitarian aid in 2015.

10/ 

Yevgeny Mikhailov is a former assistant to the Chief of Staff of the Presidential Administration of Russia until 2012. He is also a former Governor of Pskov oblast until 2004 and Member of the State Duma: 1993-1996. Mikhailov frequently appears as a guest on Strelkov's videos

11/ 

The "Club of Angry Patriots" has formulated a set of beliefs and proposals, including recognizing Russia's right to restore its historical borders, opposing the policies of the Wagner group, avoiding new Minsk agreements, and approaching turbulent times with a united front. 

12/ 

The "club" expresses concerns regarding the unpreparedness for a war of attrition, cautioning that a defeat could lead to the russia's collapse. They emphasize that they do not intend to remove the government, but aim to reverse a potential coup from Kremlin elites. 

13/ 

They also aim to bridge the informational gap between decision-makers and the public. The club's overarching objective is to unite "genuine patriots" of diverse political backgrounds into a cohesive platform. 

14/ 

Strelkov has a history of organizing such movements, as seen in creation of the "Committee of January 25th" in 2016. This committee proclaimed a goal to reunify the Russian people into a single state. It positioned itself as an anti-liberal third force 

15/ 

If you are not familiar with this movement, it is not surprising as it existed for less than a year and did not produce any tangible results. There is a possibility that the "Club of Angry Patriots" may meet the same fate as its predecessor. 

16/ 

The fact that this movement has made its presence known through a manifesto in russia, where even liking the wrong social media post can result in imprisonment suggests a backing from a powerful figure from elites, and developing internal struggle among them 
Here's the best comment I've seen yet about Tatarsky getting blowed up:
He was smoking inside a restaurant that prohibits smoking indoors

— Tatarigami_UA (@Tatarigami_UA) April 2, 2023
Last night in comments ReadWrite asked:
A long-time lurker here. Adam, thank you so much for these nightly digests. Between your posts and the informed comments I think I have a much clearer picture of what is happening in and about Ukraine than I could get from just about any other source.

I do have two questions. The first is about the ethnic makeup of the RA casualties. Everything I have read (including here) says that the bulk of the soldiers are from the ethnic regions and not from the "privileged" big cities east of the Urals. I'm sure that's true for the conscripts and the contract grunts, but does it apply to the officers? Before the war, I was under the impression that the officers were more likely to be from privileged places (or near them) and not from the hinterlands. If so, I would think that their losses would be noticed by family members and that knowledge would spread.

My second question is about Bakmut. I've watched the slow development of the salients around the city center. At some point, the UA is either going to have to withdraw or push back. Are they just biding time before mud season is over? Every day those maps make their position look a little more precarious…
First, you're most welcome and thanks for the kind words.
Let's take your first question about the ethnic makeup of Russian KIAs. All of the news reporting we have coming out of Russia clearly indicates that the majority of the KIAs – that are being publicly reported – are coming from the ethnic minority parts of Russia or are ethnic minority Russians. The site below tracks the deaths of Russian officers killed in Ukraine, but if you click through and look at their data set it does not break it down by ethnicity:
2 000 Russian officers killed in Ukraine as of 28 March 2023.
Based on publicly available data from Russia. Confirmations are made via funeral notices, obituaries and news sites. Names, photos and sources: https://t.co/KPk6K7C5tR
Follow @KilledInUkraine for updates. pic.twitter.com/VhROIgByNY

— KIU • Russian Officers killed in Ukraine 🇨🇿🇺🇦 (@KilledInUkraine) March 28, 2023
The Center for European Policy Analysis has this to say:
It is easy, with the passage of time, to forget just how enervating is the loss of tactical leaders in large-scale combat operations. In Vietnam, one out of eight US service personnel killed in action (KIA) was an officer — the vast majority second lieutenants to captains — who led platoons and companies.

Open-source researchers at Killed in Ukraine have confirmed 800-plus Russian senior lieutenants and captains KIA. When the loss of wounded in action (WIA) is added, it is likely that half of all competent ground-fighting company commanders in the Russian force in Ukraine are either KIA or WIA. Russia may be running out of missiles, but these can be bought and manufactured; what they are more certainly lacking is able tactical leaders.
More at the link.
Now as to the ethnic minority versus ethnic Russian issue, The Jerusalem Post reported the following on 12 MAR 2023:
Heavy Ukraine War casualties are proportionately impacting Russian ethnic minorities and Eastern periphery populations more than those in the federation's riches cities, the United Kingdom Defense Ministry assessed in a Sunday morning intelligence update.

"In many of the Eastern regions, deaths are likely running, as a percentage of the population, at a rate 30+ times higher than in Moscow," said the Defense Ministry. "In places, ethnic minorities take the biggest hit; in Astrakhan some 75% of casualties come from the minority Kazakh and Tartar populations."

The UK said cities like Moscow and St. Petersburg had proportionately lost little of their population in the invasion.

"This is especially true for the families of the country's elite," said the ministry. "As the Russian MoD seeks to address its continued deficit of combat personnel, insulating the better-off and more influential elements of Russian society will highly likely remain a major consideration.
Here's al Jazeera from October 2022:
According to data collected by Russian independent media, a number of areas with high minority populations have suffered the most casualties in the war.

Meanwhile, Ukrainian media and authorities have accused ethnic minority Russian soldiers of carrying out war crimes in Ukraine.

Al Jazeera spoke to Victoria Maladaeva, vice president of the foundation, about the war in Ukraine and its impact on the Republic of Buryatia, a federal region and historical homeland of the Indigenous Buryat people located on Russia's border with Mongolia.

Al Jazeera: How has the war affected minorities in Russia?

Victoria Maladaeva: We know that statistically Dagestan, Tuva Republic and Buryat Republic, where minorities live, have the highest death toll.

Moscow [a region of 17 million] has fewer than 50 dead. Buryatia [a region with a population of 980,000] alone has 364.

We have been disproportionately hit hard.

The chances of a Buryat dying in the war in Ukraine is 7.8 times higher than [an ethnic] Russian; a Tuvan is 10.4 times more likely.

We saw the biggest losses [of Buryat servicemen] in the beginning of the war when they sent them there as cannon fodder. Afterwards, the numbers decreased gradually.

Al Jazeera: Did the mobilisation order more closely target Russia's minorities?

Maladaeva: The fact that the mobilisation was first completed in ethnic republics shows that this is where they first started drafting.

The day of Putin's announcement, local authorities in Buryatia came to people's homes at night. They took people from their beds. Some weren't even given draft notices. They were just dragged onto buses and signed up at military bases. They took everyone, even [in contravention of the rules] people with five children, several men from the same family.

In Dagestan, there are endangered ethnic groups. Some are super small communities with populations of about 13,000, and they were still drafted. We see this as an ethnic genocide.

In Sakha Republic, there are small communities who live in rural villages. If you need medical treatment, you need to call a helicopter. They would never receive help because they are too far away. But with this mobilisation, the government flew to these villages to get men drafted.

People see this as an injustice — that Putin is using ethnic minorities to fight in Ukraine for his imperial ambitions.
Much, much more at the link!
For those of you interested, here is the link to a pre-print article on this topic by Alexey Bessudnov of the University of Exeter.
As to the second question regarding Bakhmut, the answer is that I really don't know what the Ukrainians are going to do. Every time General Zaluzhny or Colonel General Syrskyi makes a statement, gives an interview, or social media posts dealing with this topic and all I know is that they have a plan and that they are executing it. I look at the forward line of battle and see the Russian lines as surrounding about 2/3rds of Bakhmut, but if you flip your perspective what I see is two Russian salients to the north and south of Bakhmut. I'd think those would be appealing targets, but, again, I do not know the particulars of what that is.
Just thought I'd put this here:
Spouses "Pion" [Peony] and "Fritz".
Love wins.

📷@Liberov pic.twitter.com/WjdLd6MHhq

— Defense of Ukraine (@DefenceU) April 2, 2023
That's enough for tonight.
Your daily Patron!
Open thread!