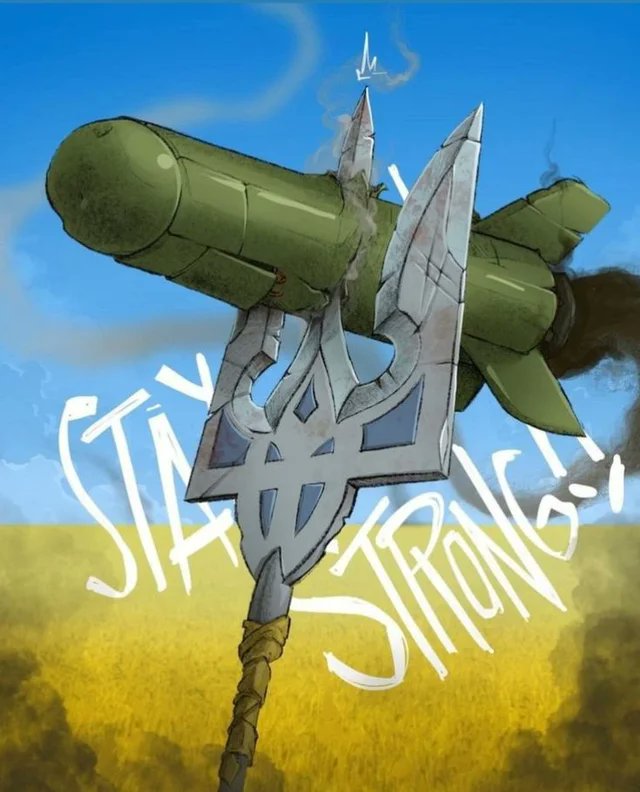 A quick housekeeping note: today was nuts. I expect that the rest of this week and most likely all of next week will be as well. So depending on how things go day by day will determine whether I'm able to do proper updates or just brief(er) ones.
Reuters reports that Ukrainian air defense was, once again, punching way above its weight class last night:
April 4 (Reuters) – Ukrainian defence forces destroyed 14 out of 17 Iranian-made Shahed drones Russia launched overnight, Ukraine's military said on Tuesday, with 13 drones destroyed over the Odesa region in the country's southwest.

"In total, up to 17 launches of UAV (unmanned aerial vehicle) attacks were recorded, presumably from the eastern coast area of the Sea of Azov," the command said in a statement on the Telegram messaging app.

Ukraine's South military command said one drone hit an enterprise in the Odesa region, causing a fire, which was eliminated by the morning.

"According to preliminary information, there were no human losses," the command said in a statement.
Here is President Zelenskyy's address from earlier today. Video below, English transcript after the jump:
Russian aggression proves that only collective preventive security guarantees can be reliable – address by the President of Ukraine

4 April 2023 – 22:42

Good health to you, fellow Ukrainians!

I have just addressed the Parliament of Chile – another country that heard Ukraine, heard what we are striving for. It does not matter what the distance is between our nations. We equally value life and defend the international order. We must deprive rashism of even the hope of support in Latin America.

I also addressed the governors of the US states – this is the first time that I delivered such a special address to the representatives of each state elected by the citizens. I thanked them for their support, emphasized how we, together with America, can not only win the ongoing battle, but also prove that freedom and cooperation always restore normal life after the strikes of aggression.

I also had several international conversations with our partners today.

I thanked Canada and Mr. Prime Minister Trudeau personally for the unwavering support. For another manifestation of it – financial assistance in the amount of 2 billion 400 million Canadian dollars, which our budget has already received. The situation on the battlefield and the security needs of our country were discussed in detail.

In order to drive the enemy out of our land faster and thereby end this war faster, we need to mobilize the world, our partners, all the peoples who do not agree with the chaos that Russian aggression is bringing to the world even more.

I spoke with Ursula von der Leyen, Mrs. President of the European Commission. Our steps in European integration, our joint measures that we are preparing… The new sanctions package of the European Union, which must continue the line of pressure on Russia, pressure to reduce its terrorist potential, its threat.

Today, by the way, a historic event took place for our region, for all of Europe, for the entire Euro-Atlantic community. Finland becomes the 31st member of NATO. The alliance is getting stronger on the eastern flank.

I congratulate all the people of Finland and Mr. President personally on a reliable security guarantee – a collective guarantee.

Russian aggression clearly proves that only collective guarantees, only preventive guarantees can be reliable. That's what we always talked about. We also talked about speed – the speed of security decisions matters. Now we can see how fast the procedures can be.

By the way, this year's NATO Summit in Vilnius deserves to be quite ambitious. The more ambitious the one who protects freedom, the less opportunities for aggression the one who wants evil has.

The day will come when security will be guaranteed for our country as well.

I am constantly in touch with our commanders who are confronting the evil state on the battlefield. A special format of our military meeting was held today. General Syrskyi – regarding Bakhmut, Commander-in-Chief, Chief of the Main Intelligence Directorate – regarding the overall military situation. The Ministry of Defense – regarding the supply of ammunition and everything else according to the needs of our defenders. Decisions are already being implemented.

We have also been preparing all day for the international events planned for this week. They are important, brave, ambitious. As it is a rule for Ukraine.

We also keep the internal situation under control, in particular regarding spiritual independence. We also guarantee it. No one will succeed in breaking Ukraine – neither from the outside nor from the inside.

I thank everyone who is fighting for Ukraine! Avdiivka and Bakhmut, Maryinka and Krasnohorivka, every hot direction… I thank you, warriors!

Thank you to everyone who helps Ukraine!

I would like to highlight two decisions today.

The U.S. is providing a $2.6 billion defense support package. Ammunition for HIMARS, for air defense, for artillery is just what we need. Thank you Mr. President Biden, thank you Congress, thank you every American!

And the second decision. Today, the work of the UN Independent International Commission of Inquiry on Russian crimes against Ukrainians has been extended. Each such international legal step brings the Rashists closer to inevitable, fair responsibility.

Glory to Ukraine!
Finland is in NATO:
Sincere congrats to Finland & President @niinisto on joining NATO on the 74th anniversary of its founding. NATO became the only effective security guarantee in the region amid Russian aggression. We expect #NATOSummit in Vilnius will bring Ukraine closer to our Euro-Atlantic goal

— Володимир Зеленський (@ZelenskyyUa) April 4, 2023
I expect Sweden will get there after the Turkish election. Either because Erdogan will relent if he's reelected since he's using this issue as part of his campaign or if he's defeated the new government will drop the opposition.
Here is a machine translation of the Ukrainian Ministry of Defense's most recent operational update:
Here's the new military aid package for Ukraine from the US:
Also includes:
-Additional munitions for NASAMs
-Nine counter-Unmanned Aerial System 30mm gun trucks
-10 mobile c-UAS laser-guided rocket systems
-Javelins
-precision aerial munitions

— Lara Seligman (@laraseligman) April 4, 2023
Here is former NAVDEVGRU Squadron Leader Chuck Pfarrer's most recent assessment of the situations in Avdiivka and Bakhmut:
AVDIIVKA AXIS /1950 UTC 4 APL/ North of Avdiivka, RU forces have continued incremental progress toward Novobakhmutivka. West of Avdiivka, UKR forces again repelled RU assaults in the vicinity of the O-0542. RU forces were also defeated at Pervomaiske. pic.twitter.com/1uu0nEFeBo

— Chuck Pfarrer | Indications & Warnings | (@ChuckPfarrer) April 4, 2023
BAKHMUT CITY /1930 UTC 4 APL/ In Bakhmut, RU forces were reported to have been driven south of Korsunskogo Street in heavy combat. UKR forces were also in contact along the T-05-13 HWY, and in the vicinity of the soccer stadium. RU forces were rebuffed at Bohdanivka & Ivanivske. pic.twitter.com/KZ6dJMF8EA

— Chuck Pfarrer | Indications & Warnings | (@ChuckPfarrer) April 4, 2023
BAKMUT AXIS /1215 UTC 4 APL/ RU forces continue efforts to seize the city of Bakhmut. The ferocity of this combat is reflected in the report that UKR forces broke up 32 attacks in the urban area. UKR forces also repelled RU assaults at Orikhovo-Vasylivka and Ivanivske. pic.twitter.com/FAIs77xMnr

— Chuck Pfarrer | Indications & Warnings | (@ChuckPfarrer) April 4, 2023
Bakhmut:
Coordinates of impact:

48°34'33.12"N, 37°58'8.28"E#Bakhmut #Donetsk #Ukraine pic.twitter.com/9m8Kau7gMx

— (((Tendar))) (@Tendar) April 4, 2023
Here's the full text of the first tweet:
I reported yesterday that Russians got pushed back and behind the Korsunskogo Street in Bakhmut and here we have visual evidence, and what evidence indeed.

An Ukrainian UR-77 fired right into Russian positions and triggered the charge which pulverized them.

It has to be noted that Ukraine didn't possess a single one of those vehicles before the full-scale war. All UR-77 in Ukrainian services are captured vehicles. Ukraine has at least 13.
#Ukraine #Bakhmut #Donetsk
Bakhmut reinforcements🔥👊🏻

📽24hrs old pic.twitter.com/87Pm0Y8uTx

— АЗОВ South (@Azovsouth) April 4, 2023
Given the source, take the following with a large grain of salt:
When asked about Bakhmut, Prigozhin says the decision to conduct the "meat grinder" in Bakhmut was made by Wagner commanders, but he also credits Sergey Surovikin for his role supporting the operation when he was the commander. (h/t @KofmanMichael)https://t.co/1DHPAJlXte pic.twitter.com/lVEHGhVyln

— Rob Lee (@RALee85) April 3, 2023
Here's the translation of Prigozhin's post from his Telegram channel. There's audio at the link if you understand Russian and want to listen to him.
We publish a request from the editors of the publication « Notepad » and the answer:
Dear Evgeny Viktorovich!
Today, the Bahmut operation and the actual climax of the capture of Bakhmut ( administration assault ) have become one of the key events of this confrontation on the SVO.
Can you tell who made the decision to conduct the operation "Bakhmouth Meat grinder"?

We publish a comment by Eugene Prigozhina:
« The decision to conduct the Bahmut operation, the so-called « bamut meat grinder », was made by the commanders of the ChVK « Wagner ». The direct participation in its development and implementation was taken by Sergey Vladimirovich Surovikin, at the time when he led the group. And so the huge number of decisions that were made, I would take to his account ».
Avdiivka:
The 59th brigade repulsed an attack south of Avdiivka. The Russian tanks did not survive. pic.twitter.com/xOmx1qI6yD

— NOËL 🇪🇺 🇺🇦 (@NOELreports) April 4, 2023
Germany's Vice Chancellor steps up and does the right thing:
"It took too long and it was too late… I feel deeply ashamed". Robert Habeck erobert die Herzen der Ukrainer mit richtigen Worten. Gar so schlecht wie ihr glaubt denken wir übrigens gar nicht über euch, eure Hilfe wissen wir zu schätzen. pic.twitter.com/cSz14Ewv9W

— Yuliya Seidel (@JuliaSeidel17) April 3, 2023
His statement translates as:
"It took too long and it was too late… I feel deeply ashamed". Robert Habeck conquers the hearts of the Ukrainians with the right words. By the way, we don't think about you as badly as you think, we appreciate your help.
Please, do go ahead and keep publicly documenting your ongoing war crime/crime against humanity:
Russia's children's rights commissioner Maria Lvova-Belova complained that her «adopted» Ukrainian child from Mariupol runs after her other children, shouting «I'll eat you, you little Moskal» because that's the way Ukrainian children are raised. pic.twitter.com/tuQHWuFzVm

— Saint Javelin (@saintjavelin) April 4, 2023
I'm sure everyone has noticed by now that the Starlink Snowflake is trying to meme his way out of a lawsuit by dogecoin investors. There have been some unintended consequences:
— Aric Toler (@AricToler) April 3, 2023
Obligatory!
That's enough for tonight.
Your daily Patron!
Today they wrote a dictation on mine clearance. And I constantly felt that it was sad that we should write about war, not spring. I am grateful to all partners, especially @UNICEF_UA who are going through this difficult path with us❤️ pic.twitter.com/QLPPVhdPuV

— Patron (@PatronDsns) April 4, 2023
Ambassador meets 🐕 Ambassadog.

Our Goodwill Ambassador Orlando Bloom meets @PatronDsns in Ukraine.

This good boy protects children from the risks of mines and explosive ordnance and helps raise awareness about mental health. pic.twitter.com/0jJGaIiG1S

— UNICEF (@UNICEF) April 4, 2023
And a new video from Patron's official TikTok!
https://www.tiktok.com/@patron__dsns/video/7218163884266409221
Open thread!