On Monday, Health Affairs published a study that I co-wrote with Dr. Alexandra Mahkoul taking the lead position from the team consisting of researchers from Vanderbilt, Penn, Wakely Consulting and Duke.  We wanted to know how did people use the no-cost sharing preventive care services in the ACA and how much same-day cost-sharing happens when someone gets one of those services.  We looked at four services; flu shots, annual wellness visit, mammograms for recommended populations and colonoscopies for recommended populations.    We identified individuals by the metal level that they chose (Bronze, Silver, Gold, Platinum) as well as the three Silver Cost-Sharing Reduction (CSR) levels (94%, 87%, 73%).
So what did we find?
There are huge variances in the take-up of preventive care services
For the standard metal plans without CSR benefits, we see a pattern where the probability of using a service goes in the same direction as the actuarial value.  We are not saying anything causal.  It is an interesting association.  I think it could be a reflection of the unobserved information and/or risk preferences of individuals.  People who buy Gold plans are different than people who buy Bronze plans.  However, that relationship is non-existent when we look at CSR plans.  Higher values of actuarial value are mechanically linked to lower incomes.  I think this could be a reflection of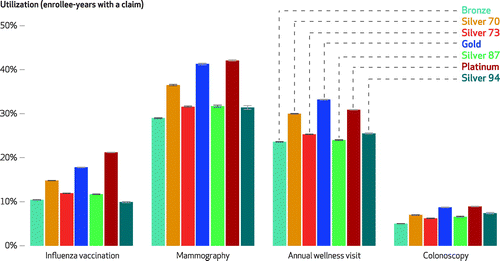 That is interesting
Cost-sharing from other services received on the same day varies a lot by metal and service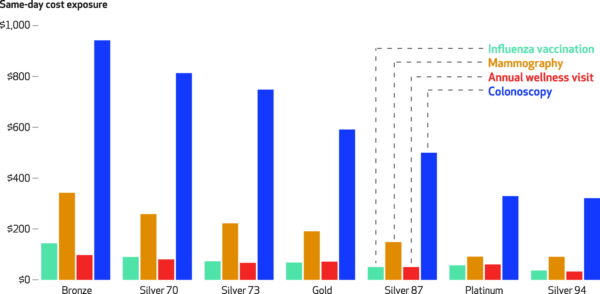 We find that as AV increases without regard for CSR or not CSR status, cost-sharing goes down for people who have any same day cost sharing.  We also see that the office visit services tend to have a lot less cost sharing on the same day than the cancer screening services.  These services vary a lot. Some of the common flu shot services were vaccine administration and 20 minute office visit codes.  These hint that the flu shot was an "add-on" instead of the only intended service for that day.  However colonoscopies had substantial anesthesia and surgical pathology charges.  These were far rarer but way more expensive.
We only see people who received preventive services.  We don't see the behaviors of folks who would have gotten preventive care services if things were different somehow.  We observed relatively low uptake of preventive care services as seen from claims files even when the services were cost-sharing free.  People may not make that distinction if there are other cost-sharing events that happen on the same day/visit or if there are other barriers to care.