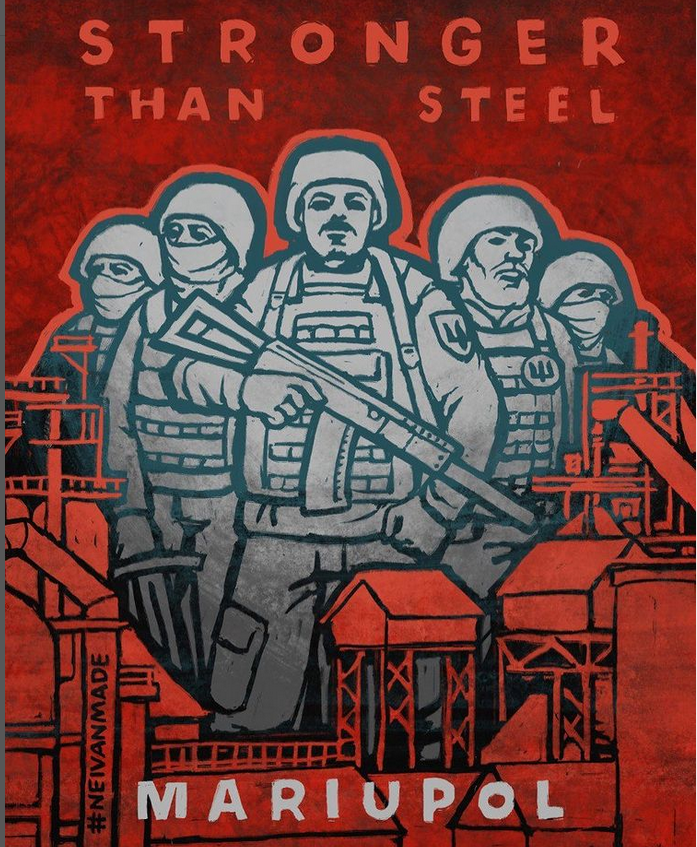 (Image by NEIVANMADE)
100 more Ukrainian POWs are home!
100 Ukrainian soldiers, sailors, border guards, and national guardsmen were released after being held captive by the occupiers. Among them are Mariupol defenders, "Azovstal," and Hostomel. Some of them were seriously injured. pic.twitter.com/U3jcYZwZfu

— Defense of Ukraine (@DefenceU) April 10, 2023
Valeriya and Andriy were defending Azovstal in Mariupol. They got married there with rings out of tin foil, 3 days later Andriy died

Valeria promised him that no matter what she will make it out. Today she was freed from captivity! pic.twitter.com/MfU9SqUtW2

— Mira of Kyiv 🇺🇦 (@reshetz) April 10, 2023
And 24 Ukrainian children stolen by the Russians were also returned!
Best news of the day already. Ukraine returned 24 children from the Kherson region who were illegally held by the Russians. The children were returned thanks to the volunteers of the Save Ukraine Charitable Foundation.

Welcome back 🥰🇺🇦 pic.twitter.com/SnClw4HwSC

— NOËL 🇪🇺 🇺🇦 (@NOELreports) April 10, 2023
Here's the machine translation of all the details from the Ukrainian MOD's Telegram channel:
Here is President Zelenskyy's address from earlier today. Video below, English transcript after the jump:
The term "defeat" should become a companion to the term "aggressor", and it is only the Ukrainian victory that will ensure this – address by the President of Ukraine

10 April 2023 – 22:39

Good health to you, fellow Ukrainians!

Today we have good news from our team working on exchanges. We managed to bring home 100 defenders. 80 men and 20 women. These are soldiers, border guards, marines, national guards. By the way, defenders of Azovstal are among them.

These are a hundred families who got real joy on the eve of Easter. And, of course, we keep working to return all our people from Russian captivity. We remember everyone! And we will return everyone!

I thank everyone in our Coordination Center of the Main Intelligence Directorate. I thank everyone involved in negotiations and preparation of exchanges: Budanov's guys, Yermak, Malyuk, Lubinets… Well done, guys!

And I am especially grateful to everyone who supports our people after release and takes care of treatment and adaptation. It is important.

We continue to expand the foreign policy capabilities of our state. Today we agreed with the Prime Minister of Iraq on the new energy of our interstate relations. I informed Mr. Prime Minister about our efforts to restore peace and integrity to Ukraine, in particular about our Peace Formula. And I am grateful for the readiness not just to look, but to actually find ways to make our cooperation stronger.

I spoke today with the Prime Minister of Greece, mainly about the existing challenges. I outlined the security situation, more broadly – our activity for the return of peace and protection of people. I thank Greece for its willingness to continue the existing cooperation and to achieve greater things together.

I met today with Richard Branson – a prominent British entrepreneur and a longtime friend of Ukraine. He has been supporting us since 2014 – both in words and with concrete work. Now he has decided to join the team of United24 ambassadors. I am grateful for that!

We discussed how the global influence of Mr. Branson can help us in our recovery, reconstruction of our educational institutions, attraction of technological assistance for Ukraine, in particular, to carry out humanitarian demining.

We also have regular steps in defense assistance to our state from Germany, I am thankful for them. Two weeks – and we've got reinforcement from Germany in armored vehicles, air defense, ammunition, engineering vehicles, medicine…

Everything that strengthens Ukraine's defense against Russian terror, everything that gives our soldiers more opportunities for active movement – all this protects everyone in the partner countries, everyone in Europe, everyone in the world.

The term "defeat" should become a companion to the term "aggressor", and it is only the Ukrainian victory that will ensure this.

And I thank everyone who really brings it closer. In battles for the sake of our state – in Maryinka and Bakhmut, near Avdiivka and near Kreminna, in Zaporizhzhia and Kherson regions, in Kharkiv region and in the firmness of our entire border.

To win the battle for Ukraine is to win the battle for yourself. It should be remembered. Always. Especially by those who try to win only for themselves personally. And not on the frontline at all.

Thank you to everyone who takes care of Ukraine!

Glory to everyone who is currently in combat, on combat duty and on combat missions!

Glory to Ukraine!
Here is the machine translation of the Ukrainian MOD's most recent operational update:
! ️Operational information as of 18.00 10.04.2023 regarding the Russian invasion

Glory to Ukraine! The four hundred and eleventh era of large-scale armed aggression of the Russian federation against our state continues.

During the day, the enemy struck 21 air strikes and 5 missile strikes, 4 of which were from the S-300 SAM in the peaceful city of Kramatorsk. The occupiers also fired about 30 shell fire jets at the positions of our troops and the civilian infrastructure of the settlements.

The Russian Federation continues to ignore the laws and customs of war, so the probability of missile and air strikes remains high throughout Ukraine.

Despite numerous losses in technology and living force, the enemy does not refuse to wage an aggressive war. Continues to focus on the main efforts to carry out offensive actions in the Lyman, Bakhmut, Avdiyevsky and Marjinsky directions – more than 20 enemy attacks were repulsed this day.

In Volynsky, Polissya, Sieversky and Slobozhansky directions, the operational situation is without significant changes. Certain units of the territorial forces of the Russian Federation continue to be in the territory of the Belarusian Republic, but no signs of formation of offensive groups of the enemy were found.
The enemy continues to maintain a military presence in the border areas of the Kursk and Belgorod regions with Ukraine, and continues to carry out engineering equipment in the area.
During the day, the enemy fired on the settlements of Gremiach and Kamyanska Sloboda in the Chernihiv region; Wolfine, Andriyivka and Popivka of the Sumy region, as well as Veternar, Strilecha, Gatishche, Vovchansky Khutori, Ohrimivka and Vilhuvatka in Kharkivshchyna.

Kamyanka, Kolodyazny, Krasne First, Dvorichna, Kinshana, Kislovka and Berestov, Kharkiv Oblast, came under enemy fire in the Kupyan direction.

In the Lyman direction during the day, the enemy led unsuccessful offensive actions near the settlements of Makiyivka, Krasnopopivka and Belorivka. Artillery shelling was carried out by Makiyivka, Nevsky and Belogorivka of the Luhansk region, as well as Torske, Spirne and Berestov in Donetsk.

In the Bakhmut direction, the enemy continues to lead offensive actions, trying to take full control of the city of Bakhmut, the fighting continues. During the day, the enemy led unsuccessful offensive actions near Bogdanivka and Khromova. Irony, Minkivka, Orykhovo-Vasilivka, Bakhmut, Khromove, Ivanovskie, Predtechine, Chas Yar, Ozaryanovka, Druzhba and New York of the Donetsk region were affected by enemy shelling.

In the Avdiyevsky and Mariinsky directions, the enemy led offensive actions
in the settlements of Avdiyivka, Severne, Nevel and Marjina in the Donetsk region, he was unsuccessful. The fiercest battles continue for Avdiivka and Marinika. At the same time, the enemy was shelled by Avdiyovka, Pervomaiske, Krasnyvka, Gostre, Georgiivka, Marynka and Pobeda.

In the Shakhtar direction during the day, the enemy did not carry out offensive actions. He fired on the settlements of Novomikhailovka, Vugledar, Bogoyavlenko and Velyka Novosilka in Donetschina.

In the Zaporizhia and Kherson directions, the enemy continues to conduct defensive actions. He shot, in particular, Vremivka of the Donetsk region and Novodanilivka, Orihiv, Novoandriivka and Kamyanzhya Zaporizhia region.

The Russian occupiers continue to tighten the counterintelligence regime in the temporarily occupied territories. The number of checkpoints and patrols has increased in and around the city in the Starobyl region of Luhansk.
The situation in the city of Tokmak in the Zaporizhia region is somewhat similar. Fearing the leak of information about the location of the occupiers' units, the invaders began to restrict certain routes to local taxi drivers.

During the day, the Defense Forces aircraft struck 8 strikes on the areas of concentration of personnel and military equipment of the occupiers. An enemy helicopter Mi-24 and 6 UAVs of different types (2 of them were also shot down, 4 – reconnaissance ).
Missile troops and artillery units affected the area of concentration of live force, weapons and military equipment, as well as the composition of enemy ammunition.

Support the Armed Forces! Let's win together!
Glory to Ukraine!

General Staff of the Armed Forces of Ukraine
Here is former NAVDEVGRU Squadron Leader Chuck Pfarrer's most recent assessment of the situation in Bakhmut:
BAKHMUT CITY /1345 UTC 10 APL/ Gen. Oleksandr Syrsky, the UKR commander of the E. Group of Forces visited the Bakhmut front. He stated that RU has resorted to the 'Syrian tactic' of conducting indiscriminate air and artillery strikes on the urban area. Heavy fighting ongoing. pic.twitter.com/36ei7lVRnt

— Chuck Pfarrer | Indications & Warnings | (@ChuckPfarrer) April 10, 2023
Bakhmut:
The young medics who risk their lives to treat wounded soldiers in the battle for Bakhmut. https://t.co/moJRqd4GK3 pic.twitter.com/jWwnzbYNJx

— Eleanor Beardsley (@ElBeardsley) April 7, 2023
From NPR:
A MARTÍNEZ, HOST:

After nine months of fighting, the eastern Ukrainian city of Bakhmut is in ruins – neither side in control. Losses have been massive on both sides, although Western officials say Russian fatalities are particularly staggering. While there's no way to independently verify numbers, one factor helping Ukrainian soldiers stay alive are the medics who risk their lives to treat and evacuate them. NPR's Eleanor Beardsley met a team of them.

ELEANOR BEARDSLEY, BYLINE: We're pulling up outside the house where the medics are staying. Not so far from Bakhmut, it's the first town out.

UNIDENTIFIED PERSON #1: Hello. (Non-English language spoken).

BEARDSLEY: Eleanor.

VITALINA: Vitalina.

BEARDSLEY: Vitalina, Maxime and Andrea, who aren't allowed to use their last names, are all in their early 20s. Before we sit down to talk, they show me where to go in case there's shelling.

OK, so this is in case we need it.

I may feel uneasy in the town of Kostyantynivka, about 15 miles from Bakhmut, but for these three, it's peace and tranquility. Vitalina describes what it's like to work in Bakhmut.

VITALINA: (Through interpreter) It's terrifying. There is shelling, and it's hard to gauge where it's going to hit while you are bandaging someone. You don't know if you should take cover or run. But somehow, you get used to it and begin to figure out if the artillery fire is close or far.

BEARDSLEY: Four teams of medics rotate in and out of Bakhmut, spending two sleepless nights in a house there. Andrea drives this team in when it's time to return.

ANDREA: I have the NVGs.

BEARDSLEY: What are they called?

ANDREA: Night vision goggles – NVGs.

BEARDSLEY: So you can you can see at night with those.

ANDREA: Yeah. So without any lights, I can drive at night. So it's – like this, you see in the night.

BEARDSLEY: He says there's only one road into Bakhmut now, and the Russians have their sights on it. So you only go at night with the car lights off, driving at top speed.

ANDREA: Personally, I do nothing. I do my job and that's all. I'm not scared. I don't feel nothing. We make sure to do all to save the lives of our soldiers.

BEARDSLEY: Vitalina says she's got the hang of Bakhmut now, but being part of the Kharkiv counteroffensive last September was very difficult. That's when Ukraine punched through Russian defenses in a surprise attack and took back huge swaths of territory in just a couple days.

VITALINA: (Through interpreter) They were my first wounded and my first up-close eye contact with the enemy.

BEARDSLEY: She says they even treated injured Russian soldiers before taking them prisoner. Taras Dzioba is a press officer for these medics with Ukraine's 80th Brigade. He says the Kharkiv counteroffensive was difficult because they pushed deep into enemy-controlled territory.

TARAS DZIOBA: We were moving very quickly, and all the rear units, all the medical staff, had to move with us. So it was a lot harder to evacuate people and to bring them to the medics in the rear because the rear units had to be all on the move all the time as well.

BEARDSLEY: Andrea says the Russians don't evacuate their wounded from Bakhmut.

ANDREA: The Russians don't have a question. They don't care for their soldiers.

BEARDSLEY: They don't evacuate?

ANDREA: They don't care – no. They don't evacuate.

BEARDSLEY: Are there just dead bodies all over?

ANDREA: Yes.
Much more at the link!
The NY Times takes a deep dive into Bakhmut:
Gen. Oleksandr Syrsky visited Bakhmut on Sunday and said the situation is difficult but under control.

Russian forces are using scorched earth tactics in their attempt to capture the battered city of Bakhmut in eastern Ukraine, using airstrikes and artillery fire to destroy any buildings and positions held by the city's Ukrainian defenders, the commander of Ukraine's ground forces said Monday.

Ukrainian forces are under severe pressure in the city, which is already mostly in ruins, as fires sweep through buildings and soldiers fight in fierce, block-by-block combat. In recent weeks, Russia has advanced in villages to the north and south of Bakhmut and fought fierce battles in the city center itself. But after visiting one of "the hottest areas of the front line" in Bakhmut, the Ukrainian commander, Gen. Oleksandr Syrsky, said that while the situation is difficult for Kyiv's forces, it remains under control.

"The enemy has switched to so-called Syrian scorched-earth tactics," he said, according to a statement from the Ukrainian military's media center, referring to Russia's intervention in that country's civil war. "They are destroying buildings and positions with airstrikes and artillery fire. The defense of Bakhmut continues. The situation is difficult, but under control," he said. The commander visited the city on Sunday, the statement said.

The battle for Bakhmut is one of the longest-running and most lethal of Russia's war in Ukraine. Russia's assault on the city in the Donetsk region began last summer and has since taken on a symbolic significance for both sides that goes beyond its immediate strategic value. Both sides have poured in troops and sustained high numbers of casualties, though military experts say that casualties have been higher for Russian forces than for Ukrainian.

Gen. Syrsky said that the fighting had effectively exhausted the Russian mercenary group, Wagner, led by Yevgeny Prigozhin. As a result, Russian military commanders were now deploying large numbers of special forces and airborne assault units in the fight for Bakhmut, he said. The claims have not been independently verified.
Much more at the link!
Avdiivka:
Avdiivka. Another air strike by russian terrorists.#russiaisaterroriststate pic.twitter.com/cWIU9SBcHt

— Defense of Ukraine (@DefenceU) April 10, 2023
The Kyiv Independent's Illia Ponomarenko takes a deep dive into Russia's aerial bombardment of Ukraine:
Still unable to achieve air supremacy, Russia is nevertheless finding ways to threaten Ukraine from the sky.

Early this year, Russia introduced guided bombs — essentially, the regular gravity bombs modified to be dropped by multirole fighter-bombers from safe distances and deal precise and very damaging strikes in front-line areas and beyond.

Along with the specifically designed sophisticated smart munitions, Russia has been using the modified version of simple 500-kilogram air bombs that it has in vast numbers.

It poses an especially serious threat to Ukraine. By turning simple bombs into guided ones, Russia is unfolding a tactical weapon that is much cheaper, more massive, and more effective than cruise and ballistic missiles, the stockpile of which is largely depleted now. And it can at least partially substitute the lack of air support for its troops on the ground in Ukraine.

The use of Russian guided bombs already has a perceptible effect along the front line, particularly on the Ukrainian defenses of Avdiivka in Donetsk Oblast.

The Ukrainian Air Force calls this a dangerous situation. Russian guided bombs are launched from beyond the effective ranges of Ukrainian air defenses, and as of now, Ukraine has little to no instruments to counter them.

The Ukrainian air force again insists it must be provided with Western fighter jets operating modern longer-range air-to-air missiles — so that Ukrainian aircraft could push Russian carriers farther away from front lines beyond the effective range of their guided bombs and thus neutralize the threat.

Deploying new bombs

Overnight into March 24, the Ukrainian military reported a devastating air strike in Sumy Oblast. Russian aircraft dropped 11 munitions identified as 500-kilogram air bombs equipped with UMPK ("unified module for gliding and guidance") systems.

The kit reportedly provides old and abundant Soviet FAB-500М-62 gravity bombs with a simple satellite guidance system and "wings." According to Russian sources, the kit's production cost is 2 million roubles ($24,000).

As a result of this modification, a simple bomb becomes a cheap substitute for an expensive guided missile carrying a 390-kilogram warhead. For comparison, a Kalibr cruise missile carrying a 450-kilogram warhead at a distance of up to 1,500 kilometers is worth nearly $6.5 million.

Upon Ukrainian air force estimates, such munitions launched from upper altitudes and at a high velocity can have an effective range of over 50 kilometers. As such, the bombs can deliver devastating hits upon Ukrainian lines and the rear front.

In particular, the FAB-500 family bombs, according to Amnesty International, were used by Russia in its devastating strike on the Mariupol Drama Theater in March 2022.

The accuracy rate of the bomb's new smart version is unknown.

However, the cheapness of the modification and the abundance of FAB-500 bombs in the Russian military pave the way for extensive use in war zones.

According to Ukraine's Air Force, up to 20 guided bomb hits are registered daily all along the front line, with Russian Sukhoi Su-34 and Sukhoi Su-35 jets used as carriers.

As of now, Russia has not admitted the serial production of UMPK kits.

Search for solutions

Nonetheless, even in the present situation with Russian FAB-500s with UMPK kits, the Ukrainian Air Force is beating alarms and calling for solutions.

According to the force's spokesman Colonel Yuriy Hnat, even if large Russian gliding bombs are launched at the distance of between 20 and 30 kilometers, that's still a grave danger to Ukrainian front defenses and the close rear.

The only realistic way to counter the threat is, in fact, combating Russian aircraft carrying gliding bombs.

Ukraine's outdated Mikoyan MiG-29 and Sukhoi Su-27 lack modern longer range air-to-air missiles and sophisticated radars and can't keep up with more advanced and numerous Russian fighters and its ground air defenses.

The Ukrainian military maintains a multilayered air defense grid on the ground that Russian aircraft can't break through.

At the same time, the effective range is the problem. Ukrainian S-300 systems can cover a range of up to 75 kilometers, Buk-M1 systems — up to 35 kilometers. But if deployed in rear front areas, between 10 or 15 kilometers behind the front, Ukrainian systems would be almost inevitably spotted by Russian radio-electronic reconnaissance and targeted by any means available, including artillery.

That goes along with the fact that Ukraine has a very limited number of long-range air defense systems that need to defend a country the size of France.

For instance, German-provided IRIS-T systems, which have demonstrated high performance rate, have an operational range of only 25 kilometers – making them not helpful against the 50-kilometer-range guided bombs.

According to Ukraine's Air Force, U.S.-provided MIM-104 Patriot and Franco-Italian systems SAMP/T, with their effective range of up to 150 kilometers, can be part of the solution to the new Russian threat.

But at the same time, Ukraine currently expects up to three Patriot batteries (up to eight launchers in each) and one SAMP/T battery, which are also primarily expected to shield the country from Russian ballistic missiles.

Besides, if deployed closer to front-line areas, with less protection from the surrounding air defense grid, top systems will also be a number one target for Russian missiles and jamming.

The Ukrainian Air Force sees the best possible solution in acquiring modern multirole aircraft, particularly General Dynamics F-16s, along with AIM-120 air-to-air missiles.

The missile's old versions AIM-120A/B produced in the 1990s, are believed to have an operational range of up to 50 kilometers. Also, the AIM-120C family was modernized to an effective range of nearly 100 kilometers.

So far, the U.S. has been firmly refusing to provide Ukraine with fighter jets.

According to reports in Western media, there is currently research into the possibility of adapting AIM-120 missiles for Ukrainian MiG-29 fighters, in a similar fashion it happened with HARM anti-radiation missiles.

But, according to Defense Express, with AIM-120s, unlike previous adaptations, such development is unreasonably more complex, and, therefore, unsustainable.

A steady contact and the effective use of AIM-120s with old Soviet fighters wound require up to 60% of MiG-29s airborne hardware to be replaced and re-fashionвed, the agency says.

The main issue is that MiG-29s radars designed for R-27 air-to-air missiles do not cover the distances necessary to direct AIM-120s properly.

The solution? Obtaining modern fighter jets – the very thing Ukraine has been pressuring the allies for.

"It makes more sense (for the allies) to switch to using the designed AIM-120 carriers right away," the agency siad.

"For instance, the F-16s."
Much more at the link!
DO NOT TRY THIS AT HOME!!!!!
Ukrainian soldier demonstrates defusing a grenade placed under a mine in a residential building. pic.twitter.com/TsSWvhLLVX

— Dmitri (@wartranslated) April 10, 2023
That's enough for tonight.
Your daily Patron!
A new video from Patron's official TikTok!
@patron__dsns

Бажаю вам більше дива і менше розчарувань у житті 🫶🏻✨
Here's the machine translation of the caption:
I wish you more miracles and less disappointments in life 🫶🏻✨
Open thread!