Republicans: social distancing, mask wearing, hand washing and staying at home don't help prevent viral spread!

Also Republicans: pic.twitter.com/Hn7lWSBfIe

— Panda Bernstein (@J4Years) April 11, 2023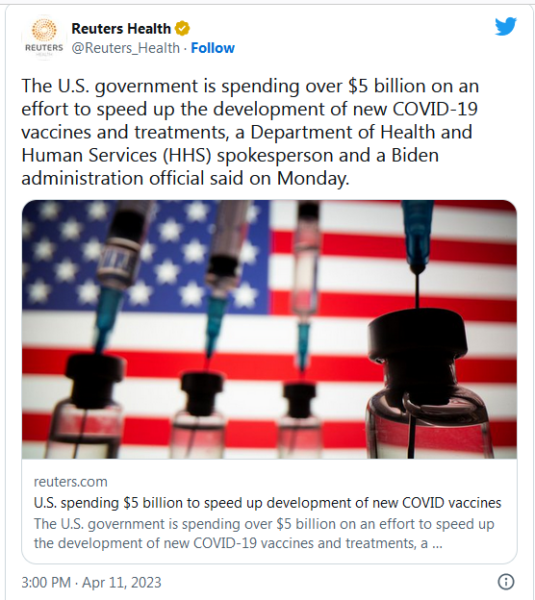 … The investment, dubbed "Project NextGen" and first announced by White House and HHS officials in an interview with the Washington Post, aims to provide better protection from coronaviruses, including the one that causes COVID-19, that might become future threats.

"While our vaccines are still very effective at preventing serious illness and death, they are less capable of reducing infections and transmission over time," the HHS spokesperson said.

"New variants and loss of immunity over time could continue to challenge our healthcare systems in the coming years."…

The project, set to be based at HHS, will coordinate across the government and with the private sector on advancing a pipeline of new vaccines and treatments, the HHS spokesperson said. It will cover all phases of development from lab research and clinical trials to delivery.

It will focus on creating long-lasting monoclonal antibodies resistant to new COVID-19 variants as well as broader vaccines that can protect against several different coronaviruses.

The project also seeks to speed up the development of vaccines that produce mucosal immunity and can be administered through the nose, in hopes they can dramatically reduce infection and transmission rates.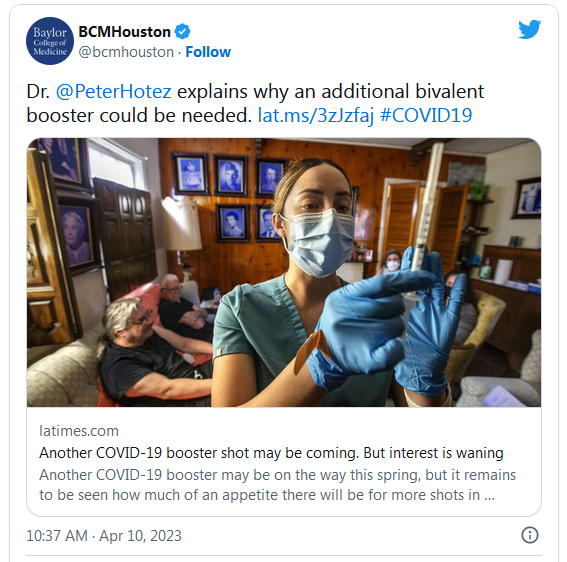 Worth reading the whole thing:
… As government officials close the book on the emergency phase of the COVID-19 pandemic, health authorities are turning their attention to the next chapter of the vaccination campaign.

Though nothing is etched in stone, federal officials are considering the authorization of another booster shot this spring.

The timing of that decision — and who would be eligible — remains unclear. But for older residents or those with underlying health conditions that make them more likely to develop a severe COVID-19 illness, another booster could provide peace of mind and an additional jolt of protection.

"Lots of people at higher risk are asking whether or not they need another dose. And we're waiting for guidance on that," Los Angeles County Public Health Director Barbara Ferrer said….

It remains to be seen how much of an appetite there could be for an additional booster in the U.S. In California, 45% of vaccinated seniors have received the updated booster shot. Among all age groups, only 25% of eligible Californians — that is, people who have completed their primary vaccination series — have rolled up their sleeves since the updated bivalent doses became available in September…

Emerging data demonstrate that those who get the bivalent booster shot are better protected against hospitalization and death, with the benefit particularly pronounced among older individuals.

Among people age 65 to 79 in L.A. County, for instance, those who got the updated booster had one-tenth the risk of being hospitalized compared with those who are unvaccinated, and roughly half the risk of being hospitalized compared with those who are vaccinated but haven't received the bivalent booster.

Even among younger adults, in their 30s and 40s, the benefits were noticeable. Those who got the updated booster had one-sixth the chance of being hospitalized than unvaccinated people, and roughly half the chance of being hospitalized compared with vaccinated people who hadn't gotten the updated booster.

The same goes with deaths. Those age 65 to 79 who got the updated booster were about one-tenth as likely to die from COVID-19 compared with unvaccinated people. They were roughly half as likely to die compared with vaccinated people who hadn't received the updated booster…

Health officials have for months touted the benefits of the bivalent boosters, saying they provide added protection against infection, and especially against severe illness.

Still, there appears to be booster fatigue, even in highly vaccinated areas. A Times data analysis showed only two of California's 58 counties had seen even 40% of their eligible residents get an updated booster as of March 31…
======
The head of the World Health Organization (WHO) said on Thursday he expected the organisation to lift the emergency status of COVID-19 sometime this year, without giving a more specific time frame. https://t.co/qYKfDlH2FP

— Reuters Health (@Reuters_Health) April 6, 2023
Reality check! Young populations didn't save developing countries from the pandemic. High excess death rates found especially in middle-income nations with few elderly.

Read more: https://t.co/LBfl1J6icu pic.twitter.com/oAeOPqAuwd

— Philip Schellekens (@fibke) April 8, 2023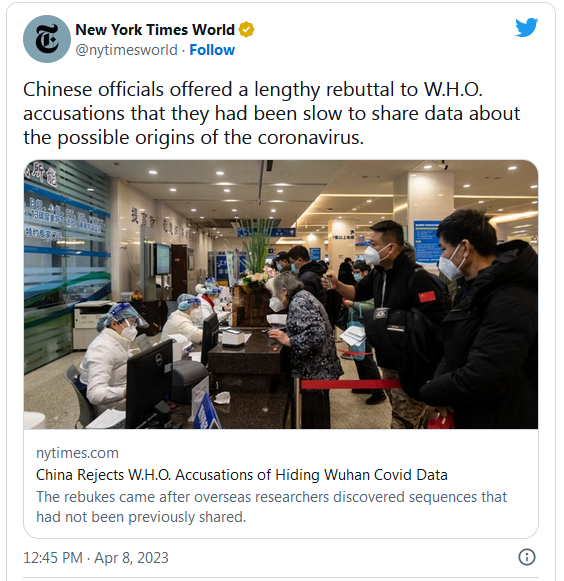 …Scientists from the Chinese Center for Disease Control and Prevention made the remarks at a news conference after weeks of mounting criticism from the W.H.O.

The W.H.O.'s accusations referred specifically to the recent revelation that Chinese scientists had data on environmental and animal samples collected in Wuhan, the city in central China where the virus first emerged, that they had not shared earlier. On Thursday, a top W.H.O. official said that China's "lack of data disclosure is simply inexcusable."

Shen Hongbing, the chief of China's C.D.C, forcefully denied those charges.

"We did not hide any cases, samples or testing and analysis results," he said. "It is intolerable to the Chinese scientific community and unacceptable to the global scientific community."…

The recent criticism from the W.H.O. is a shift from the organization's approach early in the pandemic; back then, it appeared wary of offending Beijing. When W.H.O. experts visited China in 2021 to look into the origins of the pandemic, they allowed China to dictate much of what they could see and say. A findings report issued after that visit offered little clarity on possible origins.

Then came the news last month that several international scientists, from countries including Australia, France and the United States, had discovered previously unseen gene sequences from the Huanan Seafood Wholesale Market in Wuhan on an online database. The sequences had been uploaded by Chinese researchers, including some affiliated with the country's C.D.C…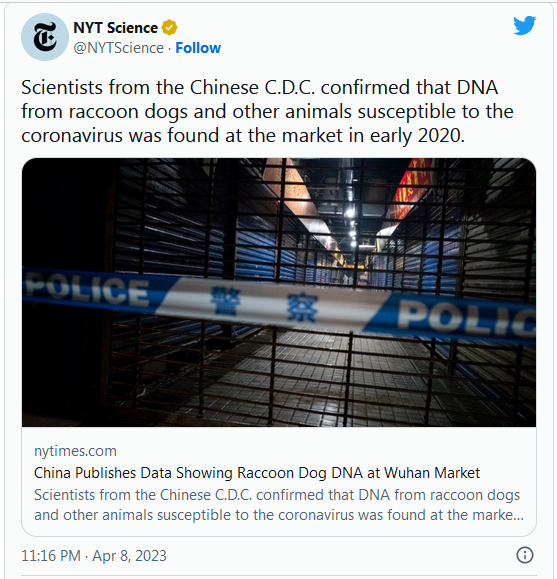 (link)
#COVID19 | #India has registered a single-day rise of 7,830 new #coronavirus infections, the highest in 223 days, and the count of active cases in the country has increased to 40,215.

Read: https://t.co/HpfOpL4g0H pic.twitter.com/tmGNONvfkj

— The Times Of India (@timesofindia) April 12, 2023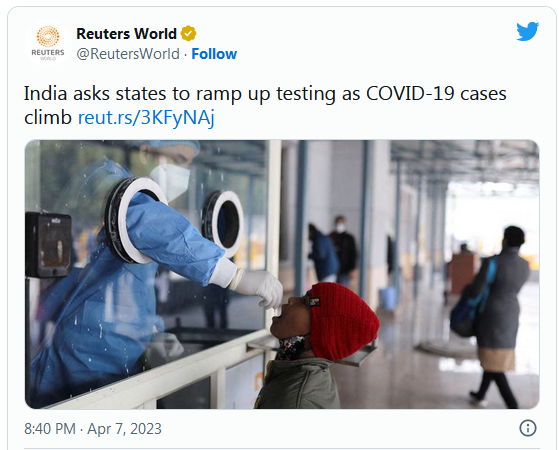 (link)
Watching this situation in Nepal, don't know much beyond what's being reported in the press. If Covid accelerates again in South Asia hope our low-cost @TexasChildrens Covid vaccine technology helps, including our new omicron booster version https://t.co/VYm1zTM9l7

— Prof Peter Hotez MD PhD (@PeterHotez) April 12, 2023
Here's the latest variant picture for New South Wales.

XBB.1.5 "Kraken" (27%) is dominant.

XBB.1.9.1 "Hyperion" (13%) is challenging, also note it's cousin EG.1.https://t.co/r9dGEJEJ5v pic.twitter.com/Y8Ppp4mPoA

— Mike Honey (@Mike_Honey_) April 6, 2023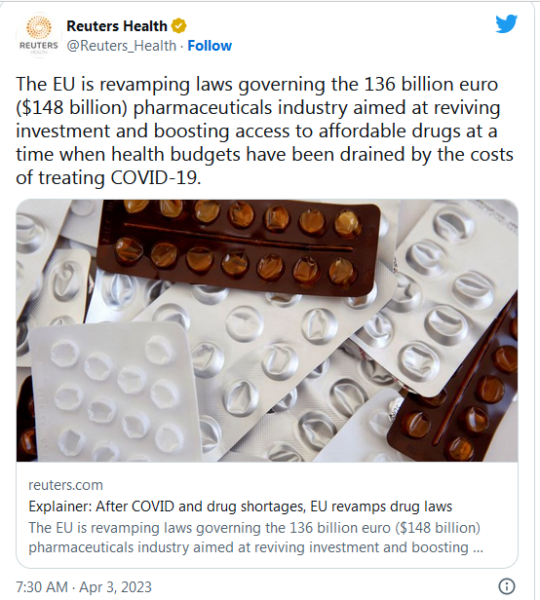 (link)
As global confirmed Covid deaths reach a new low for the pandemic, excess mortality estimates are on the rise@OurWorldInData pic.twitter.com/SJfbplurOg

— Eric Topol (@EricTopol) April 11, 2023
======
#Covid's XBB.1.16 subvariant is the "one to watch," according to the World Health Organization. The agency is monitoring XBB.1.16, which has been detected >20 countries & has contributed to a recent surge of Covid cases in India https://t.co/u6FDtP0kXH

— delthia ricks 🔬 (@DelthiaRicks) April 8, 2023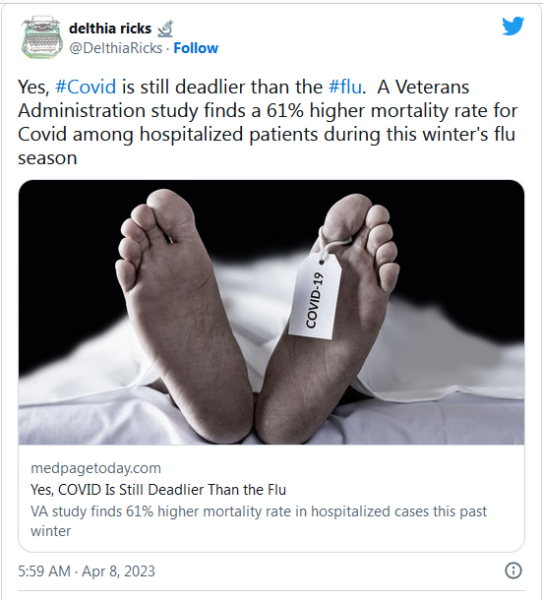 (link)
A team from multiple institutions has identified an antibody targeting #Omicron & other #SARSCoV2 variants. Led by scientists at Weill Cornell Medical College, the antibody appears to block all dominant variants & may lead to a new antibody-based therapy https://t.co/5MapaY7vPG pic.twitter.com/GC2vvPyGy5

— delthia ricks 🔬 (@DelthiaRicks) April 9, 2023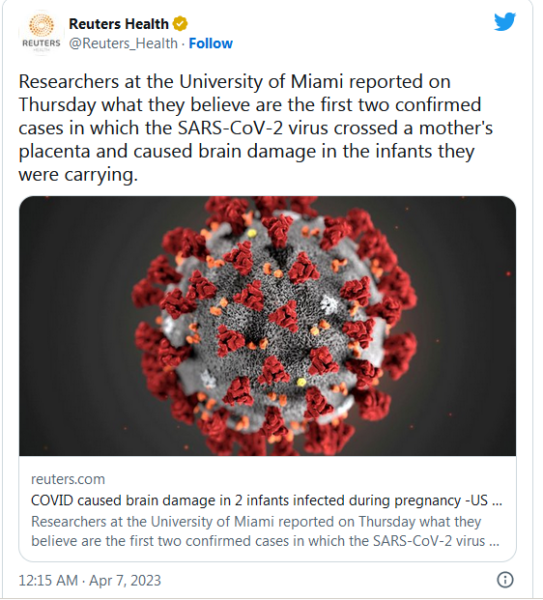 (link)
#SARSCoV2's multi-organ spread appears to occur when the virus hitch-hikes aboard red blood cells. The new research highlights a key mechanism explaining SARS2's rapid multi-organ presence. Finding is from a pre-print, a study not yet peer-reviewed https://t.co/CnuuQZcXTe

— delthia ricks 🔬 (@DelthiaRicks) April 10, 2023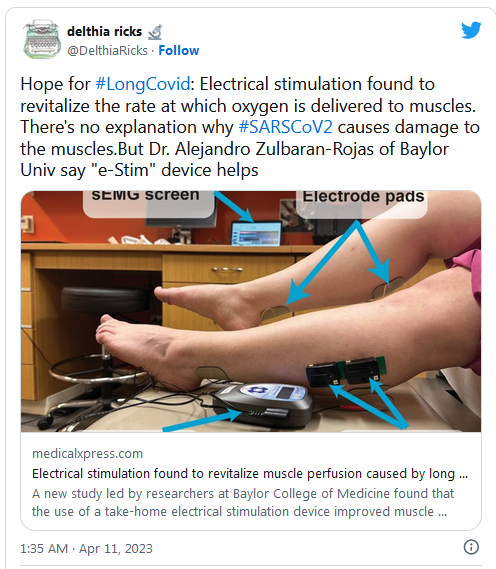 (link)
Despite the stock illo, I suspect this is not about elevator buttons — but it might be useful when one member of the household tests positive and the others haven't, yet…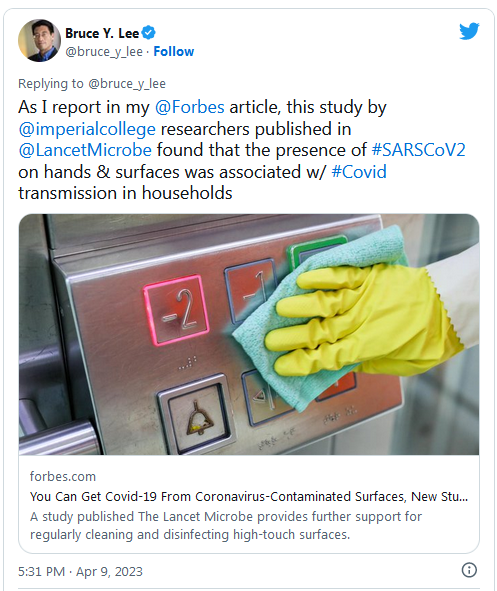 (link)
*Sigh*… up till now, itchy eyes were a sign you were suffering from allergies, not the 'rona: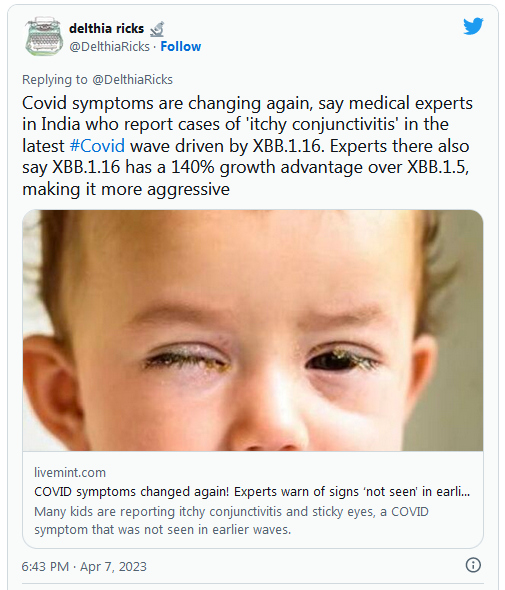 (link)
The idea that SARS-CoV-2 causes general & persistent immune compromise is not supported by findings from top research groups with deep expertise in such analyses. Posts Exaggerate Lab Findings About COVID-19's Impact on Immune System https://t.co/Vb5T8PDiFh via @factcheckdotorg

— Prof. Peter Doherty (@ProfPCDoherty) April 8, 2023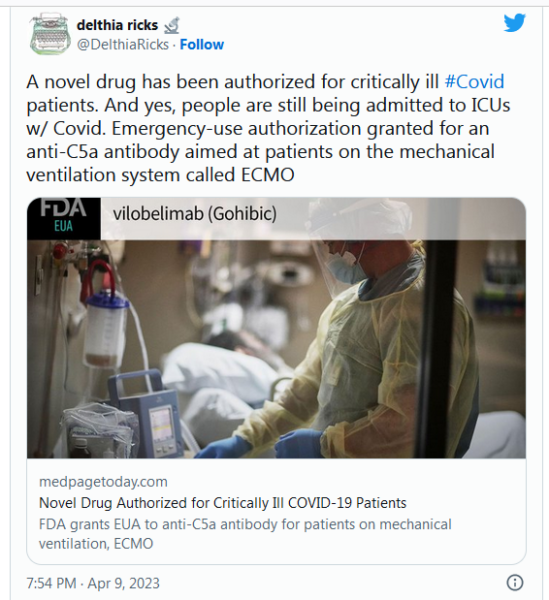 (link)
======
Some people may be forgetting their #Covid pandemic memories. Experts say it's not just the passage of time that makes us forget. Some neuroscientists say we may forget certain memories to protect ourselves from the trauma of the last 3 years https://t.co/IrHRP6whV9

— delthia ricks 🔬 (@DelthiaRicks) April 9, 2023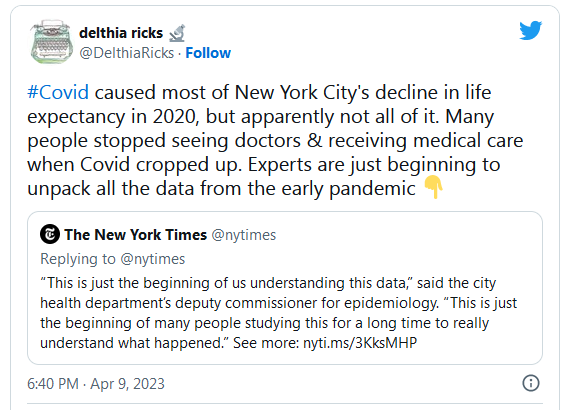 (link)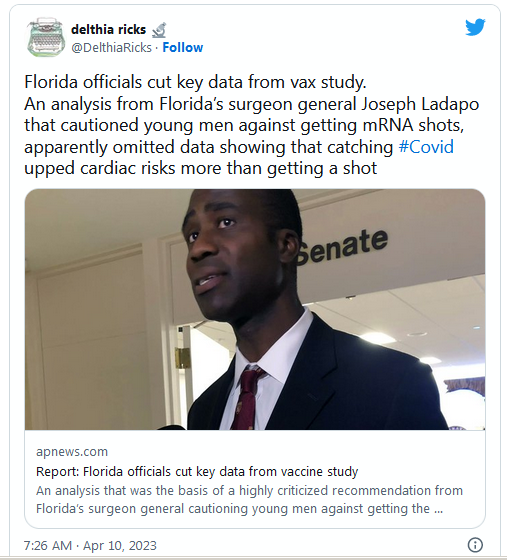 (link)
In my forthcoming book, "The Deadly Rise of Anti-science" I explain the role of this harmful/politically-motivated rhetoric from Sen Johnson and his House/Senate colleagues that caused so many unvaccinated Americans to shun vaccines and lose their lives. https://t.co/BL5FINIuod

— Prof Peter Hotez MD PhD (@PeterHotez) April 8, 2023
Yeah, well… Just read the article:
Study: Those who avoided #Covid precautions early in the pandemic are more likely to buy firearms https://t.co/Z1qRTluQft via @physorg_com

— delthia ricks 🔬 (@DelthiaRicks) April 10, 2023
Reader Interactions