I hope Nina Simone will forgive me for borrowing her song for Tennessee.
Alabama's gotten me so upset
Tennessee made me lose my rest
And everybody knows about Mississippi Goddam

Can't you see it
Can't you feel it
It's all in the air

I can't stand the pressure much longer
Somebody say a prayer

Alabama's gotten me so upset
Tennessee made me lose my rest
And everybody knows about Mississippi Goddam
I considered WTF is wrong with these people as the title of the post, but that could cover a hundred things these days, so instead I borrowed from Nina Simone.
What is happening down there? https://t.co/54mQGMFgIp

— Molly Jong-Fast (@MollyJongFast) April 12, 2023
As always, we take the good we the bad!
Kudos to the enterprising person who took over the TN governor's website after he let his domain expire.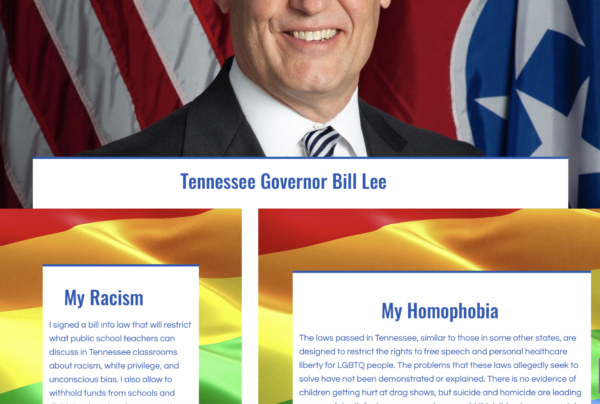 h/t Old School for the link to the site
Here's a PDF of the site so it can still be enjoyed if he pays enough to get his domain back.
I'm starting to think that Tennessee might need it's own category on the site.
Open thread.

Update: CNN opinion piece by Justin Pearson. h/t  Scout211
Why expelling me from the legislature backfired on Tennessee Republicans
The Republican legislator who authored the expulsion resolution against me stood to belittle me and to minimize the deeply serious concerns of my constituents and the thousands of protestors present. He told me that he and his White conservative colleagues were "enraged" that I had had the audacity to walk, unbidden, to the front of the chamber and acknowledge the grieving families. He did so while upholding the status quo of a majority that denied equal rights to people who look like me.

But legislators don't need permission to walk to the well of the House. There is no sanction against our peaceful actions during recess. And we are required by the Tennessee State Constitution to object to policies injurious to the well-being of our constituents.

The fact is, I break decorum with my very presence in that chamber. I am the son of a pastor and a school teacher. I am the grandson of two strong Black women who stood up against all that Tennessee hurled at them throughout the 20th century and beyond.

A new Tennessee is being born in its emerging miraculous diversity. The vast majority of people who wrote in to our largest state newspaper, The Tennessean, decried the breach of democracy they witnessed as the GOP supermajority expelled us.

I celebrate my return to the House to do the work for my constituency. Before being voted into office in a January 24, 2023 special election, I fought as a community activist against corporate environmental racismdumping toxins into Black communities in Southwest Memphis and won. My constituents sent me to the Tennessee State House to continue this work in their name. We will never be silenced. We will not sit down. We will not move to the back of the bus or the back of the house. We will march forward.

We will continue to challenge the Old South and bring about a Renewed South, one that is fair and just and democratic for Black, brown, White, indigenous, transgender, poor, immigrant — for all people. And we will win. Because we are on the right side of history.