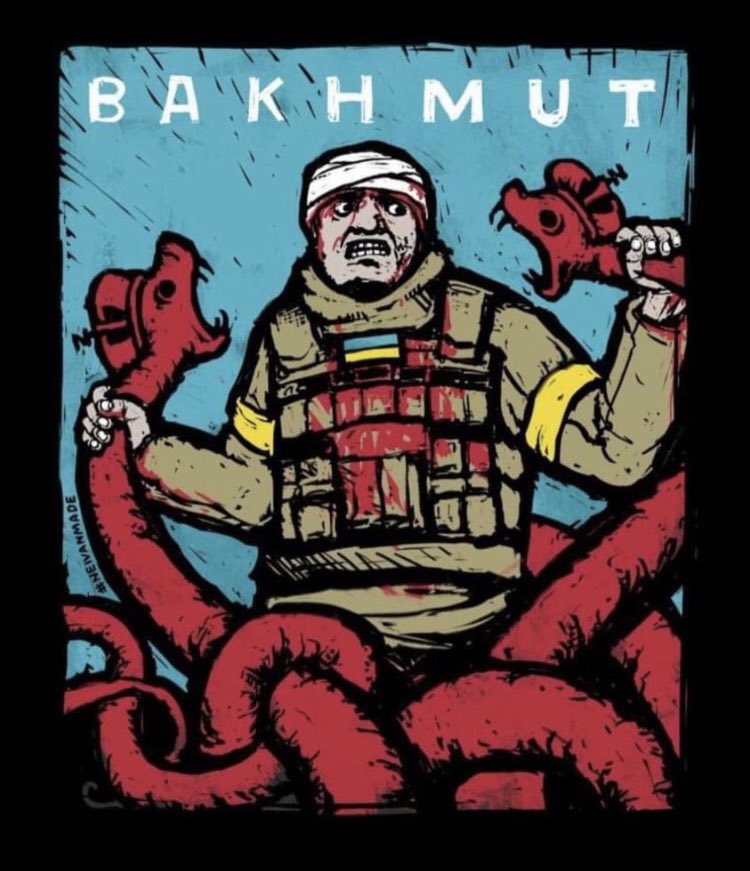 (Image by NEIVANMADE)
Last night in comments Sebastian asked:
Thank you for posting, Adam. I don't know how you do this. I had to take a break for my mental health, this war is grinding me down and making many terrible memories surface.

Thank you.
First, you're, as well as everyone else, most welcome and thanks for the kind words. Second, self care is important. Third glad you're doing better and that you're back. Now to answer your question, doing these is the least I can do. While I don't go into it here, a few folks know that I actually volunteered for the International Legion shortly after it was announced in 2022. They finally got back to me last month. I am now too old to join given the age restrictions they've put in place. Last year I also worked some of the connections of the senior leaders I've worked for to offer my expertise and experience in other ways and the one solid contact we had dropped off of comms after a few weeks last May. So while I'd love to be able to do more to help, to do so directly, and I've crossed every i and dotted every t trying to do so, which allows me to sleep at night knowing I've made every effort, at this point buying shirts from St. Javelin, Patron stamps from UKRPOSHTA, and doing these updates is both all I can do and the least I can do. So every night I'll be here.
And one from commenter Anonymous at Work:
For the leak, TSCI information in the hands of a 21-year-old Air National Guard?  I know there's scads of "classified" material and all, but did the Pentagon have him handling such materials because they needed the hands?  Doesn't that beg the question, "Do you need so much classified material that you have this sort of thing happen?"
My understanding from the reporting about Airman Teixeira is that his job was maintaining the computer and IT systems for an all source intel shop that produced product for senior leaders across the Defense enterprise. As such he would need a TS/SCI not because he himself would be doing the analyses or even reading them, but in case he was helping someone get their system to operate correctly and something classified came up on the screen. The question, from what I've seen of the reporting, is how no one who was supposed to be monitoring the classified printers, as well as the workspace, noticed that he was printing stuff out, placing it into his pockets or bag, and walking out with it. And to clarify something from what Cole wrote yesterday, no he did not take his cell phone or a camera in and take pictures at work. He printed the stuff out, took it home, put it on his mother's kitchen island, and photographed it there. Then he uploaded it to the Discord server. Finally, this isn't actually a leak. Teixeira didn't steal this stuff to give it to a journalist or a foreign power or non-state foreign actor. He took it to make a point to a bunch of teenagers. It's not really spillage either. Frankly, I'm not sure we actually have a term for this kind of disclosure of classified information.
Here's President Zelenskyy's address from earlier today. Video below, English transcript after the jump:
Every meter of Ukrainian land must mean the inevitability of Russia's defeat in this war for the occupier – address of President Volodymyr Zelenskyy

14 April 2023 – 19:34

Dear Ukrainians, I wish you health!

I spoke today with Rishi Sunak, the Prime Minister of the UK.

First of all, I am grateful to him and to all world leaders who condemned the brutal murder of our soldier, the murder that the occupiers boasted about.

The occupiers will feel what it means when the world condemns them.

With Prime Minister Sunak we discussed the weapons for our soldiers – what we agreed with Britain, what will help our active steps, completely just steps. We discussed the acceleration of delivery…

The more far-reaching Ukrainian actions are, the sooner Russian atrocities will end.

Of course, we continue working on the aircraft coalition for Ukraine, and preparation for various international events that will give all of us in Europe more strength and protection.

Today, I held a meeting on Euro-Atlantic integration, on the inevitability of combining the potentials of Ukraine and NATO. The meaningful meeting: the Chairman of the Verkhovna Rada, government officials – the relevant Deputy Prime Minister and the Minister of Foreign Affairs, the foreign affairs team of the Office, and the head of the Office.

It is obvious that Ukraine's place is in NATO, a legal place. And we do not want the outdated illusions, which until now held back our joining the Alliance, continued taking time away from Ukraine and its partners. We are developing the appropriate steps.

Today, I held a meeting on the recovery of our country – recovery after hostilities. First Deputy Prime Minister Yulia Svyrydenko, Deputy Prime Minister Kubrakov, and the recovery team…

We discussed things related to infrastructure, the economy, and many other issues that need answers, very valuable answers. We work both within the country and with partners for the sake of systemic reconstruction, for the result to meet the expectations of our society – rather high expectations. I am sure we will do everything.

During the day, I was in contact with the military, held a meeting with Ukraine's Security Service Chief Maliuk, and a meeting with Defense Intelligence Chief Budanov.

The key is the constant destruction of the occupiers, this is the damage to their logistics and any potential in the occupied territories, this is the preparation of our active steps, this is counter-assault work. And I thank all our soldiers who ensure this, who remember that for every Russian attack on our cities and villages, on our positions, for every killing of Ukrainians, the occupier must suffer the most tangible losses. Every meter of Ukrainian land must mean the inevitability of Russia's loss in this war for the occupier, the inevitability of the fact that there will be no prospects for the enemy on the land of Ukraine.

The 14th Brigade and the 1st Presidential Brigade of the National Guard – thank you guys for your resilience! The 54th Separate Mechanized Brigade named after Hetman Ivan Mazepa, the 5th Separate Assault Brigade, the 77th Separate Airmobile Brigade – well done, soldiers! It is the most difficult thing to hold the line in Donetsk region now. But it gives life to all of Ukraine.

Rescue operations are currently underway in Sloviansk, Donetsk region. Another strike by terrorists. S-300 missiles on residential areas, on ordinary civilian buildings. People are under the rubble. Everything is done to save them, everything is done to save the wounded. There are the first data on the dead. My condolences to those who have lost loved ones.

Not a single hour of this week before Easter passed without Russian murders and terror. This is an evil state, and it will lose. To win is our duty to humanity as such. And we will win!

And one more. Something about which a decision has been needed for a long time. Mikheil Saakashvili's life now depends not on a political, not on some personal, but purely on an ethical decision… Which has a clean and solid legal basis. If a person needs medical help, if life depends on it, then this step is necessary. I know that Mikheil's lawyers have now submitted an urgent appeal to the ECtHR to provide him with proper treatment. And it seems that this is the only way to save his life.

Thank you to everyone who resists evil together with Ukraine! Glory to all our soldiers who are now fighting for the state and people!

Glory to Ukraine!
There is no operational update for today posted by the Ukrainian MOD.
Bakhmut:
Bakhmut, Ukraine's 3rd Assault Brigadehttps://t.co/bHPcXGpP5o

— Illia Ponomarenko 🇺🇦 (@IAPonomarenko) April 14, 2023
Here's the YouTube video:
Bakhmut, additions for the exchange fund. I think they are very lucky to be alive. pic.twitter.com/ROecKKcQha

— NOËL 🇪🇺 🇺🇦 (@NOELreports) April 14, 2023
Kherson:
VOG-17 unit demonstrates its work in the occupied part of the Kherson region. pic.twitter.com/oiRnDXGXDT

— NOËL 🇪🇺 🇺🇦 (@NOELreports) April 14, 2023
Sloviansk, Kramatorsk, and Konstiantnivka:
russian terrorists shelled Sloviansk, Kramatorsk & Kostiantynivka, Donetsk region. 3 apartment buildings in Slovyansk were partially destroyed, a school was damaged. At least one person died and 6 others were injured. People are still trapped beneath the rubble, including a child pic.twitter.com/Am7JAEw2VI

— Defense of Ukraine (@DefenceU) April 14, 2023
Sloviansk:
The death toll from russia's missile attack on Sloviansk has risen to 8.
The 2 y.o. child rescued from the rubble died in an ambulance. The excuse "we were simply following orders" will not suffice. Everyone who gives criminal orders or follows those orders will face justice. pic.twitter.com/nnidK6OMNS

— Defense of Ukraine (@DefenceU) April 14, 2023
In Sloviansk five people killed, 15 wounded, more under the rubble, including a child.

Russia violently attacked several cities along the front line on Good Friday. This is the country that claims itself a defender of the Orthodoxy. pic.twitter.com/V4LGUTZhXX

— Maria Avdeeva (@maria_avdv) April 14, 2023
A two-year-old child, pulled out of the rubble in Sloviansk, died in an ambulance. 14-year-old girl wounded. Death toll is 6 people killed. At this very time Russians are preparing for Easter and will talk about humanity. pic.twitter.com/8ByFanbej2

— Maria Avdeeva (@maria_avdv) April 14, 2023
Zaporizhzhia, sort of, maybe…
Even the Russians themselves did not buy this one. pic.twitter.com/xfsW4u9by4

— Dmitri (@wartranslated) April 14, 2023
Here's the screen grab of Dmitri's translation: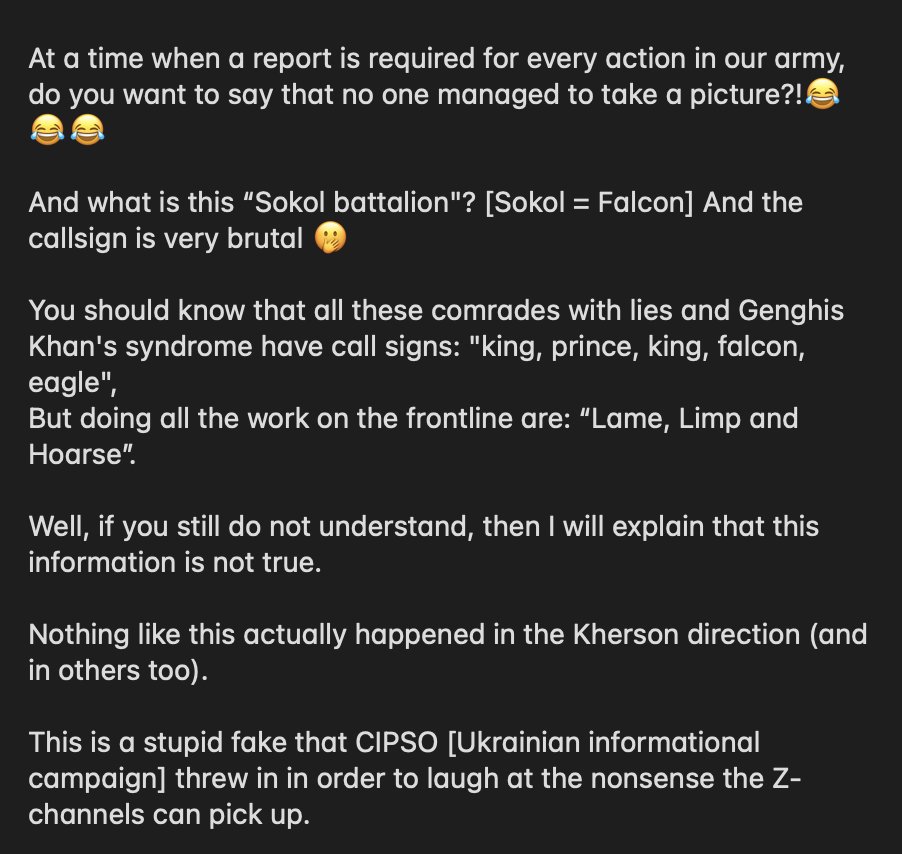 Smoking!
The value of thermal imaging. Presidential Brigade at work 🌙🔥 pic.twitter.com/XuVncPGpnq

— NOËL 🇪🇺 🇺🇦 (@NOELreports) April 14, 2023
Somewhere in the Donbas;
A Russian media outlet "Mash" reports that Igor Girkin will be investigated by the St. Petersburg authorities for discrediting the Russian army.

Girkin responded by saying he will "keep acting as before regardless of the actions of the authorities", and that he "will not be…

— Dmitri (@wartranslated) April 14, 2023
Here's the full text of Dmitri's tweet:
A Russian media outlet "Mash" reports that Igor Girkin will be investigated by the St. Petersburg authorities for discrediting the Russian army.

Girkin responded by saying he will "keep acting as before regardless of the actions of the authorities", and that he "will not be intimidated". He says he has not yet received any official documentation.
Prigozhin confirms he will not take Girkin into Wagner in case the latter gets jailed in Russia. pic.twitter.com/3ulCMVKSkY

— Dmitri (@wartranslated) April 14, 2023
It is important to remember that Girkin is one of the people responsible for creating the justification and kicking off the Russian invasion of Ukraine in 2014. Just as he was for setting the conditions for the breakaway of Transnistria from Moldova decades before. He is responsible for committing and ordering multiple war crimes in multiple countries.
The Netherlands:
Yesterday, I updated the House of Representatives on our military support to Ukraine. Now that the war has entered its second year, maintaining support is vital. This calls for transparency. Therefore, where possible, information about deliveries will from now on be made public. pic.twitter.com/tbFpH21gBT

— Kajsa Ollongren (@DefensieMin) April 14, 2023
21 folding bridges
10 field hospitals
31 field kitchens
441 trucks
6 water vehicles
676 generators
300 military tents
3 demining installations
33 units of special equipment

— NOËL 🇪🇺 🇺🇦 (@NOELreports) April 14, 2023
Japan:
Japan provides Ukraine with USD 3.5 billion in direct budget support in 2023. The 🇺🇦 Ministry of Finance reported this following a meeting between Minister Marchenko and 🇯🇵 Minister Suzuki. These funds will help finance priority expenditures, including social & humanitarian ones

— NOËL 🇪🇺 🇺🇦 (@NOELreports) April 14, 2023
Denmark:
Denmark has previously announced that it is ready to transfer all its 19 French-produced CAESAR artillery pieces to 🇺🇦. Now 🇺🇦 military has completed the necessary training and the artillery system is expected to be delivered to 🇺🇦 in the coming weeks. https://t.co/E6G4bwlFJi pic.twitter.com/bTZ2ASlz0K

— Special Kherson Cat 🐈🇺🇦 (@bayraktar_1love) April 14, 2023
Germany and Poland:
🇩🇪 wants to allow 🇵🇱 to deliver MiG-29 jets to 🇺🇦. The Süddeutsche Zeitung learned this from government circles. The decision should be made this Thursday (today). 🇵🇱 had previously submitted a corresponding application in Berlin. It is about 5 MiG-29https://t.co/qjzDKKiQmn

— Special Kherson Cat 🐈🇺🇦 (@bayraktar_1love) April 13, 2023
Oh Canada!
In addition to the eight Leopard 2 tanks that we've delivered to Poland, Canada has deployed three Leopard gunnery simulators to help train Ukrainian tank crews on the operation and tactics of these tanks.

Our support for Ukraine is comprehensive – and it will continue. pic.twitter.com/653xfpNISv

— Anita Anand (@AnitaAnandMP) April 14, 2023
Kyivan Valkyrie:
Call sign "Sonic," a commander of a combat vehicle at the 241st Brigade @TDF_UA. She was born in Donetsk and raised in Berdyansk.
"We fight so that Ukrainian children have a childhood, youth, and a long path of happy adulthood in a free Ukraine." pic.twitter.com/oJt5NcJMDa

— Defense of Ukraine (@DefenceU) April 13, 2023
That's enough for tonight.
Your daily Patron!
A new video from Patron's official TikTok:
Here's the machine translation of the caption:
Watch to the end 😂 #песпатрон
Open thread!