A couple of updates on the GOP 2024 presidential race. First, as of last night, Pompeo is out: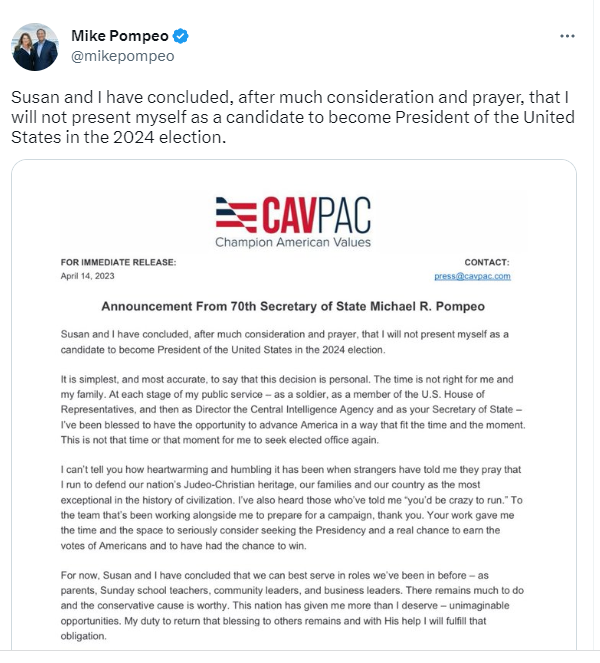 As a commenter on Twitter noted, not even SUSAN was going to vote for him.
Another presidential aspirant, Ron DeSantis, held an event in New Hampshire last night. According to The Daily Beast, it didn't go especially well.
"We wanna actually find out that he's gonna get in the race and if he's gonna be our Trump with a better disposition," added his* wife, Carrie McGee, as they headed toward the ballroom at the Double Tree by Hilton in downtown Manchester.

But they had some hesitations.

"I think a six-week ban would be a hard sell here in New Hampshire," said Chuck McGee, who pleaded guilty to a felony charge in 2004 stemming from the 2002 New Hampshire Senate election phone jamming scandal.

* Chuck McGee, a Concord Republican and the former executive director of the New Hampshire GOP.
Sorry, crime dude's wife: Pudd'n Boots isn't going to be your potty-trained Trump, and yeah, most people in Florida aren't thrilled that DeSantis consigned half the population to second-class citizenship and substandard medical care either. And for us, it's not just a fucking campaign complication. (It's almost like these shitheads don't give a fuck that people's lives are at stake.)
Also, this happened last night in New Hampshire:
The speech had an early hiccup when a pair of women rushed the stage chanting, "Jews against DeSantis…"

DeSantis brushed off the kerfuffle as the protesters were dragged off stage.

"Gotta have a little spice in the speech, right?" the governor quipped to a round of applause.
Some quip, huh? Maybe the pair who rushed the stage were sick of shit like this happening in Florida fairly regularly and DeSantis remaining silent about it except to snarl if anyone suggests he has a responsibility to address the enormous spike in antisemitism in the state: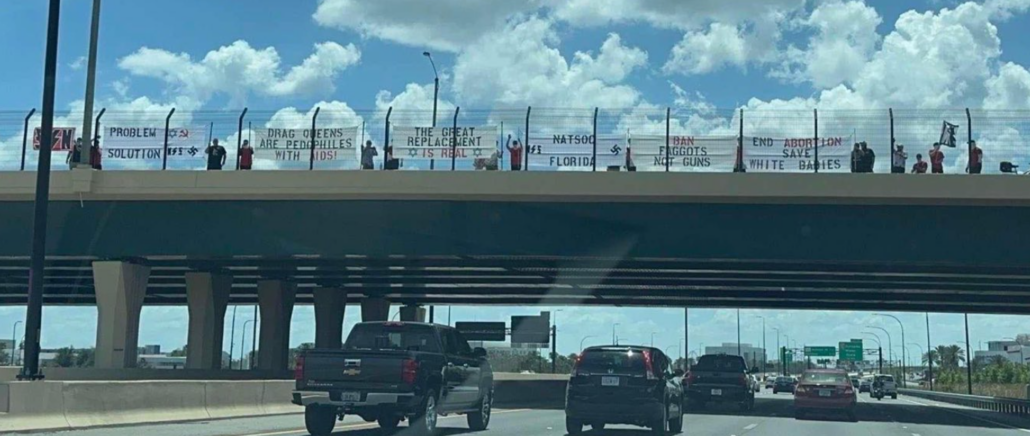 Still, some in New Hampshire remain deluded about the candidate's appeal:
(Manchester Republican Brad) Chandler and a group of attendees at the bar said they thought DeSantis could bring a JFK-type image to the national stage and help Republicans win over moderates and independents.
It must have been an open bar with red-goddamnit shooters. DeSantis appears to genuinely possess a thick head of hair, which compares favorably to the state's U.S. Senate representatives, Rick Scott and Marco Rubio. But that and the elite education is the only Kennedy-like thing about Pudd'n Boots Pinochet.
Who knows what will happen, but the wheels seem to be coming off that particular wagon. I'm cautiously relieved for us all.
Open thread.