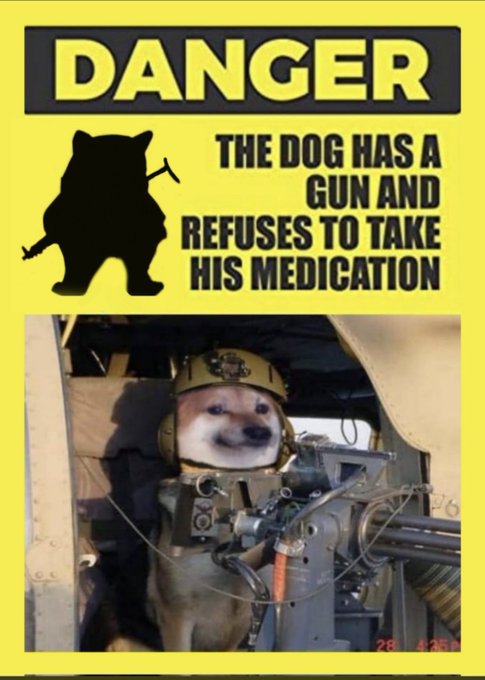 (Current Mood!)
Last night commenter Sally asked:
Thank you.  I accept that he disclosed information in order to impress the members of his group.  Did he know exactly who those members were, and that they were not people who would utilise this information for nefarious purposes (rhetorical)?  Anyway, I shall let it go and await further developments.  Oh, just one more thing, can he also face a court-martial for this?
My understanding from the reporting is that he knew/knows who the members of the Discord channel are because he was the moderator. Additionally, from the reporting they were basically the teenage starter pack for an act of domestic terrorism or a mass shooting in the US and their equivalents in other states:
Well they seem nice…
It's not really spillage either. Frankly, I'm not sure we actually have a term for this kind of disclosure of classified information.

I don't understand, or maybe I'm missing some subtlety here. A DoD memorandum says,

A spillage occurs whenever classified information or CUI is transferred onto an information system not authorized for the appropriate security level or not having the required CUI protection or access controls.

That seems to be a reasonable description of what happened.  Spillage plus unauthorized disclosure.
It is definitely unauthorized disclosure. It may be a type of spillage.
And Way2Blue asked:
My question is:  How did Airman Teixeira clear the rather invasive scrutiny required for TS/SCI (or even TS) clearance?  I would think any casual examination of his social media posts would raise a red flag or two.  Ack.
First, kudos for the Bill the Cat reference! Second, my understanding is that online activity is largely off limits in the investigative process.
Here is President Zelenskyy's address from earlier today. Video below, English transcript after the jump:
We will restore justice as a memory of all those whose lives were taken by Russia – address of President of Ukraine

15 April 2023 – 21:08

Dear Ukrainians, I wish you health!

I spoke today with French President Macron. The conversation lasted for almost an hour and a half. We had time to go through all the key security issues on the agenda – very important for us, in Ukraine, and in Europe in general.

It is the front, our opportunities to move, to act, to return freedom and justice to the people in those territories, which, unfortunately, are still occupied by Russia.

We also discussed international contacts – both ours and France's. Emmanuel informed me about the details and results of his visit to China. And I am thankful for the clear support of those principles that unite our entire anti-war coalition.

Russia must withdraw from the territory of Ukraine. All Ukraine and all occupiers. And every point of the UN Charter must work again – none of Russia's violations of international law can be ignored. It is on such principles that security and peace will return to international relations. It is precisely why there is a Ukrainian Peace Formula, which is absolutely realistic and quite concrete, and it was also discussed in detail with Macron today, as well as the international events we are preparing for this year, in particular, the Vilnius NATO summit.

Our joint position at the summit in Lithuania – of all participating states – can be just as ambitious as European security needs. I am sure of that. Effective security guarantees for Ukraine, and, in fact, for the rules-based international order, are needed even before we join the Alliance.

By the way, a meeting of the member states of the joint investigation team to investigate the crimes of the occupiers in Ukraine took place in Vilnius. One of the results of the meeting is an agreement – it was signed yesterday. The agreement on joint investigation of not only Russian war crimes but also crimes of genocide.

We will ensure Russia's full accountability for what it has committed against Ukraine and Ukrainians at all levels, including at the legal level. And I thank all the partners who help bring the verdicts closer to the occupiers – Russian murderers and terrorists.

A rescue operation is still ongoing in Sloviansk, Donbas, following yesterday's Russian missile strike. It is reported that under the rubble of buildings, there are still bodies of the dead, unfortunately…

This terrorist strike alone damaged and destroyed over 50 residential buildings, of which more than 30 are multi-apartment buildings. More than 20 people were injured, and as of this time, 11 have died. Among them is a very small child – a boy born in 2021. My condolences to the relatives, to all those who lost loved ones…

None of those who are guilty of this aggression can be forgiven and forgotten.

Today, two more decrees with sanctions against individuals and companies that share the blame for this terror or help it were issued. In particular, these are sanctions against persons who promote the terrorist state under the disguise of sports. Against those related to its officials. A separate list includes IT companies that sponsor terror or provide digital opportunities to continue aggression.

We synchronize all Ukrainian sanctions with global sanctions, it is an inevitable process. Thank you to everyone in international institutions and partner states who work with us, with government officials, the National Security and Defense Council, intelligence services, and our Office.

Sanction pressure on all those who are guilty of this aggression, blocking their assets and opportunities at the level of the whole world is the self-defense of the world and today against any other possibilities of aggression.

The return of peace and its stability have no alternatives.

Thank you to everyone who helps us, Ukraine! Glory to all our soldiers who are fighting against terrorists!

We will restore justice as a worthy memory of all those whose lives were taken by Russia and its terror…

Glory to Ukraine!
The Ukrainian MOD has still not posted an operational update. I know there's a war they're trying to coordinate, but I really do need knew content for these updates every night! What?
And, as Carlo has clearly and correctly identified, Chuck Pfarrer builds his battlefield maps based on the Ukrainian MOD operational updates. They've not updated since the 11th and, as a result, he's got nothing to build a map on. And that's why I was using his maps because it takes what the Ukrainian MOD is posting and makes the informational visual in regard to the battlespace.
Bakhmut:
Brief note from Kiyanyn on Bakhmut (note that he is not there at the moment but gets information from brothers-in-arms so it's all generalistic). pic.twitter.com/DzzNF6BZgI

— Dmitri (@wartranslated) April 15, 2023
Here's a screen grab of Dmitri's translation so you don't have to click through: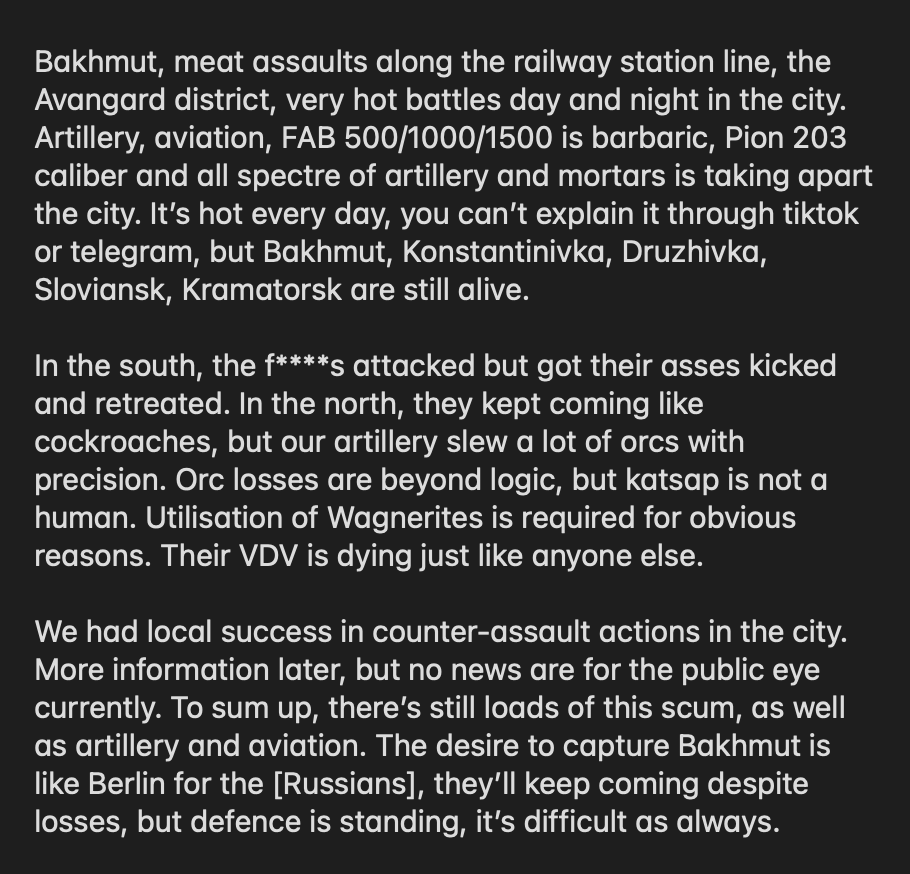 This is what Prigozhin ment with: "Every house in Bakhmut is a fortress. It's very hard to capture". pic.twitter.com/R2Vl4r4QM0

— NOËL 🇪🇺 🇺🇦 (@NOELreports) April 15, 2023
Rubizne, Luhansk:
A video has appeared of, as claimed, HIMARS strikes on Russian positions in Rubizhne, Luhansk region.https://t.co/j1Tqb78CH5 pic.twitter.com/hHIwda92rf

— Special Kherson Cat 🐈🇺🇦 (@bayraktar_1love) April 15, 2023
Vuhledar:
Russian mobik says they are positioned right next to Vuhledar, although they should be in the territorial defence. All they can do is simply hide from shelling and pray to not get hit.

In addition, they are not paid daily allowances for the same reason – supposedly they are in… pic.twitter.com/mOJ1qHNSFz

— Dmitri (@wartranslated) April 15, 2023
And the full text of the tweet:
Russian mobik says they are positioned right next to Vuhledar, although they should be in the territorial defence. All they can do is simply hide from shelling and pray to not get hit.

In addition, they are not paid daily allowances for the same reason – supposedly they are in the rear, and not on the front lines.
Sloviansk:
Sloviansk after russian terrorist attack.#russiaisaterroriststate

📷Anatoly Stepanov pic.twitter.com/N3Mqikto6O

— Defense of Ukraine (@DefenceU) April 15, 2023
russian barbarism doesn't just harm Ukrainians. It harms everyone. pic.twitter.com/Pqt4oeK03b

— Defense of Ukraine (@DefenceU) April 15, 2023
Well this is awkward:
Russian mobik caught an officer engaging in sexual activity with another mobik and was sent to the assault brigade for this. pic.twitter.com/YlSb7KAdYT

— Dmitri (@wartranslated) April 15, 2023
As I wrote the other night, this war is going to be won or lost in Washington, DC. And as long as the exceedingly risk averse team around President Biden keeps making decisions like this, I am not very optimistic:
UH-60A Blackhawk of the Main Intelligence Directorate of the Ministry of Defense of Ukraine.
Pilots say that flying it, compared to old Soviet models, is like comparing driving a truck and a Maserati sports car. https://t.co/3UQN0pBxEo pic.twitter.com/JQckhkWprt

— Special Kherson Cat 🐈🇺🇦 (@bayraktar_1love) April 15, 2023
The Financial Times has the details of what is going on with Alexei Navalny:
Jailed Russian opposition leader Alexei Navalny is severely ill and his condition is worsening rapidly, according to a key member of his team who raised the possibility that the politician may be being poisoned.

Navalny was suffering from stomach pains and had lost more than 8kg in body weight in just over two weeks, Ruslan Shaveddinov, a member of Navalny's Anti-Corruption Foundation, said in a phone call on Friday.

An ambulance was called for Navalny to the prison last week, Shaveddinov said, but no medicines were prescribed. "He and his lawyers have repeatedly demanded access to doctors, a medical examination, a normal examination. But the prison authorities refuse," he said.

Navalny, 46, is being held at a maximum-security penal colony in Melekhovo, east of Moscow. His lawyers and supporters were particularly concerned, Shaveddinov said, because Navalny's health had already been weakened by the assassination attempt against him in 2020 using the nerve agent novichok.

"Russian prison is already a place where people's health deteriorates, while Alexei has recently suffered a failed assassination attempt," Shaveddinov said. "Now he is also constantly being placed in an isolator, a room sized 2.5 metres by three metres . . . without being given access to doctors. This is all very concerning.

"His lawyers suggest that a poisoning may have taken place," Shaveddinov added. Speaking with Reuters on Thursday, Navalny's press secretary Kira Yarmysh said that the team "couldn't rule out" the idea of incremental poisoning.
More at the link!
Finally, for tonight, Prigozhin's ally in Sudan, LTG Dagalo, is attempting to seize control of the country. The Telegraph, republished via MSN, has the details:
Sudan's air force bombed Khartoum, the capital, on Saturday as the military fought back against an apparent coup attempt by a powerful paramilitary force following weeks of escalating tensions.

The Rapid Support Forces (RSF), which accused the army of attacking first, said it had seized the presidential palace, the home of the head of the army, and Khartoum's international airport.

At least three people were killed and dozens more injured in clashes, a doctors' group said, as the RSF and military fought street battles after talks between rival military leaders over a power-sharing plan with civilians broke down.

In recent weeks, Gen Abdel Fattah al-Burhan, the head of the military, and Lieut Gen Mohamed Hamdan Dagalo, the leader of the RSF, have been manoeuvring their forces as they vie for power after a deadline to hand power to a civilian government expired.

Heavy gunfire was heard near the Sudanese army headquarters and defence ministry in central Khartoum, and north of the city near the Marawi airbase. Videos shared online showed military vehicles and soldiers moving through empty streets and columns of smoke rising into the sky.

Ahmed Idriss, a witness, said RSF gunmen had dispersed through his neighbourhood and were spraying bullets "like rain".  Eyewitnesses reported clashes between the RSF and army in the Darfur cities of El Fasher and Nyala.
This is important because Dagalo, who goes by Hemedti (probably a kunya or little name derived from his middle name of Hamdan), is contracted with a subsidiary of Prigozhin's Concord Services Group known as Meroe Gold. Meroe Gold provides the gold and other mineral extraction services on Dagalo's family's properties in Darfur. It's also how the Wagner mercs got into Sudan; they were the private security for Meroe Gold and Prigozhin's other subsidiaries operating in Sudan. Prigozhin, through Meroe Gold, has access to the gold being mined in Darfur, which gives him a source of revenue that can be converted into and laundered as cash to fund his operations in Donbas. This is a source of revenue that Prigozhin does not want to lose.
That's enough for a Saturday night.
Your daily Patron!
A new video from Patron's official TikTok!
The machine translation of the caption is:
I am often serious, but not scary 🙈 #песпатрон
Open thread!