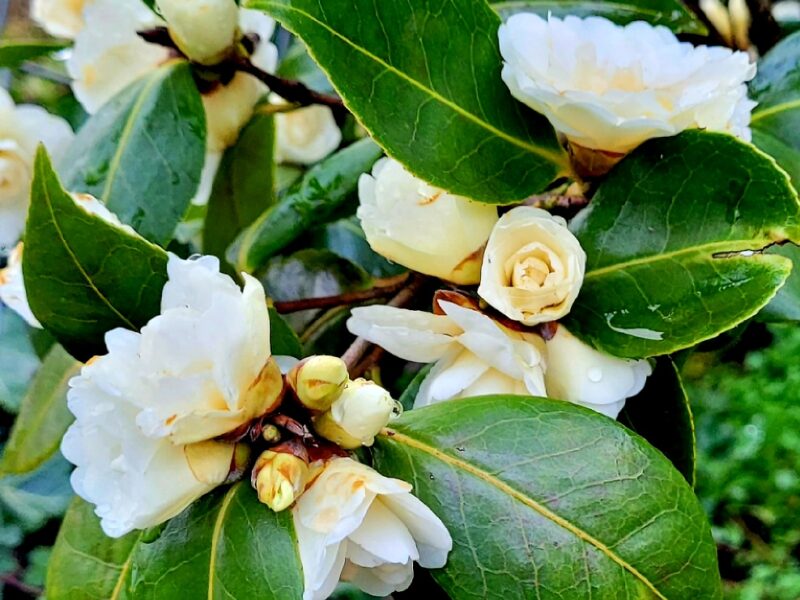 From gifted gardener Dan B, in mid-March:
The first of these pictures were taken three weeks ago when we were having occasional hard freezes. At that time the garden was best enjoyed with tunnel vision. I guess I need more evergreen groundcovers to fill in the bare spots.

At top: This is Buttermint Camellia. It's new to the garden from last year. It's starting to hide the chain link fence. The blooms are small, 1 1/2 – 2 1/2 inches. They fall off after a week which is great since we have bud blast which turns most Camellia flowers brown. Camellia japonica looks like dirty TP.

My Crocus thomasinianus got clobbered by 22° one night. Squirrels leave them alone unlike other species and the bigger flowered hybrids. At my old house a squirrel ate every single crocus. It was great news that there were some that weren't bothered. Now I've got a couple hundred.

These Hellebores are in bloom now. I splurged on some fancy double flowered forms which were likely the work of a gardener in Eugene, Oregon. I visited her garden forty years ago. This plummy red with white in the center is Blushing Bridesmaid. If the Bridesmaid was this "blushed" it would be prudent to call 911.

This single (one row of petals) is French Kiss. It's supposed to get large outfacing blooms that are good cut flowers.

This white with pink edging is Fire and Ice — a name like Candycane would seem more apt.
Flower Girl seems right for this ruffly pink double.

Amber Gem started out murky beige and then got gorgeous. It's one I'd describe as an art shade, not a primary color, but something subtle that one never tires of.

Garrya elliptica has these catkins in late winter that last for months. It's native to California coastal chaparral. They grow to 25 feet here. The catkins can be nearly a foot long.

This spot of groundcovers has really filled in. There's Cutleaf Goldthread, a native, Epimedium, and Snowdrops.

Arum italicum pictum has these wildly marbled leaves in late winter. The leaves die back in early summer and spikes of soft berries in vivid orange appear in mid summer. They spread from these berries.

We're forecast to hit 60° tomorrow so the garden will soon leave the tunnel vision phase.
***********
As we creep, or leap, into the busy season for most of us…

What's going on in your garden (planning / prep / starts), this week?