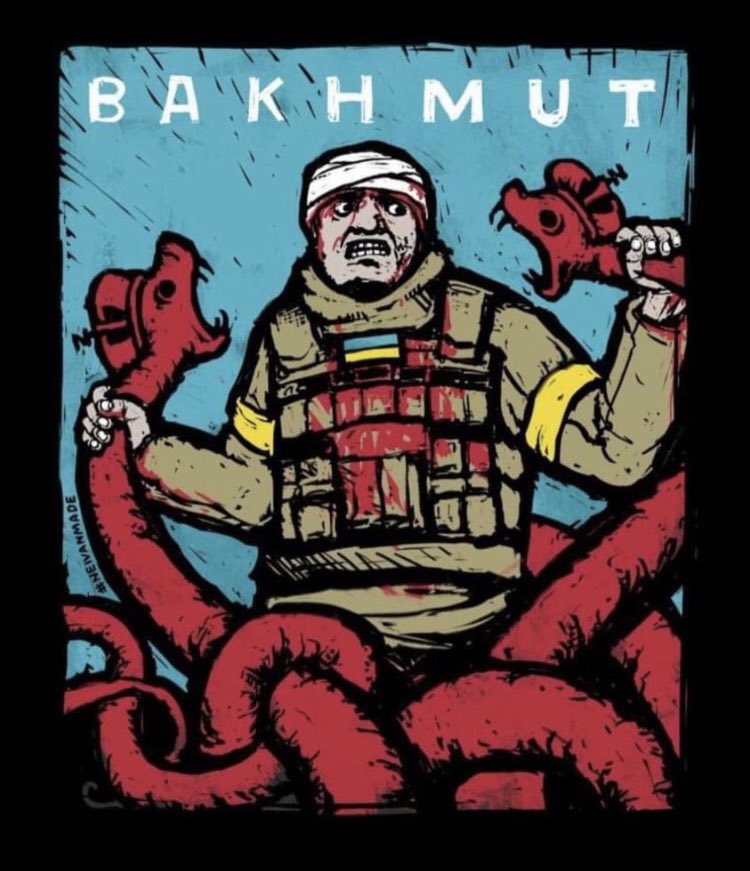 (Image by NEIVANMADE)
Here is President Zelenskyy's address from earlier today. Video below, English transcript after the jump:
It is inspiring and encouraging to see our Ukrainian resolve and know that there will be victory – address by the President of Ukraine

18 April 2023 – 22:15

Good health to you, fellow Ukrainians!

We are wrapping up this day in Poltava. Quite a long and emotional day.

In the morning I was in the Donetsk region, in our Avdiivka. It is hard to see what Russian terrorists have done to this city…

And honor to each of our warriors, to all Ukrainian men and women, who have been restraining and gradually destroying this Russian evil for 419 days and 9 years already.

I had the honor to congratulate Ukrainian soldiers and officers on Easter, to present awards. I often thank them in my evening addresses for their accuracy and bravery, for destroying the occupiers.

The 55th separate artillery brigade, marines of the 35th and 36th separate brigades, paratroopers of the 79th separate brigade, warriors of the 110th separate mechanized brigade… The 501st separate marine battalion… Bohdan Khmelnytsky separate presidential brigade… Thank you all for your service! And thank you all for the chevrons you gave me today, it's truly an honor. Thanks guys!

I especially want to thank our medical forces, all the doctors and nurses who bring our defenders back to life after wounds. I visited hospitals both in the Donetsk region and here in Poltava. I am proud of our people, strong even when they are still recovering. Honor and respect to all who heal our soldiers!

I held a long, meaningful meeting in Poltava regarding the situation in the region. The military leadership, local authorities… The first priority is security and social issues, security for educational institutions, reconstruction, support for displaced persons.

There are solutions for the restoration of the energy sector – generation and networks. There are various assignments of the working level – what we should support the Poltava region with. And we will definitely do it.

It is important that we do not lose a single day in communication with our partners. And it was from here, from Poltava, that I had a conversation with Speaker of the House of Representatives of the U.S. Congress Kevin McCarthy. I thanked for the unflagging bipartisan support. Right after a trip to the frontline, I briefed Mr. McCarthy on what is happening now at the front, on our defense needs and capabilities. I raised the issue of F-16, long-range weapons, additional artillery and the tribunal – the tribunal regarding Russia's aggression against our country.

Together, we make the free world stronger, and every dollar invested in that strength is fully transparent and accountable to our partners. I invited Mr. Speaker to visit Ukraine.

It is truly inspiring and encouraging to see our Ukrainian resolve and know that there will be victory.

I am thankful to the Donetsk and Poltava regions for today!

Thank you to everyone who works for our victory! Glory to everyone who is currently in combat, at combat posts, on combat missions!

And today I would like to mention separately those of our fighters who identify and destroy enemy positions, those positions from which the occupier fires at our cities and villages. Russian strikes at Kherson, at the Beryslav district, at the cities of the Donetsk region – all the enemy strikes will face our response. A tangible response.

Glory to Ukraine!
I want to highlight this portion:
It is important that we do not lose a single day in communication with our partners. And it was from here, from Poltava, that I had a conversation with Speaker of the House of Representatives of the U.S. Congress Kevin McCarthy. I thanked for the unflagging bipartisan support. Right after a trip to the frontline, I briefed Mr. McCarthy on what is happening now at the front, on our defense needs and capabilities. I raised the issue of F-16, long-range weapons, additional artillery and the tribunal – the tribunal regarding Russia's aggression against our country.

Together, we make the free world stronger, and every dollar invested in that strength is fully transparent and accountable to our partners. I invited Mr. Speaker to visit Ukraine.

It is truly inspiring and encouraging to see our Ukrainian resolve and know that there will be victory.
Because we're starting to see this be bandied about by the sage grey eminences in DC:
After just over a year, the war in Ukraine has turned out far better for Ukraine than most predicted. Russia's effort to subjugate its neighbor has failed. Ukraine remains an independent, sovereign, functioning democracy, holding on to roughly 85 percent of the territory it controlled before Russia's 2014 invasion. At the same time, it is difficult to feel sanguine about where the war is headed. The human and economic costs, already enormous, are poised to climb as both Moscow and Kyiv ready their next moves on the battlefield. The Russian military's numerical superiority likely gives it the ability to counter Ukraine's greater operational skill and morale, as well as its access to Western support. Accordingly, the most likely outcome of the conflict is not a complete Ukrainian victory but a bloody stalemate.

Against this backdrop, calls for a diplomatic end to the conflict are understandably growing. But with Moscow and Kyiv both vowing to keep up the fight, conditions are not yet ripe for a negotiated settlement. Russia seems determined to occupy a larger chunk of the Donbas. Ukraine appears to be preparing an assault to break the land bridge between the Donbas and Crimea, clearing the way, as Ukrainian President Volodymyr Zelensky often asserts, for Ukraine to fully expel Russian forces and restore its territorial integrity.

The West needs an approach that recognizes these realities without sacrificing its principles. The best path forward is a sequenced two-pronged strategy aimed at first bolstering Ukraine's military capability and then, when the fighting season winds down late this year, ushering Moscow and Kyiv from the battlefield to the negotiating table. The West should start by immediately expediting the flow of weapons to Ukraine and increasing their quantity and quality. The goal should be to bolster Ukraine's defenses while making its coming offensive as successful as possible, imposing heavy losses on Russia, foreclosing Moscow's military options, and increasing its willingness to contemplate a diplomatic settlement. By the time Ukraine's anticipated offensive is over, Kyiv may also warm up to the idea of a negotiated settlement, having given its best shot on the battlefield and facing growing constraints on both its own manpower and help from abroad.

The second prong of the West's strategy should be to roll out later this year a plan for brokering a cease-fire and a follow-on peace process aimed at permanently ending the conflict. This diplomatic gambit may well fail. Even if Russia and Ukraine continue to take significant losses, one or both of them may prefer to keep fighting. But as the war's costs mount and the prospect of a military stalemate looms, it is worth pressing for a durable truce, one that could prevent renewed conflict and, even better, set the stage for a lasting peace.

Although Washington is right to keep a watchful eye on the risk of escalation, its concerns are overblown. Western policy is caught between the goals of preventing catastrophic failure (in which an under-armed Ukraine is swallowed by Russia) and catastrophic success (in which an over-armed Ukraine leads a cornered Putin to escalate). But it is difficult to see what Russia would gain from escalation. Expanding the war by attacking a NATO member would not be in Russia's interests, since the country is having a hard enough time fighting Ukraine alone, and its forces are severely depleted after a year of war. Nor would using nuclear weapons serve it well. A nuclear attack would likely prompt NATO to enter the war directly and decimate Russian positions throughout Ukraine. It could also alienate China and India, both of which have warned Russia against the use of nuclear weapons.

Ramping up the provision of military assistance to Ukraine, while it will help Ukrainian forces make progress on the battlefield, thus holds little promise of enabling Kyiv to restore full territorial integrity. Later this year, a stalemate is likely to emerge along a new line of contact. When that happens, an obvious question will arise: What next?

Come the end of this fighting season, the United States and Europe will also have good reason to abandon their stated policy of supporting Ukraine for "as long as it takes," as U.S. President Joe Biden has put it. Maintaining Ukraine's existence as a sovereign and secure democracy is a priority, but achieving that goal does not require the country to recover full control of Crimea and the Donbas in the near term. Nor should the West worry that pushing for a cease-fire before Kyiv reclaims all its territory will cause the rules-based international order to crumble. Ukrainian fortitude and Western resolve have already rebuffed Russia's effort to subjugate Ukraine, dealt Moscow a decisive strategic defeat, and demonstrated to other would-be revisionists that pursuing territorial conquest can be a costly and vexing enterprise. Yes, it is critical to minimize Russian gains and demonstrate that aggression doesn't pay, but this goal must be weighed against other priorities.

The reality is that continued large-scale support of Kyiv carries broader strategic risks. The war is eroding the West's military readiness and depleting its weapons stockpiles; the defense industrial base cannot keep up with Ukraine's expenditure of equipment and ammunition. NATO countries cannot discount the possibility of direct hostilities with Russia, and the United States must prepare for potential military action in Asia (to deter or respond to any Chinese move against Taiwan) and in the Middle East (against Iran or terrorist networks).

Given the likely trajectory of the war, the United States and its partners need to begin formulating a diplomatic endgame now. Even as NATO members ramp up military assistance in support of Ukraine's coming offensive, Washington should start consultations with its European allies and with Kyiv on a diplomatic initiative to be launched later in the year.

Under this approach, Ukraine's Western supporters would propose a cease-fire as Ukraine's coming offensive reaches its limits. Ideally, both Ukraine and Russia would pull back their troops and heavy weapons from the new line of contact, effectively creating a demilitarized zone. A neutral organization—either the UN or the Organization for Security and Cooperation in Europe—would send in observers to monitor and enforce the cease-fire and pullback. The West should approach other influential countries, including China and India, to support the cease-fire proposal. Doing so would complicate diplomacy, but getting buy-in from Beijing and New Delhi would increase the pressure on the Kremlin. In the event that China refused to support the cease-fire, Xi's ongoing calls for a diplomatic offensive would be exposed as an empty gesture.

Assuming a cease-fire holds, peace talks should follow. Such talks should occur along two parallel tracks. On one track would be direct talks between Ukraine and Russia, facilitated by international mediators, on the terms of peace. On the second track, NATO allies would start a strategic dialogue with Russia on arms control and the broader European security architecture. Putin's effort to undo the post–Cold War security order has backfired and ended up strengthening NATO. But that reality only increases the need for NATO and Russia to begin a constructive dialogue to prevent a new arms race, rebuild military-to-military contacts, and address other issues of common concern, including nuclear proliferation. The "2 plus 4" talks that helped end the Cold War provide a good precedent for this approach. East and West Germany negotiated their unification directly, while the United States, the United Kingdom, France, and the Soviet Union negotiated the broader post–Cold War security architecture.

Provided that Ukraine makes battlefield gains this summer, it is at least plausible that Putin would view a cease-fire and peace plan as a face-saving off-ramp. To make this approach even more enticing, the West could also offer some limited relief from sanctions in return for Russia's willingness to abide by a cease-fire, agree to a demilitarized zone, and participate meaningfully in peace talks. It is of course conceivable that Putin would reject a cease-fire—or accept it only for the purpose of rebuilding his military and making a later run at conquering Ukraine. But little would be lost by testing Moscow's readiness for compromise. Regardless of Russia's response, the West would continue to provide the arms Ukraine needs to defend itself over the long term and make sure that any pause in the fighting did not work to Russia's advantage. And if Russia rejected a cease-fire (or accepted one and then violated it), its intransigence would deepen its diplomatic isolation, shore up the sanctions regime, and strengthen support for Ukraine in the United States and Europe.

Another plausible outcome is that Russia would agree to a cease-fire in order to pocket its remaining territorial gains but in fact has no intention of negotiating in good faith to secure a lasting peace settlement. Presumably, Ukraine would enter such negotiations by demanding its top priorities: the restoration of its 1991 borders, substantial reparations, and accountability for war crimes. But because Putin would surely reject these demands out of hand, a prolonged diplomatic stalemate would then emerge, effectively producing a new frozen conflict. Ideally, the cease-fire would hold, leading to a status quo like the one that prevails on the Korean Peninsula, which has remained largely stable without a formal peace pact for 70 years. Cyprus has similarly been divided but stable for decades. This is not an ideal outcome, but it is preferable to a high-intensity war that continues for years.
That's Richard Haass and Charles Kupchan of the Council on Foreign Relations. There's a lot of back and forth that I didn't copy and paste that includes give Ukraine a lot more now so we can negotiate a settlement this Fall, assurances through security agreements can be made, etc in their essay. The one thing that isn't in their essay: the recognition that Ukraine is defending itself against a genocidal re-invasion by Russia led by a delusional, high on his own alternative historical supply Putin. Also, until or unless the US and our EU, NATO, non-EU, and non-NATO allies actually state that yes, we're in a war, even if they don't go so far as to say it's World War III, and actually put blood on the line, it isn't their call. If the Ukrainians decide that this existential fight goes on, and it is, without a doubt, an existential fight, even if it is ultimately futile, it is the Ukrainians fight to wage. There aren't any American military personnel in combat or even in advisory roles in Ukraine, just twenty or so personnel – Marines assigned as guards, the Defense Attache and his deputy, and a dozen or so others working on security cooperation – assigned to US Embassy Kyiv. That's it. If Haass and Kupchan are getting this stuff published, then they're also whispering it into policy makers', legislators', and their staffs' and advisors' ears. It is the height of arrogance for us, no matter how much we've spent, to tell the Ukrainians that they should settle for defeating only 85% of 90% of a genocidal re-invasion because Putin and the Russian leadership will certainly have learned their lesson if they can only keep 10 to 15% of Ukraine.
Colonel-General Syrskyi has an operational update from his area of responsibility: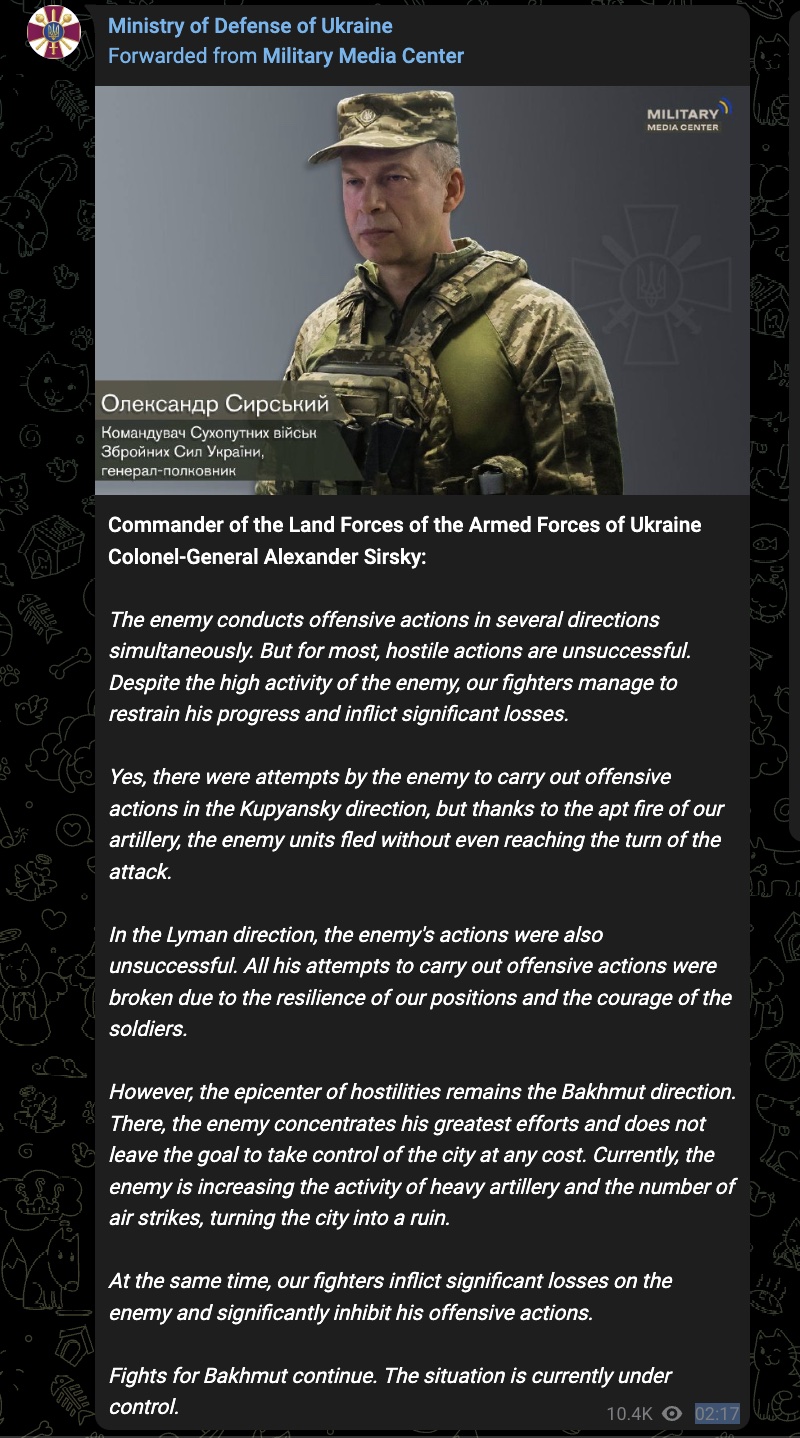 The Ukrainian MOD has still not posted a new operational update.
Bakhmut:
This is a truly heartbreaking video.
Volunteers and soldiers from the 93rd Mechanized Brigade are assisting in the evacuation of Bakhmut civilians.

🎥 @ivlevyorke pic.twitter.com/xk6wYqCI98

— Defense of Ukraine (@DefenceU) April 18, 2023
Update from Bakhmut by the commander of the 127th Territorial Defence Brigade, Roman Grischenko. pic.twitter.com/elQrGXRIrV

— Dmitri (@wartranslated) April 18, 2023
Avdiivka:
Ukrainian President Volodymyr Zelensky visited Avdiivka, the frontline town in the Donbas, to award its defenders. pic.twitter.com/zrkf7SZPQB

— Dmitri (@wartranslated) April 18, 2023
Zaporizhzhia:
Enemy UAVs are in the air above Zaporizhzia. An air alarm sounds in the region. Be careful and proceed to shelters. pic.twitter.com/5qoGKzfUha

— NOËL 🇪🇺 🇺🇦 (@NOELreports) April 18, 2023
The Ukrainian officer who tweets as Tatarigami has an update on the "new" PMC, the Wolves:
Previous threads that covered this topic: https://t.co/MWPkNLDeb7https://t.co/fL09AmcrW7

— Tatarigami_UA (@Tatarigami_UA) April 17, 2023
Berlin:
Now this is serious. Germany delivered first PATRIOT air defence system to Ukraine. pic.twitter.com/0e6iOhbBWa

— Maria Avdeeva (@maria_avdv) April 18, 2023
From the German Federal Government's Germany4Ukraine page:
Military support for Ukraine
Germany provides support for Ukraine by supplying equipment and weapons, these come from supplies of the Federal Arms Forces and from deliveries from industry financed from the Federal Government's funds for security capacity building. An overview.

The Federal Government supports the Ukrainian military in close coordination with its partners and allies. This list provides an overview of lethal and non-lethal German military support for Ukraine. It includes deliveries from the Federal Armed Forces, as well as supplies from German industry financed from the Federal Government's funds for so-called security capacity building.

Funding for the security capacity building initiative amounts to a total of 2.2 billion Euros for the year 2023 (after 2 billion Euros for 2022). The funds are to be used primarily to support Ukraine. At the same time, they will be used to finance Germany's increased mandatory contributions to the European Peace Facility (EPF), which in turn goes towards reimbursing EU member states for costs incurred to them in providing support for Ukraine.

Delivered military support to Ukraine:

(Changes compared to the previous week in bold)

air defence system PATRIOT with missiles
76 trucks Zetros* (before: 60)
124 border protection vehicles* (before: 122)
4 armoured engineer vehicles DACHS* (before: 3)
42 mobile antenna mast systems* (before: 34)
34 reconnaissance drones* (before: 26)
83,520 rounds ammunition 40mm* (before: 60.000)
18 LEOPARD 2 A 6 main battle tanks with ammunition (joint project with further LEOPARD 2 operators)
40 infantry fighting vehicles MARDER with ammunition (from Bundeswehr and industry stocks*)
2 armoured recovery vehicles Bergepanzer 3
2 mine clearing tanks WISENT 1*
160,000 first aid kits*
103.000 tourniquets
100 MG3 for LEOPARD 2, MARDER and DACHS
Spare parts for LEOPARD 2 and MARDER
90 drone detection systems*
500 pistols SFP9*
2 hangar tents*
23,500 projectiles 155mm
155mm precision guided ammunition*
ammunition for multiple rocket launchers MARS II
8 lift trucks*
295 generators
34 self-propelled anti-aircraft guns GEPARD including circa 6.000 rounds of ammunition*
6 bridge-laying tanks BEAVER*
10 winter camouflage nets
26 load-handling trucks 15t*
32 frequency range extensions for anti-drone devices*
10 roll off containers
Iris-T SLM missiles*
3 mobile, remote controlled and protected mine clearing systems*
40 laser target designators* (before: 20)
12 truck tractor trains and 4 semi-trailers*
145 Pick-ups*
8 mobile and protected mine clearing systems*
168 mobile heating systems*
20 rocket launchers 70mm on pick-up trucks with rockets*
15 armoured recovery vehicles Bergepanzer 2*
12 tank transporter tractor M1070 Oshkosh*
7 tracked and remote controlled infantry vehicles for support tasks*
35 load-handling trucks 8×8
36 ambulances*
36.400 wool blankets
12 heavy duty trailer trucks*
55 anti-drone sensors and jammers*
50 MRAP vehicles DINGO
10 unmanned surface vessels*
14,000 sleeping bags
Mi-24 spare parts*
spare parts for heavy machine gun M2
17 heavy and medium bridge systems*
5 multiple rocket launchers MARS II with ammunition
14 self-propelled howitzers Panzerhaubitze 2000 (joint project with the Netherlands)
air defence system Iris-T SLM*
200 tents
116.000 winter jackets
80.000 winter trousers
240.000 winter hats
405,000 pre-packaged military Meals Ready
67 fridges for medical material*
counter battery radar system COBRA*
4,000 rounds practice ammunitions for self-propelled anti-aircraft guns
54 M113 armoured personnel carriers (systems of Denmark, upgrades financed by Germany)*
53,000 rounds ammunitions for self-propelled anti-aircraft guns
3,000 anti-tank weapons Panzerfaust 3 with 900 firing devices
14,900 anti-tank mines (9,300* from industry stocks)
500 Man Portable Air Defense Systems STINGER
2,700 Man Portable Air Defense Systems STRELA
22 million rounds of ammunition for fire arms
50 bunker buster missiles
100 machine gun MG3 with 500 spare barrels and breechblocks
100,000 hand grenades
5,300 explosive charges
100,000 m detonating cord and 100.000 detonators
350,000 detonators
10 anti-drone guns*
100 auto-injector devices
28,000 combat helmets
15 palettes military clothing
280 vehicles (trucks, minibuses, all-terrain vehicles)
6 palettes material for explosive ordnance disposal
125 binoculars
1,200 hospital beds
18 palettes medical material, 60 surgical lights
protective clothing, surgical masks
600 safety glasses
1 radio frequency system
3,000 field telephones with 5.000 cable reels and carrying straps
1 field hospital (joint project with Estonia)*
353 night vision goggles*
12 electronic anti-drone devices*
165 field glasses*
medical material (inter alia back packs, compression bandages)
38 laser range finders*
Diesel and gasoline (ongoing deliveries)*
10 tons AdBlue*
500 medical gauzes*
MiG-29 spare parts*
30 protected vehicles*
7,944 man-portable anti-tank weapons RGW 90 Matador*
6 mobile decontamination vehicles HEP 70 including decontamination material
10 HMMWV (8x ground radar capability, 2x jamming/anti drone capability)*
7 radio jammers*
8 mobile ground surveillance radars and thermal imaging cameras*
1 high frequency unit with equipment*

Military support to Ukraine in planning/in execution

(due to security concerns, the Federal Government abstains from providing details on transportation modalities and dates until after handover)

6,350 projectiles 155mm*
Iris-T SLM missiles*
20 bridge-laying tanks BEAVER*
300.000 rounds of GEPARD ammunition
2 air surveillance radars*
78 truck tractor trains and 86 semi-trailers*
8 mobile antenna mast systems*
40,000 first aid kits*
108 reconnaissance drones*
1 tank transporter tractor M1070 Oshkosh*
17 mobile heating systems*
18 wheeled self-propelled howitzers RCH 155*
7 load-handling trucks 8×6 with 18 roll of containers*
3 self-propelled anti-aircraft guns GEPARD*
7 tracked and remote controlled infantry vehicles for support tasks*
6 mobile and protected mine clearing systems*
40 mine clearing tanks WISENT 1*
5 mobile reconnaissance systems (on vehicles) *
376 border protection vehicles*
132,480 rounds ammunition 40mm*
1 armoured engineer vehicles DACHS*
3 heavy and medium bridge systems*
16 self-propelled howitzer Zuzana 2* (joint project with Denmark and Norway)
78 heavy duty trailer trucks*
3 air defence system IRIS-T SLM*
12 communications electronic scanner/jammer systems*
field hospital (role 2)*
8 frequency range extensions for anti-drone devices*
2 tractors and 4 trailers*
10 protected vehicles*
vehicle decontamination system
5,032 man-portable anti-tank weapons*
124 trucks*
The total value of individual licenses issued by the Federal Government for the export of military goods in the period from January 1, 2022 to April 17, 2023 amounts to 2.748.163.254 Euro. The total license value includes the goods listed above insofar as their export is subject to licensing requirements under German foreign trade laws. This is not the case for all of the goods listed above. In order to speed up the processing of certain deliveries, the Federal Government has also eased certain licensing processes, e.g. with regard to military protective goods. These deliveries are also not included in the total license value. The values stated for used material from the German Armed Forces are also based on current values which can be significantly lower than the corresponding values for new or replacement goods. The total license value includes the goods regardless of how their procurement and delivery were financed. For security reasons, the Federal Government does not provide further details until the goods have been delivered.

* Deliveries from industry stocks financed by German funds for security capacity building. Some of the deliveries require upgrades or productions is ongoing; also training measures take place.

Tuesday, 18 April 2023
Ukraine and US prosecutors to freeze Wagner Group overseas assets to deprive it of the resources to finance its criminal activities in Ukraine and worldwide. pic.twitter.com/hCcOHMlOIZ

— Maria Avdeeva (@maria_avdv) April 17, 2023
I just want to finish up tonight with some excerpts from this interesting War on the Rocks commentary on informal security assistance to Ukraine. Normally we (in the US) define security assistance as:
Security Assistance is a group of programs, authorized under Title 22 of the U.S. Code, by which the U.S. government provides defense articles, military education and training, and other defense-related services to eligible foreign governments by grant, loan, credit, cash sales, or lease.
Now here's what informal security assistance is:
"We are where NATO should be," says Rima Žiūraitienė, Managing Director of Blue/Yellow Ukraine. Her non-governmental organization communicates directly with combat units at the brigade level and uses trusted drivers to deliver much-needed equipment directly to units on the frontline, bypassing Ukraine's Ministry of Defense.

Debates about appropriate military equipment for Ukraine continue a year after Russia's full-scale invasion of Ukraine. These arguments focus predominantly on state-to-state assistance. But they miss an important element of Kyiv's battlefield performance: informal security assistance. Aid from domestic civil society, informal military networks, and foreign volunteers are bolstering the Armed Forces of Ukraine in real and meaningful ways.

While some may argue that the aid provided by non-state actors — relative to over $113 billion in global aid provided to Ukraine — is too small to make an impact, we believe the aid has had a tangible effect. Highly motivated groups are providing equipment with a comparative advantage in areas where formalized state aid cannot. Several Ukrainian soldiers told us that "It's more common for the average Ukrainian unit to have 100 percent of its drones sourced from these non-governmental organizations [Prytula Foundation, Come Back Alive, and Monsters Corporation], not our Ministry of Defense…and these drones already come 'modified' so they're ready for combat use when they arrive."

These soldiers also told us that "Most Ukrainian units have half their vehicles coming from non-governmental organizations," and that Come Back Alive arms all "Territorial defense units with ready fire support" by providing them "120-mm mortars with vehicles." Volunteer organizations are providing night vision goggles and medical supplies, collecting and analyzing battlefield intelligence. Many international volunteers also serve a vital role with training simulators, delivering lethal aid, and buying and modifying simple drones to drop grenades.

Informal security aid reinforces a global narrative that Ukraine's battle against Russian invaders is a just cause worthy of support. Third parties act with speed and initiative that risk-averse government bureaucracies lack and provide a low-profile and low-risk lever that Western governments can use to amplify the impacts of conventional assistance and strategic-level communications. Such hobbyists often work through important networks of people and trusted information sources beyond the reach of government agencies. Thus, private aid fits within the scope of irregular warfare.

As the political winds shift in Western capitals, informal security assistance offers a way to bridge the gap in the "boom-bust" cycle that has typified Western military aid in past conflicts.

There are four ways the West can help Ukraine. First, the United States can continue to emphasize transparency. Volunteer groups that publish where and how they spend their resources engender public trust and broader, follow-on support. Second, U.S. officials can engage critical private companies, like SpaceX, and encourage more robust assistance to Ukraine's defense. With privately sourced capabilities like Starlink playing decisive roles on the battlefield, such pressure will ensure Ukrainians receive energetic support from both the private and public sectors. Third, policymakers can revisit export laws to ensure that the U.S. government transfers key manuals and supporting information for Western equipment without violating export controls. Finally, the United States government can incorporate volunteer groups into a long-term, low-cost strategy for irregular warfare in Ukraine. Flexibility and responsiveness are important elements to strategically compete with the Kremlin without risking significant escalation or expending additional state-based resources.

Flexible and Responsive Informal security assistance: Caution required

Informal security assistance can be more flexible and responsive than official aid. This informal assistance should be considered as part of a robust irregular strategy for the United States military. However, governments looking to utilize this irregular warfare approach with non-governmental organizations need to properly vet individuals running these groups to ensure appropriate alignment with U.S. interests and concepts of irregular warfare doctrine. The other danger is that countries such as Russia view these organizations and human rights activists as an "ecosystem of propaganda…in the interests of the West" that is waging hybrid warfare against Russia.

Balancing official and unofficial linkages between governments and non-governmental organizations is a nuanced juggling act of achieving similar interests in Ukraine while managing escalation with Russia. As part of our research, we spoke with individuals that since 2014 have organized and maintained a grassroots movement known as the "Red Dawn Project." This Ukrainian diaspora-led organization leads guerilla operations against Russian forces, spray painting "Wolverines" graffiti on destroyed Russian armor. The Red Dawn Project consists of Ukrainians, the Ukrainian diaspora, and dozens of veterans from foreign militaries. Their aim is to convey the effectiveness of partisan units in a manner that creates uncertainty and frustrates the Russian adversary in the classic manner of irregular warfare.

Not all groups trying to help Ukrainian forces are reputable. According to Rima Žiūraitienė, "the number of unqualified people in Ukraine is a bit of a mess…people teaching and training under false credentials." The New York Times identified this growing problem with some volunteer fighters and organizations doing paramilitary training with Ukrainians. For instance, the decision by the Mozart Group shutter its operations in Ukraine came amid growing scrutiny of its murky legal status, in-fighting, perceived fraud, and some troubling comments made by one of its founders Andy Milburn. In other cases, groups like Ripley's Heroes blurred the line between helping and trying to profit from donors. The organization also allegedly broke export laws and is under federal investigation, underscoring the importance of appropriate vetting.

Building on a Foundation of Success

Informal security assistance scored successes in the first year of Russia's renewed invasion in part due to three key factors. First, crowdfunding efforts and leading organizations emphasize transparency. They track and publish where and how they spend their resources. Transparency engenders donor trust and spurs follow-on support.

Second, when it comes to private citizens assisting Ukraine, smaller is often better. A smaller organization means less overhead when financing assistance. Organizations that are smaller on the ground tend to be more efficient and responsive — translating into higher quality assistance — according to our discussions with Blue/Yellow and Christian Borys and Evgen Vorobiov, the founders of St. Javelin. Instead of dealing with layers of bureaucracy and contractors, smaller groups are flexible and can quickly solve problems through personal networks.

Third, successful informal security assistance is built on years of close and continuous relationships. Many organizations conveyed the value and credibility built by being present in Ukraine before 2022, which enabled faster donor responses and mobilization of networks and resources. U.S. National Guardsmen who trained Ukrainian soldiers in the aftermath of Russia's 2014 intervention were instrumental in advising the Ukrainians in the first weeks of Putin's full-scale invasion. Moreover, the California Air National Guard has advised the Ukrainian Air Force since 1993 through the State Partnership Program and is credited as an important relationship in keeping the Ukrainian Air Force highly adaptive and flying.

Improving Informal Security Assistance Efforts

Four policies are needed for the U.S. and Western governments to make informal security assistance more effective and cost-efficient.

First, policymakers can streamline International Traffic in Arms Regulations to prioritize groups sending assistance to Ukraine. Volunteers mentioned the State Department export process is mired in red tape and can cost them up to $2,500 per license, impeding the delivery of supplies to frontline Ukrainian forces. The State Department must place a "pause" and moratorium on certain export licenses and costs involving the movement of goods to Ukraine.

Second, the United States must leverage technology companies. Per our interview with Jonas Oehman, PayPal blocked electronic payments to Blue/Yellow in June 2022, because they "felt that we, at first were allowing friends/family payment types and then later we were told we were deemed a 'risk' because it looks like we supply weapons, but we don't." In January of 2023, the Russian government, according to Oehman, filed a complaint with Paychex and Amazon Web Services for "objectionable content" on the Blue/Yellow website to prevent donations. Such actions force them to seek alternative funding methods. The February 2023 announcement that Starlink was limiting the use of its systems for Ukrainian troops was not new. Several activists said SpaceX has been unresponsive to multiple repeated attempts to troubleshoot Starlink terminals for internet access near Russian frontlines since the summer of 2022, impeding Ukrainian communications. Concern about Elon Musk cultivating closer relations with Russia and advocating pro-Russian narratives gives many activists worries about Musk inhibiting pro-Ukrainian use of Twitter and Starlink. Congress should pressure companies to allow pro-Ukrainian groups to utilize vital services, and in the case of Space X, the White House should consider invoking the Defense Production Act to compel the provision of Starlink coverage.

Third, Congress and the Department of Defense — and many NATO allies — need to reform export laws concerning manuals and firing tables for certain weapon systems. In most cases, such information is not classified or top secret but is marked "Not for Export" or "Controlled Unclassified Information." This creates a difficult dilemma for some NATO military members hamstrung by the laws of their own governments that limit their abilities to provide instructions to units using Western weapons and ammo. Weapon manuals come in many different languages, leaving Ukrainian units to translate them into Ukrainian or English. NATO could expedite translations or provide English manuals. Our team has identified the Ukrainian military using at least 18 western mortar and artillery systems (105mm, 120mm, and 155mm), over 28 unique projectiles, and 9 different propellants. Due to the unusual mix of Western weapons and mismatched rounds, more resources should be dedicated to model artillery and mortar distances at the U.S. Army Combat Capabilities Development Command Armaments Center. This would save Ukrainian units resources by not having to develop their own trial-and-error firing tables and reduce the number of tubes damaged each week due to incompatibility.

Finally, the U.S. can support concerted interagency efforts to integrate some non-governmental organizations and activists into long-term irregular statecraft strategies for Ukraine. Military planners could establish non-governmental organization coordination cells, providing them access to excess military airlift to help transport bulk goods and supplies. It would save volunteers thousands of dollars on international flights and excess baggage fees. Civil society and highly motivated volunteers bring substantial speed, power, and value in a crisis and should be accounted for in future irregular strategies.

Despite the entrepreneurial value of non-governmental organizations and volunteers — supplying frontlines units, collecting sensitive intelligence, and developing trusted sources and networks — several groups told us no U.S. government agency has reached out to them for information. As rising costs and fears of escalation continue to shape debates over military assistance to Ukraine, informal security assistance to Kyiv represents a long-term, low-cost irregular option to outcompete Russia and, more importantly, defend Ukraine's territorial integrity. The fact that many view informal security assistance as little more than a hobby suggests the United States is missing a major opportunity.
Much, much, much more at the link!
That's enough for tonight.
Your daily Patron!
There are no new Patron tweets or TikTok videos posted, so here's some adjacent material from Ukrainian Army Cats and Dogs:
😎 #Ukraine #UkraineRussiaWar #UkraineWar #Leopard #CatsOfTwitter #CatsOnTwitter #RussiaisATerroistState #UkraineWarNews #UAarmy #Zelensky #UkraineRussiaWar️ pic.twitter.com/aIikO4TFiI

— UkrARMY cats & dogs (@UAarmy_animals) April 15, 2023
Cat friend#Ukraine #UkraineRussiaWar #UkraineWar #Leopard #CatsOfTwitter #CatsOnTwitter #RussiaisATerroistState #UkraineWarNews #UAarmy #Zelensky #UkraineRussiaWar️ pic.twitter.com/72I4qFuMWJ

— UkrARMY cats & dogs (@UAarmy_animals) April 15, 2023
☺️#Ukraine #UkraineRussiaWar #UkraineWar #Leopard #CatsOfTwitter #CatsOnTwitter #RussiaisATerroistState #UkraineWarNews #UAarmy #Zelensky #UkraineRussiaWar️ pic.twitter.com/7DzRTsY6qm

— UkrARMY cats & dogs (@UAarmy_animals) April 15, 2023
Cat paratrooper 😃#Ukraine #UkraineRussiaWar #UkraineWar #Leopard #CatsOfTwitter #CatsOnTwitter #RussiaisATerroistState #UkraineWarNews #UAarmy #Zelensky #UkraineRussiaWar️ pic.twitter.com/ER0spAvEfM

— UkrARMY cats & dogs (@UAarmy_animals) April 16, 2023
😀#Ukraine #UkraineRussiaWar #UkraineWar #Leopard #CatsOfTwitter #CatsOnTwitter #RussiaisATerroistState #UkraineWarNews #UAarmy #Zelensky #UkraineRussiaWar️ pic.twitter.com/FpfGnJ8dZe

— UkrARMY cats & dogs (@UAarmy_animals) April 16, 2023
Small dogs and cats on Ukrainian positions.#Ukraine #UkraineRussiaWar #UkraineWar #Leopard #CatsOfTwitter #CatsOnTwitter #RussiaisATerroistState #UkraineWarNews #UAarmy #Zelensky #UkraineRussiaWar️ pic.twitter.com/UPGDlqSB2e

— UkrARMY cats & dogs (@UAarmy_animals) April 17, 2023
☺️#Ukraine #UkraineRussiaWar #UkraineWar #Leopard #CatsOfTwitter #CatsOnTwitter #RussiaisATerroistState #UkraineWarNews #UAarmy #Zelensky #UkraineRussiaWar️ pic.twitter.com/5xmwLZl6XJ

— UkrARMY cats & dogs (@UAarmy_animals) April 18, 2023
Open thread!