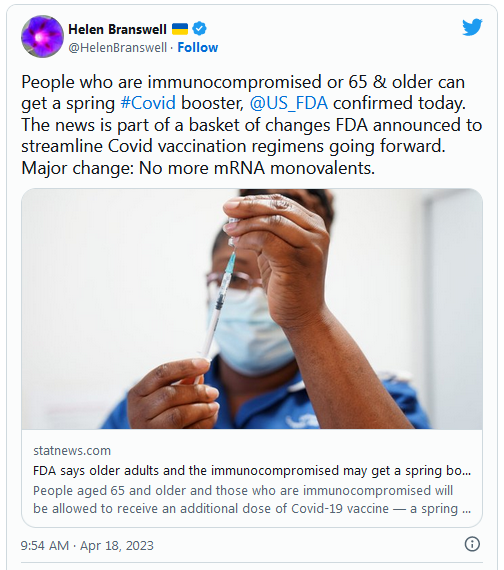 … "At this stage of the pandemic, data support simplifying the use of the authorized mRNA bivalent Covid-19 vaccines and the agency believes that this approach will help encourage future vaccination," Peter Marks, director of FDA's Center for Biologics Evaluation and Research, said in a statement. "Evidence is now available that most of the U.S. population 5 years of age and older has antibodies to SARS-CoV-2, the virus that causes Covid-19, either from vaccination or infection that can serve as a foundation for the protection provided by the bivalent vaccines."

People 65 and older should only get another shot if at least four months have elapsed since their most recent booster, according to the recommendation. For people who are immunocompromised, the suggested interval between shots is two months. The agency said immunocompromised people could get additional doses after that "at the discretion of, and at intervals determined by, their health care provider."

Marks said the decision to defer the length of the interval between boosters for immunocompromised people to their health care providers is a reflection of the fact that there is a wide variety of conditions that trigger an immunocompromised state, making a one-size-fits-all approach impractical….

The changes announced by the FDA made no reference to whether people who have recently had Covid should wait for a period before getting another booster. Current CDC guidance suggests that people who have recently had Covid "may" consider waiting three months before getting another booster.

The FDA issued what is known as a "permissive" recommendation, one that applies only to the bivalent vaccines made by Moderna and the Pfizer-BioNTech partnership. It is not trying to push everyone aged 65 and older and all people who are immunocompromised to get another jab this spring; rather the agency is saying people within those demographics who want another dose may get one. Rochelle Walensky, director of the Centers for Disease Control and Prevention, must sign off on the recommendation before it goes into effect; she is expected to do so…

People looking for an additional booster should be able to get the vaccine at their local pharmacy — if the pharmacy still stocks Covid vaccine. The Biden administration announced Friday that even though the Covid public health emergency will expire on May 11, it is retaining an emergency power that allows pharmacists to vaccinate against Covid until at least the end of 2024….

There is an exception involving young children. Children ages 6 months to 5 years who have never been vaccinated and who are receiving the Moderna vaccine should get two doses. For children who are 6 months to 4 years old who have never been vaccinated and are receiving the Pfizer/BioNTech vaccine, three doses are recommended.
This is very good #COVID19 news. BUT, caution — the very contagious XBB.1.16 form of #SARSCoV2 is causing surges in other countries, but has only begun to spread in USA.
🤞🏽 https://t.co/dFyxEhFVat

— Laurie Garrett (@Laurie_Garrett) April 16, 2023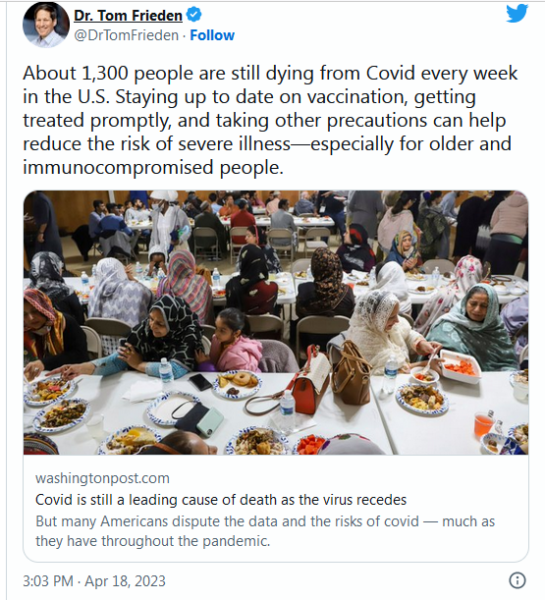 [gift link]
Per BioBot wastewater data, U.S. levels of SARS-CoV-2 are their lowest of any point in the past year.

Simultaneously, levels are higher than during 37% of the entire pandemic.#MaskUp #VaxUp #CovidIsNotOver https://t.co/zsfi7KAM4B pic.twitter.com/KJevErzUr7

— Mike Hoerger, PhD MSCR MBA (@michael_hoerger) April 13, 2023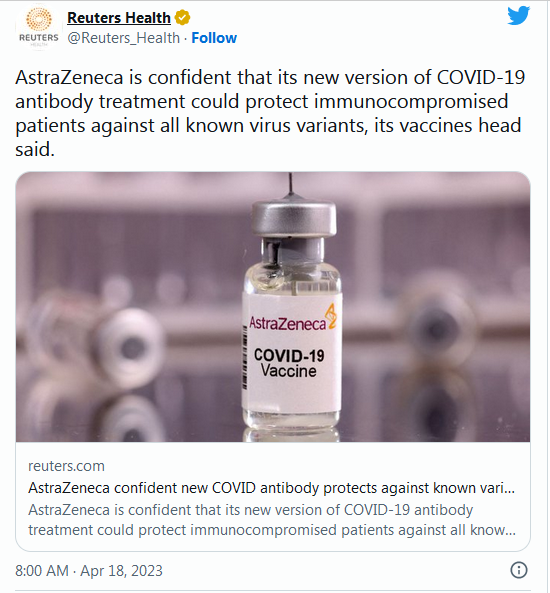 (link)
======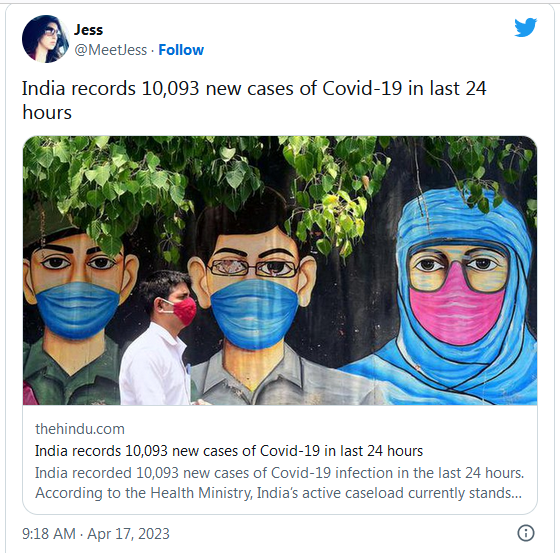 (link)

(link)
Widespread masking is one reason Japan has outperformed other countries in terms of pandemic excess mortality https://t.co/djSAu5iDpY

— chantzy (@chantz_y) April 15, 2023
Usually I get no hits when searching for Russian covid news. Does this mean there's something unusually virulent emerging?
New coronavirus variant rears its head in Russia — sanitary watchdog. Apart from that, according to the watchdog, COVID-19 incidence dropped by 14% from the previous week and stood at 49,500 cases:https://t.co/qMgdZcbdRu pic.twitter.com/4FxlfnHgPb

— TASS (@tassagency_en) April 18, 2023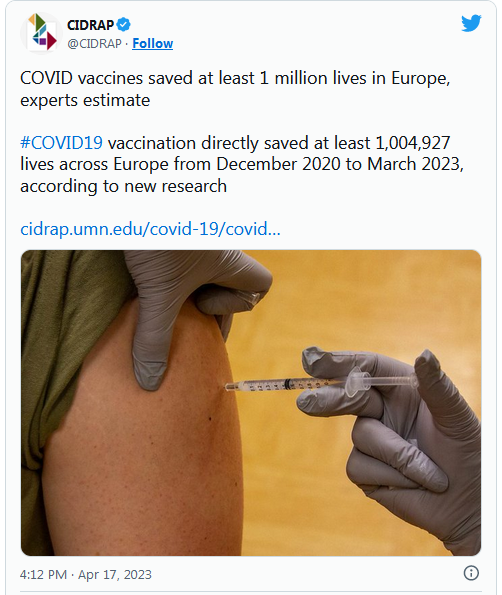 (link)
Tasmania has recorded the highest spike in patients hospitalised with COVID in the country – as health experts urge residents to have their vaccinations up to date amid a new virus wave.

🔹Hospitalisation: Up 57%
🔹Reported COVID cases: Up 5%#COVID19TAShttps://t.co/yeW0Ap4n6x pic.twitter.com/fdwZWIrNtL

— Denis – The COVID info guy – (@BigBadDenis) April 16, 2023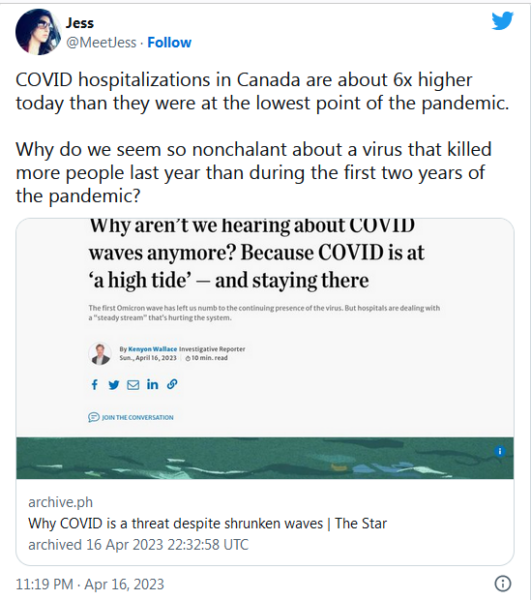 (link)
======
The XBB.1.16 "Arcturus" variant which can cause itchy eyes has been growing rapidly in Ontario since late March and now the 2nd most prevalent variant.
I have created a tutorial so everyone can learn how to see the top variants in your area here ( https://t.co/Um8FiFs1WD ). pic.twitter.com/N5AL5FsJMc

— Jeff Gilchrist (@jeffgilchrist) April 16, 2023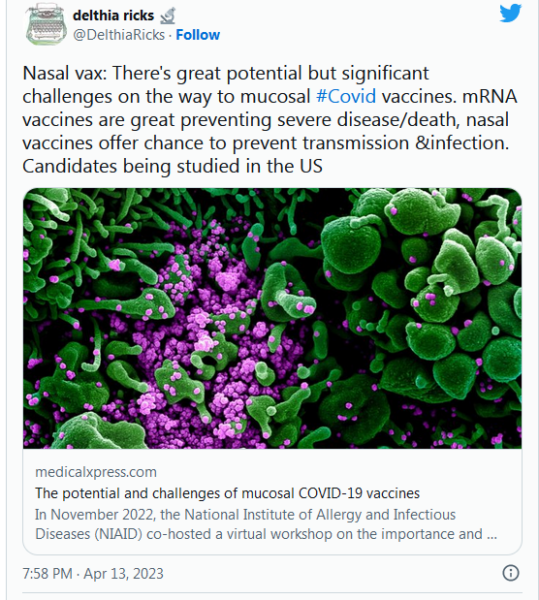 (link)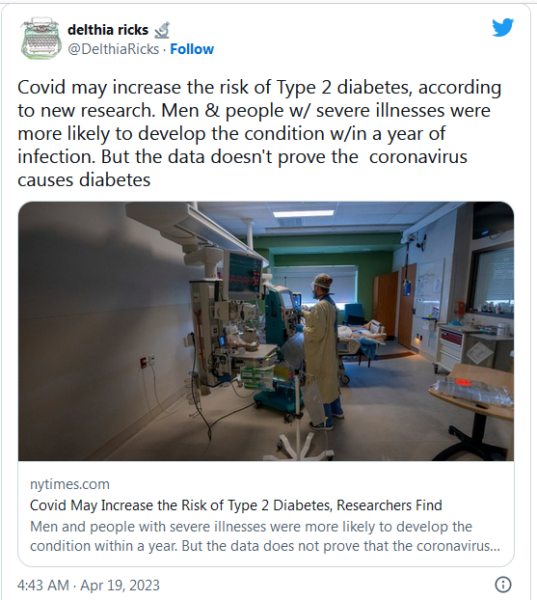 (link)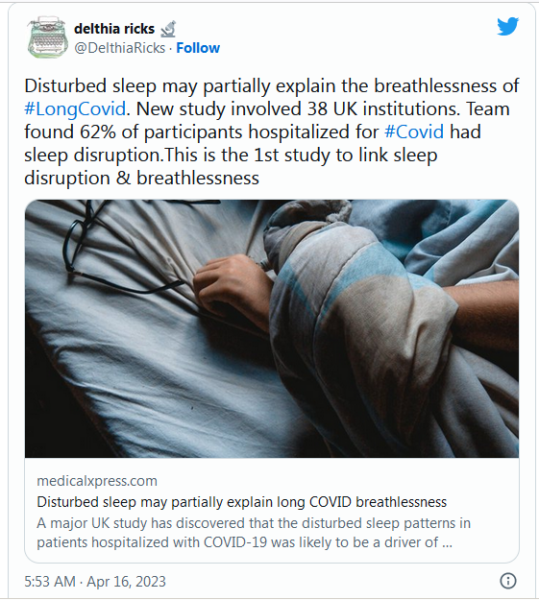 (link)
Translation: The #SARSCoV2 virus switches on genetic signals in human cells that undermine connections between key, signaling chemicals of the immune system and the B and T cells that need to be activated to stop the virus. So, natural immunity is undermined.

— Laurie Garrett (@Laurie_Garrett) April 15, 2023
#LongCovid's neurological symptoms may be shaped by exposure to other coronaviruses. New findings suggest a possible role of an 'original antigenic sin.' These people had robust antibody responses to common cold coronaviruses but weak responses to SARSCoV2 https://t.co/sLOqe14BO3 pic.twitter.com/OV9ec6wzmj

— delthia ricks 🔬 (@DelthiaRicks) April 19, 2023
Loss of smell in #LongCovid is linked to distinct changes in the brain, a new study found. In fact, people living w/ LongCovid & suffering from anosmia show certain patterns of activity in specific brain regions. MRI scans were used to analyze the brain https://t.co/wkBZ01sZiH

— delthia ricks 🔬 (@DelthiaRicks) April 18, 2023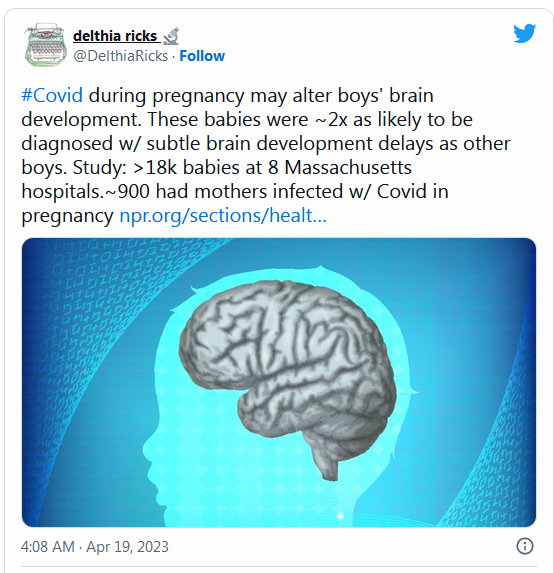 (link)
In the lab: New Swedish study is developing lab-made antibodies that *tag* #SARSCoV2 for destruction by patrolling immune cells. Cocktail of these antibodies show strong impact against SARS2. It's a move away from monoclonal antibodies which no longer work https://t.co/SiuFrLtT4L pic.twitter.com/A1r178lzJ4

— delthia ricks 🔬 (@DelthiaRicks) April 18, 2023
Virological and serological evidence of circulation of SARS COV 2 among white tailed deer in the US. Large study, worrisome results. High prevalence of ongoing and past infections, showing this is a reservoir in which the virus is circulating https://t.co/sxFQ9rRcj1 pic.twitter.com/qU6ZORH1yA

— Marion Koopmans, virology; emerging infections (@MarionKoopmans) April 18, 2023
Across the wealthy world hospitals, since arrival of #COVID19 are struggling with spread among patients and staff of extremely dangerous forms of fungi and drug-resistant bacteria, on a scale that is unprecedented. Even immune system-devastating #HIV in the 1980s didn't spawn… https://t.co/SDRPr4es2u

— Laurie Garrett (@Laurie_Garrett) April 16, 2023
======
It's disgusting that federal officials and the media are essentially framing our current situation as "sure, COVID is still one of the leading causes of death, but don't worry, it's only old and immunocompromised people." https://t.co/ID7v8IvKdZ

— Dr. Lucky Tran (@luckytran) April 17, 2023

(link)
The decision by @CAPublicHealth to stop requiring masks in health care settings is a failure of public health leadership.

This is an attack on frontline health care workers, who will now face greater risk of Covid infections, reinfections, and long Covid!https://t.co/oIr7KyEZQE

— California Nurses (@CalNurses) April 14, 2023
I guess if you promoted the article as "Republican aides' draft left in a drawer by Sen. Burr and leaked by Republican aide does not rule out lab leak theory" it might not draw so much attention.

— southpaw (@nycsouthpaw) April 17, 2023
Reader Interactions