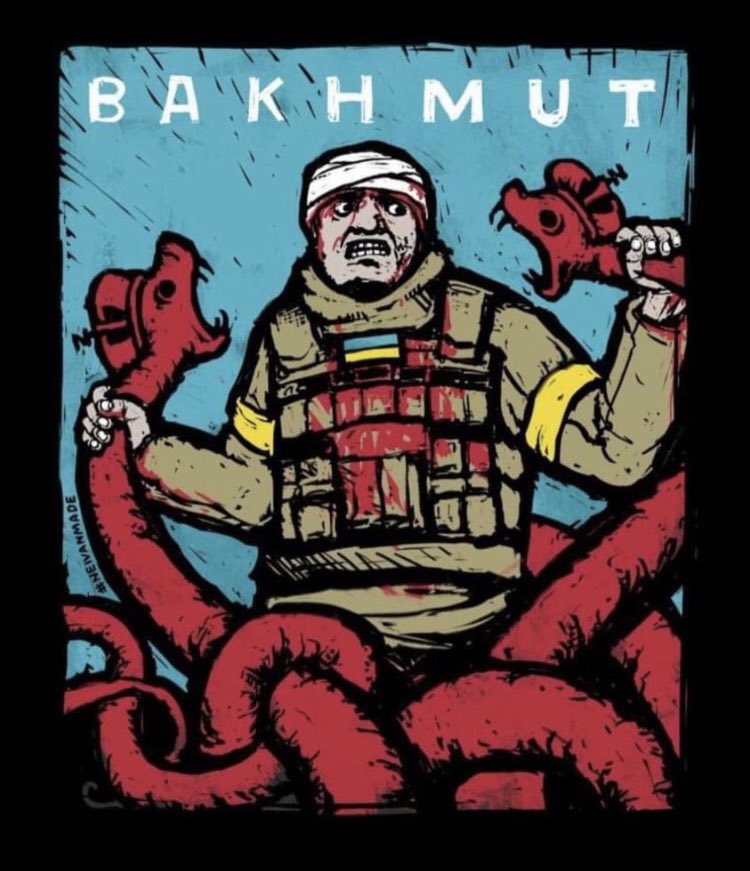 (Image by NEIVANMADE)
The Washington Post has published detailed reporting about the battle for Bakhmut. Some of it deals with information from the unauthorized disclosures surrounding Airman Teixiera's theft and misuse of classified information. I'm not going to talk about that bit. Also, do not ask me what a "physiological operation" is supposed to be. I don't work for the DIA and I have no idea what they're on about. What I do want to do is highlight the following parts (emphasis mine):
The Ukrainian commander overseeing the fight for Bakhmut, Col. Pavlo Palisa, said he was never formally briefed on this U.S. intelligence or the recommendations on how to leverage the fight in Bakhmut for additional advantage.

"I'm not such a big fish," he said, speaking from a basement command center.

Palisa credited his ability to hold parts of the city for months longer than predicted to a combination of classic urban warfare and advanced drone reconnaissance, including layers of signal jamming.

After Russian forces breached Bakhmut's perimeter, Palisa said he pulled his forces back into residential blocks, using rooftops as high ground and converting homes into antitank positions. Deeper inside the city, both sides began to rely heavily on reconnaissance drones for targeting and jammers to confuse the opponent's navigation systems.

When Palisa arrived at his post in mid-January, the assessments he heard from the officers around him echoed Washington's pessimism."Those guys said 'I don't know, maybe two or three weeks.' But months later and we're still here, trying to do our best to hold the city," Palisa said, expressing confidence in the mission.

"There is this fluid motion going on," said a Ukrainian first lieutenant who asked to be identified by his call sign Tatarin, in keeping with military protocol. Russian attacks along the front allow their forces to advance a few hundred meters before being pushed back hours later. "It's hard to distinguish exactly where the front line is because it moves like Jell-O," he said.

"The situation on the road is constantly moving," Tatarin said, describing how positions shift throughout the day along Ukraine's main supply road in and out of Bakhmut. "In the morning we can control it, and then we can lose it and take it back. But most of the time Ukrainian forces still control the road."

Once inside Bakhmut, the fight almost immediately slowed to a block-by-block slog. At times, the two sides would battle for weeks over control of a handful of residential blocks, Melnikav said.

"If you look at it in a strategic way, Ukrainian forces are holding a lot of enemy troops inside the city; it prevents them from going to different parts of the front line," Tatarin said. "That's why we're holding on to the city, to eliminate as many enemy forces as possible."

Palisa said ammunition shortages have repeatedly forced his troops inside Bakhmut to withdraw from their positions. "We don't have enough rounds to engage them," he said, "and I recognize we are paying with the lives of our soldiers."

"I can give an assessment of the success of the mission only after everything is finished," he said, dodging a question about whether the fight has been worth the lives lost and materiel spent."Every soldier understands that when we are holding the city, when we are inside Bakhmut, we are giving time to our newly created units to train and prepare for future actions," he said.

"I would like to see the city without all the destruction," Palisa said. "But if it helps to save other Ukrainian cities, we need to do what we have to do."
Much more at the link!
Here is President Zelenskyy's address from earlier today. Video below, English transcript after the jump:
Now we all need to stay united, mobilized and fully focused on defense – address of the President of Ukraine

21 April 2023 – 19:02

Dear Ukrainians, I wish you health!

I held a meeting of the Staff of the Supreme Commander-in-Chief. Generals Syrsky, Tarnavsky, the Commander-in-Chief, the Defense Intelligence chief, and representatives of the Government reported.

We constantly and carefully analyze the course of hostilities, the hottest and all potentially dangerous areas. The frontline is priority number one.

We are also actively preparing new brigades and units that will show themselves at the front. The issue of their provision, training, and integration into the overall Defense Plan – we add crucial details every time at the Staff meetings.

Everyone in Ukraine must understand that the main task of the state is the de-occupation of our territories, the return of our lands and our people from Russian captivity. State resources are directed primarily to this task. And I am grateful to everyone who helps. Who keeps the world's focus on Ukraine. To everyone who creates jobs in Ukraine, who pays taxes, and who stays in the country and supports the work of their enterprises. To everyone who organizes fundraising for our soldiers and recovery – fundraising in Ukraine, in other countries… Now, just like last year, we need to stay united, mobilized and fully focused on defense.

Today, I would like to personally thank each and every one who manufactures weapons and ammunition, drones at state-owned defense enterprises and businesses that joined, all those who repairs equipment, who creates new equipment, in particular, for demining. Thank you for the fact that, despite everything, Ukraine is increasing our defense production potential.

Today, at the Staff meeting, we, as usual, considered the missile program and ammunition issues in detail.

All day the utmost attention to communication in the Ramstein format, today was a meeting. I thank those partners whose determination is fully in line with the actual situation and needs on the battlefield. I am waiting for the report of the Minister of Defense on the results of the meeting.

I spoke with the president of the European Bank for Reconstruction and Development, she was visiting Kyiv. The key is the real economic interaction of the EBRD with Ukraine, and the bank's involvement in the recovery and development of our country.

Every investment now, every job saved or created in Ukraine, every implemented economic project is also protection. And when it comes to defense, speed is crucial. The attention of the EBRD was drawn, in particular, to the urgent needs for recovery, housing construction, and investment opportunities in Ukraine. To work with Ukraine and in Ukraine right now is to implement the very mission for which the EBRD was created.

Today, I also held an ad hoc meeting regarding those events – primarily international – that are to be held in the coming weeks and months. We work out the content of each event in detail. Ukraine and our soldiers have no time for formal politics and any impractical things. Every event, every negotiation and meeting should give concrete help to the defense, should concretely strengthen our soldiers and protect our values.

Weapons and ammunition for our soldiers, resilience for our economy, real preparedness for any scenarios – all this is absolutely substantive. So it was and so it will be.

Of course, I want to thank our soldiers.

Bakhmut. For brave actions – to 5th Separate Assault Brigade. Thanks, guys! Lyman direction. For stability and reliable holding of positions – to 66th Separate Mechanized Brigade. Well done!

96th Kyiv Anti-Aircraft Missile Brigade. Thank you, warriors, for your accuracy!

Thank you to everyone who is currently in positions, in the trenches, on combat missions, and on combat duty!

Thanks to everyone who helps the front!

And please remember those who gave their lives defending Ukraine and Ukrainians. Great tribute to our heroes!

Glory to Ukraine!
There are still no operational updates, nor anything else posted on the Ukrainian MOD's Telegram channel since Wednesday.
The Ukrainian MOD does, however, have a message for the US National Command Authority:
Hey there. We need to talk—again. You got over your fear of sending us tanks. But now we hear you're worried about sending us fighter jets. Worry no more. pic.twitter.com/Bi5QN08UDZ

— Defense of Ukraine (@DefenceU) April 21, 2023
The Commanding General of the Ukrainian Air Force also weighed in:
"Checked the combat positions of the "Patriot" air defense system on one of the directions!
In order for the puzzle of a promising Ukrainian air defense to be finally completed, the Air Force needs an F-16!"
Lieutenant General Mykola Oleshchuk. pic.twitter.com/jc893bXjzR

— Ukrainian Air Force (@KpsZSU) April 21, 2023
The Drive published a really interesting and thought provoking piece that the real solution for Ukraine may be Australia's fleet of upgrade F/A-18 Hornets, which have never actually seen service and are supposed to be sold to a third party in the US that will use them for training purposes. (emphasis mine)
Nearly two and a half years ago, we reported on an American adversary air services provider, Air USA, that was set to acquire the vast majority of the Royal Australian Air Force's deeply upgraded F/A-18A/B Hornet fleet. Fast forward to today and Air USA has a new name, RAVN Aerospace, but no ex-RAAF Hornets.

Considering what is happening in Ukraine, and the country's extreme need for Western fourth-generation fighter capabilities, having dozens of upgraded F/A-18s in good condition just languishing in storage seems like a remarkable missed opportunity. With this in mind we set out to get to the bottom of the status of the Hornets and what could be possible not just in terms of providing fighters for Kyiv's cause but also rapidly training pilots and ground crews to support that cause.

The original plan was for Air USA to acquire 46 Hornets. Canada had bought 25 prior to the deal with Air USA to help bolster its aging CF-18 fleet. The Australian Hornets are largely upgraded to an A++ standard, which gives them the capabilities of newer F/A-18Cs, including the type's upgraded AN/APG-73 radar.

In addition, these Hornets have never been battered around on an aircraft carrier or exposed to constant salt water during deployment. So we are talking about nearly four dozen highly relevant and well-cared-for fighters here. This is pretty much the size of Ukraine's MiG-29 fleet, prior to recent transfers from NATO supporters, the type serving as the backbone of its current fighter force.

When it comes to the Australian Department of Defense, which publicized the deal with Air USA when it was struck, you'd think an inquiry as to the status of their surplus Hornets and the deal to export them to the United States would be a simple ask. That has not been the case. Repeated attempts to get them to comment on any of this have gone unanswered. It is totally unclear why this is the case. There is hardly anything secret about retired Hornets sitting in storage.

As for the State Department, which would be critical for allowing the re-import or re-export of the Hornets, all a spokesperson could say was, "as a matter of policy, we are unable to comment on or confirm specific potential defense trade licensing activity." So no luck there.

RAVN Aerospace also declined to provide official comment on the situation with the Hornets at this time.

In the meantime, we have even heard rumors that if the Hornets do not get exported, they could be destroyed. This is hardly out of character for the RAAF, which famously buried its F-111 "Pig" swing-wing combat jet fleet after retirement. Doing so to the Hornets would be a shame, bordering on outrageous, considering there is a country very much in need of fourth-generation fighters.

Yes, the F-16 has the most impressive training and support infrastructure, but the F/A-18 still has that infrastructure, as well, and will be flooded with spare parts as more Hornets retire. More on that in a moment.

In terms of capabilities and performance, the F/A-18 is arguably better suited for Ukraine than the F-16. As a twin-engine design that excels at slow-speed handling, it is more in line with Ukraine's MiG-29 and Su-27 fleets. Its very robust carrier-capable landing gear is also better suited for Ukraine's Soviet-era airfield infrastructure and potential for distributed and austere operations, which Ukraine has been executing to make targeting harder for Russian forces. Like the F-16, it can carry pretty much anything that would be available to Ukraine now and in the future and can be quickly adapted to handle new capabilities if need be.

So, taking all this in mind, the fighter solution Ukraine needs right now is sitting in storage in Australia. These aircraft are urgently needed. They should be donated to Ukraine immediately and the quickest possible training transition program should be established to get these jets on Ukraine's ramps with crews ready to employ and maintain them as fast as possible.
There is much, much, much more at the link! Including a detailed discussion of the logistics tail as other US allies and partners begin to retire their upgraded their Hornets and Super Hornets. And a full discussion about how to best set up in the shortest amount of time an efficient and effective training program for Ukrainian aviators so as to minimize the flash to bang time. Absolutely outstanding idea and an excellent piece of analytical reporting!
Release the upgraded Bugs!!!!
There's also an air defense message form the Ukrainian Air Force:
Full video with EN subtitles:https://t.co/0Pc34N2uig

— Ukrainian Air Force (@KpsZSU) April 21, 2023
Here's the full video:
I know Secretary Austin from when he was Major General Austin. This is not his happy face.
We had a fruitful bilateral meeting with our American counterparts. It was a candid conversation in a common language. I am grateful to Ukraine's great friends, @SecDef Lloyd Austin and Mark Milley, for their leadership in bolstering the anti-Kremlin coalition. We are efficiently… pic.twitter.com/wlXLVWhXc1

— Oleksii Reznikov (@oleksiireznikov) April 21, 2023
Here is the full text of Minister of Defense Reznikovv's tweet:
We had a fruitful bilateral meeting with our American counterparts. It was a candid conversation in a common language. I am grateful to Ukraine's great friends, @SecDef Lloyd Austin and Mark Milley, for their leadership in bolstering the anti-Kremlin coalition. We are efficiently and transparently leveraging the assistance that has been provided by the American people. The enemy will feel the consequences of our agreements.
Bakhmut:
Here's a really good thread detailing why the Russians stalled out on the northern side of Bakhmut. First tweet from the thread and the rest from the Thread Reader App:
Heavy fighting on the northern side of Bakhmut. In the Khromove road area, despite constant attacks and shelling, Russians have not made any significant progress for weeks.

Our #OSINT team acquired some satellite images which will explain why the attack has mostly halted. 1/🧵 pic.twitter.com/uTaokNyScm

— Emil Kastehelmi (@emilkastehelmi) April 21, 2023
The main reason for the static situation are the extensive fortifications dug by the Ukrainians. They were well prepared to defend against the Russians, and they have held their positions even under the most difficult conditions, even longer than I initially expected. 2/

The general situation in the area looks like this. There can be some slight errors, as some areas are constantly changing hands. Russians are pushing from all sides, and Ukraine is conducting small-scale counterattacks inside the city and the surrounding areas. 3/

The main fighting is taking place in the trenches near the Khromove road. The Russians have concentrated their artillery fire here, and the ground is black from the shelling. Even though the fortifications are damaged, they still seem to be somewhat usable. 4/

This famous clip shows what fighting on the ground looks like. I'm usually trying to avoid the phrase "this looks like WW1", but the video coupled with the satellite imagery does give me a feeling that I've seen this before, so to say. 5/

The Khromove road is not in active use anymore, and has not been for a few weeks, as it has become too dangerous. Satellite images show multiple destroyed vehicles on the side of the road.

Main supply routes go from Ivanivske to Bakhmut. 6/

Holding this area is extremely important for Ukraine. If it falls, Russians are at visual range from the remaining supply roads. If they manage continue towards the heights behind Ivanivske, Ukraine is most likely forced to abandon Bakhmut. 

7/

 

This battle shows again, that trenches do matter. Now Ukraine is using them to repel Russian attacks, but it will be difficult when Ukraine needs to punch through the Russian fortifications in multiple directions during their spring offensive. HIMARS isn't the answer to this. 

8/

 

An interesting little detail: A rather large fire in the Russian-controlled zone, next to a forest strip. It is unclear what is burning there, but there is a lot of smoke coming out of it. 9/

Our team (me, @J_JHelin, @EerikMatero, @Inkvisiit and others) continues to monitor the situation. We're constantly updating our interactive map.

Also, more satellite stuff to come. Thanks to @wihurinrahasto for making this possible. 10/10
More from Bakhmut:
Ruzzians declared this morning they cut off the Chasiv Yar – Bakhmut. Ukrainian Bakhmut Demon says this is not the case yet, but they're close.https://t.co/HEiK8Eo5l5 pic.twitter.com/YLk80hsLvV

— Dmitri (@wartranslated) April 21, 2023
Here's the translation from Bakhmut Demon and no, I do not know why the machine translation tool turned it into Mahmut.

Apparently Prigozhin, or whomever writes his Telegram posts, is a clearer thinker than anyone in the Kremlin:
Prigozhin talks a lot, and talked a lot again today. To be precise, responding to the questions about the Rammstein-11 summit and how worrying its results are for Russia. Prigozhin does not appear to be delusional and says there are no good news for Russia in the decisions made… pic.twitter.com/AEvFNJEEEP

— Dmitri (@wartranslated) April 21, 2023
Here's the screen grabs of Dmitri's translations so you don't have to click through: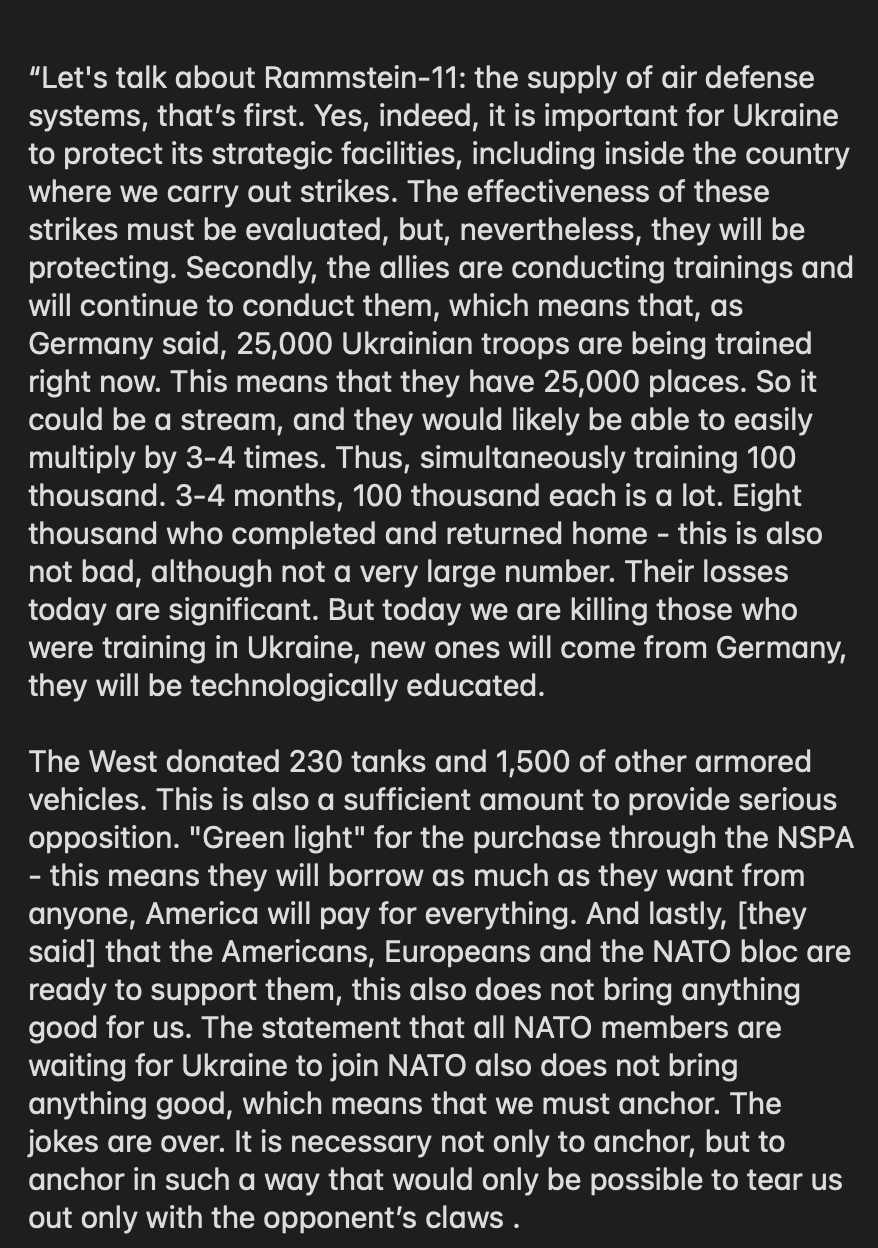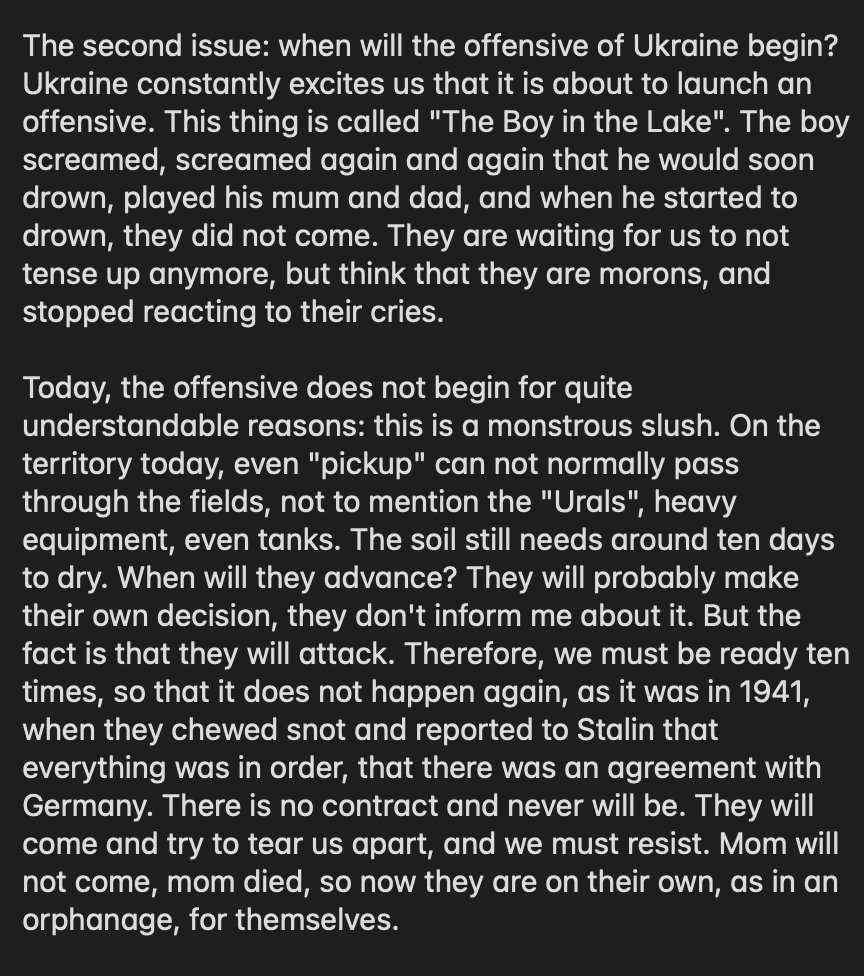 Not sure where the 8th SSO Regiment is located right now, but this is interesting. Before anyone asks, the flag with the crest and Latin motto above this Ukrainian Soldier is a combination of a Ukrainian national flag (G&T: do you call it a bicolor?) combined with a US national flag. On the Ukrainian half is the crest and motto of US Special Forces aka the Green Berets. On the US half is the crest of Ukrainian Special Forces.
Question 1 – by @Hansolo37059705

➡️How often do you guys rotate in and out? Do you have enough reserves to get time to see your families occasionally? Do you rotate from hot zones to calmer regions? Any good books you're reading? pic.twitter.com/Ki5nS0hx04

— NOËL 🇪🇺 🇺🇦 (@NOELreports) February 14, 2023
Question 3 – by @jwhitleyamery

➡️How difficult is it to stay warm at night? What do you do to keep warm on the front lines? pic.twitter.com/M9T07bvidY

— NOËL 🇪🇺 🇺🇦 (@NOELreports) February 14, 2023
That was the first episode. Do you like this concept? Please let me know what you think in the comments.

Keep an eye on this channel for the next episode. You will soon be able to send in your questions again. We try to do this once a week or two weeks.

🇺🇦👊 pic.twitter.com/vLCrt7xlP1

— NOËL 🇪🇺 🇺🇦 (@NOELreports) February 14, 2023
Not quite sure where this is either:
A Ukrainian FPV kamikaze drone attacks a Russian BMP. Then a second Russian BMP arrives to evacuate the first one, but also gets hit by FPV drone. https://t.co/RJOpkROhGa; https://t.co/i0fqrD9lwM pic.twitter.com/gKS3bakpWF

— Special Kherson Cat 🐈🇺🇦 (@bayraktar_1love) April 21, 2023
Here's better footage from the Russian air strike on Belgorod, Russia last night:
Clearer video of a Russian bomb that detonated in Belgorod last night. pic.twitter.com/vZnoFFvq7J

— Dmitri (@wartranslated) April 21, 2023
Look, I don't write the script, nor am I in charge of continuity quality assurance/quality control. I just do the update posts.
Igor Girkon, the Black Sea Cossack who made his reputation in the separatist fight that created the Transnistrian breakaway statelet between Ukraine and Moldova and who was one of the three principal actors on the ground in the Donbas in 2014 that made Putin's initial invasion possible, has some questions:
Igor Girkin is extremely productive today. He posted plenty of "angry questions" that he wants to ask the Russian government. Here is part 1. Historical questions.

My translation:

Methodical questionnaire of an angry patriot. (A collection of questions to government officials… pic.twitter.com/mvps7ts5Ua

— Volodymyr Tretyak 🇺🇦 (@VolodyaTretyak) April 20, 2023
The full text of part 1:
Igor Girkin is extremely productive today. He posted plenty of "angry questions" that he wants to ask the Russian government. Here is part 1. Historical questions.

My translation:

Methodical questionnaire of an angry patriot. (A collection of questions to government officials and propagandists, which we would like to get direct and honest answers to, with the ensuing organizational conclusions).

I. Historical questions:

1) In 2014, the power of the Ukro-junta was hanging by a thread. All of Novorossiya – looking at Crimea – was looking forward to Russia. But the Kremlin first refused to send peacekeeping forces to Donbas and then was the first in the world to recognize the legitimacy of Poroshenko's election. As a result of the eight-year "Minsk dragnet," the authorities of the so-called "Ukraine" created a combat-ready army, suppressed the protest movement, brainwashed much of the population, and by 2022 were able to confront the Russian Armed Forces on the battlefield. WHO is responsible for the strategically -wrong decisions for which Russia is now paying with thousands of lives and tens of thousands of cripples? Who has been or should be punished for this cretinism and/or direct sabotage?

2) Why were (and still are) the leaders of the People's Republics of Donbas who descredit the ideas of the Russian Spring by the very fact of their presence in power? How and in what way were the most prominent and respected heroes of the 2014 militia commanders physically eliminated? Who was or will be held responsible for the fact that instead of a "showcase of the Russian world" in the LPRR for 8 years, there was a "sump" in which people lived much worse than in the Russian Federation and worse than in "Ukraine"?

3) How is it that the president of the Russian Federation (by his own personal admission) was "led around by the nose for eight years by respected Kyiv and dear Western partners" within the framework of the "non-alternative Minsk agreements" and the "Normandy format"? Where were the principled and professional advisers and officials obliged to warn the president about what was obvious to the outside observers who did not receive state funding? Have these officials been punished or at least suspended from further duties?

4) What was the role of many high-ranking Russian officials (Surkov, for example) in the fact that in the fall of 2014, the DNR and LNR militias, together with the Northern Wind [moving of RU troops into Donbas], were unable to reach the borders of these republics, pursuing the already disorderly retreating AFU? Why was the front "fixed" on the outskirts of Donetsk? Why wasn't Mariupol, which had been abandoned by the AFU, liberated? What role did Surkov (and other representatives of Kremlin VIPs) play in these negotiations with Ukrainian oligarchs and, in particular, with Rinat Akhmetov? Why – after the liberation of Debaltseve in the spring of 2015 – were the hostilities again "frozen" and the AFU had a chance to regain its lost combat efficiency?

5) Why is it that for 8 years – while the AFU was feverishly arming itself and preparing for a major war – LDPR units and militia have been living miserably, receiving extremely meager supplies and armed with outdated weapon systems? Why did they receive little or no normal combat training and harmonization? Who was responsible for these issues in the Russian Defense Ministry, and who should be held accountable for the criminal and malicious attitude towards the combat effectiveness of the People's Militia Corps?
Questions from war criminal Igor Girkin to Russian MOD. He posted plenty of "angry questions" that he wants to ask the Russian government. Here is part 2. Questions on RU military and its preparation.

My translation:

Methodical questionnaire of an angry patriot. (A collection…

— Volodymyr Tretyak 🇺🇦 (@VolodyaTretyak) April 21, 2023
And the full text of part 2:
Questions from war criminal Igor Girkin to Russian MOD. He posted plenty of "angry questions" that he wants to ask the Russian government. Here is part 2. Questions on RU military and its preparation.

My translation:

Methodical questionnaire of an angry patriot. (A collection of questions to government officials and propagandists, which we would like to get direct and honest answers to, with the ensuing organizational conclusions).

II. Questions on the preparation of the Armed Forces of the Russian Federation for military actions (addressed to the Defense Ministry and not only):

1) How is it possible that the "Second Peace Army", which continuously wins all the "tank biathlons" and has built a posh "Patriot Park" with a huge temple, found itself at the beginning of combat operations:
– Without a sufficient space-based satellite reconnaissance constellation;
– almost no unmanned aircraft – both reconnaissance and strike (which the enemy had in vastly superior numbers);
– no guided drones at all;
– woefully inadequate artillery correction and anti-battery systems:
– with obsolete and unreliable military encrypted communications systems at all levels???

2) How was it possible that the Special Warfare plan was based on data completely divorced from reality? How is it possible that the information on the unpreparedness of the enemy armed forces for a determined resistance and the information on a high level of fighting preparation and even higher morale of his cadre army were included in it as a base? Why were the inhabitants of the occupied territories and government bodies expected to be "neutral" at worst and completely loyal at best, when in fact, the opposite was true? Who misinformed the president in such an impudent and malicious manner? Who was criminally responsible for it, at least according to peacetime laws?

3) Why were the most blatant crooks and thieves, like the scumbag Medvedchuk chosen as the "favorites" to come to power in "Ukraine" in the event of a victorious outcome of the SMO? Completely unpopular (on the contrary) with the general population of the so-called "Ukraine"? Who selected these figures, and on what grounds? Was there a corruption component in this approach to cadres? Did the recommenders bear any responsibility, or will they bear any responsibility in the future?

4) What military-political goals – understandable for the Russian and "Ukrainian" population – were (and are) pursued by the SSO? On what grounds was the SVO initiated? What is its legal status? Why is it missing even after more than a year of military operations?

5) How – in preparing the SWO – was the possibility of U.S. and EU sanctions not considered? How did it happen that over 300 billion of Russia's foreign currency reserves were blocked (and, in fact, confiscated) abroad? Who among the competent Russian officials was or will be personally responsible for this?
Latvia!
Latvian Defense Minister Inara Murniece, at the Ukraine Defense Contact Group meeting in Ramstein, has announced that Latvia will hand over to Ukraine all its Stinger air defense systems.

According to Ukrinform, this was reported by Latvia's Public Broadcasting LSM.

"We will do everything possible so that they (Stinger air defense systems – ed.) are delivered as soon as possible," Murniece said.

According to her, Latvia will also continue training the Ukrainian military, while intending to train twice as many personnel compared to 2022. Murniece also said that by the end of the year, about 3,000 Ukrainian soldiers will undergo training in Latvia.
The EU needs to get it together! (emphasis mine)
France and Poland clashed on Wednesday as ambassadors failed to settle a dispute over who should get the EU's joint contracts to buy Ukraine ammunition — just local firms, or also competitors elsewhere — according to three diplomats familiar with the situation.

EU ambassadors were trying to unblock an impasse over how to enact a plan to jointly purchase ammunition for Ukraine in its fight against Russia. The idea is that EU countries will band together and draw money from a communal pot to help deliver Kyiv up to 1 million shells in the next 12 months.

While EU leaders have approved the scheme — and even earmarked €2 billion to fund it — countries have since run into disagreements over how to spend the €1 billion set aside for joint contracts.

The main point of contention: How much to restrict the money to EU manufacturers, and whether to include companies in places like the U.S. and U.K. France has been leading a charge to keep the money within the bloc, irking some of its EU compatriots. 

The compromise document limited the upcoming contracts to "economic operators established in the Union and Norway," but it included a line that the directive should not set a precedent.

Some diplomats felt the new text was moving too much in the French direction, while others grumbled it was opening new questions about which companies or subcontractors should be involved.

Still, there was some cautious optimism.

"For most member states, it is now a matter of legally verifying the new text with their capital," one of the diplomats said. "We have a good basis for an upcoming agreement.

Yet officials conceded late Wednesday that they couldn't get there that day.

Talks will now likely continue next week, meaning EU foreign ministers won't have a deal in hand when they meet on Monday in Luxembourg to discuss the war. Expect some grumbling about the ongoing delays.

The joint ammunition buying plan is part of a three-stage process that EU leaders approved last month in the hopes of quickly getting Ukraine much-needed ammunition. 

The first stage will feature EU countries transferring shells from their own stocks to Kyiv, while the second stage involves joint purchases. The third stage aims to ensure EU manufacturers are capable of meeting Europe's defense needs. 

The three stages, officials say, are interlinked and the aim is to make them work almost simultaneously.  

One of the key concerns for EU officials remains persistent concerns that Europe's defense industry may not be up to the task of delivering 1 million shells to Ukraine in 12 months, according to one of the diplomats. 

"So the more restrictive language we include now, the harder it will get to reach our goal," a second diplomat argued.

The flip side, of course, is that EU firms say they need the guarantee of incoming orders before they pay to build out their manufacturing capabilities. French President Emmanuel Macron ruffled feathers recently when he called on the EU not to become "America's followers," and to focus on establishing its own "strategic autonomy."
I don't seem to be insensitive here, BUT THE UKRAINIANS ARE DYING ON THE FUCKING BATTLEFIELD TO KEEP PUTIN OUT OF THE REST OF EUROPE!!!! MAYBE, JUST MAYBE YOU CAN GET YOUR HEADS OUT OF YOUR COLLECTIVE DUPAS?!?!?
To quote Al Murray: MAKE AN EFFORT!
Obligatory:
That's enough for tonight.
Your daily Patron!
A new video from Patron's official TikTok!
Here a machine translation of the caption:
Mykhailo's slippers, as always, win 😅 #песпатрон#патрондснс
Open thread!