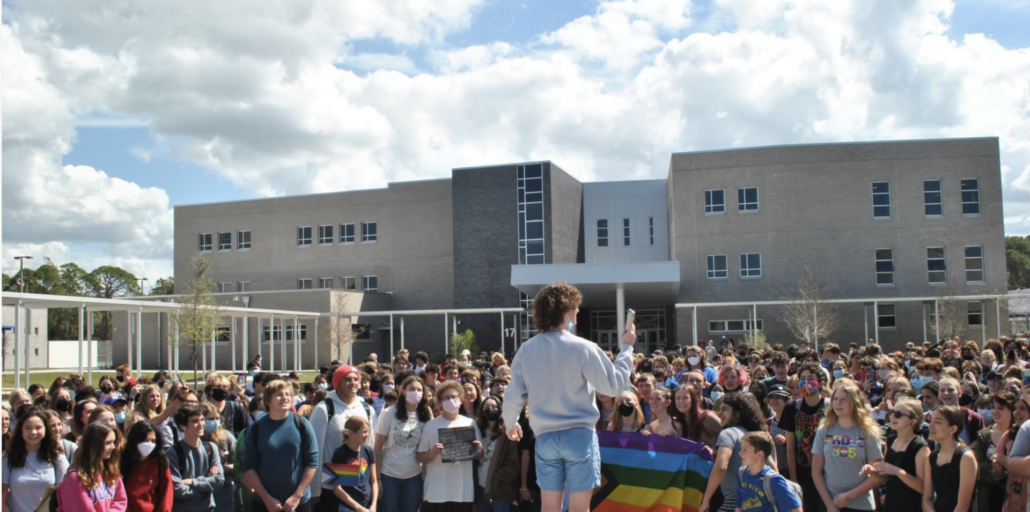 How's this for inspiration?  In Florida!
Thanks young Florida for lifting the spirits and stirring the fight of a nation exhausted by gun violence and right-wing culture war. Your mass walk-out and speak-out today-like the one in TN-is stiffening the back of America to oppose these enemies of education and democracy. https://t.co/5covM1fYg5

— Jamie Raskin (@jamie_raskin) April 21, 2023
Teen Vogue  (once again, actual journalism!)
School walkouts  at more than 300 Florida college and high school campuses.
Walkout 2 Learn's day of action is multipronged, but the heart of the event will be the school walkouts taking place at 12 p.m. on more than 300 Florida college and high school campuses, the coalition says.
In lieu of taking a quintessential college spring-break trip, a group of youth organizers with Walkout 2 Learn went to Sarasota, Florida, for a weeklong brain dump before the group's upcoming day of action. From morning to night, the 12 youth activists sorted through data from Florida high schools, Instagram pages, and other social media accounts hoping to identify young Floridians eager to help their cause: a youth-led demonstration on Friday, April 21, to call out state lawmakers for their attacks on student rights.

Florida's Republican-led state legislature and governor have passed multiple pieces of legislation that censor conversations in the classroom about gender, sexuality, and race, stripping rights from the very students the state's schools are meant to serve.

"We cannot stop these hateful bills from becoming law," Zander Moricz, the 19-year-old executive director and founder of Walkout 2 Learn, tells Teen Vogue. "They are ignoring us. They are not dealing with our perspectives." So young people are pushing back with a day of walkouts and protests in response to Governor DeSantis's agenda for students and schools, which includes the legislation dubbed the "Don't Say Gay" law, the "Individual Freedom Act" (previously known as the "Stop W.O.K.E. Act"), attempts to ban AP African American studies in schools, and efforts to pull funding for diversity programs at state colleges. The Social Equity through Education Alliance (SEE) brought together a coalition of youth organizations from across the state and united a coalition of organizations on the ground in the lead up to Walkout 2 Learn.
The kids are better than alright.