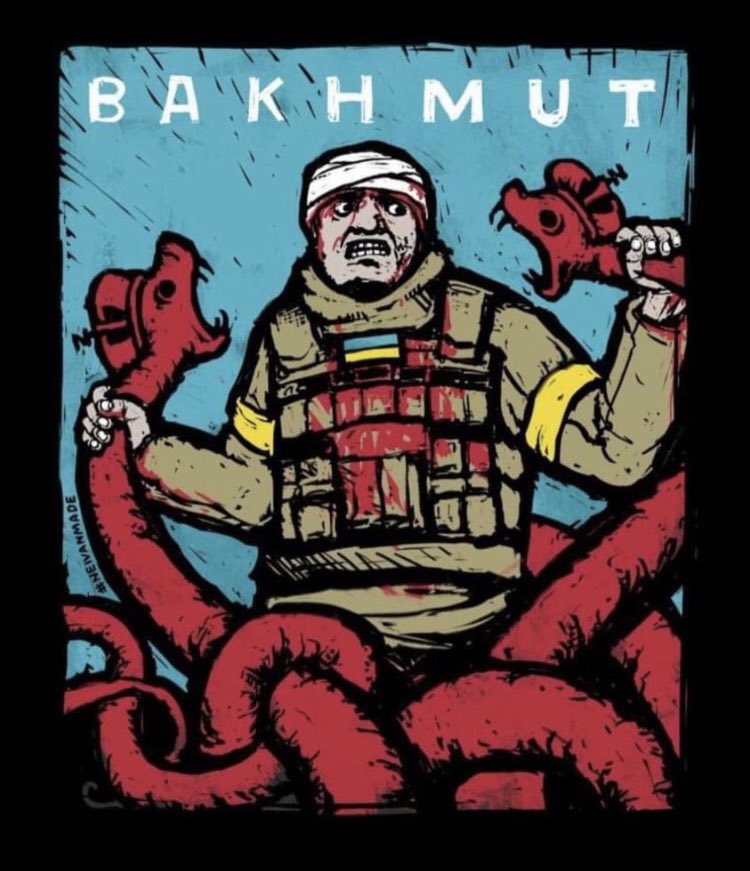 (Image by NEIVANMADE)
AM in NC, as well as everyone else: thank you for the kind words, you are most welcome.
Here is President Zelenskyy's address from earlier today. Video below, English transcript after the jump:
The task is to remove any opportunity for Russia to circumvent sanctions – address of Ukraine's President

22 April 2023 – 21:21

Dear Ukrainians, I wish you health!

Three new decisions on sanctions against those who invest in and support Russian aggression entered into force today.

Firstly, this is another package of sanctions against the Russian defense industry enterprises that maintain the terrorist army. This time, 322 companies were added to the sanctions lists – manufacturers of weapons, components, etc.

The other two sanctions lists include individuals and legal entities that help circumvent sanctions against Russia, keep the property of war criminals, and are involved in the destruction of freedom both on the territory of Russia itself and on our land.

Our sanctions packages are being worked out in detail, in particular, regarding their synchronization with partners. It is one of the key common tasks of all of us – absolutely everyone who seeks a faster end to the war, a faster victory for us. The task is to remove any opportunity for Russia to circumvent sanctions. Every Russian scheme that makes it possible to bypass sanctions makes this war longer, adds opportunities for the aggressor.

Accordingly, the tougher the sanctions regime against Russia, the more restrictions against the terrorist state and all related persons, against the entire Russian war economy, the faster the end of the aggression will be. And I thank everyone in the world who understands this.

It is important that global restrictive work on the Russian nuclear industry has begun.

This industry not only generates funds for the aggressor's budget, but also helps to make dependent other states, on the territory of which allegedly "energy" nuclear projects are being implemented. Any energy is a weapon for the Kremlin. For them, nuclear energy is also a weapon.

And this, by the way, is exactly what is happening at the Zaporizhzhia nuclear power plant, which Russia uses precisely as a weapon to blackmail the world. To use a disaster as blackmail.

And it is good that the UK, the United States, France, Japan, and Canada have created an alliance that should remove the nuclear industry of the terrorist state from the global market.

Separately, I would like to thank the United States and Canada for the new defense support packages for our soldiers. Thank you, friends!

The Netherlands – thank you for strengthening air defense and for the joint decision with Denmark on tanks.

I'm thankful to Germany. We have new steps that will bring more peace to our skies and… there may be new steps that would bring more peace to our land. We await these decisions.

I'm thankful to Estonia, Finland for the new defense packages. I'm thankful to Slovakia for the aircraft.

I'm thankful to Switzerland for the new sanctions against Russian terrorists.

We are preparing the next week in relations with partners to be no less fruitful than this one. Each such result for Ukraine is the saved lives of our people. It is the ability of our soldiers to protect the lives, repel Russian assaults and prepare active Ukrainian actions.

I thank all our soldiers who are now in battle! Especially those who are currently in the toughest places of the frontline – Maryinka and Bakhmut, Avdiyivka, Lyman direction. That's where it's most intense.

Thank you to the soldiers of the Armed Forces, the National Guard, the border guards…

Separately, today I would like to mention the Defense Intelligence unit of Tymur fighting in Bakhmut. Thank you, guys, for your courage and efficiency!

Glory to all our soldiers!

Glory to all our heroes of different times who fought for our independence!

Ukraine will always be free!

Glory to Ukraine!
Still no operational updates from the Ukrainian MOD.
Bakhmut:
Tactical Group ADAM at work 🇺🇦🤟

They are feared by Russians. pic.twitter.com/oAddspNhxb

— NOËL 🇪🇺 🇺🇦 (@NOELreports) April 22, 2023
Another intense video from Bakhmut, by my former @RFERL colleague @Levko_Stek, who is now in Ukraine's Armed Forces. https://t.co/GJqO5NaOiv

— Christopher Miller (@ChristopherJM) April 22, 2023
Our story about captain "Sokil" @93OMBr1 and
Evacuation from #Bakhmut has 1 mln views on @YouTube. Thank's for
Watching https://t.co/rCLaDz2auA

— Nastya Stanko (@StankoNastya) April 21, 2023
Here are the actual videos:
And an excerpt from Christopher Miller's recent Financial Times article: (emphasis mine)
Ukrainian infantrymen charged across a boggy field, Kalashnikovs raised, unleashing a flurry of bullets.

"Move! Move! Move!" came the order. Concealed by the cloud from a smoke bomb, one soldier raised a rocket-propelled grenade launcher and fired at a target 50 metres away — and missed. The group's trainer ordered them to run the drill again.

A little more than a year ago, most of these troops were ordinary civilians. Then Russia launched its brutal new invasion of Ukraine in February 2022, and they volunteered to join the fight, becoming soldiers of the Dnipropetrovsk 108th Separate Territorial Defense Brigade.

Aged from their 20s to their 60s, the former lawyers, interpreters, programmers and retired factory workers are now part of Ukraine's big push to train up less experienced and completely new troops for its much-anticipated counter-offensive against Russia's occupying forces.

"The average combat experience of the guys in this brigade is seven to 10 months," said Roman, a press officer for the brigade who like other soldiers provided only a first name or call sign in keeping with Ukrainian military protocol.

"Some of them have seen real fighting but many have not . . . They all must be prepared for a tough battle ahead."

After 14 months of all-out war, including grinding, months-long battles in the eastern cities of Bakhmut and Avdiivka, Ukraine's military has been worn down. It has lost a large portion of its experienced soldiers, who made up the most effective units, and expended massive amounts of weaponry and artillery.

A few days before the training, Oleksiy, a soldier in a Kyiv Territorial defence brigade who was a linguist and teacher before the invasion, told the Financial Times that of his platoon of 21 troops, only three, including himself, had not been wounded or killed after a single day in Bakhmut.

"It was real hell. Like the first or second world war," Oleksiy said. "We were shelled by mortars, tanks and planes. Drones dropped bombs on us."

"I had to evacuate a severely wounded guy and a dead body from the trenches . . . It all happened in 24 hours," he said.

After the training exercise, a soldier and father of three in his 50s who goes by the call sign Discus told the FT that he and his comrades might not be the most experienced soldiers, but they are highly motivated.

"We are fighting for our existence," he said.

Discus retired from the Ukrainian armed forces in 2010, only to come out of retirement last year. "What was I going to do, sit on my ass?" he said when asked why he returned to military service. "How could I look my children in the eyes if I didn't help?"

The stakes for Ukraine in the coming months could not be higher, senior officials in Kyiv told the FT. They are worried that a counteroffensive that fails or does not win back a large amount of Ukrainian territory could lead western supporters to push Kyiv to open negotiations with Moscow.

Andriy Sybiha, deputy head of the office of President Volodymyr Zelenskyy, told the FT in an interview this month that there is no room for mistakes.

"We are in a decisive moment now," he said. "We need to show successes."
Much, much more at the link!
Kharkiv:
At least five explosions in Kharkiv. Possible S-300 from Belgorod.

— Maria Avdeeva (@maria_avdv) April 22, 2023
Explosions. Reportedly one civilian infrastructure building was hit. Waiting for more information. pic.twitter.com/166L3xmXV7

— NOËL 🇪🇺 🇺🇦 (@NOELreports) April 22, 2023
Belgorod:
Belgorod, friendly fire again? pic.twitter.com/O6iQpu4dRZ

— NOËL 🇪🇺 🇺🇦 (@NOELreports) April 22, 2023
Another bomb dropped from a Russian bomber was found in Belgorod. Possibly it's FAB-500. This bomb, unlike the previous one, did not explode. pic.twitter.com/j3ShbiHaYs

— Special Kherson Cat 🐈🇺🇦 (@bayraktar_1love) April 22, 2023
The Mighty Trowel sent along this Guardian article on a Ukrainian museum exhibit curating all the stuff the Russian military leaves behind:
On 24 February 2022, the day Russia mounted its full-scale invasion of Ukraine, Oleksandr Lukianov went to work – but it was anything but a normal day at the office.

He and a small group of colleagues at the National Museum of the History of Ukraine in Kyiv, where he is senior researcher, hurriedly started to dismantle the exhibits, sending some objects to safer locations in the west of the country, and storing others in the basement. The group of curators ended up living in the building for two months.

At one point he looked out of the museum's huge windows, which overlook the Dnipro valley from on high, to see bursts of light in the sky: a Russian helicopter being hit. As the days wore on, "I could hear the shots and bangs coming from Irpin and Bucha," he said, referring to the nearby towns that Russian forces occupied in the early weeks of the invasion.

Eventually the galleries, once filled with 20,000 objects from the museum's 800,000-strong collection, were empty. Gone was the finely worked gold from the ancient nomadic people of the steppes, the great horsemen, the Scythians. Gone were the coins, manuscripts and maps; gone were the ceramics from the ancient Greek colonies on the Black Sea.

"I thought it would never change," he said, remembering the reassuringly immutable rooms of the museum where he had worked for seven years. "But here we were."

And then he began to fill the museum back up again.

On 7 April, in the sunshine of a warm spring day, Lukianov and a small team of colleagues set off to Irpin, from which the Russians had withdrawn little more than a week before. Their mission: to collect new artefacts for the museum. "First in was the army, then it was the legal experts – and then it was us," he said.

The first thing they saw was a burnt-out Russian army vehicle from which they retrieved damaged helmets and goggles. "We were overexcited at this point – we took everything we could. But then later we saw another, and another – so we started to be more selective," he said.

The violence was appallingly fresh. "We did see and smell decaying bodies, and we saw unexploded devices," he said. "But our curiosity overcame that – and so did the desire to look for history. The hardest thing was to see civilian cars that had been hit, and to understand that people, including children, had certainly died in them."

The objects Lukianov and colleagues collected that day – including half-destroyed signage from a pharmacy, a Russian soldier's boot, a 1970s dosimeter for measuring radiation levels as the invading convoys passed through Chornobyl, and Russian ration packs – now form the basis of a display on the museum's ground floor.

Added to the objects brought by the curators are a number of artefacts donated by the military and local residents. Among them is a set of guidelines, apparently issued to occupying soldiers, on how to interact with locals.

"If they ask if you are Russian or Ukrainian, say, 'We are both Russian and Ukrainian, and most importantly we are all Orthodox Christians'," the document suggests. "If they start to argue, talk about gay parades and the decay of orthodoxy … Never mention the word 'war' – if they ask about war, talk about the police and local administration."

Soon after, on 23 April, Lukianov went on another collecting mission – this time to a window factory near the town of Dymer, north of Kyiv, which had been repurposed as an HQ by the invading forces. The first thing that hit him, he said, was "a very strong smell of faeces – you couldn't imagine how they were living there."

Items from the factory include a discarded copy of the Russian Red Star newspaper, dated Wednesday 16 March, and, remarkably, a road atlas of Ukraine dating from 1975. They found photographs of women – girlfriends, wives – and the start of a letter to a loved one beginning, "Hi Zhenya, Now, there is no …" and then tailing off.
Much, much more, including pictures from the exhibit, at the link!
That's enough for tonight.
Your daily Patron!
A new video from Patron's official TikTok!
Open thread!