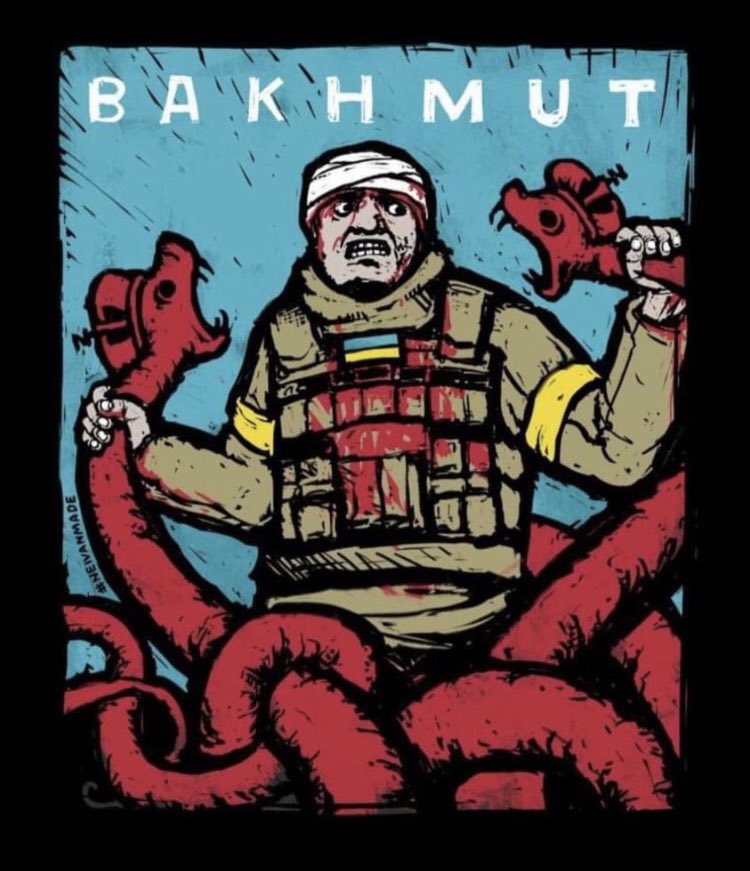 (Image by NEIVANMADE)
Slow news day, huh? We'll get to the UnTuckering and some of its implications after the jump.
Here is President Zelenskyy's address from earlier today. Video below, English transcript after the jump:
We are already preparing our energy sector for the next winter – address by the President of Ukraine

24 April 2023 – 19:42

Good health to you, fellow Ukrainians!

I came back to Kyiv from a working trip to Zhytomyr, we actually worked there all day.

First, there was the visit of Estonian Prime Minister Kaja Kallas. Negotiations and signing of the Joint Declaration. I am grateful to Mrs. Prime Minister and the entire Estonian people for their clear and unwavering support of our movement to the European Union and NATO – the relevant points on the Alliance are included in the declaration.

Today, most attention was paid to defense issues, and this is obvious. Estonia is among those whose assistance to our defense is the fastest and the largest if you look at the ratio of aid to the country's GDP. This applies to guns for our artillery, shells and weapons for our anti-aircraft gunners… Many aspects.

We also discussed decisions on weapons and ammunition that are still being implemented by our other partners in the European Union. This is the case when people's lives directly depend on the speed of delivery and the implementation of decisions already made. I am grateful to Estonia for its willingness to assist in the relevant communication with other partners.

Zhytomyr was not chosen as a venue for our talks by chance. It is in the Zhytomyr region that a reconstruction project has been implemented, which gives Estonia the lead – the lead in how quickly what has been agreed upon is implemented. In the city of Ovruch, Zhytomyr region, the reconstruction of a kindergarten is to be completed by June 1 – with the help of Estonia. This project will be further expanded. There are other reconstruction projects as well, and I am sure we will implement them all.

It was a great pleasure to visit Zhytomyr Polytechnic and talk to the university students. It's a great university – you can feel that they really care about students. They care about Ukraine, taking into account that the university prepares different specialists for the country.

I thank each and every one who attended the meeting at the Polytechnic, who asked questions and who responded sincerely to the answers. It was a nice, energetic communication. This is exactly what we are fighting for for the whole of Ukraine – for all our children, all Ukrainian students in every part of our country to feel free, enjoy freedom, get an education and realize themselves in life as they want. And this will happen. Ukraine will defend its freedom.

I also held a special coordination meeting in Zhytomyr with all those responsible for the region. We discussed in detail the security, economic and social situation in the region. We have made decisions, in particular, to restore the energy sector after the Russian strikes. We are already preparing our energy sector for the next winter.

There are also decisions on educational infrastructure – the Minister of Education and Science took part in the meeting today. Of course, we will help our regions, and Zhytomyr region in particular, with school buses.

Special attention was paid to the border. There was a report by the Head of the Zhytomyr Regional Military Administration and the Head of the State Border Guard Service. We talked about the protection, arrangement of the border, and the situation in general. I am grateful to everyone who ensures the strength of our state border.

And by the way, I would like to recognize our border guards today – those who, together with all the defense forces of our country, are defending Ukraine on the frontline. There is much to thank them for. Luhansk and Kramatorsk border guard detachments – thank you, soldiers, for your steadfastness in Bakhmut! Lutsk border guard detachment – thank you guys for your strength in the Avdiivka area! Kherson and Berdyansk border guard detachments – thank you for the successful completion of tasks in the south of our country. Well done to all of you!

Glory to all our warriors who are now in combat, at combat posts, on combat missions!

Thank you to everyone who helps Ukraine defend itself against Russian evil!

I thank Zhytomyr for today.

Glory to Ukraine!
The Ukrainian Ministry of Defense posted this update from Colonel General Syrskyi:

Bakhmut:
368-9. E Bakhmut.
Earlier ATGM strikes by 93rd Bde's 'Mechanic's' group.
1) Unclear target: 48.603949, 38.029954 (same compound as twt 199)
2) New Ural loss: 48.601171, 38.021325
3) Unclear AFV: 48.613095, 38.025310
4) T-72B3 earlier recorded in twt 296.https://t.co/sQxCCRV2RF

— Dan (@Danspiun) April 24, 2023
370. Bakhmut.
Staying with 93rd Mechanised Brigade, film of their artillery working somewhere in the Bakhmut area.
A very accurate artillery strike right between two Russian soldiers. No chance of surviving that.
Film released 21/04.https://t.co/ittGFfvZ9W pic.twitter.com/qBVHZLjt7v

— Dan (@Danspiun) April 24, 2023
372. SW Bakhmut/Korsunskoho St.
Just east of 59 Korsunskoho St (tweet 371), a 93rd Mechanised Brigade drone observes Wagner in two windows in the neighbouring east-facing block (24 Ivana Ivkina Street). Again by the level of damage to the other blocks, this is likely from March. pic.twitter.com/LgcmBpacGV

— Dan (@Danspiun) April 24, 2023
Kherson:
"I want everyone to understand: when the front line passes through such a wide and powerful river as the Dnipro, overcoming such an obstacle is a very difficult task. That's why even the best students of the Institute for the Study of War need to be patient," Humenyuk said.

😉 https://t.co/4EDSsx9ipE pic.twitter.com/JLcr3NXn8N

— NOËL 🇪🇺 🇺🇦 (@NOELreports) April 24, 2023
Awkward!
Also Kherson:
/2. The destroyed vehicle is presumably identified as GMZ-3, an armoured minelaying vehicle. Link – https://t.co/XmrAd5jCRR
Plus an illustrative video of how this vehicle works. pic.twitter.com/jn4ZscEFGv

— Special Kherson Cat 🐈🇺🇦 (@bayraktar_1love) April 24, 2023
Rovenky, Luhansk:
/2. The moment of the attack of Ukrainian UAV on Russian oil depot in Rovenky, Luhansk region. pic.twitter.com/suZB4NcWz0

— Special Kherson Cat 🐈🇺🇦 (@bayraktar_1love) April 24, 2023
Russian occupied Sevastapol:
Russian officials in occupied Crimea said there was a drone attack in Sevastopol at 3:30am. Footage shows Russian air defenses firing into the air. https://t.co/3xdb5kQyzdhttps://t.co/WRB1dtuMz4https://t.co/TyuqPLHK13 pic.twitter.com/9uimh64ceS

— Rob Lee (@RALee85) April 24, 2023
***BREAKING***

New details of #Russia's elaborate defenses at Sevastopol. These have been enhanced in past few days, then tested this morning by Ukrainian maritime drones#OSINT
Nod @COUPSURE https://t.co/opSDKEUzZd

— H I Sutton (@CovertShores) April 24, 2023
From H. I. Sutton at Naval News:
Today's attack on Sevastopol harbor by Ukrainian maritime drones (uncrewed surface vessels armed with explosives) will make headlines. And rightly so. Yet there is an aspect which could easily be overlooked; this time none of Ukraine's drone's appeared to penetrate the harbor. The attack comes as Russia undertakes a massive effort to increase the harbor's protection against these attacks.

The entrance to Sevastopol harbor is now protected by no less than 6 layers of physical barriers. This adds to the patrol boats, helicopter patrols, anti-diver dolphins and gun emplacements.

Local Governor, Mikhail Razvozhaev, announced on social media that the attack occurred at 3.30am. He stated that one maritime drone was destroyed and that a second exploded on its own. His wording appeared to confirm that the attackers did not penetrate the harbor.

Sevastopol is the main naval base for the Russian Navy in Crimea. Although there have been efforts to disperse key assets to other bases, such as Feodosia, major warships remain there. It therefore remains a key target for Ukraine, especially as any planned counter-offensive takes place.

The original floating booms across the harbor entrance were as much for containing oil spills as preventing some form of attack. Indeed, the threat of Ukrainian attacks with surface vessels must have appeared both old fashioned and highly unlikely to the Russians at the start of the Invasion. However the pre-existing floating boom was occasionally closed to prevent unauthorized boats entering.=

However in October 2022 Ukraine pulled off an impressive maritime drone attack on Sevastopol. Several ships were hit although none sustained lasting damage. However it revealed the ineffectiveness of the old defenses. In November more heavy boom defenses were added, both at the harbor entrance and at various locations inside the port. The beefed-up defenses appeared more serious, the sort of thing many would have imagined at the beginning of the war.

Yet on March 22 2023 Ukrainian maritime drones struck again. Again they did not score a major hit, but they did once again penetrate the inner harbor. These latest defenses are likely in response to this. Two more layers of floating nets have been placed on the outer side of the harbor entrance. And a row of six large pontoon barges have been anchored just inside the entrance. These in effect extend the harbor wall, narrowing the entrance. It is likely that additional obstacles are strung between them.

Analysis of radar satellite imagery shows that the pontoon barges started to be positioned between April 3-9, and have grown since. They are now on both sides of the harbor entrance.
Much more at the link!
Russian occupied Crimea:
You can find a map and high resolution imagery of Russia's fortifications in Ukraine here: https://t.co/JGlYbCrrUE

— Brady Africk (@bradyafr) April 23, 2023
The Ukrainian officer who tweets as Tatarigami has an interesting thread explaining a new Russian tactic, technique, and procedure (TTP):
🧵Thread

1/ Another noteworthy development in the ongoing invasion is the reported use of anti-thermal blankets/coats by russian soldiers in close proximity to Donetsk. pic.twitter.com/ho2NuX3l7Z

— Tatarigami_UA (@Tatarigami_UA) April 24, 2023
3/ A video previously published on a russian Telegram channel allegedly demonstrates the effectiveness of the product, displaying how a soldier can remain undetected under the anti-thermal blanket. pic.twitter.com/eD2Qyq8i7m

— Tatarigami_UA (@Tatarigami_UA) April 24, 2023
5/ It is doubtful that the enemy can supply these anti-thermal blankets/coats on a significant scale. Nonetheless, even if they can only be utilized by small groups or sniper teams, they still pose a potential threat.

— Tatarigami_UA (@Tatarigami_UA) April 24, 2023
Lithuania:
Lithuania, constantly threatened with invasion, was kind enough to donate many of its weapons systems to Ukraine. We will never forget this generosity. 🇺🇦 🤝 🇱🇹 pic.twitter.com/4dYW1Q5ZBO

— Defense of Ukraine (@DefenceU) April 24, 2023
As I'm sure you all know Tucker Carlson was fired today. Here's how that played on Russian state owned and controlled media:
Russia's biggest propagandist, Vladimir Soloviev, shared this email to Tucker Carlson following the news of his firing pic.twitter.com/wElXM8iC37

— Kyle Walter (@KyleWalter_) April 24, 2023
Here's the actual screen grab, which was posted in English by Soloviev on his Telegram channel: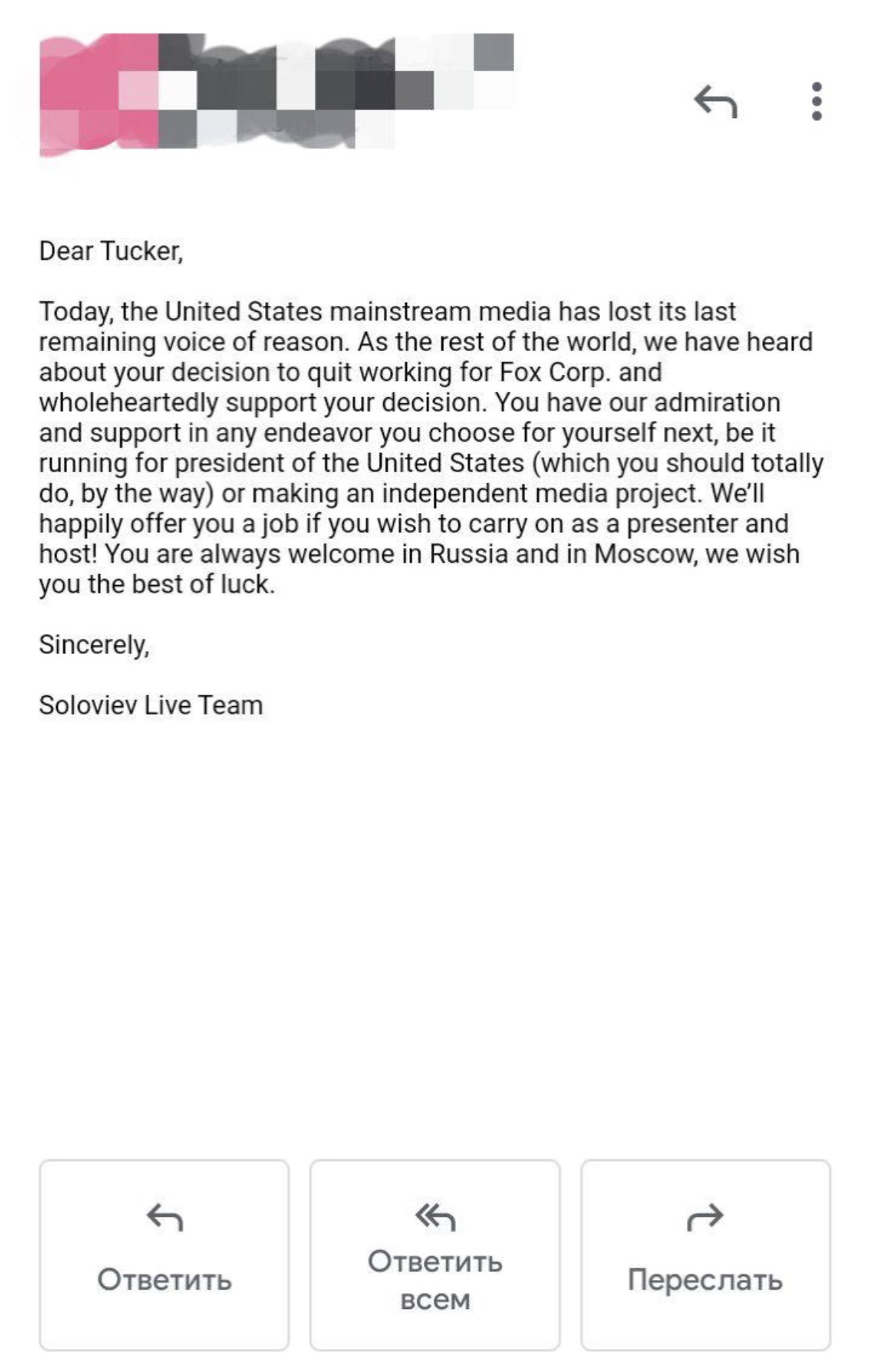 Almost too predictable.https://t.co/RzybPn7gLl pic.twitter.com/ebm0wENa6Q

— Julia Davis (@JuliaDavisNews) April 24, 2023
And here's an interesting post by an investigative journalist in Budapest:
In the US, the two people Viktor Orbán invested in – and betted on – were Donald Trump and Tucker Carlson.

Hungary contracted a company for DC lobbying where Tucker's father is a director, then flew Tucker to Hungary to speak at a government-funded organization's event.… pic.twitter.com/6GgqcJMYVK

— Szabolcs Panyi (@panyiszabolcs) April 24, 2023
Here is the full text of the tweet:
In the US, the two people Viktor Orbán invested in – and betted on – were Donald Trump and Tucker Carlson.

Hungary contracted a company for DC lobbying where Tucker's father is a director, then flew Tucker to Hungary to speak at a government-funded organization's event.

Meanwhile, Orbán and his people received tons or airtime and praise from Tucker on Fox News – and everyone seemed happy.

So happy that Hungary's government even sacraficed bilateral relations with the US administration in favor of courting Trump and Tucker. And bracing for a radical right-wing shift in US politics.

In 2022, they betted on a landslide win for the Republicans in the midterms, and on Trump's subsequent return – plus on Tucker remaining as influential as ever.

This genius strategy, of course, costed millions for us, Hungarian taxpayers, through the lobbying contracts and other money flows using Hungarian front organizations, think tanks and GONGOs.
Finally, a quick follow up to last night's news of China's ambassador to France going off script. The BBC has the details:
China has distanced itself from the remarks of one of its envoys who questioned the sovereignty of Ukraine and other former Soviet countries.

Paris ambassador Lu Shaye's comments last week caused widespread outrage, leading on calls to Beijing to clarify.

On Monday, China's foreign ministry said it respected the independence of all post-Soviet republics.

China is a major ally of Russia and has not condemned President Vladimir Putin's invasion of Ukraine last year.

It sees itself as a major player in attempts to bring peace to Ukraine, but has become an increasingly important trading partner for Russia amid Western sanctions prompted by the invasion, and many in the West doubt its impartiality on the issue.

In an interview for the French LCI network last week, Ambassador Lu was asked China's view of the status of Crimea which Russia annexed in 2014.

The interviewer argued that under international law the region was part of Ukraine.

Mr Lu responded by suggesting that the issue was not clear cut, and that countries such as Ukraine could not rely on international law to defend their sovereignty.

"Even these former Soviet countries don't have an effective status under international law because there is no international agreement under international law to concretise their status as sovereign countries," he said.

President Putin has frequently challenged Ukrainian independence. In a speech days before the start of Russia's invasion last year, he denied Ukraine had any "real statehood" and said the country was an integral part of Russia's history and culture.

On Monday Chinese Foreign Ministry spokeswoman Mao Ning rejected Mr Lu's position, saying Beijing respected the sovereignty, independence and territorial integrity of all countries and upheld the purposes and principles of the United Nations Charter.

She said that while "the Soviet Union was a federal state and had the status of an entity of international law in its entirety in foreign affairs… this does not deny the fact that each member republic of the Soviet Union has the status of a sovereign state after the dissolution of the Soviet Union".

Later the Chinese embassy in Paris said in a statement quoted by AFP that Mr Lu's remarks were a personal point of view and should not be over-interpreted.

Three Baltic countries, Lithuania, Latvia and Estonia, have summoned China's representatives to clarify Mr Lu's comments.

Lithuanian Foreign Minister Gabrielius Landsbergis said, quoted by AFP, that the diplomats would be asked to explain if the Chinese position had changed on independence and reminded that "we're not post-Soviet countries but we're the countries that were illegally occupied by Soviet Union".

The three countries were seized by the USSR in 1940 and only achieved independence in 1991 as it was collapsing.

Other European Union foreign ministers condemned the remarks, and were set to discuss them at a meeting of the 27-member bloc on Monday.

Ukrainian presidential aide Mykhaylo Podolyak also questioned Mr Lu's interpretation of international law and described his take on Crimea as "absurd".

"If you want to be a major political player, do not parrot the propaganda of Russian outsiders," he said on Sunday.
More at the link!
That's enough for tonight.
Your daily Patron!
A new video from Patron's official TikTok!
Here's the machine translation of the caption:
Have a great Monday, dear ones! 👅🌞 #песпатрон
Open thread!