I positively loathe Florida Gov. Ron DeSantis with every fiber of my being — maybe even more than I despise Donald Fucking Trump — so I loved the Florida Politics site's home page this morning: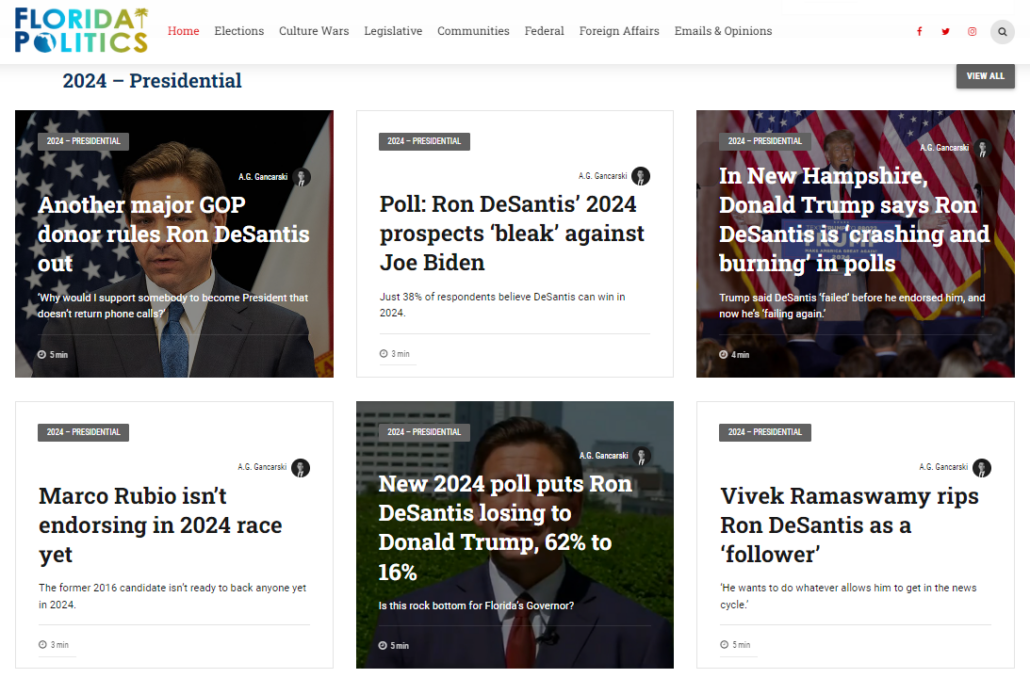 Friends, that page has it all. News of more donors fleeing! DeSantis polling badly against both Biden and Trump! DeSantis getting trashed by Trump and bushwhacked by the GOP's 2024 version of the Dem's 2020 Andrew Yang! Even dithering Little Marco makes an appearance, as if in a Dollar Store production of Hamlet where the Prince of Denmark is a self-important pol with a bad combover o'ertop his ignoble mind! Heck, there's a below-the-fold diss from Kevin McCarthy about the Disney feud!
Bad news for Ron DeSantis is great news for America. DeSantis and his authoritarian goons will continue to inflict incalculable harm on Floridians, millions of whom did not sign up for this shit and do not deserve it. But if our horrible governor flames out quickly on the national stage, maybe we can contain the damage. Perhaps Repubs and even the Beltway media will learn that while there's an alarmingly large plurality of fash-curious Americans, authoritarianism isn't a winning ticket nationwide.
And maybe we can start to turn things around here in the Mildew State too. Disney is just one of many entities suing the DeSantis administration. The League of Women Voters of Florida filed a suit this week against the extremist DeSantis pal who is the current secretary of state, Cord Byrd, for violating the National Voter Registration Act of 1993. (TPM) The suit alleges that the state hatched a "byzantine statutory scheme" to entrap Floridians with felony records for the purpose of political theater.
I have no idea if the suit has a chance, but it describes exactly what happened. It's a form of resistance to the governor's authoritarianism that he can't ignore, so thank dog for civic-minded groups like the League!
Open thread.
PS: Thanks to all who recommended The Diplomat on Netflix in a recent TV discussion here. I intended to watch one episode in the wee hours when I couldn't sleep and ended up watching the first four!