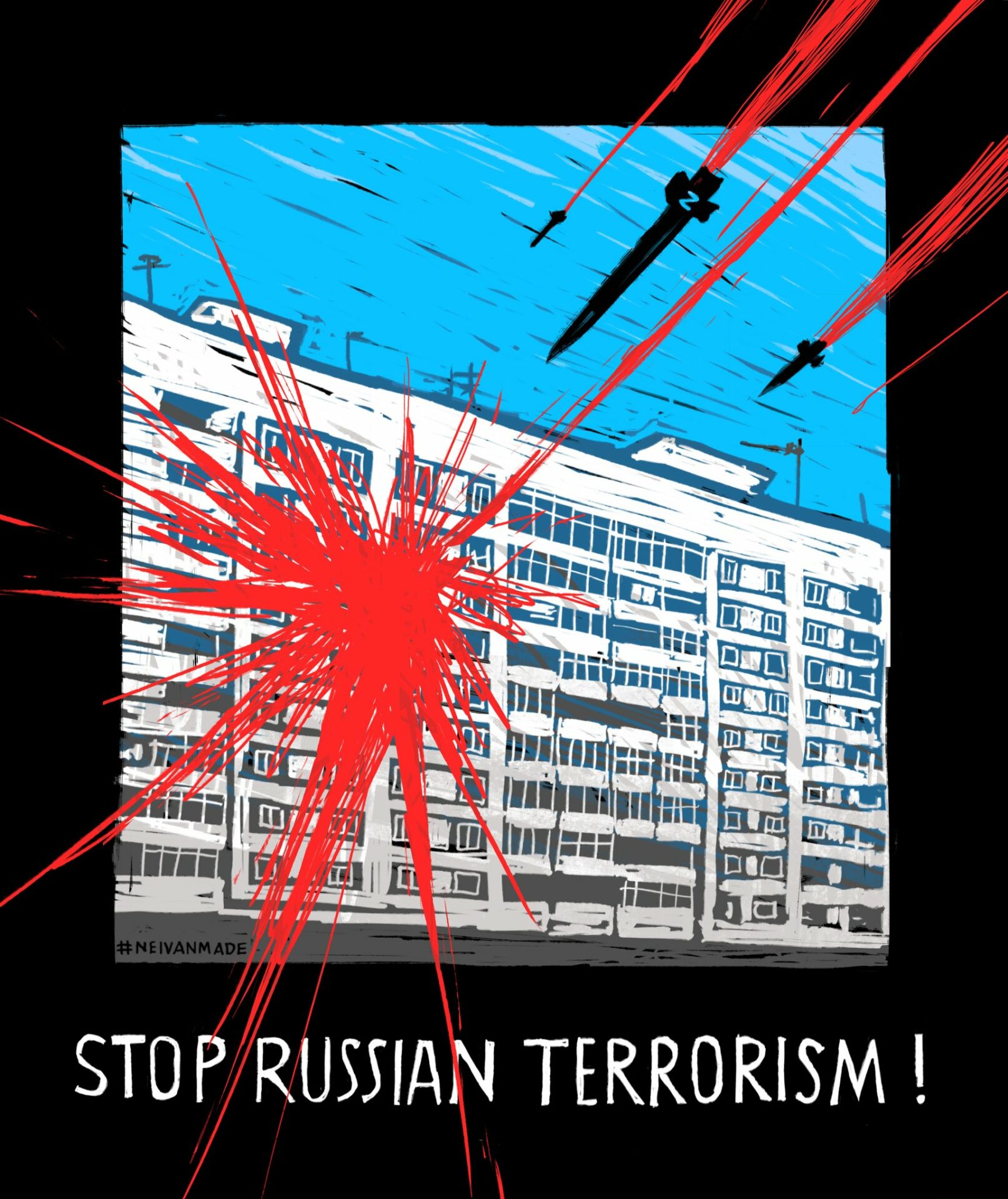 (Image by NEIVANMADE)
Early this morning Ukraine time the Russian's opened up with another round of aerial bombardment. Here's the butcher's bill as we currently know it:
Information as of 4:45 p.m. local time regarding the consequences of a Russian missile attack on a civilian high-rise building in Uman.
It is known that 20 people died, including 3 children. Another 18 were injured. https://t.co/zWjG634q4E pic.twitter.com/V2Ma5AIjR4

— Special Kherson Cat 🐈🇺🇦 (@bayraktar_1love) April 28, 2023
The Ukrainian Air Force says that Russian Tu-95MS strategic bombers launched 23 Kh-101/555 cruise missiles early this morning, which killed at least 25 civilians. https://t.co/JsjmUGd29Vhttps://t.co/fEMwsZ8g5S https://t.co/aePIHH2OGt pic.twitter.com/tDG8ItrWTB

— Rob Lee (@RALee85) April 28, 2023
The death toll is growing every hour. It is impossible to imagine what people are going through, whose loved ones are missing. At the moment, 23 bodies were found under the rubble, 4 are children.#Uman #RussiaIsATerroristState pic.twitter.com/8J7broUjKN

— Maria Avdeeva (@maria_avdv) April 28, 2023
More on this specifically after President Zelenskyy's address. Video below, English transcript after the jump:
We can stop terror and save people only with a sufficient number of high-quality weapons – address of President of Ukraine

28 April 2023 – 21:51

Dear Ukrainians!

The demolition of rubble in Uman, at the site hit by the Russian missile, continued all day. At the moment, it is known about 23 dead, among them four children. My condolences to families and friends…

All those who were saved – residents of this building and neighboring buildings, which, unfortunately, were affected by the blast wave – are provided with the necessary assistance. I thank everyone who participated in the rescue operation and supports the rescued people.

A missile on Uman, a city that is absolutely peaceful, known to the whole world for hosting tens of thousands of Hasidic pilgrims every year… Only absolute evil can unleash such terror against Ukraine.

Two Ukrainian women were killed in Dnipropetrovsk region in today's missile attack. Mother and daughter. Olha, born in 1992, and Veronika, born in 2020. This child has not yet turned three years old! Eternal memory!.. Condolences to the family, condolences to loved ones…

Today, our Air Force managed to shoot down most of the Russian missiles – 21 out of 23. If not for this, the terrorist state would have managed to claim many more casualties, more lives. And this proves once again that we can stop terror and save people only with weapons. Air defense, modern aircraft, without which there is no fully effective air defense. Artillery, armored vehicles. All that is necessary to provide security to our cities, our villages, both in the rear and on the front lines. To restore security to our people who are still, unfortunately, in the occupied territory. Temporarily. We cannot leave anyone under the power of Russian evil.

Today, the President of Slovakia and the President of the Czech Republic visited Kyiv. We talked about how to give protection to all our people, to speed up the return of peace and order in all the land.

I thanked Slovakia and the Czech Republic for their support: for the provided weapons, political and sanctions assistance, and for the support of people who received shelter in the Slovak and Czech communities.

I outlined to the partners what prospects we have on the battlefield now and what further help we need to go all this necessary way. I informed on what we are doing to implement our Peace Formula, in particular, the point regarding bringing those responsible for aggression to justice. I'm thankful that Slovakia and the Czech Republic see the need to restore justice and punish war criminals, to punish all these terrorists.

We signed a Joint Declaration with the President of Slovakia and the President of the Czech Republic regarding our European and Euro-Atlantic movement.

I also spoke today with President of the European Council Charles Michel. I informed him about the consequences of the Russian terrorist attack and thanked him for supporting our defense, our economic, and our social stability.

We separately discussed with the President of the European Council the situation around the destructive, in my opinion, ban on the import of our agricultural products by certain states. I emphasize that this not only violates the existing Association Agreement between Ukraine and the European Union but also gives dangerous hope to the Kremlin. The hope that in our common European home, someone's wrong decisions can prevail over common interests.

Now, when Russia violates the freedom of trade, tries to block the supply of agricultural products to the world market, it is definitely not the time for anyone to follow the evil state and do something similar. It is necessary to find a normal, constructive way out of this situation in the European spirit. The difficult one. The decision that would take into account the interests of all our countries and Europe in general. We have discussed with Mr. Michel how this can be done, what the solution can be, and we are in constant contact with all partners.

Today, a significant investment event for Ukraine took place – the first major investment in Ukraine since the beginning of the full-scale invasion. The size of the investment is $250 million, and this is only the start of the relevant package. Right now, when we are still fighting against Russian terror, big world business not only believes in our victory, but also confirms this belief with its multimillion-dollar investments and concrete steps.

I thank everyone who helps Ukraine!

Glory to all our soldiers who are now in battle, at combat posts, on combat missions! Thank you to the people of Ukraine!

Glory to Ukraine!
Look at this picture. A beautiful young woman. A lovey child. They were killed by Russia tonight. Our thoughts are with their loved ones. Russia must pay for each death #StopRussia #StandWithUkraine pic.twitter.com/87c1O4Tnwm

— Mariana Betsa (@Mariana_Betsa) April 28, 2023
A Russian attack hit a small house in Dnipro today killing a girl and her mum.

Untouched on the wall was perhaps the most heartbreaking family portrait I've ever seen — Nika's chalk drawings of everyone she loved, including "mama" and their cat, Kuzia https://t.co/kMK0o7XbcO

— Emma Graham-Harrison (@_EmmaGH) April 28, 2023
From The Guardian:
The Russian attack killed Veronika in her bed on Friday morning, but left her childish chalk drawings of a happy family intact on the wall of their home.

Portraits of "Mama", "Nika" (her nickname), her uncles, grandparents and even the family cat "Kuzia" – the names written in by an adult – stretch all along the front of the house.

They end only where the plaster was stripped off by an explosion and a fire that took the lives of the three-year-old and her mother, early on Friday morning.

Hours later, Kuzia the cat looked on, bewildered and bedraggled by a steady rain, as "Uncle Seriozha" from the wall drawings tried to sort through the charred wreckage of their single-storey home. He hurled fragments of twisted metal out into the yard, sidestepping a doll thrown to the floor by the blast.

He had been inside too last night, he said, sleeping in the room next to the one that took a direct hit. His parents-in-law are in hospital. His wife, Veronika's maternal aunt, wandered around the house and yard, silenced by the scale of the tragedy.

Neighbours were stunned at how brutally Russia's invasion had arrived in this semi-rural suburb of Dnipro. The river port is an industrial and military hub, "closed" to foreigners under the Soviet Union, and a target in repeated wars.

But Veronika's family home was a long drive from the river, the docks and the factories, in an area where fruit trees in full blossom shade small vegetable patches outside village homes, and rows of tulips brighten muddy lanes.

"Its the first time we've had an attack here. We already thought the war was something far away, that wasn't going to affect us directly," said Olha, 68, a friend of "grandpa Vova" from the paintings, who was injured.

Oleksandr Kalinichenko, a neighbour who lives around 300 metres away, said he had ignored air raid sirens until he saw the flash of an explosion. "My wife shouted at me: get into the shelter, immediately," he said. "At first I thought it was some way away."

He crawled into the basement, and when he came out, two young neighbours had been killed. "I want to tell you the Russians are pissing us off. I am 70 years old but I want to volunteer for the army, I want to strangle them with my own hands."

Serhii Lysak, the head of the military administration for the Dnipro region, visited the shattered house to inspect the damage.

"Today we don't need other proof to show the terrorist activity of the Russian federation. You can see what they have done," he said, standing in front of Nika's family portraits.

The young family had only become targets of a Russian strike because they were trying to protect themselves from missiles, said one neighbour, who asked not to be named.

They moved into the suburban house from their own apartment in the city, after a bloody strike on a Dnipro high-rise apartment building in January. The deadliest single assault on the city during this war, the missile killed at least 40 people and injured dozens more.

A similar tragedy unfolded in the central city of Uman on Friday, where another missile slipped through air defences and destroyed much of an apartment building, killing at least 10 people. Ukraine's president, Volodymyr Zelenskiy has begged his allies for more anti-aircraft missiles, warning that the country's supplies are running low.

The disaster in Uman shows the risks to civilians if air defences fail. But even when they work, Veronika's death, in a place her family took her for protection, is a reminder that nowhere is entirely safe in a country at war.
More at the link!

Perhaps this young woman from Uman can explain better why russia has to be defeated and why Ukraine must win.
They will not stop until they are stopped.

This is why #UAarmy has to be successful.

This is why we need F-16s!#skyneedsF16 pic.twitter.com/FX6HU18aQO

— Defense of Ukraine (@DefenceU) April 28, 2023
And here's a thread that does a really good job explaining why the Ukrainians need more advanced fighters. The bottom line is to prevent stuff like this from happening. First tweet followed by the rest from the Thread Reader App:
1/ So, entering the fighter debate. A lot has been coverd and discussed about it, here a short 🧵about some things I could not fit into this 👇 @ecfr comment.https://t.co/dTaFMVIK7z

— Gustav C. Gressel (@GresselGustav) April 28, 2023
2/ 

🇺🇦 are at serve disadvantage for both tactical and technical reasons.

The tactical are hard to change. Fighters need to hug the ground to avoid 🇷🇺 GBAD. That means the range of whatever AA missile they fire is reduced. Because the missile has to waste a lot of energy climbing 

3/ 

… instead of range.

🇷🇺 missiles gain range by firing at low-flying targets from above.

Regardless what missile is used, even hypothetically, 🇷🇺 will outrange 🇺🇦.

🇺🇦 will have to sneak up to ntercept any 🇷🇺 plane. But, to fulfill their mission, … 

4/ 

… they need to be able to shoot at the 🇷🇺 strike planes carrying glide boms.

If they can avoid/evade 🇷🇺 fighters, that's fine as well. You don't need to go into a lobbing duel with R-37M carrying Mig-31. 

5/ 

🇺🇦 Soviet legacy vintage fighters are bad at sneaking up. One reason is the radar. The baseline Rubin (Mig-29) and Mech (Su-27) radars not only lack the range of modern 🇷🇺 PESA(AESA radars.

They are mechanically tilted cassegran dish radars with party analogue computers. 

6/ 

Their radar beam is much wider than that of a modern radar, and needs more pulses & energy to detect a target. Modern radar warning receivers (RWR) may pick the signal up, even if the 🇺🇦 radar only scans them. 

7/ 

But they also lack "track while scan" (TWS) modes, hence if they start tracking a target, they can't scan for ofther aircraft flying around.

Tracking is even easier for 🇷🇺 RWR to pick up, and if the 🇷🇺 plane doesn't know there were 🇺🇦 planes around, it knows now. 

8/ 

Then, to fire at a 🇷🇺 aircraft, the 🇺🇦 aircraft has to constantly illuminate the target with a high energy radar beam. The R-27ER1 needs the echo from the beam to find its target.

The 🇺🇦 needs to have its radar always pointed towards the 🇷🇺 aircraft. If it banks away … 

9/ 

… the missile would be lost. That means it needs to close in towards 🇷🇺 lines and fighters.

To reach its maximum range, a R-27ER1 takes more than a minute.

In the 🇷🇺plane, even the dumbest RWR recognises the beam and allerts the pilot. The Russian plane takes evasive action. 

10/ 

The 🇺🇦 plane has unmased itself, and becmes a target.

Now let's assume 🇺🇦 had old 🇦🇺🇪🇸🇫🇮🇺🇸 F-18 to do the same thing. (btw. I don't know why no one talks abut F-18s, carrier capable aircraft are much better suited to operate from improvised strips). 

11/ 

The F-18s AN/APG-65 or AN/APG-73 is still meachanically scaned, but with digital beam control. It has TWS capability. So the cance to detect it, are much lower.

The pilot does not loose situational awarness while tracking a target. 

12/ 

Moreover, it would fire a AIM-120. This missile does not require any iluminatiuon. Either it gets tracking data from the launching aircraft, or it memorises where the enemy aircraft was.

Once close, it switches on its own radar and rides the attack home. 

13/ 

Only now the 🇷🇺 aircraft would see it is under attack. And the 🇺🇦 fighter may have turned away already, again hugging the ground, hiding in ground clutter.

🇺🇦 pilots would survive this much longer. And it would be a more serious threat to 🇷🇺 aircraft, restraining operations. 

14/ 

For this to be effective, 🇺🇦 would not need a lot of fighters. Just sufficient to be able to always fly CAP missions. So all above 24 aircraft.

They would also need NATO compatible early warning radars and communication equipment for ground control. But this … 

15/ 

… is already being delivered, because you need it to integrate Western SAM systems into an integrated air defence network.

Scaning the German lists for military assistance I find enough hints this is dome already. 

16/ 

You saw today's pictures from the attack against 🇺🇦 cities. This is a cynical 🇷🇺 strategy to keep 🇺🇦 SAM close to cities and away from the front.

Delivering fighters is the fastest way to counter it. Fighters are so substitute for SAM. 

17/ 

But production rates of SAM systems have their limits, and you can't increase them on a short notice. 

18/ 

some further readings: this excellent report by 

@RUSI_org

 on the air war:

19/ 

and 

@shashj

 excellent article highlighting the range issue:
And a follow on tweet or two to answer questions from his readers:
The effective range from a low flying fighter firing at a high flying fighter is considerably shorter than the nominal max. range. Of any missile.
You'd need to use any existing, widly available AAM. IrisT is not certified for F16/18. Existing production goes to ground launchers.

— Gustav C. Gressel (@GresselGustav) April 28, 2023
Ukraine is a large country. They are far behind the front, defending cities & civilians.

— Gustav C. Gressel (@GresselGustav) April 28, 2023
Radar guided BVR AAM have the range to get the strike package. Even if altitute eats up 60% of their range. IR guided ones do not.

— Gustav C. Gressel (@GresselGustav) April 28, 2023
Someone in the US National Command Authority is going to have to do some serious thinking about what their risk aversion means in humanitarian terms. Because right now the administration's risk aversion is encouraging these strikes not deterring them.
That's enough for tonight.
Your daily Patron!
No new Patron tweets or videos have been posted. Here's some adjacent material from the Ukraine Army Cats and Dogs account:
She is looking for people under the rubble in the destroyed house after the Russian shelling!

God save Ukraine!#uman pic.twitter.com/ZdTVplN2WU

— UkrARMY cats & dogs (@UAarmy_animals) April 28, 2023
It's a wolf, who was found and rescued by Ukrainian fighters.#Ukraine #UkraineRussiaWar #UkraineWar #Leopard #CatsOfTwitter #CatsOnTwitter #RussiaisATerroistState #UkraineWarNews #UAarmy #Zelensky #UkraineRussiaWar️ pic.twitter.com/1vtyWBmC3F

— UkrARMY cats & dogs (@UAarmy_animals) April 24, 2023
Tactical cats#Ukraine #UkraineRussiaWar #UkraineWar #Leopard #CatsOfTwitter #CatsOnTwitter #RussiaisATerroistState #UkraineWarNews #UAarmy #Zelensky #UkraineRussiaWar️ pic.twitter.com/tJTLF1GnZt

— UkrARMY cats & dogs (@UAarmy_animals) April 22, 2023
😺😺😺#Ukraine #UkraineRussiaWar #UkraineWar #Leopard #CatsOfTwitter #CatsOnTwitter #RussiaisATerroistState #UkraineWarNews #UAarmy #Zelensky #UkraineRussiaWar️ pic.twitter.com/QFDBoOsblH

— UkrARMY cats & dogs (@UAarmy_animals) April 22, 2023
😎#Ukraine #UkraineRussiaWar #UkraineWar #Leopard #CatsOfTwitter #CatsOnTwitter #RussiaisATerroistState #UkraineWarNews #UAarmy #Zelensky #UkraineRussiaWar️ pic.twitter.com/8uVAeimJ1W

— UkrARMY cats & dogs (@UAarmy_animals) April 22, 2023
☺️#Ukraine #UkraineRussiaWar #UkraineWar #Leopard #CatsOfTwitter #CatsOnTwitter #RussiaisATerroistState #UkraineWarNews #UAarmy #Zelensky #UkraineRussiaWar️ pic.twitter.com/SioAF39Bpy

— UkrARMY cats & dogs (@UAarmy_animals) April 22, 2023
And we'll finish with: "Don't ask any questions, just get in, I'll explain on the way!"
Driver.#Ukraine #UkraineRussiaWar #UkraineWar #Leopard #CatsOfTwitter #CatsOnTwitter #RussiaisATerroistState #UkraineWarNews #UAarmy #Zelensky #UkraineRussiaWar️ pic.twitter.com/rqxfhnUuF0

— UkrARMY cats & dogs (@UAarmy_animals) April 21, 2023