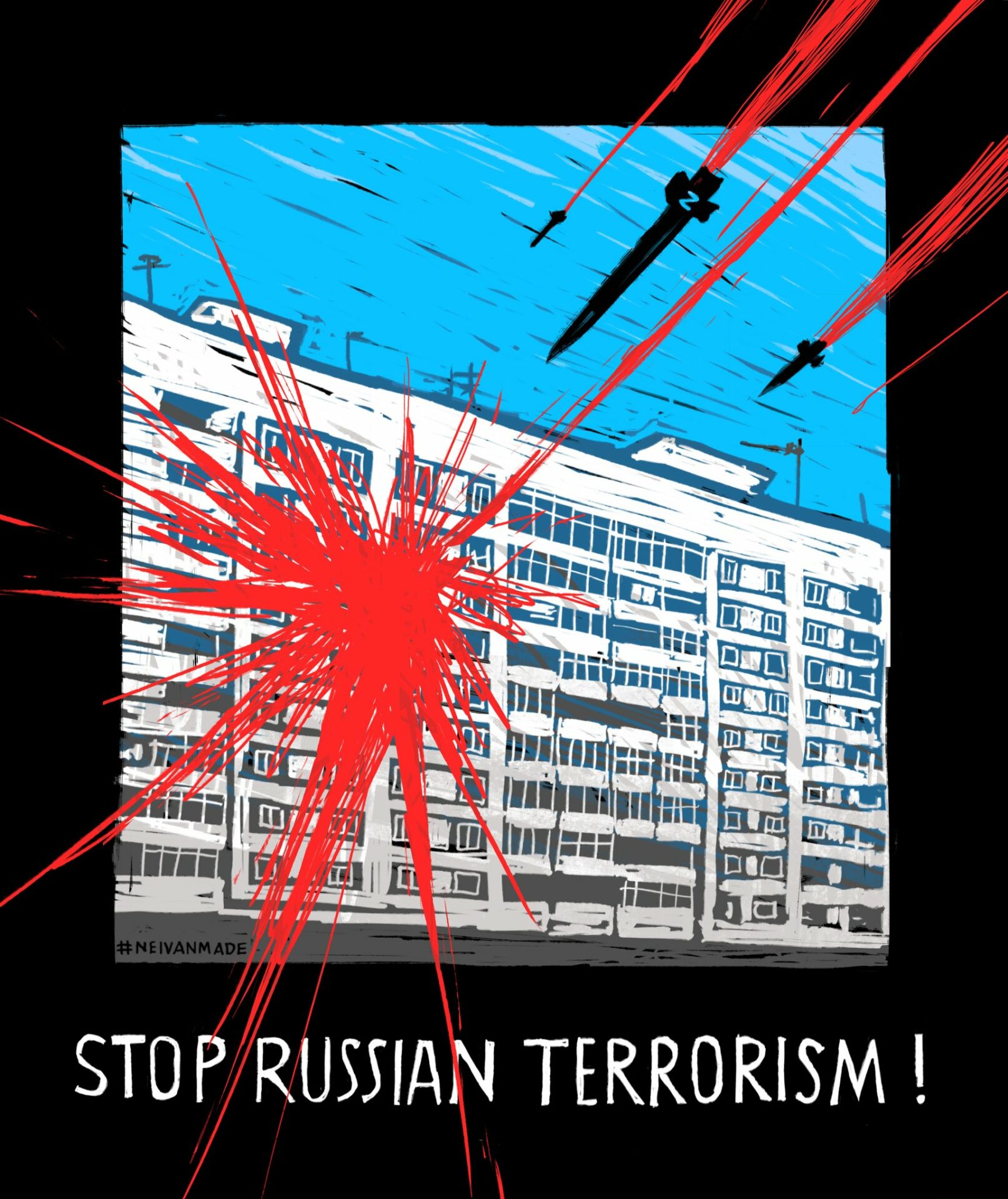 (Image by NEIVANMADE)
Before we start, just a brief housekeeping note/request: There's a lot of stuff I see but don't include in the updates. I try to avoid posting things from anonymous/pseudonymous accounts where I cannot either validate that the account is legit or that the information is. That's not to mean that either accounts using their own names and validated anonymous/pseudonymous don't occasionally make mistakes. For instance, someone I consider to be generally reliable posted still imagery in the past 48 hours from OCT 2022 of traffic jams on the surviving portions of the route between Crimea and Russia and asserted it was from the day after the strike on the fuel depot in Sevastopol. I have no problem with you all bringing attention to stuff I haven't included in the comments, including linking to it. But if a Tweet or Facebook post or what have you starts with "Unconfirmed," that's probably a good sign to not post it. Thanks!
Overnight Russia resumed its bombardment of Ukrainian civilians and civilian infrastructure. Olga Honcharenko was monitoring it live:
Russian strategic aviation 5620 and 8029 CW
Morse frequencies been comms checked with V tuning. Also for now 3 Tu-95Ms Bear-H took off from Olenya airbase. Possibly another combat mission with cruise missiles launching tonight.

— Olga Honcharenko (@olga_pp98) April 30, 2023
All civil aircrafts being bypassing Astrakhan area, this is the first warning of the incoming cruise missiles launch https://t.co/8iLgZLpoUS pic.twitter.com/MVVZVh36vH

— Olga Honcharenko (@olga_pp98) April 30, 2023
From Olenya 10. Other airfields and possible take offs from there I don't know so no info about it from me

— Olga Honcharenko (@olga_pp98) April 30, 2023
Cruise missiles launching started:
978 123 230
971 440 230
975 123 230
A/C to SHPORA ground control op https://t.co/IhdItczkBX

— Olga Honcharenko (@olga_pp98) April 30, 2023
New aircraft passed a radiogram YQ3G aircraft and W4H1 ground control op. to be clear. All radiograms are encoded and only sender and receiver knows the meaning but it's report of cruise missiles launch:
YQ3G DE W4H1 QRV K
W4H1 BT 981 844 230 K

— Olga Honcharenko (@olga_pp98) May 1, 2023
We'll get to the butcher's bill after the jump.
Here is President Zelenskyy's address from earlier today. Video below, English transcript after the jump:
Russian invaders will receive our response to every attack – address by the President of Ukraine

1 May 2023 – 21:56

Good health to you, fellow Ukrainians!

I started this Monday and the new week with an hour-long meeting with all levels of government and defense. The head of government, ministers, the Office. The Commander-in-Chief, the heads of the Main Intelligence Directorate and the Foreign Intelligence Service, the head of the Security Service, and the NSDC Secretary delivered reports.

The first issue is the consequences of Russian strikes, including missile attacks. Last night alone, from midnight to seven in the morning, we managed to shoot down 15 Russian missiles. But, unfortunately, not all of them. Not all of them yet. We are working with our partners as actively as possible to make the protection of our skies even more reliable.

At the morning meeting, we discussed the enemy's likely actions in the near future and coordinated our defensive steps.

Separately we discussed the issue of weapons and ammunition for our warriors. Also, the situation on the still occupied territory and counteraction to Russia. No chance for the occupier on our land! Only destruction for the enemy.

Here is just one example today. Chernihiv region, the village of Lyzunivka, in the north of the region, near the state border. There, a Russian air bomb destroyed another Ukrainian school… Unfortunately, this strike took the life of a teenager – a boy born in 2009… 14 years old! He was just near the school. My condolences to the family and friends!

Pavlohrad, Dnipropetrovsk region. Terrorists' missiles claimed the lives of two people, young guys… My condolences to the families! Forty more people – women, children and men – received medical aid after injuries and traumas.

For every such attack, the Russian invaders will receive our response. And I thank all our warriors who ensure this every day and every night. They defend our positions, repel Russian assaults, help their brothers-in-arms who are nearby in the positions, and destroy the occupier to the maximum. The more Ukrainians are accurate, the more Ukrainians support each other, the faster the Russian evil will be destroyed.

I am grateful to all our partners who see the common task of Ukraine and the world in this way: the obvious defeat of the terrorist state and a just peace for Ukraine and the whole of Europe.

Today, I held several meetings on our diplomatic work in May, which brings us closer to such a peace – a just peace, such an outcome of this war – the defeat of the occupier.

I also had several phone calls today. I thanked Canada and Prime Minister Trudeau personally for the continued support of our country. We are preparing a program of long-term defense cooperation between Ukraine and Canada. This is very important: Canada has already started confiscating Russian assets. This is a significant example for everyone else in the world. We discussed sanctions pressure and our political cooperation.

Today I also spoke with Prime Minister Hipkins of New Zealand. I thanked him for the principled stance in defense of international law – New Zealand is often among the leaders in sanctions restrictions. I also thanked for New Zealand's participation in training our soldiers. We agreed to work on greater consolidation of the Pacific region countries to protect international rules.

And one more thing.

Today marks the tenth anniversary of the foundation of one of Ukraine's most glorious military units, the 140th separate special operations center. These are very skilled warriors – determined, strong and extremely experienced. They took part in the defense and liberation of the Kyiv region – Bucha, Hostomel, Borodyanka and other towns and villages, as well as the liberation of Izyum and Chuhuiv in the Kharkiv region. They carried out strategically important missions in the southern areas and fought hard against the occupiers in Donbas. Thank you, warriors!

Ukraine will always remember your courage, and will never forget those warriors who gave their lives in the battle for the state. May our country's victory in this war honor them!

Glory to all those who are in combat for Ukraine!

Glory to all who protect and save our people!

Glory to Ukraine!
Here's the Ukrainian air defense summary:
The Ukrainian Air Force says 9 Russian Tu-95 strategic bombers from Murmansk Oblast and two Tu-160 strategic bombers from the Caspian Sea area launched 18 Kh-101/Kh-555 cruise missiles, 15 of which were shot down.https://t.co/gEeMSfSIGe pic.twitter.com/gEDnRsvWa2

— Rob Lee (@RALee85) May 1, 2023
Bakhmut:
The Ukrainian Ministry of Defense has posted a statement from Colonel-General Syrskyi: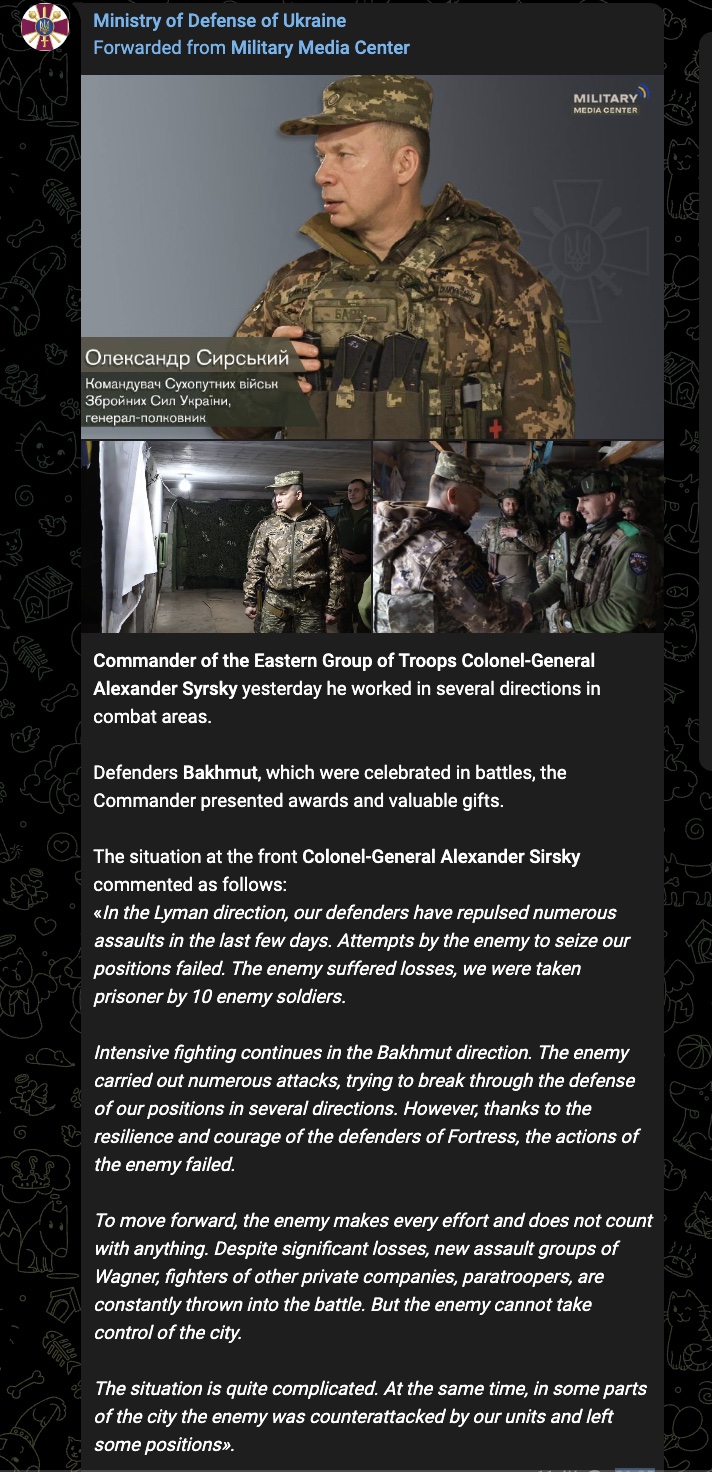 Russian forces in the Battle of Bakhmut right now as per Ukraine's military group East.
– 26,500 troops
– 65 tanks
– 450 BTRs/BMPs
– 154 tube artillery pieces
– 56 rocket artillery pieces

— Illia Ponomarenko 🇺🇦 (@IAPonomarenko) May 1, 2023
20,000 Russians, including 10,000 Wagner militants, killed in the Battle of Bakhmut since January perfectly illustrates how insanely absurd and idiotic the Russian war is.
Going all out as if tomorrow never comes for the last 10 months, burning a gargantuan amount of barely…

— Illia Ponomarenko 🇺🇦 (@IAPonomarenko) May 1, 2023
Full text of Pomomarenko's tweet:
20,000 Russians, including 10,000 Wagner militants, killed in the Battle of Bakhmut since January perfectly illustrates how insanely absurd and idiotic the Russian war is.
Going all out as if tomorrow never comes for the last 10 months, burning a gargantuan amount of barely renewable resources — for the sake of just (possibly) putting a flag over (what's left of) a hardly remarkable regional city, one of the thousands that are around in Ukraine. And ending up not inflicting critical damage to the Ukrainian military and facing Ukraine's major counter-offensive ASAP.
If you think that's how you win a war, I can't help you.
There appears to be some confusion here about what National Security Council Spokesman John Kirby actually said:
John Kirby caused a lot of confusion with his remarks today. To clarify: he did not say Russia had suffered 20k killed in Bakhmut since Dec, as was originally reported. He said (👇🏽) that was figure across all fronts, but half was Wagner & most of Wagner was convicts in Bakhmut. pic.twitter.com/Dw0wVZEffs

— Shashank Joshi (@shashj) May 1, 2023
Here's the screen grab from Shashank Joshi's tweet so you don't have to click through: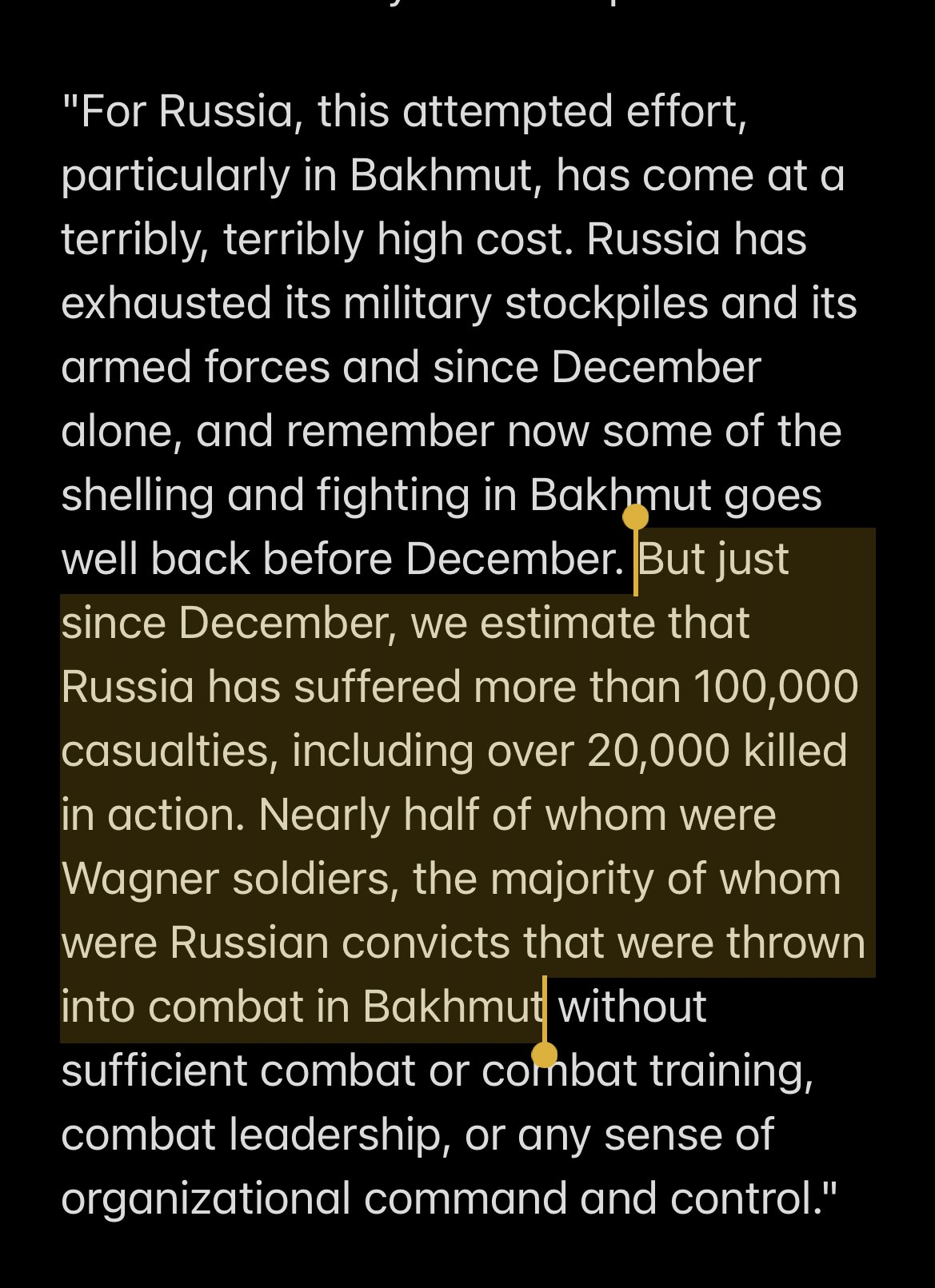 They don't have a transcript up yet at WhiteHouse.gov, so I can't just copy and paste it for you.
Video from Ukraine's Terra unit of soldiers from Ukraine's 3rd Assault Brigade assaulting a trench near the road to Bakhmut (other footage was posted last week). They use UAVs to drop VOG grenades on Wagner fighters in support of the advancing soldiers.https://t.co/WhGdnmeEVF pic.twitter.com/HSFMgWqvS1

— Rob Lee (@RALee85) April 30, 2023
Pavolhrad:
Just three days after the bloody attack on Uman, and Russia showers Ukraine with missiles in the middle of the night. 25 people injured in Pavlohrad. Among them three children. This is pure terror against civilians. pic.twitter.com/OBVSKxojKM

— Maria Avdeeva (@maria_avdv) May 1, 2023
Zaporizhzhia:
From The New York Times:
In a thicket of trees between two vast farm fields, a plywood trapdoor built into the forest floor opened to reveal stairs leading underground.

Inside was a subterranean bunker, cut into the black earth, where Ukrainian troops from a mortar unit awaited coordinates for their next target. The men squeezed past one another down a shoulder-width dirt corridor lit with LED strips, staring at tablet computers showing a live drone feed of the terrain outside. Blast waves from artillery shells and rockets shook the bunker, and a radio crackled with a warning of incoming Russian helicopters.

But the soldiers were focused on their screens, specifically on a line of Russian troops and heavy equipment dug in a short distance away and marked with red plus signs.

That would be their target.

"The guys dug all this by hand, and they want to fight, they want to shoot," said the unit commander, a 32-year-old with a braided ponytail who uses the call sign Shuler. "We just want to kick them off our land, that's it."

For the soldiers of the 110th Territorial Defense Brigade, to which the mortar unit is attached, this is a critical moment in the war.

With fighting in the eastern Donbas region settling into a bloody stalemate, their patch of the Zaporizhzhia region of southeastern Ukraine could prove to be the next big theater, a focal point of a long-awaited counteroffensive. Ukraine is under pressure to show some measure of success in bolstering morale for soldiers and civilians, shoring up Western support and reclaiming stolen territory.

The fighting here is intensely personal. Most of the soldiers of the 110th Brigade come from areas now occupied by Russia. Shuler's unit was forced to retreat in the early days of the war, which began in February 2022, and his parents remain in occupied Melitopol, roughly 80 miles from the bunker.

Over the past year, they have slowly turned the tide, halting the Russian advance and building a network of defensive positions that the Russian military, for all its superiority in weaponry and numbers, has been unable to crack.

"We really know this location — every bush," said Col. Oleksandr Ihnatiev, a veteran of Ukraine's special operations forces who took command of the brigade in April last year. "From the beginning of the war, we in our strip have not lost one position or post."

After 14 months of nonstop fighting, Ukrainian soldiers are exhausted.

Shuler's hands now shake uncontrollably, the result of a concussion suffered when a tank round exploded near him at the beginning of the war.

A history teacher before the invasion, Shuler views the looming fight within a broader context. He wears a patch with a Star of David on his arm, a reminder of his great-grandparents who died in the Holocaust. His Jewish grandfather had to change his name to sound more Russian when the Soviets took control of his native western Ukraine at the end of World War II.

Now, Shuler must hide his face, refusing to be photographed for fear that his parents could suffer reprisals from the occupiers.

"Imagine the situation, you're alive, but your life has been taken away," he said. "We'll have nowhere to return to if we don't stop this, if we don't end it, if we don't win."
Much, much more at the link!
Sevastopol:
A smoke is visible over the bay in Sevastopol. Previously its "governor" reported a drone attack. pic.twitter.com/GTKDrUIpJ8

— Anton Gerashchenko (@Gerashchenko_en) May 1, 2023
Bryansk, Russia:
/2. The entire train consists of 60 wagons loaded with oil products and building materials. 7-8 cars and the locomotive itself lie on their side and burn. pic.twitter.com/758PREbleu

— Special Kherson Cat 🐈🇺🇦 (@bayraktar_1love) May 1, 2023
Nas gadol haya sham!
McCarthy says Russia is killing children in Ukraine and that Russian forces should pull out of the country. "We will continue to support [Ukraine], because the rest of the world sees it just as it is."

These comments come shortly after the House speaker's call with Zelensky. https://t.co/CMzeOjKqRr

— Christopher Miller (@ChristopherJM) May 1, 2023
That's enough for tonight.
Your daily Patron!
A new video from Patron's official TikTok!
Here's a machine translation of the caption:
Animals feel everything too… #песпатрон#патрондснс
Open thread!