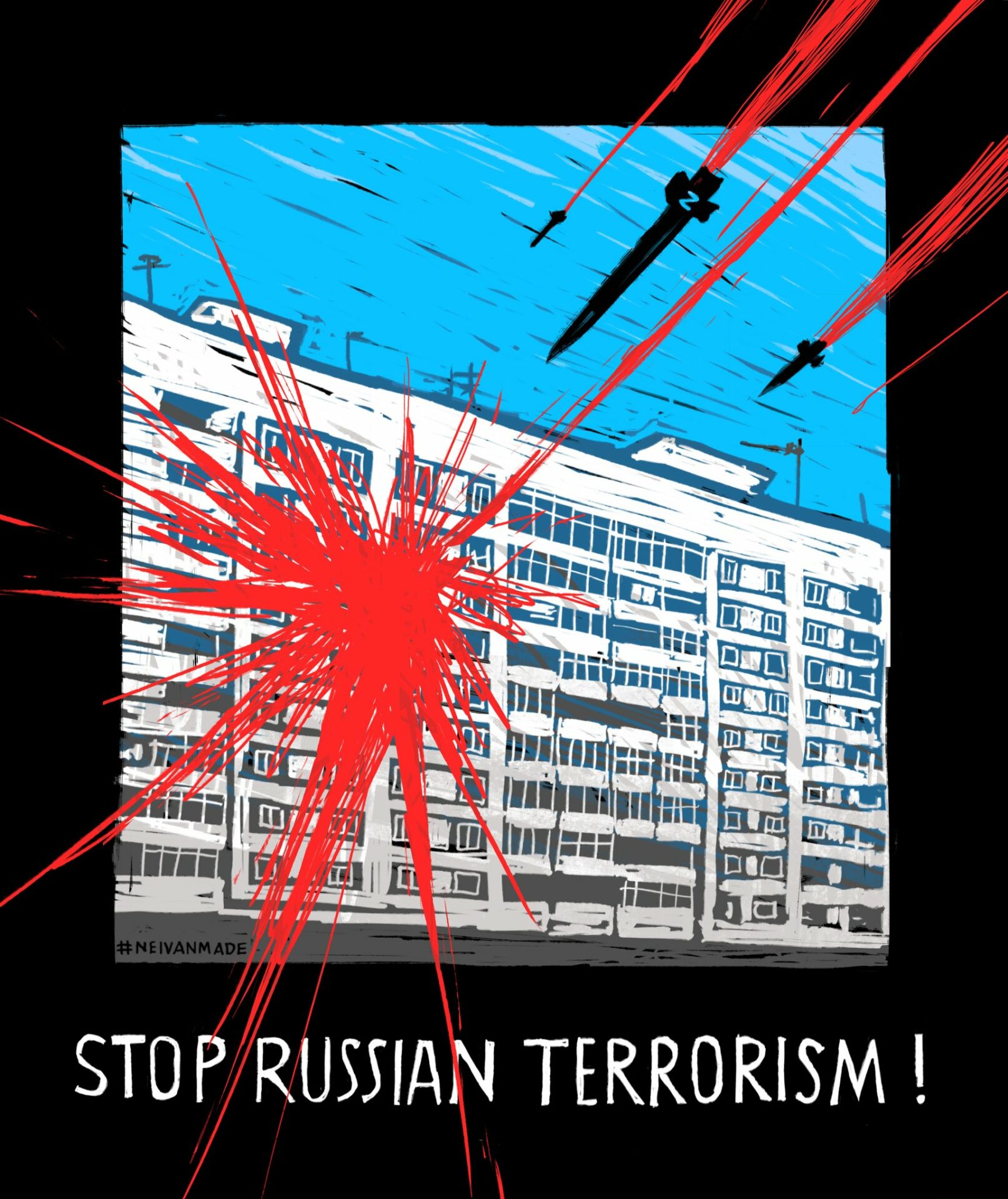 (Image by NEIVANMADE)
Last night YY_Sima Qian asked:
Adam, I under & fully agree w/ the moral/pragmatic imperative to highlight Russian war crimes, including those via missile strikes. However; in addition to summarizing the civilian toll from the Russian crimes, do we have a sense of the targets that might have more immediate impact on the war that might have been struck? The Russians were targeting power generation & transmission infrastructure through the winter to degrade Ukrainian industrial capacity & create harsher conditions for the Ukrainian civilian population. What are they targeting now?

A more "rational" target list would still include power infrastructure, transportation links, Ukrainian weapons plants, munitions depots, & especially staging areas for Ukrainian units gathering for the upcoming offensive.  Sometimes I see posts about Russian missiles striking Ukrainian depots or other presumably important military targets on Chinese social media, w/ likely from Russian social media. However, they are invariably exaggerated & often fabricated. OTOH, I am not seeing many reports targets more relevant to the Ukrainian war effort on Western MSM or social media. Either Ukraine is keeping mum on the effects of the strikes much like their casualties, or the Russians really are using their increasingly precious cruise missile solely as terror weapons.

Also, 15 cruise missiles launched from 11 strategic bombers is really inefficient operations.
My understanding from the news reporting and analysis from subject matter experts is that the Russians are still targeting civilian infrastructure including civilian residences – both apartments and homes. The purpose seems to be twofold. The first is to terrorize the Ukrainians as much as possible in the attempt to break their resilience and cohesion; both personal/psychological and social/societal. The second is to force the Ukrainians to both position their air defense assets in locations to defend against these strikes and then to draw down their precious munitions stocks trying to stop them. This is intended to result in Ukrainian air defense not be available on the lines of contact and axes of battle with the Russians and to deplete the Ukrainian air defense capacity and capability so that it isn't available for use in combat against the Russian reinvaders.
It is unfortunately, then appropriate to indicate that the air defense is active over Kyiv:
Series of explosions over Kyiv moments ago woke me from sleep. Sounded like Ukrainian air defense at work. The Ukrainian capital is under air raid alert.

— Christopher Miller (@ChristopherJM) May 2, 2023
This is the current air raid alert map for Ukraine as of 6:45 PM EDT: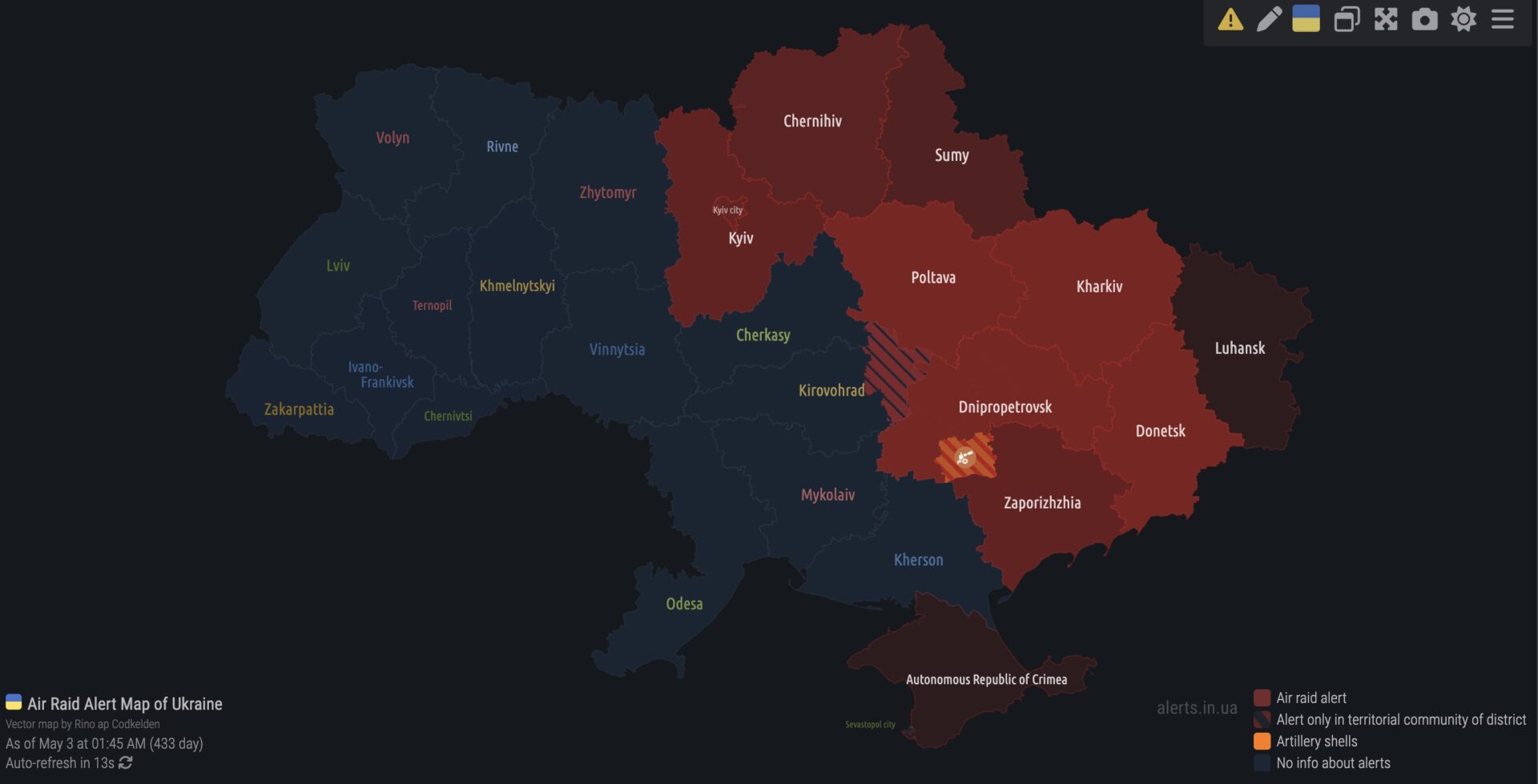 Here is President Zelenskyy's address from earlier today. Video below, English transcript after the jump:
We are preparing a large sanctions package, the decision will be made soon – address by the President of Ukraine

2 May 2023 – 20:05

Good health to you, fellow Ukrainians!

A brief report of the day.

The first point is the military cabinet. This is a special work with key commanders and those who provide defense. Obviously this is confidential work, its details are undisclosed. But just like the meetings of the Staff, the military cabinet also works regularly to synchronize our most important defensive and offensive actions.

The second point is sanctions. I held a meeting on strengthening sanctions regimes, both our own and those of our partners.

We are closely monitoring how the terrorist state is trying to circumvent sanctions, recording each such direction, and working together with our partners to block it. We are preparing a large sanctions package. The decision will be made soon.

Third, international events. This May and the following months will be quite active for Ukraine in the international sphere. There will be a lot of negotiations-related work, international events that will strengthen our defense. We are working on everything. Today I held several meetings on what is planned for this week and for the near future.

Fourth, I held a meeting with Prime Minister Shmyhal. Coordination and preparation of decisions. We are preparing conceptual security solutions for the development of Ukraine and our infrastructure, both now and after the war. We are also preparing for the planned international meetings on the reconstruction of Ukraine and relevant negotiations with partners.

And fifth, today's international meetings and conversations.

I met with a delegation of the Portuguese Assembly headed by the President of the Assembly. It was a productive meeting.

I thanked them for supporting our country and people. The topic of the conversation is quite broad, but the main thing is what unites us… Security for all Europeans, stability, and therefore further development and strengthening of the European and Euro-Atlantic community. In this context, I noted what decisions we expect from the partners' summit in Vilnius in July, the NATO summit.

Today I spoke with the Chairperson of the African Union, the President of the Comoros. It was an important conversation and important mutual understanding. I thanked for the support on global platforms, in particular at the UN. I invited him to join the implementation of our Peace Formula and assured that Ukraine is ready to be a reliable guarantor of food security. We are doing everything to eliminate any damage from Russian aggression both for our people and all our partners.

I thank everyone in the world who supports Ukraine!

Glory to all our warriors who are now in combat for the sake of our country, at combat posts and on combat missions!

Today I would like to especially celebrate the warriors of the 77th separate airmobile and 93rd separate mechanized brigades defending the Bakhmut direction. They are really effective! Thank you, guys!

Glory to Ukraine!
There is no operational update from the Ukrainian MOD, but they have posted a statement from Deputy Minister of Defense Malar: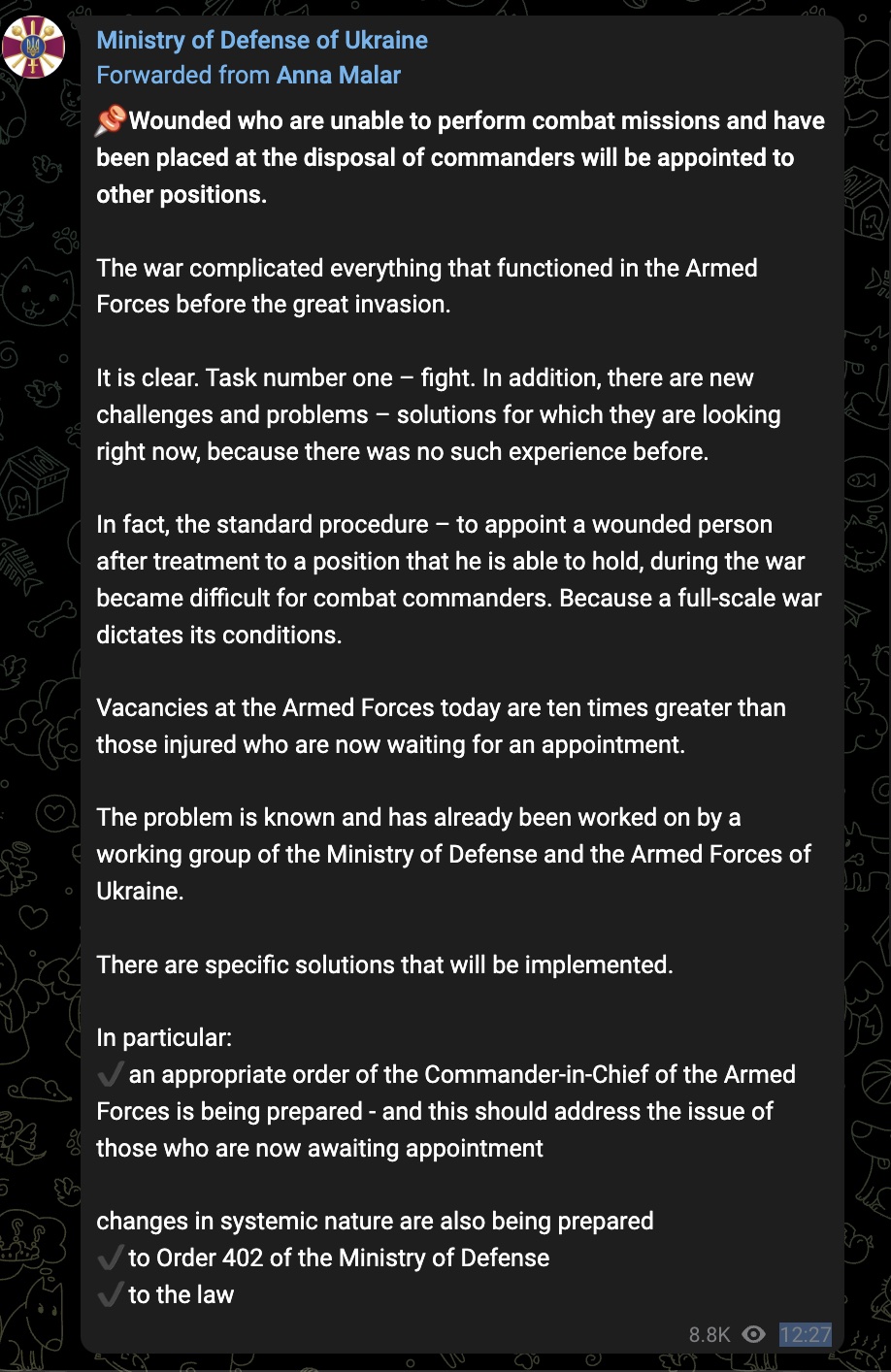 Former NAVDEVGRU Squadron Leader Chuck Pfarrer has returned. Here are his latest updates from Kreminna and Bakhmut:
KRIMENNA AXIS /1215 UTC 2 MAY/ RU forces are reported to have resumed offensive operations on the Kreminna axis. UKR forces report breaking up an attack on Bilohorivka. pic.twitter.com/cM91gm7mku

— Chuck Pfarrer | Indications & Warnings | (@ChuckPfarrer) May 2, 2023
BAKHMUT CITY /2240 UTC 2 MAY/ Heavy fighting continues in the city and adjoining suburbs, with Russian forces consolidating control of positions south and west of the rail right of way. pic.twitter.com/511htjaIXz

— Chuck Pfarrer | Indications & Warnings | (@ChuckPfarrer) May 2, 2023
BAKHMUT AXIS /1145 UTC 2 MAY/ Although Lines of Communication & Supply (LOCS) remain secure, heavy urban fighting continues in Bakhmut. RU conducted airstrikes within the urban area, and at Bila Hora. A Russian attack at Predtechyne was broken up. pic.twitter.com/D5v1oDbh37

— Chuck Pfarrer | Indications & Warnings | (@ChuckPfarrer) May 2, 2023
Bakhmut:
Bakhmut holds.

🎥 Andriy Tsaplienko pic.twitter.com/bBtXvsaKHH

— Defense of Ukraine (@DefenceU) May 2, 2023
According to Rob Lee, those are Russian thermobaric munitions going off. But he's basing his assessment on the claims of a Russian military blogger's post on Telegram. Given that the Ukrainian MOD is attributing the photo to an actual, known Ukrainian photojournalist and the Russian milblogger is attributing it to some not clearly delineated Wagner PMC camera, I'm inclined to go with the Ukrainian MOD, but we may just have to chalk this one up to the fog of war.
This does not seem to be an efficient use of personnel:
Prigozhin released an audio statement claiming Wagner today lost 103 people capturing 160 meters of land in Bakhmut.

Seems wildly opposite to Russian propaganda' claims that Russia is grinding down the Ukrainian army in the Donbas. pic.twitter.com/DcBkmK3CtT

— Dmitri (@wartranslated) May 2, 2023
He also, apparently, made some kind of claim that the Territorial Defense Commander had been killed, which, according to the Kyiv Independent's Illia Ponomarenko is not true:
Ukraine's Territorial Defense Force commander is alive and well.
And Prigozhyn is a motormouth.

— Illia Ponomarenko 🇺🇦 (@IAPonomarenko) May 2, 2023
Apparently this was what Ponomarenko was referring to:
Commander of the 127th Territorial Defense Brigade Roman Hryshchenko told that there was an unsuccesful Russian attempt to kill General Ihor Ivanovych Tantsyura, Commander of the Territorial Defense Forces, during a recent trip to Bakhmut. pic.twitter.com/XsF5joiPQE

— NOËL 🇪🇺 🇺🇦 (@NOELreports) May 2, 2023
The Ukrainian Military Media Center posted this statement from the Commander of the 93rd Mechanized Brigade, which is also known as the Kholodnyi Yar Brigade: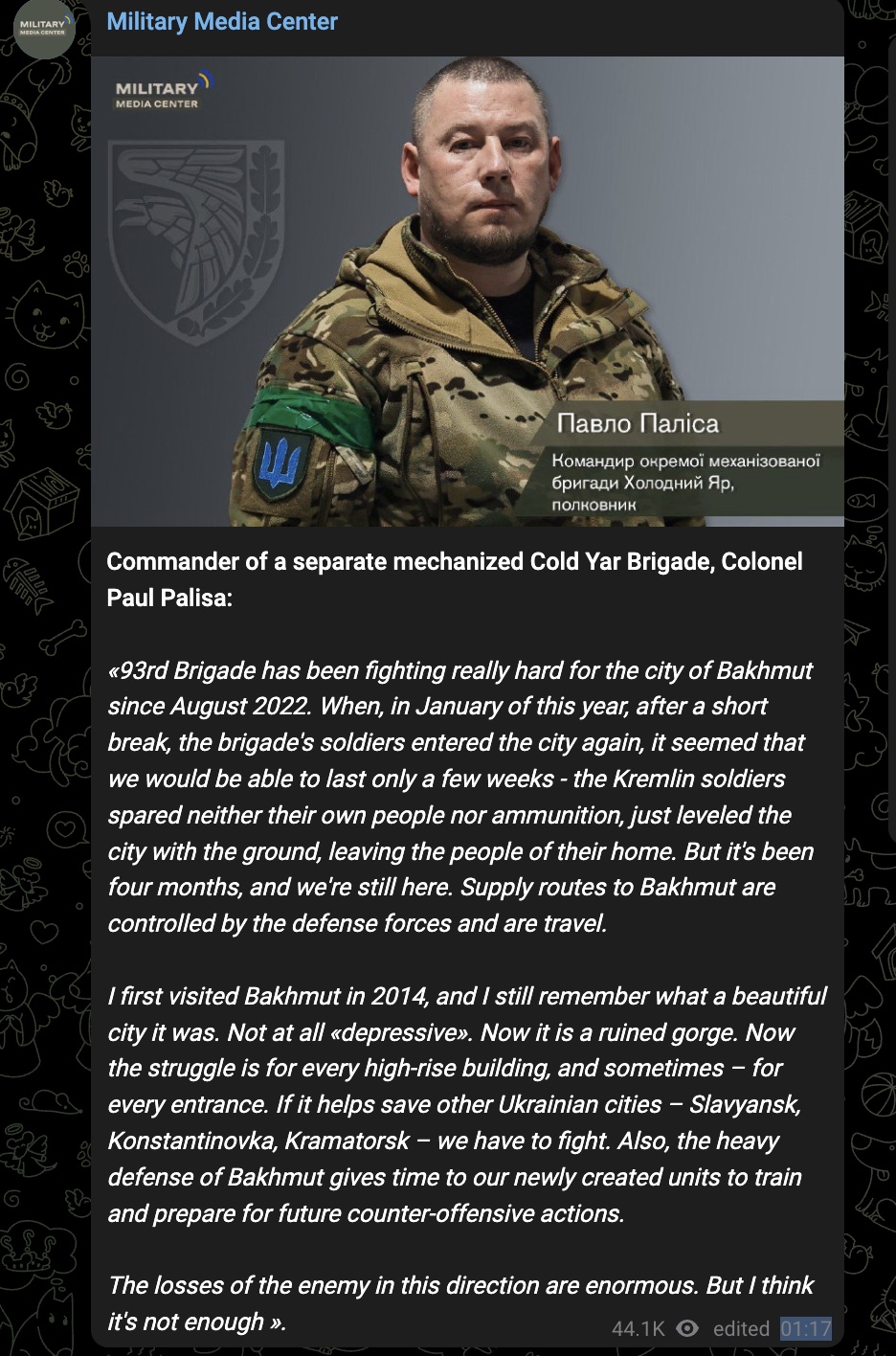 North Saltivka, Kharkiv Oblast:
North Saltivka, one of Kharkiv's largest residential areas, is the one closest to the border with the terrorist state.
russians tried to capture it and, when they failed, began shelling it with artillery, tanks, and MLRS…
This is how North Saltivka looks today. pic.twitter.com/lqVNs1RDaH

— Defense of Ukraine (@DefenceU) May 2, 2023
Bryansk, Russia:
In the Bryansk region, Russia, the railway track was blown up again. Three explosions occurred near the Snezhetskaya station while the train was moving. As a result of the explosion, 8 wagons overturned. There were 70 carriages on the train in total. pic.twitter.com/QfJKYJBFvi

— Special Kherson Cat 🐈🇺🇦 (@bayraktar_1love) May 2, 2023
A new explosion derailed twenty freight carriages in Russia's Bryansk region. Just yesterday oil train was derailed there. Russia is having some turbulent times. I wonder why. pic.twitter.com/g1Pu9sMlwG

— Maria Avdeeva (@maria_avdv) May 2, 2023
Someone really hates the railroad in Bryansk!
Here is Russia's butcher's bill:
There is something wild about the fact that Russia has mobilised 300,000 men since Sep, conducted 700+ air & drone strikes since Oct & hurled itself at Donbas since Jan, with as many as 20,000 killed in action … and actually managed a net *loss* of territory in April (👇). https://t.co/9k4fX1lkMX pic.twitter.com/r2dYf83hjw

— Shashank Joshi (@shashj) May 2, 2023
The Kyiv Independent's Illia Ponomarenko takes a look at the Patriot air defense system in his latest reporting:
The wait is over — after almost a year of refusals and hesitation, Western-provided MIM-104 Patriot air defense systems have finally arrived and become operational in Ukraine.

On April 21 and 26, Ukraine's Air Force confirmed the full employment of two Patriot batteries.

As Ukraine's own Soviet-era air defense capabilities are reportedly dwindling, Patriots are expected to take up the fight against not only Russian aircraft and cruise missiles but also ballistic systems Ukraine had nothing to counter with.

It also means that Patriots will be put to a serious battlefield test for the first time in at least 20 years, after two decades of upgrades and modifications.

In high-intensity combat against the hardest targets, the Patriot can confirm or disprove its widely-regarded reputation as one of the world's best air defense systems.

The Ukrainian Air Force discloses little to no information regarding the Patriots it acquired.

On April 21, following reports of the Patriots' arrival in Ukraine, the Air Force branch commander Lieutenant General Mykola Oleschuk published a picture of him standing next to the system's launcher.

The commander also confirmed the deployment of the MIM-104 in Ukraine with fully trained Ukrainian personnel. Ukrainian crews completed the training in the United States and Germany between January and late March, even though a training course typically takes up to 10 months.

Later, the Air Force also published a video showing a Ukrainian-operated system. Judging from the launcher's specific woodland camouflage and the fact that it was mounted on a MAN truck, it was a German-donated system.

The Air Force said the Patriots, in its use, can intercept both aerodynamic and ballistic targets. Among its most desired targets, the Ukrainian personnel specifically mentions Russia's Sukhoi Su-35 fighter, known for its enhanced maneuverability, as well as Kh-22, a Soviet-made cruise missile type that Russia has repeatedly used to deliver devastating strikes on Ukrainian cities.

The Russian Kh-22 is responsible for one of the deadliest attacks on civilians: the Jan. 14 strike upon an apartment building in Dnipro that killed 45 people. The Air Force repeatedly stated it could not intercept this obsolete though destructive missile until the West provided Ukraine with Patriot systems.

Judging from the video, the German-donated Patriot battery was deployed with Ukraine's 138th Air Defense Brigade based in Dnipro and responsible for covering the country's eastern regions from Sumy to Zaporizhia.

"Arms manufacturers now have a unique opportunity to examine their performance claims here, on the battlefields of Ukraine," Oleschuk said.

"So we will try this."

From the beginning, Ukraine positioned Patriots as the lacking component to counter Russia's extensive use of ballistic systems, such as Iskander Ms.

The Ukrainian calls for Patriot systems were also triggered by the threat of Russian use of Iranian-provided ballistic missile systems Fateh-110 and Zolfagar.

Despite many fears, Russia has not yet used or acquired Iranian missiles. The Iranian support of Russia was considered a major threat to Ukraine's longer-range air defense, which still relies heavily on old S-300 family systems and Buk M1s.

And meanwhile, Ukraine finds itself in a very shaky situation regarding its own stockpile of S-300 and Buk-M1s, which, according to the leaked Pentagon papers, were expected to run empty by May.

Yet, over the last weeks, the Ukrainian Air Force continued countering new attacks, intercepting most of the incoming Russian missiles. Overnight into May 1, the Ukrainian military reported having destroyed 15 out of 18 cruise missiles Kh-101 and Kh-555 fired from Russian strategic bombers.

Nonetheless, Russian missiles that penetrated the Ukrainian defense inflicted devastating damage to the city of Pavlograd, where they reportedly hit a Ukrainian ammunition depot. According to local authorities, dozens of buildings were damaged, and at least 34 civilians were injured as of early May 1.

Besides, in theory, Patriot systems can be a solution against the Russian use of S-300/400 missiles switched to surface-to-surface mode as ballistic munitions, which time and again inflict damage upon Ukrainian cities.

But, according to the Air Force spokesman Colonel Yuriy Ihnat, this is hardly a workable solution. Russia has between 6,000 and 7,000 S-300 system munitions, which are inaccurate as surface-to-surface missiles but are also abundant and destructive.

At the same time, Ukraine, in any case, will always have a limited number of Patriot interceptors that cost at least $1 million apiece.

So, according to Air Force's Ihnat, it's better to combat Russia's launchers on the ground with longer-range surface-to-surface missiles like MGM-140 ATACMS, which Ukraine has been requesting from the U.S. for a long time.

Ukraine's military did not reveal which version of the Patriot missile system it received.

Defense Express, a Kyiv-based defense consulting agency, identified it as the PAC-3 variant specialized in ballistic targets, the Ukrainian air defense's biggest problem.

The Air Force commander also published a selfie showing him standing next to what the Ukrainian Military Center, a defense expert community, identified as AN/MPQ-53 radar set. This might point out that the first Patriot fire unit acquired by Ukraine belongs to the PAC-2 interceptor family.

PAC-2 is the Patriot upgrade that particularly uses interceptors with blast fragmentation warheads that detonate in the target's proximity and thus destroy it with a certain degree of probability.

The version is believed to have an operational range of up to 160 kilometers and intercepts aircraft and cruise missiles at altitudes of up to 20 kilometers. Regarding ballistic missiles, the operational range is limited to some 40 kilometers.

At the same time, the PAC-3 family uses a more advanced Hit-To-Kill technology designed by Lockheed Martin. It has two interceptors that first destroy an incoming missile by colliding with it in a direct body-to-body impact and then also destroy the falling debris.

PAC-3 is thus expected to provide much more effective protection against ballistic missiles, the successful defense against which demands their complete destruction in the air.

Ever since the early 1990s, both PAC-2 and PAC-3 variants had numerous upgrades enhancing their capabilities.

On April 26, the Ukrainian Air Force reported the second Patriot battery, presumably coming from the United States, as part of a $1.8 billion defense aid package already operational in Ukraine. It's unknown whether the second Patriot battery uses PAC-2 or PAC-3 versions.

Apart from that, Ukraine currently expects transfers from The Netherlands, which vowed to provide Kyiv with not a complete Patriot battery but only two launchers and missiles.

For the sake of comparison, Ukraine's president Volodymyr Zelensky in his March 29 speech, said Ukraine needed 20 Patriot batteries. And the U.S. Army itself, according to the 2018 Military Balance database, operates nearly 50 Patriot batteries.

So the Ukrainian military, with its limited stockpile, will have to decide very carefully between the most important targets deep in Ukraine's rear it wants to protect with Patriots.

And it will have to defend the systems themselves. It's very unlikely that Ukraine will get Patriots deployed to front-line areas within the kill zone of Russian aircraft or tube and rocket artillery.

Now, Patriots are becoming a top priority target for Russia, which would get a lot of propagandistic bravado from having a famed U.S.-produced system destroyed in Ukraine.
Much more at the link!
I'm aware of the new dueling analytical pieces over whether F-16s or F/A 18s or Grippens do or don't make sense for Ukraine. I'm going to push that to tomorrow night. I didn't miss it or haven't forgotten it, I'm just pushing it off a day.
That's enough for tonight.
Your daily Patron!
There are no new tweets or videos from Patron's accounts, so here is some adjacent material from the Ukrainian Army Cats & Dogs feed:
☺️#Ukraine #UkraineRussiaWar #UkraineWar #Leopard #CatsOfTwitter #CatsOnTwitter #RussiaisATerroistState #UkraineWarNews #UAarmy #Zelensky #UkraineRussiaWar️ pic.twitter.com/UzlqosyMbi

— UkrARMY cats & dogs (@UAarmy_animals) May 1, 2023
«And they said that everything is fine in the army".#Ukraine #UkraineRussiaWar #UkraineWar #Leopard #CatsOfTwitter #CatsOnTwitter #RussiaisATerroistState #UkraineWarNews #UAarmy #Zelensky #UkraineRussiaWar️ pic.twitter.com/WMPFpbNX1l

— UkrARMY cats & dogs (@UAarmy_animals) May 1, 2023
☺️.#Ukraine #UkraineRussiaWar #UkraineWar #Leopard #CatsOfTwitter #CatsOnTwitter #RussiaisATerroistState #UkraineWarNews #UAarmy #Zelensky #UkraineRussiaWar️ pic.twitter.com/1beeUXyca1

— UkrARMY cats & dogs (@UAarmy_animals) May 1, 2023
When you come home not alone.

Ukrainian soldier takes a dog home from the front.#Ukraine #UkraineRussiaWar #UkraineWar #Leopard #CatsOfTwitter #CatsOnTwitter #RussiaisATerroistState #UkraineWarNews #UAarmy #Zelensky #UkraineRussiaWar️ pic.twitter.com/Tn5PzY06gs

— UkrARMY cats & dogs (@UAarmy_animals) May 1, 2023
Open thread!